Ref:
Date:
Location:
Photographer:
[clikcontent type=paymentBuyLink replaceable=true]
Ref:
Date:
Location:
Photographer:
[clikcontent type=paymentBuyLink replaceable=true]
21st March 2011 - 27th May 2011
Wales
Gloucestershire


Monday 21st March 2011
Tudor Caravan Park, Slimbridge, 51 44 11 N, 02 23 79 W, (66 miles)
A change of plan today, the original intention was to cross over into Wales via the Severn Bridge and stay at the Tredegar House Country Park, near Newport for 4 days, which is the one of the few Welsh Caravan Club Sites which are "open all year" and then drive to the Pandy Caravan Club Site near Abergavenny which opens (like most of the others) on 25th March. However, we then found out yesterday the cost of the toll to cross the bridge, £17.50, (we want to cross it, not buy it)! So instead we are going up to Gloucester crossing the River Severn there (for nothing) and then staying for 3 days somewhere in the Forest of Dean. We/Jenny has worked out (without the aid of a calculator) that although we will use a bit more fuel we will certainly save against the cost of the toll, as it's only a few miles further. We are once again staying at Tudor Caravan Park a very comfortable site which we have stopped at several times before, one of the days we will stay here much longer and find time to visit the Slimbridge Wetlands Centre.
Herefordshire


Tuesday 22nd March 2011
Christchurch Forest Holidays camp site, near Coleford, 51 48 79 N, 02 37 70 W, (34 miles).
That was lucky! I was talking to the man in the motorhome near us and he mentioned Forest Holidays (part of the Camping and Caravan Club), we didn't realise that one (of two) in the Forest of Dean was open this time of the year. As this was a campsite that we had looked at when visiting the area some years ago we rang up and booked for three nights. In fact I have camped at this site with Michael way back in 1994, remembering it because in was the weekend that the great Ayton Senna tragically died whilst racing at Imola. We stopped at Atwells camping store on the A38 to purchase some toilet and waste water tank fluids before attempting to find the Tesco Superstore in Gloucester to top up with food, unfortunately Betty wasn't in a good mood this morning. After driving through a housing estate and then re-joining the main road and then unintentionally visiting the docks area, without a sign of a Tesco, we gave up and decided to starve! We are pitched in an ideal spot with the forest trails just yards away and with the weather forecast set fair for the next few days, tomorrow we have already decided to have a long walk towards the river.
Wednesday 23rd March 2011
Because we didn't have any intentions of visiting the Forest of Dean what we haven't got with us is our Ordnance Survey map of the area. So we are just going to have to "follow our noses", at least we know we need to go downhill! The well used trail through the forest from the campsite led us down to my favourite UK River the Wye and coincidently close to the Bilbin swing bridge below Symonds Yat, a place that I camped near when I canoed the river in 1960, 1961 and 1962 when I was ?????? (oh, ok, 14, 15 and 16), would our young boys and girls be allowed to do that now? With Jenny, Rhiain and Michael I have also walked along this part of the river when we have been on holiday in Herefordshire. Jenny bravely walked across the swing bridge, refusing to let me walk across with her, as she doesn't trust that I won't purposely make it swing, (which I would have done) to the West bank of the river.
Proceeding upstream towards Symonds Yat we stopped near Yat Rapids (great memories of fun in my canoe) and sat on the river bank and enjoyed our packed lunch. Continuing on we walked towards Symonds Yat West for a short time before returning to the Saracen's Head Hand Ferry to cross to the East side. We had to wait for about 10 minutes on the West side before being joined by 2 other couples who wanted to cross. The Ferryman (and barman) eventually came to collect us working the ferry "hand over hand" on the cable tethered between both river banks, £1 now to cross, I think it was only 2d (old pence) when I first used it! Couldn't miss the chance of having a drink at the ancient 16th century Saracen's Head Inn so we sat outside in the lovely warm sunshine and enjoyed a Cider, well we had to make sure we were suitably refreshed before walking back up the steep trail to the campsite, (The Ploughman's lunch looked very appetising but we resisted the temptation).
We decided to use a different trail back and we skilfully (or was it luck) joined the road which was directly opposite the stile which gives access to the campsite. A great walk in perfect weather (with of course a wonderful companion).
Thursday 24th March 2011
After our long walk yesterday we thought we would have an easy day, it started off well, we overslept this morning and we were still eating breakfast at 9:30 am. I did decide to continue cleaning the outside of the motorhome and spent most of the morning and part of the afternoon waxing and polishing. We were both overdue a haircut so I cut Jenny's first then she retaliated by cutting mine, she did have me worried at one stage, checking the instructions of the electric hair trimmers that she had been using on me for over 3 years! We did such a good job of each other's hair we treated each other to an ice-cream this afternoon. To-morrow we shall continue the short drive to Wales, hopefully finding the supermarket in the town of Monmouth on the way to buy some food after we failed to find the Tesco in Gloucester, otherwise we shall soon be living on bread and water!
WALES
Monmouthshire
Friday 25th March 2011
Pandy Caravan Club Site, near Abergevenny, 51 53 85 N, 02 58 17 W, (32 Miles).
First stop this morning was to stock up with grocery's at the Waitrose in Monmouth a supermarket we don't normally use (to posh) but when need's must! We then had the short drive to Pandy arriving just after 12 noon. The first day of opening this year and we must have been about the 8th unit to arrive, we therefore almost had the pick of the 53 pitch site. We chose one along the banks of the River Honddu, (yes we are now in Wales and every notice, road sign, etc is in both English and Welsh), I do love to hear the sound of running water as I drift off to sleep. With the wonderful weather we didn't want to do anything today other than relax outside, it wasn't long therefore before we were having lunch and reading the papers in the warmth of the sun. Early night tonight, I need to be up at 5:00 am in the morning to watch the qualifying for the Australian F1 Grand Prix!
Saturday 26th March 2011
After my early start to the day, it was no surprise that we were enjoying our breakfast at 8:00 am this morning and after the usual chores we walked to the village store/garage at Llanvihangel (I can spell it, because I copied it, but can't say it) which is about 1¼ miles away to buy a newspaper. The rest of the day we spent relaxing although I finally finished the polishing of the exterior of the motorhome (I only had the rear to finish) whilst Jenny baked some scones, biscuits and a ginger cake. Thought I would not have to get up so early tomorrow to watch the Grand Prix but of course the clocks go forward so I will still be losing some more beauty sleep. Noted on the information leaflet on the Pandy site "A railway line runs adjacent to the site and main line trains do run through the night" As we lived next door to a railway line for 32 years, we haven't heard a thing (except the babbling of the river)!
Sunday 27th March 2011
A lazy day, well I was up at 6:00 am (or was it 5:00 am?) to watch the Australian Grand Prix.
Monday 28th March 2011
A lovely relaxed day, we walked up to the village of Llanvihangel again to buy a newspaper, however this time we walked along the lane at the back of the camp site to the village instead of along the main road, twice as far but a much more pleasant way. It was also warm enough when we arrived back to eat lunch outside and spend the afternoon reading (Jenny) and listening to music on the ipod (me). Tomorrow we have a very short drive to our next destination near Brecon.
Powis


Tuesday 29th March 2011
Aberbran Caravan Club Site, near Brecon, 51 57 21 N, 03 28 93 W, (34 Miles).
First stop this morning was (sort of) Abergevenny, we found the town car park that the site manager at Pandy had told us about and we even managed to find the long motorhome parking spaces, what we didn't realise was that Tuesday is market day and the only day they make a charge of £2.50. well we only wanted to pick up a few bits and pieces at the small Tesco and were only going to stop for about 10 minutes and because we are misers and also we didn't have change we decided not to bother, we will shop later in the week at Brecon! We arrived at Aberbran a hour earlier than I anticipated, then realised the only clock that I hadn't put forward for BST was the one on the dashboard, no wonder I was feeling hungry. This is an unusual Caravan Club site in that it is run by volunteers and they weren't on duty when we arrived, however they had left clear instructions on the door of the 3 pitches that we could chose and we walked along the old railway line (more later) and chose the pitch that was at the far end of the 2 acre 24 pitch camp site. Railway line? Yes this small peaceful oasis is on the site of a former railway station which last saw a steam train in 1962 and the pitches are in a narrow line on the old (now gravelled and tarmac) track bed. Graham and Barbara the volunteer managers arrived late afternoon and we went to pay, although in fact we didn't because they were updating the clubs computer network so we will pay the camp site fee tomorrow. This is one of the 8 camp sites which are promoted as "Just a Tenner" there isn't the usual amenity block so we will be using our own facilities but there is electric, fresh water, waste disposal etc. I have borrowed the folder of the railway history of Aberbran and the line which ran between Neath & Brecon which as been compiled by interested camp site visitors and former railway employees it looks an interesting read.
Wednesday 30th March 2011
A relaxed day, other than chatting to Barbara when we went to pay and having a short walk though the village, after a wet morning the afternoon became quite pleasant with some warm sunshine lets hope it continues for the rest of our stay. Reading the folder of Aberbran Station was interesting, I thought this paragraph was particularly good,
I started at Aberbran as a Lad Porter at 7/- (that's 35 pence now) per week, 12 hour day, walked from Sennybridge morning and night, a distance of 4 miles, breakfast at 6.45am, left at 7am and got to Aberbran wet or fine by 8am and if I was 5 minutes late passing the Signal box the Station Master would say "Are coming for today or tomorrow?"
What if he was around these days!!!!!
Thursday 31st March 2011
Another relaxed day
Friday 1st April 2011
Set the alarm this morning (Jenny's phone alarm) to make sure that we caught the 9:29 am bus to Brecon, with only one bus passing the village of Aberbran each day we didn't want to miss it. We nearly did! Not realising that the "plain-clothed" mini-bus that stopped at the end of the lane was the bus to the town. The bus driver asked if we had our free bus passes (we must look old now) to which Jenny replied "Yes, but we can't use them because they are English". "No, we don't take them" he replied and charged us £2.70 (2) for the ride through unpronounceable named village's on the 20 minute drive to Brecon. We knew we were on a country bus when a lady was telling another she was having a problem with her hens and would she be interested in having a Pig! Both the lady (with the hens) and the bus driver told us when we arrived at Brecon where the bus stop was for the return journey and the time it departed, which was kind. We had a pleasant walk through the town's streets which had some unique shops and you certainly wouldn't be stuck for a haircut, a coffee or a side of beef. We found the visitor centre and found some brochures that covered some of the areas we will be visiting in the next few weeks and also got some advice on the road up to Ystradfellte, the "waterfall walk" area which we would particularly like to see in the "Brecon Beacon's National Park". Before we did our shopping we found a coffee shop and enjoyed a coffee and toasted tea-cake which was as big as a dinner plate! After visiting the Indoor Market, Boots, the Post Office and Morrison's we walked the short distance to the bus station (or because there're "posh" here bus interchange). Proper bus on the return journey, just as well as there were more than 6 passengers. As we were about to press the bell to stop in the village, the lady (with the hens, from earlier) asked if we were stopping at the camp-site, when we said "yes", she explained that the bus went past the camp site on the way back and would stop outside the gate, great we pressed the bell close to the camp site entrance and only had to walk up the field to the motorhome.
Saturday 2nd April 2011
Decided this morning we would have a stroll down the lane and take some photographs near the River Usk, we got back after 2:00 pm! We hadn't taken our Ordnance Survey Map with us but still took the public footpath to the lane above Aberbran village, which we followed without a problem. I then suggested that we walk up another lane and then regain another public footpath further along. Well we walked, and walked and walked some more, when we reached a Nature Reserve that I had remembered when I had looked at the map during the week I knew that we had missed the path we were hoping to take. We did take the path through Coed Drysiog Nature Reserve, however we could hear the river at the bottom of the reserve and not wanting to cross it there was no alterative but to retrace our steps along the track and lane. We looked carefully on the way back but never did find the track, when we eventually arrived back at the motorhome, hungry and thirsty, we looked at the map and it was evident that public footpath that we wanted to use was not signposted. Great walk though!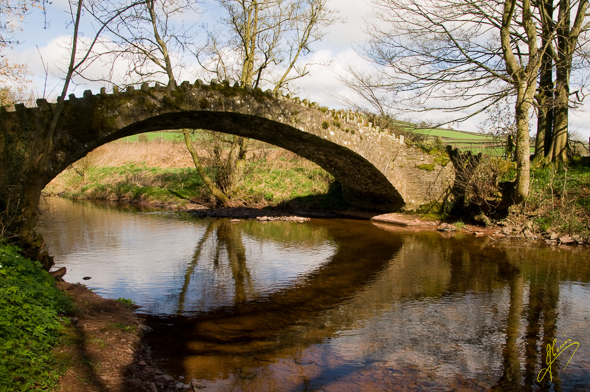 Sunday 3rd April 2011
Brynich Caravan Club Site, Brecon, 51 56 46 N, 03 21 29 W, (6.7 Miles)
An extremely short drive this morning moving from 5 miles west of Brecon to about a mile East. Unlike Aberbran this is a "full facilities site so Jenny will be able to do the washing, etc. whilst we are here. Hopefully we will also catch up on the necessary communications via the internet which we have been unable to do since leaving Somerset. We are only about a 1½ mile walk from the town via the Brecon Canal, said to be the most scenic canal route in Britain, running for 32 miles through the National Park between Brecon and Pontypool, before it continues to Newport. We will also have a walk the other way (obviously not the whole 32 miles), hopefully I will have some photographic opportunities on the way.
Monday 4th April 2011
We strolled along the canal late morning to Brecon, a walk along the towpath which took about 30 minutes. We had decided to have lunch in the town and was told that the Priory Café at Brecon Cathedral was nice. So after a short "viewing" of the inside of the cathedral we enjoyed a Turkey Dinner and a dessert of Sherry Trifle. Shopping was next on the agenda and Morrison's the destination, we/Jenny had forgotten to add potatoes to the shopping list when we last shopped so we needed to buy a pack, unfortunately (for me) there was a special offer "2 for the price of 1", so I ended up with "a ton" of spuds in my rucksack, meanwhile Jenny had a newspaper and a packet of crisps in hers, I barely made it back to the campsite!
Tuesday 5th April 2011
Another enjoyable walk along the canal to Brecon, then reluctantly shared a toasted tea-cake at the coffee shop today after "Jenny" decided that the one we had at the same place last week was to large for one person! We had also seen some tasty looking Rump steak at a stall in the market last week, so we returned there (the market was closed yesterday) and bought a nice piece before buying groceries at Morrison's and returning along the canal tow path to the camp site. Spent the rest of the day reading and listening to music.
Wednesday 6th April 2011
Today we decided to take our planned drive over the Brecon Beacons to "Waterfall Country" a part of the National Park which boasts a high concentration of waterfalls on the rivers Mellte and Hepste. Our first stop was to top up our Gaslow containers with LPG, We had a pleasant surprise when we only needed to purchase 10.2 litres and that was our first fill since January, we have used very little despite the cold winter, although we can only remember "boosting" the electric warm-air heating about 3 times with the gas. We then stopped once again at a lay-by alongside Beacons Reservoir for morning tea and biscuits. The first time today we have ever crossed this part of the Brecon Beacons National Park, which looked remarkable like parts of Scotland, we also spotted some Welsh Mountain Ponies. We hadn't realised they grazed in this part of the UK. Another stop this morning was at the Waterfalls Information Centre in the town of Pontneddfechan, although it was disappointing it didn't open on week days, which we thought was strange, even while we looked at the map outside 2 other couples wanted to visit and were also somewhat peeved at it being closed! Luckily, we had picked up some pamphlets at the Information Centre whilst in Brecon so we weren't completely without guidance. We eventually arrived at the car park at Cwm Porth, somewhat fortuitous because the car park we had intended going to Gwaun Hepste was closed for resurfacing and Cwm Porth had a resident Ranger who told us to only pay the "car" car-park rate (£4) instead of the proper rate for our vehicle of £7. We think the higher rate was for the normal size of our vehicle, which was for mini-buses of which there were several parked as there were a number of groups who were going "potholing" which is also popular in this area. Jenny prepared lunch which we decided to take with us and we made our way to our first stop, just 50 metres from the car-park. Porth yr Ogof which has the largest cave entrance in Wales and one of the largest anywhere in the United Kingdom, we only walked down the steep path to the entrance and it did look most impressive, there are over 3 kilometres of passages which can be followed by experienced cavers and there are still believed to be many parts un-explored. We had already decided to attempt "The Four Falls Trail" a 3-4 hour walk categorised as "strenuous, with several steep ascents requiring a good level of fitness", (so the booklet said). In order, we reached Sgwd Clun-Gwyn, Sgwd Isaf Clun-Gwyn and Sgwd y Pannwr on the Afon (River) Mellte and Sgwd yr Eira on the Afon Hepste. Of particular interest to us was Sgwd y Pannwr as we "believe" this is the waterfall that was on our first website home page.
Jenny actually only saw 3 waterfalls, she sat on a bench at the top of the trail whilst I descended the 80 steps down to Sgwd yr Eira and of course climbed the 80 steps back up. We must admit we were tired by the time we got back to the car park 5 hours later, although we did take our time with numerous stops for photographs and a stop for lunch. We then made our way back across the "Brecon's" to the campsite (about 30 miles) to a well deserved shower and evening meal.
Thursday 7th April 2011
After yesterday's energetic walk we thought today we would have an easy day. With the wonderful weather we did still want to have a walk so we walked "the Taff Trail" along the canal as far as the Brynich aqueduct where the Monmouthshire and Brecon Canal crosses the River Usk and stayed for a while relaxing on a "well placed" bench on the canal towpath. We didn't want to explore too far today as this is part of the walk we have decided to do tomorrow.
Friday 8th April 2011
After a very misty start to the morning, the sun soon shone through to another warm day. Suitably prepared with plenty of drinks and some food in MY rucksack we joined once again "The Taff Trail" and rather than set ourselves a "distance" to cover we agreed that we would walk for 2 hours along the canal towards the village of Pencelli. Our timing was perfect for lunch, we arrived at the village at 1:00 pm, but mistimed our intention was to have something to eat at the village pub "The Royal Oak", but it doesn't open it's doors until 15th April, what sort of pub is that! Luckily we had taken a picnic lunch with us just in case we didn't find an eatery so we enjoyed that sitting on a bench, whilst watching a mother duck with 12, or was it 11 or 13 (they wouldn't keep still) newly hatched ducklings. Not surprised that they say this is the most picturesque canal in the UK, surrounded by hills and with the River Usk running close by, we would not disagree and once again arrived back at the camp site having had a brilliant day.
Saturday 9th April 2011
At least the Malaysian F1 Grand Prix qualifying (and the race tomorrow) start this week at a more civilised time than the one in Australia, so at 8:00 am this morning I was glued to the television. The second Saturday in the month is "Farmers Market Day" in Brecon so late morning we walked along the canal to the market hall in Brecon High Street. We purchased some Lamb Kebabs (very traditional) and Lamb Pasties, before a quick stop at Morrison's for milk. After missing out yesterday on "pub grub" (and having already made my mind up to have fish and chips) we found "The Coracle" fish and chip restaurant (Jenny very cheekily asking a couple sitting on a bench where they had bought their's from) and we "sat in" and appreciated a plate of cod and chips and mushy peas, before once again strolling back along the canal to the campsite. We spent the rest of the afternoon sitting outside in the sun, Jenny reading while I listened to music from Jenny's MP3 player, my iPod battery needing a charge, good job I chose her music for her! Tomorrow we leave for Rhandirmwyn (pronounced ran-dee-mo-n) near Llandovery we will have to stock up with food at Morrison's before leaving Brecon as we think the nearest shop is about 7 mile away. No mobile phone or TV either, me thinks we are in the outback!
Sunday 10th April 2011
Rhandirmwyn Camping and Caravan Club Site, Near Llandovery, 52 04 54 N, 03 46 87 W, (33 Miles).
Again an early "wake up" to watch the Malaysian Grand Prix on the television. We didn't have to rush off afterwards as we had asked to stay after the normal 12:00 pm departure time, but we were organised enough after the Grand Prix finished to leave just before noon anyway. First stop was a "top up" with diesel at Morrison's before driving to the supermarket itself which is approx' another mile away. We parked in the long stay car park near-by, however vehicles over 3,500 klg are prohibited, but because it was Sunday and very quiet, with ample parking spaces we parked anyway, though I stayed in the motorhome whilst Jenny did the shopping. She then rang me when she had finished and I walked the short distance to the store entrance to do my normal "pack horse" impression with all the bags! We arrived at Rhandirmwyn early afternoon and soon found ourselves a comfortable pitch. We didn't realise that the village less than ½ mile from the camp site had a small shop which sells bread, milk, newspapers etc. however the newspapers have to be ordered, so we decided to walk (all uphill) to the shop. The bad news first, we I misread the opening times on the notice-board in the camp site information kiosk and the shop had closed 20 minutes before we arrived. The good news, the pub next door was open! After the steep (did I mention it was steep) uphill walk in the hot sun , we/I was thirsty so I enjoyed a pint of "Old Rosie" Scrumpy, whilst Jenny had a Lime & Soda. We were told by the landlady, she would serve us but would soon be closing, we were amused when at least ½ hour later she had served another 3 groups of customers and was still open. We were further amused when she came outside where we were seated and told us she was leaving, but the door would stay open and "Steve, the man sitting over there with the white hair would serve us if we wanted more drinks" I like being in the country!
Monday 11th April 2011
Although no mobile phone signal or television, we have got "site WiFi" which is now available at an increasing number of Camping and Caravan Club sites and to which we have paid £40 for a years subscription, so today we have managed to catch up on our internet banking, emails and even filled in our Census forms on-line. We were hoping to relax outside in the promised warm weather, but this morning it was wet and although it became drier in the afternoon the wind is cool. We also must book a campsite to stay at over the Easter Holiday, we do not want the experience of last Easter when we struggled to find a suitable place to stay.
Tuesday 12th April 2011
A relaxed afternoon after spending the morning with numerous web pages open on the internet trolling through different camp site websites trying to organise ourselves for the next few weeks which include the Easter holidays. Luckily with both the Caravan Club and the Camping and Caravan Club we can book on-line although Kate the Camp Site Manager booked the one near St David's for us as we wanted to book the special offer "7 nights for 5". We also realised as we were sorting out dates that we haven't yet travelled very far into Wales. Yes, we have dawdled along (as usual) and it looks like we will have to "save" some of Wales for another day as we need to arrive back in the Midlands for the 2nd week of June.
Wednesday 13th April 2011
After a lazy morning and with the rain having abated, we decided this afternoon to have a walk. What we hadn't got was a Ordnance Survey Map of the area, but there was one pinned up in the site information kiosk, which we studied. Consigning public footpaths to memory we crossed the nearby bridge over the River Tywi and made our way upstream along the rather tricky and muddy bank side track to the Towy Bridge with an Inn of the same name adjacent (unfortunately closed). Crossing the bridge (a bailey bridge built in 1913 by Morrisons, a relation?) we reached the lane back towards Rhandirmwyn and after a short time we found the public footpath by the side of a unique house which had "church like" windows which incidentally was for sale, taking the footpath we eventually regained the river bank track and made our way back to the campsite.
Thursday 14th April 2011
After such an enjoyable walk yesterday we wanted to do something similar today. We had been given a leaflet when we arrived of a Forestry Commission area called Cwm Rhaedr "The Valley of the Waterfall" which has a choice of paths and trails (including a mountain bike trail of 6.7 km) up towards Mynydd Mallaen a massive area of high open moorland. Investigating on the Ordnance Survey in the Information Kiosk I found that it was only a short walking distance away so I suggested to Jenny it would be an ideal afternoon walk. We left the camp site and walked along the lane and found a public bridleway which seemed to be in the direction we wanted to take and after a steep climb we found ourselves on open moorland with only sheep and new-born lambs for company. Navigational skills once again came to the fore (no, I lie, it was just luck) we reached a trail junction we thought we recognised on the map on the leaflet, descending a steep track we arrived at a forest road and then once again ascended steeple up to a "view point" of Cwm Rhaedr (Rhaedr Waterfall) and a well earned rest on a thoughtfully positioned seat.
Now at least we were sure of our bearings and were surprised how far we had walked (or was it the walk was actually shorter?). After a short break we walked down the forest road, finding on the way a lower track, which we identified from the leaflet and the blue posts as the "Waterfall Trail", we decided to follow this smaller track back towards the car park and tomorrow (weather permitting) we will walk the full waterfall trail. We joined the road near the Forestry Commission car park and made our way back to the camp site, not before seeing in a drive two immaculate Ford Anglia Estate cars, one registered 1965 and the other 1968 the exact years of the two Anglia's I owned, they were superb and the best examples I have seen for many years. Found out today the "unique" house we saw for sale yesterday is "Salem Chapel", asked Jenny what she thought it was valued at "£150, 000 (ish)" she said, she was only £200,000 out!
Friday 15th April 2011
After our mid-morning cuppa and biscuit we once again walked along the lane to Cwm Rhaeadr, this time walking directly to the start of the trails at the car park. Because we didn't want to duplicate the lower part of yesterday's walk we took the "All Ability Trail" for about .5 km before joining the 3.8 km circular "Waterfall Trail" further up the valley. Perfect walking conditions, warm, with soft pine needles and grass underfoot and we made good time up the very steep track, despite the occasional (perhaps not so occasional) rest stops. Lunchtime we reached the bottom of the series of waterfalls, collectively called Cwm Rhaeadr and clabbered up the rock strewn bank to a good vantage spot for photographs and more importantly a place to sit for our lunch! After our lunch Jenny stayed at the picnic spot, whilst I scrambled further along the riverbank to attempt to get to the higher reaches, thwarted by bank side vegetation I could see a clearer path on the other side of the river. I was almost back to where Jenny was sitting before I managed to find a series of dry rocks where I managed to ford the river to the opposite side and once more climbed up the rivers edge. After managing to get some photo's further up, not being able to get exactly to the position I wanted where the main waterfall dropped, I carefully retraced my steps back to the rocks near Jenny. I thought she would at least help me across the river, but no, when I asked her why she didn't help me she said " I saw you jumping back across and closed my eyes", Thanks Jen!!!!!
Got my own back though, she had decided to lay back and rest while I was away, unfortunately she hadn't realised that she had slid further down the rock she was on and her bottom was "resting" on wet moss, I did try not to laugh (honest), but isn't it funny the way a person walks when they have wet their knickers! The walk back was so much easier the track following the river down towards the car park and after making a couple of phone calls (yes, for about 100 yards we had a signal) we arrived back at the camp site and sat outside in the late afternoon sun with a nice cup of tea.
Saturday 16th April 2011
Bit of a bonus this morning, I realised that I could watch the F1 qualifying in China on the laptop, just wished that I had took more notice of the start time, still I did see the last 10 minutes and hopefully I will be able to learn to tell the time before the race tomorrow! After 2 days of lengthy walks, we decided that we would just relax today, although late afternoon I did walk up into the forest above Rhandirmwyn to see if I could find any remains of the 17th/18th century lead mine, but other than a couple of tin huts I couldn't locate the old workings. Looking on the Ordnance survey map in the information kiosk when I returned I don't think I climbed high enough and was also to far East, looks like I will have to save it for another time.
Sunday 17th April 2011
Dolaucothi Estate Caravan Park, 52 02 79 W, 03 57 03 N, (20 miles).
Well I got the time right! Unfortunately I had only watched 10 laps of the race when I lost the internet connection and without going into all the ins and outs and wherefores I didn't bother to watch anymore, I will watch the re-run this afternoon. Reluctantly we left the tranquil Towy Valley campsite at Rhandirmwyn this morning, I know we have said this before but this is a camp site definitely on our "return list". Its always a "plus" for us when the only thing we can hear when we wake in the morning is the sound of the birds, also the Site Managers Kate and Eddie were a pleasure to meet and talk to. Just one stop this morning at Llandovery to buy some bread, milk and eggs once again the chef and quartermaster has excelled herself and we still have enough food for the next 4 days, before we re-stock at the Tesco Supermarket in Ammanford. It was certainly no hardship to have "home baked" bread for the last 3 days, delicious, Hovis, Warburtons and Kingsmill have a hard act to follow! We arrived at Dolaucothi just after 12 noon. This is another unusual camp site in that it is owned by the National Trust, run by N.T volunteers and affiliated to the Caravan Club with all the "usual" CC signage, but does not have an amenities building, which of course is no problem for us. It is set in an open glade within woodland and is adjacent to the old Roman gold mines, might go fossicking while we are here in case they've missed any! We spent the rest of the afternoon sitting outside in the warm sun until the Chinese Grand Prix started, no concern with a television signal here, the N.T have installed a "booster" aerial which is only 30 metres away.
Monday 18th April 2011
Tempting fate, we put the autumn duvet away today and whilst we had the storage boxes out we took the opportunity to sort and clean the garage. We are very pleased with the efficiency of the motorhome insulation and heating, despite the extremely cold winter we have never used the combination of autumn + summer duvet to make a winter one. We thought today we would just relax in the warm sun, however by late morning the sky had clouded over and a chilly wind had sprung up. Jenny decided to stay indoors and read, knit and bake and I had a short walk to the bridge (built in 1836) over the River Cothi, the information leaflet we have informs us that Otter, Mink, Dippers, Sand Martins and Kingfishers can be seen, well 1 out of 5 wasn't bad, I saw a Dipper, plus, Grey Wagtails which weren't on the list. With the National Trust managing 2,500 acres here and at least 3 waymarked walks which start from the camp site hopefully in the next couple of days we will see some of the surrounding area. Again, like the last camp site it is very quiet here with the nearest main road at least a mile distant and that road isn't exactly busy. The site itself is only 4 acres with just 38 pitches and it is hardly full at present there are only 6 pitches being used, however we have got a Greater-Spotted Woodpecker close by which has been "drumming" on a tree close by for the last 2 hours!
Tuesday 19th April 2011
We purchased for the grand sum of 20p the National Trust leaflet on the Dolaucothi Estate Walks and decided we would tackle the 7.1 km, 2-3 hour "Estate Walk" categorised as "medium, steep in places". On a wonderfully warm spring day without a cloud in the sky, we started our walk from the bridge where I walked to yesterday, continuing across the River Cothi, passing the walled garden of Dolaucothi Farm, the remains of an old mansion which was demolished in the 1950's. We climbed upwards through the woodland, stopping to rest on a bench at the top. we marvelled at the silence, all we could hear were the sheep, birds and the humming of insects, no other noises whatsoever (although we were "buzzed" by a low-flying fast jet a short time ago) pressing on, we walked along the open fields at the top until we reached the Trig' point at 283 metres the highest point of the National Trust land, where we sat for a short while enjoying superb views of the Cothi Valley. At least now we knew the rest of the walk was downhill, although one of the most difficult parts was the steep slippery slate track down to the valley floor. We then followed a path along the banks of the River Cothi and found a great spot in a grassy meadow for lunch. Suitably fed and watered we continued some of the time walking along a section of old railway track which was constructed in the early 20th century to carry timber along the valley until it fell into disrepair and was dismantled in the 1940's. We eventually rejoined the original track close to the Dolaucothi Farm and made our way back to the camp site, having had a great and interesting walk. Jenny particularly enjoying it as the majority of the stiles had a hinged top rail and with Jenny's bum being quite close to the ground due to her short legs, it was a great benefit only having to step over 2 rails instead of 3!
We thought we deserved a rest for the remains of the afternoon, sitting outside, Jenny enjoying her book whilst I listened to music. But not content with our walk today, I decided before tea to walk the "Parkland Trail" as 2 people have told me how wonderful the bluebells are and I thought it would be a good photo opportunity. Taking a similar route to this morning, over the River Cothi and negotiating with a herd of cows sauntering along the path after milking, who had right of way (they won by sheer weight and numbers), I skirted the walled garden and followed the path through the wood. I did find the swathe of bluebells and took some photo's but I must say I have seen better and was back at the motorhome and hour later, the duration of the walk in the leaflet said 1¼ hours so they obviously already built into the time "The Jenny Factor" i.e., stopping to tie a shoelace, stopping to look at flowers and trees and having a wee!!!!!!
Wednesday 20th April 2011
The National Trust Dolaucothi Roman Gold Mine was on our agenda today, we certainly didn't have far to go, out of the camp site, a walk down the lane of about 50 yards and we had arrived. Bonus too when we went to pay our entrance fee of £7.60, those visitors who are staying at the campsite are admitted free. Although the lady did want us to join the National Trust but we don't think we would get our monies worth (£83.50) out of becoming members as a majority of their properties are "stately" houses and we don't "do" many of those.
The site used by the Romans as early as 75AD and also intermittently mined in the 19th and early 20th century was very interesting, with some old tools and equipment on show from the later mining activity. I did try my hand at "panning" in the stream but didn't find anything of interest, only a yellowish heavy piece of rock about an inch in diameter which I threw back! We decided we would like to take a 1 hour tour of the Victorian underground workings at 1:00 pm (the Roman workings being open-cast), however with lots of steps, uneven path surfaces and steep climbs and with a head torch as the only means of lighting, Jenny decided she would stay behind and therefore, suitable attired with a hard hat, lamp and with a heavy lead battery strapped around my waist, I journeyed far inside the hillside led by our guide Beth. No Elf' & Safety in those bygone days and with only a tallow candle as the only source of light for the younger miners they had to work by feel to sort the rough Quartz from the smooth Slate (hence the saying taking the rough with the smooth) and all for just 2d (1 pence a hour). It was a bit of an Indiana Jones film sequence the way out of the mine, up a series of wooden ladders and rocky steps to the surface, I was thinking all the time I hope a bloody great ball of granite isn't rolling down the shaft. Those less able could return accompanied by a guide who joined us specifically for the purpose by the easier route we came in by, of which 2 people opted for that option and met us further along the trail back down to the mine buildings and exit.
Jenny in the meantime had returned to the campsite and organised lunch. Again we relaxed outside in the sun, (although today we sat in the shade of the trees) and Jenny knitted and read while I listened to music. Before tea we also walked the "Parkland Trail" through the bluebell wood and yes, this time it did take us 1¼ hours.
Thursday 21st April 2011
Llandyfan Camping and Fishing Park, Near Ammanford, 51 50 08 N, 03 57 91 W, (29 Miles).
I make no apologies for repeating myself again, we will definitely be returning here! Gosh we got so many places to return to. At last and the first time since leaving Weston Super Mare in March we have found a Tesco, in the town of Ammanford (a town we had never heard of) and just 7 mile from the camp site at Llandyfan. After going slightly wrong on our way as there is another fishing and camping site just 200 yards from this one we arrived at Coel Bren, a campsite which is difficult to categorise, the owner Bob does not belong to any of the usual affiliated camp sites i.e. The Caravan Club but is completely independent and the picturesque camp site pitches are arranged in a open field with the fishing pool just yards away. We did have one concern as soon as I plugged in the electric cable, our motorhome control panel showed that the supply was reverse polarity, the first time we have experienced this indicator, which is occasionally found on French campsite (I won't bore you with the details), but after taking advice after phoning my brother Brian and speaking to Bob we decided not to use power while we are here. We do however think its something to do with the electricity being supplied via a generator and inverter rather than National Grid. Bob agreed to reduce our pitch fee from £12 per night to £10 per night which we are happy with.
Friday 22nd April 2011
I was busy fishing for most of the day, Jenny relaxed baking a Lemon Cake, Scones and Biscuits!!!!!
Saturday 23rd April 2011
A very relaxed day, Jenny unfortunately had a nasty fall as we returned from our showers this morning and hurt her side, wrist and pride, so we have just stayed in the motorhome. Although we didn't laugh about it at the time one amusing thing was me trying to pick her up. I had decided to return from the shower with only my towel wrapped around me and attempting to help her at the same time as holding on to my towel was not easy. I did say to her afterwards I should have returned to the motorhome, dressed and then gone to assist!
Sunday 24th April 2011
Jenny was feeling a bit sore today, nothing broken but her wrist is swollen and we think she may have bruised her ribs. After I did "all the housework" and lunch I walked to the top of the hill (The Garn) above the camp site. And what a view from the top! A complete 360o panoramic view to the estuary of the River Towi near Carmarthen in one direction and the Black Mountains in the opposite direction and all points of the compass in between. It really was fantastic up there and other than an occasional warbling from a Skylark there was no other sound, complete silence, wow!
After taking a few photographs I returned down the track past a dis-used quarry workings (Bob told me later it was Silicon that was quarried) to the camp site. As it was such a wonderful warm day I spent the rest of the afternoon and early evening fishing, Jenny sitting behind me knitting and reading, and commenting about the lack of fish I was (not) catching, she's getting better! Murphy's Law when she returned to the motorhome I started to catch some decent sized Carp. Bob saw me catch some of them so I'm not fibbing. He also asked me whether when I went up the "mountain" (he calls it that, I call it a hill), "if I took some photos of the castle", "the castle"? "Carren Cennen Castle", the ruin of which stands on the top of a neighbouring mountain/hill, I had forgotten that he had told us about it when we arrived on Thursday. I wonder if I took a photo of it "accidentally" when I was up "the mountain" earlier?
Monday 25th April 2011
Hillcroft CL (Certificated Location), Kilgetty, 51 43 42 N, 04 43 09 W, (53 Miles).
After the enthusiasm I showed yesterday of the views from above the camp site, Jenny was determined this morning to attempt a walk up hill before we left, to see the views for herself. We steadily walked up the old quarry track to the highest point that was nearest to the camp site and she wasn't disappointed and we walked further along the ridge to see if we could see the castle. Sure enough, there it was on the top of a rocky crag 300 feet above the River Carren, how I failed to spot it yesterday I don't know, but then I wasn't exactly looking for it.
After a short rest we walked down to the camp site to complete our preparations for leaving and said good bye to our friendly camp site owner Bob. We arrived at the CL camp site just outside Saundersfoot late afternoon, paid the fee (£12 per night) for just pitch and electric, only to have a problem. The pitch was grass and not very level, when I attempted to drive up the levelling ramps, I am sure the clutch was slipping and we could smell "overheating". Not wanting to exasperate the concern we decided not to further attempt driving up the ramps and there not being any level pitches on the site, we decided not to stay and Jenny arranged a refund. We then stopped in a lay-by and rang other sites to see if they had a vacancy and found Hillcroft, just 4 miles further along the road towards Tenby. And what a find! A level hardstanding pitch in a "manicured" field with a shower and toilet that would not be out of place in a 5 star hotel and the owners Ann and Bruce made us so welcome.
Tuesday 26th April 2011
A wonderful walk today along the country lanes, through a caravan site and along the coastal path to Saundersfoot. Guided by the "mud map" which Ann gave us last night we did well to take only 45 minutes to "do" the 25 minute walk. We had a photo stop along the way, for a fantastic plate/bracket fungus on an old tree stump (the best we have ever seen) than we walked through a corpse with bluebells and wild garlic which was also worthy of a photograph. We arrived firstly at Coppet Hall Beach and then walked through an old railway tunnel (previously part of a rail track that took coal from Wisemans Bridge to Saundersfoot Quay and most strange, despite having 2 holidays in the area many years ago neither of us could remember the small town, usually either Jenny or I would have a recollection of a place. Unsurprisingly in the hot weather there were plenty of people on the beach and even some brave idiots souls in the water, jumping into ice cold water in a New Zealand Fiord is one thing, paddling in ice cold water in Wales is another, I'm 2 years older and wiser now! We had already decided to have a Fish n' Chip lunch and had intended to find a nice restaurant, but on such a nice day we agreed eating alfresco would be a better idea, so we sat on a bench eating Cod and Chips. drinking a can of pop looking over the harbour, great! After a further wander around the harbour and shops also enjoying a nice cup of coffee and a shared slice of Carrot Cake. Marvelling at the fantastic colour of the wild flowers in the hedgerows we strolled back to the camp site after a very pleasurable walk.
Wednesday 27th April 2011
Having had an enjoyable walk through the picturesque lanes of Pembrokeshire yesterday we had the "bright" idea of walking to our next camp sites location to see what it was like as it is "only" about 6 Mile away! Accompanied by Betty and a road map we left the camp site at 11:40 am taking with us plenty of food and drink and after leaving the busy road to Tenby we walked along quiet country lanes towards a place called Cresswell Quay. First time today we have seen a "mobile" post office parked in a pub car park, good idea, collect your pension and then straight in the pub for a drink. Also tried some "bush tucker" on the way, the flowers of Wild Garlic which grow in profusion along the hedgerows. being complemented by Bluebells, Ragged Robin and even a few Spotted Orchids. The Wild Garlic Flower? I thought I had eaten enough garlic for 3 Vindaloo, 2 Madras and a Rogan Josh, Jenny wasn't impressed when I breathed on her! After a walk that took us just under 3 hours we arrived at the camp site, however we weren't to impressed with the amenities so we will have a rethink before we leave Hillcroft. Must admit when we arrived back at our camp site we were both tired , but very satisfied with our extremely long walk and after a cup of tea and a shower we deserved our relaxed evening.
Thursday 28th April 2011 – Friday 29th April 2011
After our very long walks on Tuesday and yesterday we have had 2 really lazy days. With the weather still great we have sat outside and read, listened to music and Jenny has also been doing some knitting (despite her bad wrist) and of course watched some of the Royal Wedding. Good news as well, Ann and Bruce have space so we are now staying 3 extra days at Hillcroft instead of moving tomorrow.
Saturday 30th April 2011
Caught the bus late morning to Tenby via Saundersfoot and all villages in between (£6.50 return for both of us), we had just missed one at the bus stop just outside the camp site (perhaps we should have checked a time table) so we decided to walk to the next one in the village and only had to wait about 15 minutes for the next one. The journey to the ancient historic town of Tenby surrounded by its imposing medieval stone wall took approximately 30 minutes and we alighted near the High Street. Unlike our visit to Saundersfoot we did recognize some of Tenby from our visits some years ago as we walked to the sea front near North Beach, continuing along to Harbour Beach, the Harbour and finally Castle Beach before walking the short distance back into the town centre for lunch. We found "Daisy Boo's" where we enjoyed Baked Potatoes with Tuna for Jenny and Coleslaw for me with a nice cup of "Rosy Lee". After lunch we returned to Castle Beach as I wanted to take a photograph of the old Fort built on St Catherine's Island, not getting the shot that I wanted from the beach we climbed the many steps up to the top of Castle Hill, where Jenny found a seat to sit on while I took some better photographs of the fort, St Catherine's Fort was built in about 1870 to protect the Pembrokeshire coast from possible invasion from France, it was then garrisoned from 1873 to 1910 and then from 1914 to 1918 and 1939 to 1945, before being sold buy the Ministry of Defence in the 1950's to a private buyer, it has since fallen into disrepair. Joining Jenny on a seat which offered great views along the coast and with the remains of Tenby Castle (the remains being just one tower from the 13th century, now used to house the local weather station) at our backs, we had a "siesta" remaining there for at least ¾ of a hour "people" watching enjoying the warm sunshine. We did have an important recollection of Tenby…………Fecci's an Ice Cream Parlour and we couldn't resist going inside when we found it, nor could we resist a Knickerbocker Glory and Toffee Nut Sundae! After a further walk around the town we reached the bus stop, however before we looked at what time to the bus departed, the No 581 arrived (who needs a timetable) and we arrived back at the camp site just after 5:00 pm
Sunday 1st May 2011
A walk late morning to Wisemans Bridge using once again Ann's "mud Map", it was deemed by Jenny to be my fault entirely that we went wrong at a crossroads, just because I was holding the map, however I redeemed myself when I suggested that we take a public footpath across a meadow and through a wood, I said I knew exactly which way we were going and that it was a more picturesque way, surprisingly I wasn't believed. Jenny did agree that it was a pretty walk especially the track between a swathe of Bluebells on one wooded bank and a river and "roam" of Wild Garlic on the other. Roam is our own "made up" collective name for a lot of Wild Garlic from "aroma" clever hey? The strange things we discuss as we stroll along! We arrived at Wisemans Bridge Beach at lunch time and sat down on a bench to eat our sandwiches before continuing our walk through two more of the old rail tunnels along the waters edge to Coppet Hall Beach sharing a "tub" of take-a-way tea before retracing our steps along the lanes back to the camp site.
Monday 2nd May 2011
Freshwater East Caravan Club Site, Near Pembroke, 51 38 79 N, 04 52 59 W, (14 Miles).
Ann had already told us that there was no need to rush off today so we had plenty of time this morning to organise ourselves from leaving which has been the best CL (Certificated Location) camp site we have stopped at since starting our journeys in the UK. After a short walk to the Spar shop at the petrol station in Pentlepoir for Bread and Milk we left Hillcroft for the short drive to the other side of Tenby the concern with the motorhome clutch from last Monday diminishing as we drove along the hilly twisty and narrow lanes to Freshwater East. We will be staying here for 4 nights hopefully walking along the Pembrokeshire Coastal Path, embracing this wonderful weather we have had for the last few weeks, although there is more of a cool wind today.
Tuesday 3rd May 2011
Well away from any main road and the only noise during the night was the sound of the surf in the distance pounding on Freshwater Beach. No mobile phone signal or internet on this site and the analogue TV signal is "boosted" via a co-axial cable into the camp sites EHU(Electric Hook Up) pillar. Luckily we already have 2 cable rolls that we bought from B&Q when in Devon, so we didn't need to purchase a costly roll from camp site reception. Most strange and not for the first time, the "local news" was Central (ITV) and Midlands (BBC) waste of time when you want a local weather forecast, after all we are now 139 miles (as the Crow flies) from Birmingham City Centre! After a lazy morning, this afternoon and while Jenny remained at the camp site knitting and reading, I went for a walk taking my camera with me to Freshwater East Beach, firstly along a track through the sand dunes and then on to the beach to the sandstone cliffs at the Eastern end of the bay. I had intended to walk along the coastal path but got so absorbed in taking photo's of the multi-coloured rocks and unusual shapes I didn't get very far and after a very satisfying time I made my way back to the camp site. On the way back I spotted another track which on looking at the information board was to an area of marshland called "The Secret Valley", after a cup of coffee I decided to walk the trail, which was just outside the camp site entrance, it is a length of boardwalk through high grasses to a high vantage point looking over the marshes, which at present looked very dry, another information board at the observation shelter at the end showed all the different birds that could be seen in the area, however on my visit it was very quiet.
Wednesday 4th May 2011
Up at dawn this morning, well actually 5:20 am to see if I could photograph the sunrise. I walked right down to the water line on Freshwater East beach, however the sun wasn't quite in the direction that I had anticipated, rising over the high cliffs instead of over the sea and with the wind so cold and strong, I was back at the motorhome, snuggled up to my favourite (well only) hot water bottle by 6:05 am and yes, she did complain about my cold hands! Needless to say we then overslept and didn't get up till just after nine. By the time we had prepared for today's walk the wind had abated somewhat and there were clear blue skies. Our first destination was the cliffs at the Eastern side of the bay, which I had walked to yesterday, I knew Jenny would be interested in them, I think she was a Geologist in another life as she explained how the strata's of rock were created (or she made it all up), but they are quite spectacular, with many crevices and gullies to explore and even a cave that you could enter through one entrance and exit from another, inhabited by Rock Doves nesting high in the roof. After our exploration we continued our walk ascending from the beach by a series of rock steps before reaching the top of the cliffs and the Pembrokeshire Coastal Path. Manorbier Castle was our target, or at least a view of it, however with frequent stops to look and take photographs of profusions of wild flowers and looking at the wonderful views our pace was slow and by the time we stopped for a late lunch overlooking Swanlake Beach we were only a little over halfway. After an extended lunch (I nearly fell asleep resting back on the rocks) we decided to walk back, taking the view that has the castle was built in the 13th century and is still here, so we are reasonably sure it will still be here when we visit the area next time. After returning through "The Warren" an area of sand dunes at the rear of the beach and also taking a mini-diversion to "The Secret Valley" for Jenny to see the marshes we returned to the camp site and a nice cup of tea.
Thursday 5th May 2011
Raining during the night and for most of the morning, today has seen the first significant rain since……since……..well a long time! At least it gave Jenny time to finish her book and for me to do some work on my photographs. Mid-afternoon the rain had become showery and the sun even came out for a short time so we decided we would go for a short walk to the top of the cliffs on the Eastern end of the beach. Although the "viz" wasn't good I did manage a couple of shots of the views towards St Govan's Head. I did say it would be a short walk, I must mention we were out much longer, we met two sisters Jan and Nicky and there husbands both called Dave who lived in Swansea and near Carmarthen respectively who are staying at the campsite and had a great chat with them for a time at the top of the cliff before we returned to the motorhome. We also chatted once again when they passed our motorhome at the camp site.
Note for Dave the builder and perhaps even Dave the Doctor:
Sorry if we have put ideas in your head, if it helps you are not the first BUT " Don't Dream the Dream do the Dream"
Thought tonight I would walk down to the beach and take photographs of the waves hitting the cliff rocks as the tide came in. I arrived at 5 minutes before high tide and coincidently on a day that the tide was at one of its highest at 7.95 feet, it was just a pity that it was almost sunset at the same time, photographs were nothing special but I enjoyed the walk.
Friday 6th May 2011
St David's Camping & Caravan Club Site, near St David's, 51 55 79 N, 05 11 55 W, (36 Miles).
I had (while I washing up) a short chat to both Jan and Dave (Dave that belongs to Nicky) and after a walk around the camp site (for our future reference) we left Freshwater East, another area we will re-visit. First stop Tesco at Pembroke Dock to replenish our depleted food stock. We did purchase a loaf of bread at the camp reception, Kingsmill 50/50, ugh, me thinks we will be using it for a Bread and Butter Pudding. Topped up with plenty of fresh fruit and vegetables we continued over the toll bridge (£1.50) spanning the River Cleddau and used the route recommended by both the CC and C & CC through Haverfordwest and along the A40 avoiding the narrow road to St David's and the B4330 that Betty suggested. Arriving at about 2:45 pm we were warmly greeted by the Holiday Site Managers, Ron & Sharon and we were soon drinking tea and eating a late lunch. We did think we would have a concern with using the ramps as the pitches slope side to side and we had a rain shower as we were attempting to get level, an anti-slip mat under the front near side wheel helped traction and there was no repeat of the problem we had at the CL at Saundersfoot. We are staying here for 7 days and although the weather forecast is not brilliant for the next few days we are sure we will enjoy this quiet location, we even have a view from the motorhome of the ocean (Irish Sea) just a 20 minute stroll away according to Sharon, that means 40 minutes for us, unless of course we start yarning in that case it could be………a long time! Big plus, the "Big Sites Book" mentions stunning sunsets and indeed the sun sets over the Irish Sea (ocean) so weather permitting I may get some decent photographs, at least I needn't get up at dawn to photograph a (nearly) non-existent sunrise. The television deserves a mention. The book states "poor TV reception". I found on the internet that the parent transmitters is 37 km away at a bearing of 89o or an alternative transmitter is just 4 km away at a bearing of 84 o and what did we receive? 8 analogue stations or a digital test card all from S. Ireland!!!!!! Not till late did we manage to get a UK channel (of sorts) after changing the aerial orientation from horizontal to vertical and rotating to each point of the compass.
Saturday 7th May 2011
Well I was going to watch the F1 3rd practice and the qualifying this morning but for "poor TV reception" and my comment yesterday of a "UK channel (of sorts)", read nothing, only the Irish digital test card, which after looking at it for 2 seconds I got bored with! No amount of re-positioning of the aerial made any difference. Plan Z into action we have got site internet which we have paid £40 per annum for I'll watch it on that. I couldn't get on it!!!! I haven't mentioned there is normally no mobile phone reception so I was unable ring the help line, now this is what wives are for, Jenny by standing on her head, with both feet in the air (not a pretty site in a skirt) managed to get a phone signal. What did we find out? We have exceeded our 12GB for the year, because I didn't realise (cos' I'm only human) that "streaming" (I thought that was an adrenaline junky sport of fording a river in just Speedo's) takes a lot of MB's. Brian the guy on the help line started to explain but he lost me after the first bite (or was it byte). Anyway, the upshot is that I "borrowed" Jenny's Credit Card. paid £40 and was at least able to watch the qualifying hour of the Grand Prix, looks like we might be investing in a satellite system. Murphy's Law which is completely appropriate in that all we could get on the TV was Sean, Paddy and indeed their best friend Murphy, Jenny tried the TV this afternoon without altering the aerial and yes, you've guessed it got local stations, it's a woman's touch! Mid-afternoon we walked to Abereiddi famous apparently for it's black beach, it's other claim to fame being "The Blue Lagoon" a dis-used slate quarry with a blue hue (looked green to me) with a variety of ruined buildings surrounding it, including a watchtower, engine and powder houses.
There were several groups "Coasteering" jumping off various heights around the edge of the quarry into the water. Wimps! They all wore wet suits, helmets and safety jackets, wish I could have showed them photos of Michael jumping from a Jetty and boat when he was only seven and my antics on the boat in Doubtful Sound and at Manning Falls in the Kimberley's in Western Australia, Elf and Safety, piffle!
Sunday 8th May 2011
Sorted! The television that is, no more Irish channels, found out where the transmitter is near the village of Trefin and pointed it in that direction. So today we are just watching the Turkish Grand Prix, updating the website, checking emails, bank, etc. Won another £10 on the lottery that's 3 wins in as many weeks, Granddad (I use his old tote numbers) must be looking down from his special place in the sky and thinking I need the money! Thanks Granddad, RIP.
Monday 9th May 2011
Gosh that was a very windy night and we are sitting on the top of the headland not exactly sheltered from the strong Southerly wind. The electric storms haven't materialised, though we did have some (though short) periods of heavy rain, pity really, still got a competition going with daughter Rhiain who can take the best lighting photograph. Spent some time this morning deciding on our future destinations, mindful that another bank holiday looms shortly. We have booked 4 days at Gwern-y-Bwlch (can spell it, can't say it) near Llanbrynmair (likewise) and then we must think about returning towards England. Jenny stayed at the campsite this afternoon while I walked down to Abereiddy , (noted that I put Abereidd(i) on Saturday, Welsh or English both are "correct") then continued on the cliff path above the "Blue Lagoon" to take some photographs.
It was rather tricky in the very high winds and on two occasions I had to retake a shot when the wind blew me off balance just as I pressed the shutter. Contradicting the last sentence the conditions were perfect sunny, interesting clouds, a very active sea running, with the waves crashing against the rocks and the scenery as I walked further along the coastal path was stunning, the yellow Gorse, Bluebells and grasses adding to the wonderful vista. On returning to the motorhome I refused to allow Jenny to look at the photographs as I am sure in the next few day she will accompany me on the same walk and I don't want spoil her first impressions of the scenery.
Tuesday 10th May 2011
After a casual morning (read lazy) and with the showery morning giving way to sunshine we decided to do the same walk as I did on my own yesterday. We found a public footpath on our way back from Abereiddi on Friday so we walked through the fields down towards the coast rather than walk along the lane arriving at Abereiddi beach in less than 20 minutes. We didn't want to walk to far this afternoon so finding some shelter from the wind with an outstanding view of Treath Llyfn a local beach, we sat and enjoyed drinks and fresh scones that Jenny made this morning. On walking back we found a public footpath that appeared to be a more direct route back to the camp site, we were wrong. The footpath followed the overgrown track bed of the old quarry horse drawn tram-road, unfortunately it was obviously the chosen route for a herd of cattle to take as we had to carefully negotiate the many "cow pats" along the track. We concluded when we arrived back at Abereiddi beach that we should have re-traced our steps along the cliff top path it was far shorter, prettier and cleaner!
Wednesday 11th May 2011
After "housework" this morning we decided this afternoon to walk along the lanes to the village of Trefin approximately 2¼ miles away and then walk back along the Pembrokeshire Coastal Path. Within 55 minutes we joined the coastal path and discovered a "stone circle" which conjured up ancient mystical Druid rituals or some satanic sacrificial rites, looking on the internet later they were put there by the farmer as a "folly"! Continuing on, we passed a hedge of wild flowers which stretched for about 200 yards which included Bladder Campion and Sea Pink (Common Thrift) and with the colourful lichen on the rock wall it was spectacular and coincidently, looking on the Internet for additional info' on the area, I found the exact photograph as one that I took. After about a hour's walk we reached Porthgain which was a prosperous industrial harbour in the early 1900's from slate quarrying, brick making and granite, of which the ruins of the large brick hoppers still dominate the harbour. The hoppers were used to store crushed granite before shipment and are now a ancient monument. We sat on a seat at the harbour side for "afternoon tea" before climbing hundreds of steps (well, quite a few) back on to the coastal path stopping once again at the site of some ruined quarry buildings and being facinated by being able to still see some of the original wooden sleepers of the old tramway. After more "photo stops" we eventually reached the spot we had stopped at yesterday and continued along the cliff track past the "Blue Lagoon" (definitely Green) instead of "Cow Pat Alley". Not suprisingly it took us just under 3 hours to walk back from Trefin with the number of times we stopped to take in the views, etc, and obviously the coastal path was rather more undulating than the lane.
Thursday 12th May 2011
A quiet day after the walks of the last few days, although it has given Jenny the chance to do some laundry and for me to work on yesterday's photographs. Last night here, fingers crossed, there may be a decent sunset tonight on two occasions this week when the sun has been out late in the day and going down, it has disappeared into low cloud over the sea.
Friday 13th May 2011
Lleithyr Meadow Caravan Club Site, St David's, 51 53 87 N, 05 16 74 W ( 6.4 Miles).
At last this week managed to get a photo of the sunset last night. Did it a very lazy way though and regretted it afterwards, stuck the tripod out of the roof light and stood on the bed. I should have walked down the meadows and got a picture with the Abereiddi watchtower closer and more prominent in the shot, would have made for a much better photograph. An extremely short drive today as we wanted to visit Britain's smallest City, St David's and surrounding coast and although we could have caught the "Strumble Shuttle" the local bus that stops outside the camp site we had already booked the Caravan Club site at St David's for 4 days. These Pembrokeshire Coastal buses are brilliant, during the summer they operate 7 days a week on a "Hail & Ride" basis all you do is signal the driver to stop. They cover the whole 186 mile of the National Park coastline. The names are amusing, "Poppit Rocket", Celtic Coaster, Puffin Shuttle to name but three and are also timed to connect with normal services that serve other towns and villages. We were soon "pitched" at our new camp site on a nice flat grass site with a great view of Carn Llidi the highest point in the area and other coastal crags. Needing Bread and Milk we got printed directions from reception and walking along a bridle way and quiet lane we were in St David's within 25 minutes. We hadn't realised that the ruins of St David's Bishops Palace (in fact I had never heard of it) were adjacent to the cathedral and both worthy of time spent taking photographs as the light was particularly good, one photograph I personally think is one of the best I have taken for some time.
Saturday 14th May 2011
Kept looking at Carn Llidi and decided I might attempt to climb it! Leaving Jenny to knit and read (and perhaps bake) and taking with me lunch and drinks I walked down to Whitesands Beach and joined the coastal path. However seeing that St David's Head was less than 2 mile away I headed in the direction of "The Head" first, along the undulating narrow path past picturesque bays and imposing black cliffs, before climbing up the to the rock strewn grassy headland. Found a comfortable "armchair" shaped rock out of the cold Westerly(ish) wind to eat lunch with a fantastic view of Whitesands Bay, Ramsey Island and Ramsey Sound. After my "picnic" I re-traced my step along the coastal path before finding a path which appeared to fork off towards my original destination, Carn Llidi. Although steep the first part of the climb was quite easy, although I did need to take a necessary diversion around a herd of wild horses (I don't even like "tame" ones), no such problem with a lizard that skittered in front of me shortly afterwards! Eventually reaching the lower crag of Carn Hen I was disappointed there were concrete steps to the top, on which were the flattened remains of what was obviously a military building of some sort. No such disappointment when I reached the final few feet to the top of Carn Llidi, Pitons, Carabineers and a length of rope came to mind, strangely, not having any of these in my rucksack a "free climb" was required (it was a good job that Jenny wasn't with me she would not have allowed me to do it), however, with ample hand and foot holds and a bit of careful climbing I reached the top. Fantasticviews from the top along the Pembrokeshire coast as far as Skomer Island in one direction and Strumble Head in the other as well as inland. After a chat with Jenny via our "Walkie Talkies" and waving (she could also see me through her binoculars) and taking some photographs I carefully (very carefully) descended from the top and walked back to the camp site along a much shorter and quicker path that I had spotted from the top, very satisfied that I had managed to achieve my aim, Why? as any intrepid explorer would say, "because it's there"!
Sunday 15th May 2011
A very lazy day!
Monday 16th May 2011
Jenny had not seen Whitesands Beach and Bay since we have been here, so early afternoon we made that our destination choosing a circular walk past a rather comfortable looking Youth Hostel and on to the public footpath which skirted Carn Llidi and the lower Carn Ben which I climbed up Saturday, we then continued on to the open heathland above the coastal cliffs of St David's Head. Again I gave the herd of wild welsh ponies a wide berth, no such fear from Jenny she wanted to ride one! After a short stop near the headland which gave us a wonderful view of the bay and the islands we reached Whitesands Beach and the lane which lead us back towards the camp site. Had a laugh when we arrived back, there is a large flock of Rooks which use the camp site as a feeding ground and the Yew trees as a roost. A couple with a motorhome and large Rottweiler had left the dogs feeding bowl outside and the Rooks were devouring his/her food. When they eventually arrived back they were all (including the dog) staring at an empty bowl for quite some time. Rooks, your secrets safe with me!
Tuesday 17th May 2011
Cardigan Bay Camping and Caravan Club Site, Near New Quay, 52 11 04 N, 04 21 92 W, (56 Miles).
Cardigan was our first stop this morning as we needed to shop for grocery's, luckily Tesco was just off the main road and although the car park was rather small we did find a space to park although we "stuck out" a bit. Tip: If Tesco are doing fuel vouchers for purchases over £50 and you are spending over £100 ask them to stop the till when £50 is spent and start again, result 2 vouchers, (I think that the cashier originally lived in Walsall helped).
Wednesday 18th May 2011
A quiet day catching up with a few tasks on the motorhome, checking emails. banking etc, plus working on the many photographs I have taken in the last few days on Adobe.
Thursday 19th May 2011
Bought a "mud map" this morning from the reception (20p to the flower fund) which gave us directions to the small secluded cove at Cwmtudu, said to be once a secret haunt of pirates and smugglers. With both written instructions and diagrams the map was like going on a treasure hunt as we obviously didn't know what "surprise", like a double stile or herd of nosey young heifers, was around the next corner. From camp to Cwmtudu the map suggested to allow 1¼ to 1½ walk with a note in brackets, "Not including stops to admire the views", it took us just over 2 hours and we didn't actually walk to the cove but stopped on the cliff top above to eat lunch and look at a splendid views over Cardigan Bay. After our lunch we decided to walk along the coastal path towards New Quay stopping first at Castell Bach "Little Castle" a Celtic iron age settlement and promontory hill fort which dated back to about 300 BC, other than a double ditch and earthwork defences there wasn't anything left of it (obviously a typical Wimpey build). What made an attractive photograph was the small sandy beach and tiny cove sheltered by a rocky knoll (almost an island) immediately to the south west of the site. Continuing our walk we came to another pretty cove and sat for a long time relaxing on the short grass above the shingle beach watching the gulls swooping down to land and swim in a fresh water lagoon at the back of the beach, where a tiny river reached the sea. To late to continue to New Quay we returned from the coast via an alternative route before joining the track back to the camp site. Tomorrow weather permitting we will extend our walk to New Quay.
Friday 20th May 2011
At least this morning we didn't miss the first directional note on the map, Jen's fault yesterday admiring the Lupins in the border on the left hand side of the entrance to the camp site, we weren't concentrating and missed the sharp turn up a track on the right, went a least 20 yards before we turned back! Our route was the same as yesterday, 5 meadows, a steep bank and steps to a green lane, then a wooded track along a valley, before the open grassland to the coastal path at the cove we stopped at yesterday afternoon. Downhill for most of the way it took us about a hour to get to this point, now (according to the map) we had another 1½ hour of undulating cliff walks from sea level to about 70 metres at Bird Rock (so named because of the large number of sea birds that nest there at various times of the year and the highest point on our walk), however with two rivers flowing out of the valleys at small inlets it was necessary on both occasions to walk down to almost sea level and cross over wooden bridges before climbing up once again. Just past Bird Rock was a Coast Guard Station and the Cardigan Bay Lookout Shelter, inside the shelter were identification boards for local wildlife as well as a panorama identifying places on the coast to the south. Also the following extracts from the Coastguard log:
Christmas Day 1926 - Lifeboat called out to the wreck of schooner 'Guiding Star' of Plymouth which was found stranded under the cliffs at Tregynan Isaf Farm with all sail set, no-one on board. Search was made but no trace of crew was found.
29th January 1946 - Reported at 11.25 that a Spitfire Pilot had baled out over Tresaith and was drifting into Bay. Lifeboat searched extensively for parachute and returned at 15.40 having failed to locate pilot and aircraft.
4th and 5th February 1946 - H. M. submarine 'Universal' drifting casualty. Crew taken off by Fishguard and Aberystwyth lifeboats. Coastguard staff kept watch and stood by on being retired from watchman duties. Altogether a good show as far as readiness was concerned.
Leaving the Shelter of the Lookout and back out into the stiff Southerly wind we had two choices the path along the cliff edge or the sigh-posted alternative path to avoid it, no guesses to which way Jenny wanted to go and we re-joined the cliff path about 200 metres further along. After another 30 minutes we descended the steep path into New Quay, first stop was the Information Centre to find out where the bus stop was and the times back to Cross Inn, the nearest stop to the camp site. Second stop? Captains Rendezvous a Fish & Chip restaurant on the sea front, Haddock for me, Hake for Jenny and both were cooked to perfection and in clean surroundings and with excellent service a place to we would definitely recommend. Suitably "fed & watered" we walked to the harbour to see if we could see the Bottle-Nosed Dolphins that are frequently scene in the bay, no luck, neither with seals or the rare Chough (note for Rhiain, not a Blackbird) that are also seen from time to time from the cliff tops, although the seals are more likely to be seen towards September. After a steep walk up to the bus stop, (why it didn't stop at the bottom near the harbour we don't know), plus usefully a pharmacy where we managed to get our medical prescriptions made up, we caught the 550 bus to Cross Inn, which is about 3 mile (all uphill) from New Quay. We only then had a 20 minute walk along the quiet country lane to the camp site arriving back at 5:00 pm having had a great day out.
Saturday 21st May 2011
After 2 days when we have walked quite a few miles, today we have stayed relaxing at the motorhome. Good idea to walk the last two days (although Grand prix qualifying and practice did help "sway" the decision) as the weather today is very wet and windy and the forecast for the next few day is not very good.
Sunday 22nd May 2011
A relaxed day
Monday 23rd May 2011
The intention today was to walk down to Castell Bach find a nice spot for Jenny to sit and read whilst I did some photography. The weather didn't "play ball", high winds and pouring rain. It did start to clear up at 3:00 pm but it was still very blustery and it was rather late for the hours walk to the coast, reading, listening to music and organising future camp sites was what we did for the day. Tomorrow we move to Gwern-y-Bwlch in Mid Wales between Snowdonia and Old Montgomeryshire for 4 days before returning to England (sounds as though we've been abroad) through Shropshire. We don't think we will have Internet for a while so it may be some time before we are able to update the web site.
Tuesday 24th May 2011
Gwern-y-Bwlch Camping and Caravan Club Site, Llanbrynmair, Near Machynlleth, 52 37 24 N, 03 39 52 W, (57 Miles).
With a short distance to travel this morning we didn't rush to leave the camp site. Our first stop was to "top up" with LPG, however when we reached the depot, luckily only 3 mile from the camp site there was nobody available to help us, "he, having left about 30 minutes ago", according to the lady with about 20 cats! We continued on and found a Texaco filling station (why is theirs the most expensive fuel?), we only needed 12 litres to fill up, but at 83.9p it was the most we have paid since having the motorhome. A further stop was in a lay-by on a high point overlooking Cardigan Bay with extensive views both North and South, for a late morning "cuppa". We were very warmly greeted by the camp wardens at Gwern-y-Bwlch and whilst I filled up water Jenny went to chose a pitch, good decision on my part as the site track is all uphill and as Jenny had taken the "walkie talkie" with her she just called me to drive up to the pitch she had chosen. Which was perfect, flat, with a nice expanse of grass on the driver's side and views of the hills through the windscreen, couldn't have done better myself. After a late lunch I decided to explore, finding on the site a bird hide and small pool and had a very pleasant chat to a couple from Yorkshire whilst sitting on the bench (which we had moved outside of the hide into the sun) watching a pair of Pied Flycatchers which were feeding young in a nest box on a tree close-by. The small pool contained a couple of goldfish, tadpoles and more interestingly Smooth Newts, which I have not seen in the wild since I was a boy and now of course protected by law in Great Britain against being sold or traded in any way.
Wednesday 25th May 2011
A very relaxed day, although I spent quite some time near the bird hide. I had noticed yesterday that the male Pied Flycatcher always perched on one particular branch as he flew both to and from the nest box and I wanted a decent photograph of him as they are not a species of bird that we have seen very often. Using my Nikon D70s with the 500mm Tamron zoom lens I positioned the tripod as close to the branch as I could using a cable remote control at its longest length whilst I hid behind a convenient bush, the light wasn't in exactly the position I wanted but I was pleased with the result.
Thursday 26th May 2011
A very wet and windy day, probably the wettest we have had since leaving Weston-Super-Mare in March we certainly won't be venturing outside. Jenny knitted and read, while I read, listened to music and edited some photographs.
* * * Having a problem with the laptop the next few days have been taken from written notes on Sunday 5th June 2011. * * *


Friday 27th May 2011
Switched the laptop on this morning and found I could only get the message that a file was "corrupt or missing". Both Jenny and I tried everything we could think of to try and get it working, but to no avail. We wonder if the "3rd party" disc I was using yesterday for photography tutorials which was free with Digital Camera Magazine had a "virus". It looks like we will have to find PC World when we get to Shrewsbury tomorrow. Another wet morning, however by lunch time it was dry and sunny so we both had a walk around the perimeter woods of the camp site and managed to find a pretty stream tumbling through the woods, I hadn't noticed it the first time I walked nearby but I guess the rainfall in the last couple of days helped. We also bought a hanging clothes dryer from reception, which will be easier to use when we only need to dry our towels each morning. We hadn't bought one before because we didn't want to hang it from a window ledge, but having seen one hanging from a motorhome ladder thought it a good idea. We also exchanged a couple of our paperback books whilst we were at the reception. Late afternoon I walked along the lane above the camp site and took some photos of the panoramic view down towards the camp site and along the valley, pity someone decided to put some power lines along it.