Ref:
Date:
Location:
Photographer:
[clikcontent type=paymentBuyLink replaceable=true]
Ref:
Date:
Location:
Photographer:
[clikcontent type=paymentBuyLink replaceable=true]
1st July 2011 - 21st September 2011
Here, there and everywhere in the Midlands and West
Friday 1st July 2011
Unfortunately I had to return my new glasses to Specsavers in Lichfield for some reason they are not right, I am sure between Helen and Helena they will sort the problem out for me and I can collect them when we are in Lichfield again in about a fortnights time. From Lichfield we drove to Sutton Coldfield to return the hire car to Enterprise, great service from the Sutton Depot after the poor service we had from the Lichfield Depot last time we hired a car from them. After the young lady from Enterprise drove us back to the Kingsbury camp site we spent the afternoon relaxing once again outside, although I did wash all the motorhome windows. Before our tea I decided I would have a walk around the pools and lake, however I was distracted at Kingsbury No10 lock , whilst I sat on a nearby bench. A man who was negotiating the lock in a motor boat with his brother following in a barge informed me "they" were 4 hours late getting to Fazeley (approximately another 5 mile further along the canal), "they" were novices, they had grounded twice, the engine had failed and "he" (his son) had fallen in. Well I just had to watch them for 15 minutes with camera at the ready in case anything "exciting" happened, it didn't!
Gloucestershire


Saturday 2nd July 2011
Tudor Caravan Park, Slimbridge, 51 44 08N, 02 23 91 W, (64 Miles)
Didn't need to rush off this morning from Kingsbury as we didn't want to reach Slimbridge until after 12:00 pm we therefore decided to have a walk around a couple of the lakes and the canal towpath before we left. Perfect timing we reached Tudor Caravan Park at 12:50 pm and we think for the first time we have visited here the sun was shining, 15 minutes later we were enjoying our lunch. We had all ready made the decision that this afternoon we would have a walk along the Gloucester and Sheerness Canal, we just had to make our minds up whether to walk toward Gloucester or Sheerness. Sheerness won as the camp site owner had mentioned a "ships graveyard" about 2½ miles that way, (although there were 2 pubs the other way). We had a wonderful stroll along the towpath eventually reaching Purton Ships Graveyard, a very interesting "Site of Scientific Interest", the banks of the River have historically suffered erosion by the tides and between 1909 and 1965 redundant and unwanted vessels were beached and allowed to fill with silt to form a barrier to prevent the river eroding into the canal embankment. The various working boats now form the largest collection of historic Inland Waterways boats in Britain.
Once again our timing tonight was perfect after our 5 mile return walk we arrived back at the camp site at 5:35 pm, the mobile Fish n' Chip van arrived at 5:30 pm!
Sunday 3rd July 2011
After our great walk yesterday to Purton we decided that today we would walk "up" the canal towards the small village of Frampton, taking our lunch with us. We were going to use our bicycles but the forecast again for today is for it to be hot so we have opted to walk. Reaching "Splatt Bridge" derived from an ancient name for "bog" (the salt marshes between the canal and River Severn), we sat on the side of the towpath eating lunch watching the man energetically operating the swing bridge winch to allow the various boats through, before walking into the pretty village of Frampton.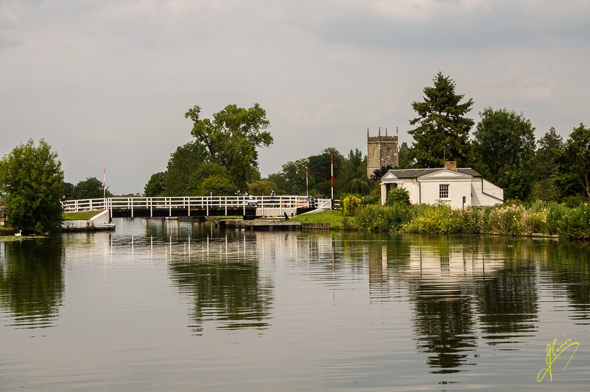 However, I insisted that we did not take the shorter public footpath across the field where there were 4 huge (well quite big) horses. We didn't walk far enough to find either the 2 pubs or the tea-room before returning to the canal side, this time we did walk through the field with the horses, I felt safe as they were across the far side of the field and weren't looking my way, I didn't take any chances though and quickened my pace as we got close to the stile, Jenny meanwhile casually strolled behind! After returning to the campsite and having tea, (Home-made Steak Pie followed by Summer Fruits and Apple Crumble, which we had intended to have last night before Cod & Chips came on the menu), I decided to cycle along the canal towards Purton turning around at the 2 mile marker before stopping close to the Swing bridge at Slimbridge to see if I could see some of the Water Voles that inhabit the area, luck was on my side as I saw 2 close to the water's edge, unfortunately the light was not sufficiently bright to take a decent photograph, (I didn't think that a "brown blob" in the grass counted), good day for Voles as a Field Vole crossed the towpath in front of us earlier today.
Somerset


Monday 4th July 2011
Rhiain's, Ian's and Kura's Home, Weston Super Mare, 51 20 46 N, 02 55 59 W, (70 Miles approx')
No rush once again this morning to leave the campsite as we had asked if we could stay until lunchtime instead of at the 11pm "official" leaving time. A great place to stay other than just one problem.....The Wood Pigeons that use the roof of the motorhome as a launch pad that wear "hob nail" boots at "early o' clock", we also think that get up to "other things" while they are up there! We soon reached West Country Motorhomes at Lower Weare where the motorhome is booked in for some warranty work and picked up the courtesy car to use for the next few days. Then on to Rhiain's to see our beautiful granddaughter, pity we needed to return to WCM to collect a bag of freezer food that Jenny (we) had forgotten.
Tuesday 5th July 2011 – Thursday 7th July
Time with Rhiain, Ian and Kura.
Friday 8th July 2011
Ian drove us to Clifton at Bristol to view photo's in the first of a series of three Rhiain and Ian had commissioned at Clifton Photography of Kura, these first were the ones of "the bump" before Kura was born, the 2nd and 3rd will be of her first few months. West Country Motorhomes also rang to say that the motorhome was ready for collection; however we have asked them if we can collect it Monday as there is a Music Festival (T4) on the beach in Weston-Super-Mare and most of the local camp sites are full. As usual very obliging and we will collect it first thing Monday morning and drive directly to John's at Moorland Farm the CL (Certificated Location) "5van" camp site at Banwell which we enjoyed staying at last year.
Saturday 9th July 2011- Sunday 10th July 2011
Weekend of the British Grand Prix at Silverstone, no guessing what the Morris and Clarke family will be doing this weekend, Tried Rhiain's Schumacher limited edition cap on Kura, it didn't fit!
Monday 11th July 2011
Moorland Farm CL, Banwell, near Weston-Super-Mare, 51 20 45 N, 02 52 23 W, (17 Miles).
At West Country Motorhomes at 9:15 am, we would have been earlier if a lorry and bus had not "kissed" in the very narrow lane through Banwell village and we had to divert by "guess work" through country lanes, Betty (the SatNav) was in the boot! After Brian had gone through the list of items for attention, which included poor radio reception which they have cured by fitting a new radio we drove "the long way round" to Banwell. Stopping at Puxton Park (a country park with an excellent farm shop) to purchase some fresh vegetables en-route, we arrived at the camp site mid-morning and were warmly greeted by John the owner and within a short-time were pitched and having "elevenses". Rhiain, Ian and Kura arrived late afternoon, Rhiain driving her own car over for us to use for the next couple of weeks. Good news today, Kura has put on 8ozs in the last week, she now weighs 5lb 8 oz's.
Tuesday 12th July 2011


* * * Thank you to my wonderful wife Jenny on our 42nd Wedding Anniversary, All my love on this Special Day XX * * *
A need today to fill up the larder, as we ran our food down before leaving the motorhome at West Country Motorhomes, so we drove into Weston-Super-Mare to shop at Tesco. Spent the afternoon relaxing in the sun outside the motorhome, before celebrating our Wedding Anniversary with an evening meal at the Sidcot Arms near Winscombe with Rhiain, Ian and Kura.
Wednesday 13th July 2011
A lazy day in the sun!
Thursday 14th July 2011
The weather forecast today seemed to point to the last day of the warm spell so we decided to have a BBQ tonight with Rhiain and family, The nice butchers shop at Puxton Farm seemed to have a good selection of meats when we looked on Monday so we drove their and then to Morrison's to get what we needed, a successful BBQ it was too. When Rhiain, Ian and Kura left we wound the awning in as high winds and rain are forecast for the next few days.
Friday 15th July 2011 – Sunday 17th July 2011
Spent time at Rhiain's, which including helping Ian assemble Kura's cot.
Monday 18th July 2011
A relaxed day, although we did drive to Rhiain's to use her dryer as we have been unable to dry the washing at the motorhome due to the extremely wet last 3 days.
Tuesday 19th July 2011
Left after the morning "rush hour" using Rhiain's car today to drive to the Midlands as we have appointments there. On the way up the M5 motorway, we exited at Junction 4 to take the opportunity to visit Jenny's sister Kathleen who has moved into sheltered accommodation in Weoley Castle, we had to depend 100% on Betty to navigate us there and she didn't let us down, directing us right to the door. The storage unit at Tamworth was our next destination to take some "unwanted" bits and to collect some articles that Rhiain wants to borrow (????), before continuing to Lichfield to "off load" some things for Michael at his workplace, good job the boot of his car was empty! Accommodation was next and we have booked "The Travel Lodge" in Sutton Coldfield, after checking in I texted my brother Brian to inform him of our room number as he and Linda are coming over tonight to have dinner with us at the Parson & Clark, "Toby Carvery" next door, Also told him to bring half a dozen tea bags as there didn't appear to be any on the hospitality tray, found them later hiding underneath the coffee bags, (still save us buying any for a further……..day). We enjoyed our Carvery (and the sweets) although the Yorkshire Puddings were rather like "cardboard", but then nobody makes Yorkshire Pud's like Jenny.
Wednesday 20th July 2011
Appointments today, one of which was collecting my new spectacles from Specsavers after having to "reject" them last time because they were not right, fingers crossed that this time they are OK, (although after trying them all day I am not convinced). This afternoon we drove over to Swan Pool at Sandwell to visit Brian and his mates sailing their model boats, Brian wanted Jenny to have control of his model lifeboat, unfortunately because of the distance she couldn't determine which way the boat was pointing so didn't take him up on his offer, good job a calamity of Titanic proportions would have ensured! We both however enjoyed control of it a bit later without any mishaps, although a Mallard wasn't too impressed with my navigation. Dinner once again tonight at the Parson & Clark (without Yorkshire Pudding) before driving to Fradley to visit Michael, Sharon and our Grandson Charlie for the evening.
Thursday 21st July 2011
Killing time today as our last appointment (in Lichfield) wasn't until 3:00pm, so we took our time checking out of the Travel Lodge before travelling to Lichfield for a simple breakfast at Costa in Tesco's of a Bacon bap and a pot of tea. After we completed the Daily Mail crossword, the simple one on the back page (actually I started it by doing all the hard clues and left the easy one's for Jenny), we decided to visit a CL (Caravan Club Certificated Location) at Chorley about 5 mile from Lichfield. We were certainly impressed and although the owner is still waiting for the electric power supply to be installed we shall probably be using this site in the future, with its fantastic views over the Staffordshire countryside and I nearly forgot to mention, fishing pools! Returning to Lichfield we had lunch at the Bowling Green Pub, unusually Mr Tony Christie was not dining on this occasion, must have found his way to Amarillo. We arrived back in Somerset just after 6pm, "popping" into Rhiain's for a "cuppa" before returning to Moorland Farm, just in time as the "heaven's opened" and it poured down with rain the rest of the evening.
Friday 22nd July 2011
We had a telephone call on Tuesday from Julie at Leisure Furnishing to say that our replacement bed mattress was ready and would be despatched to arrive Wednesday, explaining to her that we were not in Somerset she delayed arrival until today, then the "fun" began! Rhiain had an answer phone message early this morning from the driver of "Night Freight" that he was near Moor Lane that confused us ringing Rhiain at home, when they had our mobile phone in case they couldn't find us! I walked quickly up to the entrance and sure enough there was a large wagon, attempting to drive up the lane, (so much for explaining that they would need to deliver in a small van and Leisure Furnishing saying it would be) The very helpful driver unloaded the mattress while I walked back to collect the old one for him to take back, Jenny had "a moment" when she thought that the new mattress was not "hinged" along the centre, however on investigation she found that it was. Fortunately the mattress was wrapped in 3 layers of plastic as it was raining heavily and we had to leave it outside until the rain stopped to unwrap it. The rain stopped and the fun continued when we were getting it into the bedroom as true to their word Leisure Furnishing had made the new mattress both thicker and firmer and getting it through the "hatch" was a very tight squeeze, but with me pushing and Jenny pulling and vice-versa we eventually managed it. Of course much to the amusement of other people on the sight we had to explain to them the "why's and wherefores" of what we were doing and explain the early deliveryJ. The next thing we needed to do this morning was move the motorhome to the "fishing pitch" which is not part of the CL site. We had only been able to book with John on the site until today as he is fully booked for the next couple of weeks; however we were able to book the "fishing pitch" for the next 2 nights, before we move on Sunday. With the very heavy rain we have had of late, we did struggle a bit with the notorious lack of traction with front wheel drive and had to use the "anti-slip" mats under the front wheels to drive off the paddock, we also had a problem reversing into the "fishing pitch" and in the end just pitched where we "stuck", hopefully the weather in the next couple of days will be warmer and drier and we should be able to drive off OK.
Thought we would visit Rhiain, Ian and Kura this afternoon for a "cuppa" (although Rhiain says we only go to see Kura), however, Ian invited us for tea and when he mentioned Chicken Curry we were soon on our way, what he failed to mention was that Jenny was going to cook it! Some people will go to any length's (including putting up with me) for one of Jenny's home-made Chicken Curry's, but very nice it was.
Saturday 23rd July 2011
Joked with a lady on the site that John had moved us to the "fishing pitch" in case with the new mattress fitted I snored during the night and at least we would be a bit further away from anybody else, I didn't snore (at least I didn't feel the normal "dig" in the ribs), but we did oversleep, not waking up until 8:30 am! German F1 Grand prix practice this morning followed by qualifying at lunch time so we I was reluctant to go far, but did agree to go to Tesco (on a Saturday???) this afternoon. I did try to get out of it when we drove to Rhiain's first to use her washing machine, suggesting to Rhiain that she might like to go shopping with her mother, but to no avail. Luckily when we did arrive at the supermarket it was surprisingly quiet and we "zoomed" around with the trolley very quickly getting enough food for the next week or so. Arriving back at Rhiain's I updated the web site, unfortunately there seems to be a problem with the fonts and line spacing, I think it may be the formatting in the Microsoft Word programme but until I actually copy it into the web page I don't know if I have corrected it, we (and you) will see. After a "Fish and Chip" supper with Rhiain and Ian (Kura rejected the chip I offered her, not enough vinegar), Rhiain went back with us to the camp site to drive her car home which we have been using whilst we have been here.
Herefordshire


Sunday 24th July 2011
Bromyard Downs Caravan Club Site, near Bromyard, 52 11 22 N, 02 28 14 W, (93 Miles).
At least with the last couple of days being warm and dry we managed to drive out of the "fishing pitch" without wheel slip, although John had to ask one of the people to move his car so we could turn in the car park to drive straight out. First stop was Morrison's to fill up with diesel, a staggering £99.21; however we had not filled up with fuel since we were at Cardigan on the 17th May and with the average for the last 425 mile being 26.49 MPG, we are quite pleased with the fuel economy. Our timing to reach Bromyard Downs was perfect arriving at 11:40 , we booked in, walked around the camp site to choose our pitch and filled the fresh water tank up, put the kettle on, made a sandwich, tuned in the television and we only missed 5 minutes of the preliminaries to the German Grand Prix! Dined el' fresco tonight and we were still outside (drinking red wine) until the sun disappeared behind the trees. This is one of the "Just a Tenner" Caravan Club sites, no facilities, other than waste emptying, refuse bins and fresh water, but that's all we need and the site is well situated in a woodland setting between Worcester and Hereford, with the bus stop just outside the camp site. Plus, Bromyard Downs and Bringsty Common are adjacent so hopefully we will be able to do plenty of walking in the next 10 days.
Monday 25th July 2011
Gosh, the new mattress is comfortable, once again we slept longer than we usually do and because we forgot to put the water heater on for our showers before we went to bed and had to wait for hot water we had rather a late breakfast. We decided to have a relaxing day and suitable lathered with suntan cream we sat in our chairs reading, I must have dozed off mid afternoon, as I jumped out of the chair when there was a sudden noise, the loud musical chimes of a "Mr Whippy" van, it was worth the fright, his ice cream was delicious! I did have a short walk late afternoon to the footpath to Bromyard Downs and walked a short distance up the hill, however a seat looked very inviting so I sat there for 15 minutes looking out over Herefordshire and the higher ground of Wales beyond before returning to a welcome cup of coffee. This week we will explore more of the Downs together.
Tuesday 26th July 2011
Spent today relaxing outside in the sun, reading and listening to music.
Wednesday 27th July 2011
Another pleasantly warm morning so as the camp site reception is closed on Wednesday's and therefore we couldn't order today's newspaper we decided to walk to the small town of Bromyard to get a paper and also purchase bread & milk. The first ½ mile along the A44 was rather difficult as there is no pavement, however the grass verge was a safe haven when the larger vehicles passed and the last mile into the town had a pavement (albeit quite narrow). Just one supermarket in Bromyard a small Co-Operative in the short high street where all the other shops seem to be situated, at least there wasn't the usually Boots, next to W H Smith, next to Holland & Barrett, etc, etc. Walking back (mostly uphill) was easier there was a wider grass verge as we faced the oncoming traffic. This afternoon we sat outside and for some time we were the only people on our section of the campsite which was very peaceful, although once again the silence was interrupted by the chimes of Mr Whippy's ice cream van and…… yes we did!
Thursday 28th July 2011
Another lazy day.
Friday 29th July 2011
Decided we would visit Worchester today so at 11:13am we were outside the camp site waiting for the No 420 from Hereford; embarrassed myself (not the first time) by showing the ticket scanner my driving licence instead of my bus pass! Not that it actually mattered as this vehicle was not fitted with the scanner type ticket dispenser anyway and by the time I had found my bus pass the driver had already produced my ticket, Jenny just sat down and pretended she wasn't with me. We didn't need anything specific so we browsed the more interesting shops in the back streets of the town before having lunch. Unlike the last time we visited Worchester when we unsuccessfully looked for a Fish n' Chip shop and ended up with "Big Mac", before finding the fish shop right outside the bus station, this time obviously we knew exactly where it was. As it was such a hot day we decided not to eat in, instead we walked down to the river side (the River Severn) and found a perfect seat to sit and eat lunch while watching the swans, ducks and river traffic. After a further walk along the river, we crossed the river bridge to Cripplegate Park (no, I don't know why it's called that) and sat in the shade of the trees before eventually walking back to the bus station. Further embarrassment on the bus back when I pressed the bell about a 1½ mile before our bus stop (well I thought we were there,) good job the driver knew where we were going, got my own back on Jenny though for disassociating herself from me this morning, told the driver that it was her that pressed the bell!
Saturday 30th July 2011-Sunday 31st July 2011
Two relaxing days, spending some time outside in the warm sun before watching the F1 Grand Prix, practice, qualifying and race from Hungary.
Monday 1st August 2011
Housekeeping today, Jenny inside, me outside, however, trying to get the flies from over the cab was not easy as "elbow grease" was needed to remove them, not easy when precariously atop a pair of steps on uneven ground; nevertheless with Jenny holding on to the steps (and me) and my insurance money never entering her head (I hope), I succeeded in removing most of them.
Tuesday 2nd August 2011
A lazy day!
Wednesday 3rd August 2011
We needed bread and milk and decided instead of walking into Bromyard as we did last Wednesday we would catch the lunchtime (13:13) No 420 bus into Worchester. Forgot to mention last Friday that once again this route visits interesting small villages that we would not normally see, for instance Whitbourne, a few houses, primary school, village hall and a public house/village shop and after collecting passenger's (one today) the bus reverses in a lane and returns to the main road the same way. Let's hope that with local councils wanting to reduce subsidies to the bus companies that this type of service will survive. Reaching Worchester just before 2:00pm, we walked directly to the Fish n' Chip shop, we don't like cooking fish in the motorhome so when we have the opportunity to eat fish out we do so. (likewise baked potatoes, because of the long baking time). Even hotter today so, as last week we enjoyed eating them sitting on a seat on the embankment of the River Severn. After shopping at the Co-operative store and Iceland we caught the bus back to Bromyard Downs, just in time for a "Mr Whippy"!
Thursday 4th August 2011
More "spit and polish" on the motorhome this morning before we had lunch and then studied the "mud map" in the information kiosk for our afternoon walk on Bromyard Downs. Leaving the camp site entrance we crossed the road entering the permissible track towards Warren Farm (my old school's name), Continuing on we passed the farm and pool before entering the National Trust land, Jenny (with short legs) being pleased that all the stiles on the Brockhampton Estate N.T have been replaced by gates. After about 30 minutes we reached the ruin of "The Shepard's Cottage, also owned by the N.T there wasn't any information on it other than some plaques which we presume were left there by the previous owner, I would love to know the history of it and will have to look on the internet when we have a connection.
Walking past the cottage we came out on to the Bromyard Downs and walked along the top with it's wonderful views towards Wales before descending and returning to the campsite. Typical of us the time suggested for the walk was 1-1 ½, it took us over 2 hours.
Friday 5th August 2011
This morning we sat outside reading in the warm sun, the weather forecast for the next few days is for it to be colder and wet so wanting to make the most of today's weather we decided after lunch to walk across to the National's Trust Brockhamton Manor House and Estate. We didn't want to visit the old late 1300's manor house itself, so we only paid the entrance fee (£2.90) for the estate and it's walks and with the map given to us by the young lady at the gate we opted for the Green way-marked 4½ mile "Oak Walk" through the old parkland trees, conifer plantations and past the Lawn Pool, although we did a short detour to the manor house itself to see if we could take some photographs, to no avail however as it is surrounded by other buildings and trees.
On our circular walk we eventually reached the car park and café, wanting a drink after our 2 hour walk, we decided to have a "Cream Tea", Tea, Scones, Fresh cream and Jam, but when the lady in front of us took scones from beneath the cover, then proceeded to change her mind and put them back again without using the supplied food tongs, we also changed our minds and walked back to motorhome and had a cup of tea there instead!
Saturday 6th August 2011
Expecting a miserable cold and wet day that had been forecast we had already decided to-day to stay in the motorhome and relax. Instead, when at lunch time the weather was both warm and pleasant, Jenny went up to reception to purchase one of their local walking leaflets (10p) and we spent the afternoon on a 6 mile walk across fields, public footpaths and quiet country lanes.
We even found some "bush tucker", early blackberries and after eating Jen's homemade chocolate cake we had taken with us, we filled the empty box with them, I think we will be enjoying a blackberry and apple pie in the next few days. I also found a plum tree and managed to reach one to sample, it was delicious, if we had not been in view of the nearby farm house I would have filled the rucksack with them! Our timing was perfect when we got back to the camp site after a dry day it started to rain. Great meal tonight, Rumbledethumps and Lamb-burgers, followed by Mango and local ice-cream, plus a nice Chilean red wine, Wow.
Sunday 7th August 2011
Well today the weather forecast was correct heavy showers, so we stayed in the motorhome, Jenny reading and knitting and me organising and altering photographs on the lap top and listening to music, rubbish on the television we have not had it on now for 2 days. We did "tidy" everything up outside in between the showers ready for moving to Hereford tomorrow.
Monday 8th August 2011
Marsh House Farm Certificated Location, Wellington, Near Hereford, 52 07 23 N, 02 44 04 W, (46 Miles).
We needed grocery's today before we went to Hereford, unfortunately the nearest Tesco, without driving into the centre of Hereford was in Worcester which is back about 12 miles, luckily we had bought the Daily mail with a £5 Tesco voucher so at least that paid for the 24 mile round trip and we had visited the Tesco in Worcester before so we knew that parking was easy. Within 2 hours we were at the campsite in Wellington, again we were able to drive straight to it as we had passed it before when we were in the area. We have booked here for 4 nights and with 2 fishing pools within metres of the motorhome I know what I shall be doing for the few days. There were 3 pitches free so we chose the one furthest from the busy A49, deciding to face into the site so we had the sun on the habitation door side. Had a nice chat tonight with two lads that were cycling from Land's End to John O' Groats, rather them than me!
Tuesday 9th August 2011-Thursday 11th August 2011
Three relaxed days, I fished and with only myself to annoy on the bank side I took my radio with me and listened to music while I fished, bliss! Jenny knitted, read and relaxed outside the motorhome in the warm sun. We were joined late afternoon on the camp site by eight cyclists and a support team who were also cycling from Land's End to John O' Groats, I was curious why they had (like the two on Monday) chosen this route for their ride, evidently it is one of three that a cycling federation recommend, I'd have gone along the motorway.
Worcestershire


Friday 12th August 2011
Chapel Farm Certificated Site, Heightington, Near Bewdley, 52 20 16 N, 02 20 33 W (33 Miles)
Unfortunately the pain from Jenny's shoulder, which she hurt when she fell in April (I still blame the drink), seems to be getting worse so we have made an appointment at the doctor's and will return to Lichfield on Monday. Meanwhile we have decided to visit this CL that was recommended to us last year when we were at Ryton Farm in Shropshire. We hadn't booked but when we arrived the couple (Jan & Don, more about them later) who were already on site with Don's Sister Marlene and Brother-in-law Pete lent us their mobile phone (our was in the motorhome in the lane) to ring Trudy the site owner to see if there was a space for the weekend, luckily she managed to squeeze us in. As usual we were soon organized, although we did need to move forward a further 3 metres for the power cable to reach, (yes, I know, Jenny should have thought of that before). This is a fantastic site, which has wonderful views towards the Malvern's and Clee Hill and all we need for a relaxed weekend for only £10 per night. Almost forgot to mention, it also has a fishing lake! Mid-afternoon I decided to have a fish and very quickly enjoyed success catching various small fish. Jenny in the meantime stayed in the motorhome reading and knitting (and making the odd cup of tea for me). Late afternoon two other Caravan's arrived, Lorna and Gary and Lyn & Barry from Wolverhampton, shortly afterwards Trudy arrived the lady who owned the site, carrying a trog of Kidney Beans and Courgettes, which she shared with us, at this time we wanted to pay for our stay, however she insisted that we paid at a later date.
Saturday 13th August 2011
Decided this morning to have a walk along the lane and after approximately 1½ mile we reached the small village of Dunley buying a newspaper and some Luncheon Meat (for fishing) from the village store/garage. Walking back was harder two long hills both with a 12% incline, must admit we didn't notice them on the way! What we did see though was some "bush tucker" Blackberries, however we hadn't anything to put them in so we will have to come back later. Arriving back at the camp site lunchtime, I spent the rest of the day fishing, Jenny once more relaxing in the motorhome and chatting to our neighbours. Congratulations to Barry who caught a big carp this evening, I was a bit worried he would be fishing all night!
Sunday 14th August 2011
Lorna & Gary and Lyn & Barry left this morning, two lovely couples who we enjoyed chatting to. Jenny has also been talking to Jan & Don in the last couple of days and found out that Don had lived in the next village to her near Lichfield and had gone to the same school St Peter's in Stonnall, as had Marlene and their other brother Malcolm who was about the same age as Jenny. Jenny has a school photograph (part of her family tree information) of her class when she was 5 years old and both Marlene and Don identified their brother Malcolm on the photograph! What a coincidence, Don rang his brother and Malcolm did remember that sweet innocent pig-tailed little girl. We both went "blackberry picking", Jenny has promised me a Blackberry Cheesecake and Blackberry and Apple Crumble, luckily we found enough near the camp site entrance so we didn't have to negotiate both the steep hills along the lane where we had seen the bushes yesterday.
Staffordshire


Monday 15th August 2011
Cathedral Grange Caravan Park, 52 41 85 N, 01 50 57 W, (44 Miles).
I didn't take us long this morning to get organized to leave Chapel Farm, even so we were the last to leave and because of the dry weather we have had over the last few days my fears of getting "bogged down" on the camp site were unfounded. Don and Jan wanted us to drive to Bridlington with them this week, but we must get Jenny's shoulder pain investigated, maybe another time. Great company though, thank you to them both for their help when we arrived. A nice easy run to Lichfield and we arrived at lunchtime, luckily finding that there was just one hardstanding pitch left, which saved us using the ramps on a grass pitch on the upper part of the site. Mid-afternoon we walked down to Lichfield for Jenny's doctor's appointment, I waited in the Costa coffee lounge in Tesco, drinking a Latte and eating a Chocolate Muffin, while Jenny was at the Health centre over the road. Frozen Shoulder was the diagnosis and we now have to wait for a Physiotherapist appointment, which Clare (the doc) thinks may take about three weeks.
Tuesday 16th August 2011
Concentrated today on trying to get the web site up to date, however I am still having problems with fonts and spacing when I copy into the Web pages from the later Word 2007 we have had installed since the "computer crash". We also rang the Physiotherapy Department at Samuel Johnson Hospital to enquire about what to expect when Jenny goes for treatment, problem is that they are quoting 10 weeks before treatment starts, looks like we will have to resort to other means! Great to- night seeing our Son Michael, Sharon and Charlie.
Warwickshire


Wednesday 17th August 2011
Kingsbury Camping and Caravan Club Site, Kingsbury, 52 34 10 N, 01 42 21 W, (17 miles).
A walk back into Lichfield this morning, after being told that there was a possible 10 week waiting list for Jenny's treatment, we decided to ring the doctor's to arrange a prescription for pain killers and muscle gel as we don't want to pay for a chemist's "over the counter" prices for such a long time. Collecting the prescription from the health centre we walked over to Tesco and while waiting for the prescription to be made up we went upstairs for a cup of Latte at Costa, before collecting the prescription, purchasing a few bits from the store and walking back to Cathedral Grange. We had already prepared to leave, so just needing to disconnect the power and empty the waste we were soon on our way and after stopping at ATS to have the tyre pressures checked we were at Kingsbury at 1:00 pm. After a nice lunch sitting outside in the warm sunshine we decided to walk to the angling store in Kingsbury to purchase some fishing tackle, walking along the footpath through Kingsbury Water Park and the bank of River Tame before crossing the river to arrive at the shop, which is still part of the ancient Kingsbury Mill. On the way back (via the newsagents for two ice-lollies) we walked a much longer route, once again along the river, under the motorway bridge and through the woods and beside the fishing lakes to the camp site. After a cup of coffee and an attempt to do the crossword, jenny organized the laundry, hopefully tomorrow it will be dry to enable us to dry it.
Thursday 18th August 2011
Brother Brian & Wife Linda came over to visit us this morning. I have asked Brian if he will sell our folding bikes on Ebay for us as we rarely use them and he has kindly agreed. Good news, Jenny made a most delicious cheese cake with the blackberries we picked on Sunday and Brian doesn't like cheese cake, bad news, Linda does! We have now decided to go to "The Ketch" camp site at Worcester tomorrow, it was recommended to us by Lyn & Barry, it was where they stayed before driving to Chapel Farm last Saturday. With the campsite on the banks of the River Severn, it will give me the opportunity to do some of the fishing I enjoy most, river fishing and hopefully catching Dace, Chub and maybe a Barbel.
Worcestershire


Friday 19th August 2011
The Ketch Caravan Park, Worcester, 52 09 94 N, 02 13 14 W, (44 Miles)
.
An easy run late morning to Worcester and with probably about 40 miles of it on the motorway using cruise control I guess (although I could check it properly) that the fuel consumption would have been excellent. First stop was at the Tesco Superstore that we have used several times before, just 5 minutes drive (a 12 minute walk) from the camp site; it was a bit more difficult to park this time as it was a Friday but we actually found a perfect spot for the motorhome and we will try to park in the same place when we undoubtedly pay a visit some other time. We had already ordered and purchased a Daily Mail from reception at Kingsbury so we were going to take advantage of the £5 Tesco voucher for spending over £40. Then I had a cunning plan, we were buying over £80 of groceries so I returned to the entrance, collected another shopping trolley and picked up another Daily Mail, ripped the voucher out of it (yes we did buy it) you can guess the rest! Arriving at "The Ketch" we were soon settled on our pitch just metres from the river eating lunch and we spent the rest of the afternoon and early evening relaxing in the warm sunshine. We didn't waste the extra Daily Mail, we had a competition who could finish the cross-word first, I won't lie Jenny won.
Saturday 20th August 2011
I needed some "bits" of fishing tackle so we decided rather than catch the bus into Worcester we would walk along the public and permissive path along the river which we have been told will take about an hour. I had remembered from 30+ years ago where Alan's Tackle Shop was situated and had also been informed that it still existed so late morning we set off. Other than asking once where the shop was, only then because I felt we could shorten the walk by crossing the river at the lower pedestrian/cyclist bridge instead of crossing at the main bridge in the town, we arrived and made our purchases. We were going to walk from the shop into the town, however it had started to rain so we decided to walk straight back, although the light rain stopped on the way back. A pleasant walk along the river and a walk we will no doubt do again in the future. After a fairly late lunch I fished until tea time, though other than small fish I didn't catch anything significant.
Sunday 21st August 2011
Jenny relaxed reading and knitting I fished, again other than a small chub and (to many) nuisance Bleak, I didn't catch anything of size. I am really enjoying fishing a river again, it's more interesting with pleasure boats cruising up and down, plus this afternoon I have seen a Kingfisher and Egret which are not "common" plus a Cormorant which I didn't really want to see as they are considered "vermin" on inland rivers and pools for decimating fish stocks. I was also entertained by a large "flock" of highly sociable Long-tailed Tits, I was a bit concerned about one that appeared to have been left behind when the others had flown off from the willow tree alongside near me, however then I noticed he (or she) was busy devouring a large green caterpillar, suitably nourished it then flew off to join the others.
Monday 22nd August 2011
We found that there is a BP petrol Station/Spar Shop just the other side of the Carrington Bridge below the campsite so we had an early morning walk along the river bank and along "The Severn Way" to purchase a newspaper, I then spent the morning reading and "tidying" my fishing tackle while Jenny knitted. Mid-afternoon I was once again on the river bank and other than returning for tea I fished until dusk. I did at least catch three respectable sized Perch, but a large Chub or Barbel remain elusive, I think a change of bait and approach is called for.
Tuesday 23rd August 2011
I have had a problem adjusting the temperature of my shower by the time I have it correct 5 minutes of the 11 minutes (20 pence) had gone. I asked Jenny how her showers have been "perfect" she replied, and proceeded to tell me how she adjusted her own. Question 1, Why didn't she tell me sooner? Question 2, Why didn't I think of it? The weather has been great for the last three days and we have managed to have our breakfast outside on each occasion which we enjoy and after walking once again to the "Spar" for a newspaper we returned to relax before lunch in the hot sun and Jenny is even using the fishing umbrella as a parasol.
A great afternoon and evening fishing, at last I managed to catch my favorite fish, the hard fighting Barbel and caught three weighing 8lb, 8¼ and 9lb my heaviest trio of Barbel ever and the first since the early 1990's when I stopped fishing because of my work commitments. Pity I lost a larger fish just before dark, I am sure it was a "double" (over 10lb) and that would have beaten my previous best 9½ lb from the River Teme, fishing with my mate Dave (RIP) and his son Darren in the late 1980's.
Wednesday 24th August 2011
Jenny has organised her Physiotherapy treatment in Lichfield for the 6th September (so much for 10 weeks) so we can now make plans for the next few weeks. We went up to reception to see if we could stop here longer, but because of the bank holiday this next week-end they are fully booked. We returned to the motorhome and accessed the internet to see if the Caravan Club site at Bromyard Downs had availability for 5 nights, the on-line booking system showed that they were booked for Friday night, however Jenny phoned the site direct, spoke to Val and she has found us a pitch until Tuesday, we will then return to Worcester for a few days before driving back to Lichfield. With the success of my fishing yesterday I decided to fish the identical method today, (ledgering Luncheon Meat), didn't have a bite, that's fishing!
Herefordshire


Thursday 25th August 2011
Bromyard Downs Camping Club Site, Bromyard, 52 11 23 N, 02 28 15 W, (14 Miles).
With such a short drive we didn't need to rush off this morning, which gave us time to walk to the Spar shop at the BP Filling Station to get a newspaper and some bread, Kingsmill, ugh! I also had a nice chat to Brian a man who was pitched near us who gave me some useful information on the route to take through France into Spain should we decide to go there in the future. Good timing, we got to Bromyard just at 12:10, the recognised time for arriving at Club sites being 12 noon and we were warmly welcomed by the Manager Val and after choosing our pitch and filling with fresh water we organised ourselves for our 5 day stay. I also caught up with the manager Ray (Val's husband) and had a chat about this week-ends forthcoming F1 Belgium Grand Prix, we both hope for a wet(ish) race. As usual when we arrive at a camp site we spent the rest of the day…..doing nothing. Good news, Mr. Whippy arrived in the afternoon!
Friday 26th August 2011
With Jenny rather restless with her "frozen shoulder" keeping her awake and the rain on the roof, plus the constant "Chinese water torture" from the water dripping incessantly from the tree above us, suffice to say we didn't have a very good night's sleep. We have therefore had a very lazy day, I watched both practice sessions from Spa this morning, whilst Jenny read and knitted. This afternoon I listened to music, edited some photographs and…….fell asleep!
Saturday 27th August 2011
A much better sleep last night, in fact we didn't get up until 9:30 am! Almost missed the start of the F1 practice 3, in fact we were having breakfast while it was on; by the time we had washed up, tidied the motorhome, glanced at the newspaper and finished the crossword, (as usual I did the hard clues, I left the easy clues for Jenny) it was time for qualifying. We then spent the rest of the afternoon and evening reading and listening to music. I normally watch "Match of the Day" but with the Villa versus Wolves match being a 0-0 draw (yawn) I didn't bother.
Sunday 28th August 2011
Didn't watch the "footie" last night, but Ian, Rhiain's partner texted me to say that Pulp were in concert on BBC3 live from the Reading Pop festival, Thank you Ian, a fantastic appearance from them and their last song of the night "Common People" (of course) was just amazing. I was passing the time of day yesterday (saved me doing the washing up) with the man on the next pitch and he mentioned that he and his wife were staying until Wednesday. I thought I must have heard wrong when I saw he was preparing to leave today. When I spoke to him he explained that he had forgotten his medication and needed to return home. Then luckily he told me what his medication was, Jenny to the rescue, her medication is identical and she was able to give him enough to last until they left, they were very grateful. On a quite cool and wet day it was no hardship to stay in the motorhome and watch four hours of the Belgium Grand Prix, (what a nonsense statement I have just made and I won't delete it. Even if the sun had been out and it had been 90 degrees c in the shade I would have still watched it). Did surprise myself tonight though, watched a film for 2 hours 50 minutes without falling asleep, "The DaVinci Code" and I did enjoy it, although Jenny (as usual) explained to me the bits that I didn't understand. Unlike yesterday I did watch "Match of the Day", well I couldn't miss the Man' United v Arsenal match could I?
Worcestershire


Monday 29th August 2011
The Ketch Caravan Park, Worcester, 52 09 95 N, 02 13 14 W, (17 Miles).
Leaving late from Bromyard our first stop once again was the Tesco Superstore near the campsite at Worcester. Cheek! People had parked shopping trolleys in "my" parking place, never mind I was able to move them for the lazy people that couldn't be bothered to walk just 50 yards to the "trolley park". With my/Jenny's usual efficiency we did a "trolley dash" at lightning speed around the store and within a very short time we were once again at "The Ketch" on the pitch "one up" from last weeks. We needed to go into Worcester to purchase the tax for the motorhome so after a "cuppa" we walked along the River Severn (actually the bank side path, as only Jenny can walk on water) into the city and walked directly to the Post Office…….. And proceeded, to wait in the long queue for at least 25 minutes, well at least Jenny did, I perused the photography, fishing and motorhome magazines, and (couldn't reach the "girlie" ones on the top shelf). We then had a short walk to the "Fish n' Chip" shop, another long wait there, waiting for both fish and chips, we were starving by the time we sat down in Cripplegate Park across the river to eat/devour them. Suitably nourished we continued our walk to Alan's Fishing tackle shop in St John's, not been in there for 30 years then twice in a fortnight! Must admit by the time we had reached the campsite we were both tired, Jenny also had a sore foot, something we must look at, as she doesn't normally have a problem, we will try the special "fitted" insoles which she had in her previous walking boots. Although it was late afternoon by the time we were back and fully organised I only managed a hours fishing after tea without success.
Tuesday 30th August 2011
My brain won't save my legs, I have forgotten a couple of items from the fishing tackle shop so after breakfast while Jenny relaxed I once again walked along "The Severn Way" into Worcester, which took me approximately 50 minutes. After making my purchases I continued towards the town centre to buy a newspaper and decided to walk past the county cricket ground and along the opposite river bank until I reached the Diglis Pedestrian and Cycle footbridge, £50 million of Lottery money, when all that was needed was a few planks and some rope, what a waste of money, (Google it and see what I mean)! I then made what was a simple but stupid mistake, I decided not to cross the river but stay on the western side of the river and cross at Carrington Bridge below the camp site. All went well until I was about 200 yards from the campsite, how was I to know that the confluence of the River Teme was in my path? Should I walk back to Diglis footbridge (about 20 minutes walk back) or continue along the bank of the River Teme and find a crossing? An old man (and his dog) was walking in the opposite direction and I asked him "How far is the nearest bridge to cross the river?" he looked me up and down and asked "are you fit?" (cheeky sod, he was about ninety), I said, "yes, very" (I lied), and he told me the nearest bridge was at Powick about a mile away, I forgot that when in the country they have different perception of distance, i.e. 1 town mile = 3 country mile and about 45 minutes later reached Powick crossed the bridge a walked along the opposite bank towards the campsite. I had already rung Jenny to tell her I was "somewhat delayed" and after she had finished "wetting herself" she switched the kettle off and said she would expect me sometime in the next few days! I did know the direction of the campsite because there is a "Suzuki" advertising balloon in the sky close to the camp site, however from where I was it looked like a "full stop" in the sky. On a warm day what I hadn't taken with me was a drink and I was getting rather thirsty (in fact I started to hallucinate thinking that a cow in the field I was crossing was a cool glass of milk, wrong, doubly wrong, it was a bloody bull). Jenny saved me when she rang again to ask what day I would be arriving back, she told me there was a packet of extra strong mints in the rucksack, the mints together with a handful of blackberries (not a brilliant combination, but what the heck) saved my sanity and 4 hours 10 minutes after leaving I eventually reached the campsite, having walked for over 2 hours extra when at one point I was only 5 minutes away from our motorhome. Actually it was a great walk and one which (suitably prepared) and without going into the city itself would make a nice circular route through great countryside. I also saw some large shoals of Chub in the river, plus a Yellowhammer on the edge of a harvested field of wheat.
Wednesday 31st August – Thursday 1st September 2011
Spent relaxing (I needed to after Tuesday's "excursion") outside in the sun Jenny reading and knitting, while I fished. Despite not catching anything the last 2 days I am really enjoying fishing a river once again and with the radio on next to me I have fished both days until almost dark, only returning to the motorhome for a "comfort break" or something to eat.
Friday 2nd September 2011
We needed to post a birthday card today so we once again walked into Worcester, stopping at the fishing tackle shop for a couple of items before returning to the motorhome. I did suggest to Jenny that I show her the walk I did on Tuesday, she declined! Spent the rest of the day fishing, again no luck. I was however introduced by Les who was in a caravan near us to Steve Pope a "professional Barbel Angler" who gave me some pointers to catching what this week has become an elusive fish. "Use a dustbin full of bait" he told me, good advice if like Steve you are sponsored by bait manufactures, rather expensive when a bag of groundbait for us "amateurs" cost upwards of £3. I did catch just one Barbel this evening at 6½ lb it was the smallest of the 4 I have caught in the last couple of weeks.
Saturday 3rd September 2011
Decided to heed some of Steve's advice so I started fishing early today and put in some extra bait about 9 hours later what had I caught, nothing! I did have a good chat though with Les and Dave who were in the adjacent pitches, both were fishing and it was almost dark when Les caught one about 5lb, the Barbel are conspicuous by their absence. I am told (was it Les or Dave) that the fishing is better later this month and during October, looks like we will be returning.
Warwickshire


Sunday 4th September 2011
Kingsbury Water Park, Kingsbury, 52 34 09 N, 01 42 21 W, (46 Miles).
We had a short walk this morning to the Ketch "Car Boot", we didn't stop long and we didn't buy anything, although I was tempted by a foot spa! We were at Kingsbury just after 12 noon and the priority was to do some washing, the weather was kind to us and we (yes we) were able to put the clothes dryer out and in the late afternoon sun and we managed to get most of it dry, just as well Jenny was down to her last thong! We will stay here until Tuesday morning when we will go to Lichfield for at least a couple of nights for Jenny to attend the Physio' appointment and for me to hopefully sort out my spectacle concern at Specsavers on Wednesday.
Monday 5th September 2011
Good idea to travel here yesterday and catch up with the washing, it is very showery today and we have been in and out of the motorhome taking washing in for most of the morning. Great news from New Zealand last night, our friends Brian & Judy who we met on a campsite at Lake Waikaremoanna on the North Island and who invited us to their home in Wellington and subsequently travelled with us to Uluru and The Olgas in Australia are hopefully coming over for a holiday next year, must remember to ask them to bring a packet/box/crate of chocolate pineapples with them.
Staffordshire


Tuesday 6th September 2011
Cathedral Grange Caravan Park, 52 41 83 N, 01 50 52 W (17 Miles).
A short drive to Lichfield this morning and we arrived in plenty of time to make sure we were able to walk to Samuel Johnson Hospital for Jenny's Physiotherapy appointment at 1:45 pm. The result? Exercises, an increase in medication and a return visit in 2 weeks time. After a walk to the medical centre for a doctor's appointment to obtain extra medication we then called in at Costa Coffee in Tesco for a cup of latte and a "bun" we walked back to the camp site a 40 minute walk (90% uphill) to await a visit from Michael, Sharon and Charlie.
Wednesday 7th September 2011
My turn today, a walk into the city centre to attempt to sort out the concern with my new spectacles and after another eye-test it was agreed that I would have a full refund on them and have a re-test in 12 months time. Must admit that for the first time ever and we have been customers of Specsavers for at least 15 years, this was the first time we have had a problem. Full credit to Specsavers and the patience of Helen and Helena for sorting the problem. After purchasing some new shoes and having a new battery fitted in my watch we walked to the Health Centre for Jenny's Doctor's appointment before stopping at a restaurant in Tamworth Street where we enjoyed a roast pork dinner before once again walking back to the camp site.
Gloustershire


Thursday 8th September 2011
Winchcombe Caravan & Camping Club Site, Winchcombe, Near Tewkesbury, 51 59 39 N, 01 59 46 W, (75 Miles).
A fairly early start this morning as we wanted to get to Winchcombe at noon as we have not booked a pitch and may need to make other arrangements if they are full. We also needed to fill with diesel, we had let it go lower this time as we wanted to make sure we made full use of the "Tesco 5p off voucher", which we got when in Worcester. We actually reached the camp site at 11:40 am and were greeted by one of the nicest site managers we have met, Sue found us a pitch right near the pool for 2 nights and we were soon "sorted out" and eating lunch. The only down side of the whole site was although they advertised "wifi" it was only available on about 6 pitches, the "installers" had located the aerial on the roof of the office block, and the amenities building adjacent effectively blocked the "wifi" signal from the majority of the pitches which are on a lower level. Bonus (not), tonight a mobile "Fish n' Chip" visited the camp site, beware if you ever visit this site, both the fish (Haddock) and the chips were the most tasteless we have had for a very long time, lashing of vinegar and salt (which we don't normally have) didn't improve the flavour one iota, to say the least very disappointing.
Friday 9th September 2011
After watching the 2 Grand Prix practice sessions from Monza, I fished for the rest of the day, Jenny read and relaxed, she also organised our next camp site, we would normally have stopped at John's on Moorlands Farm but he is fully booked until Tuesday, however there is another CL (certificated location) 0.4 of a mile away as the crow flies in the same village of Banwell, but because the turning in the village is so narrow it entails a detour of over 5 mile, so we are going there for 3 nights Not that it matters because we have an appointment at West Country Motor Homes on Tuesday (more later). Successful fishing, despite the lake being very shallow, some nice sized Roach and Rudd, plus 2 Tench. I did manage to get a "wifi" signal this evening to check emails, etc by going up to the recreation room, resisting a game of pool, skittles or table tennis and a plethora of assorted board games, I only did what was necessary before returning to the motorhome. This is another camp site (no I don't know how we are going to fit them all in) that we will return to again, just 4 mile from the motorway (M5) and almost equal distance between Weston-Super-Mare and Lichfield, strange thing was, it is a camp site we have not thought of staying at, not realizing that it was so close to Tewkesbury as the Caravan and Camping handbook only mentions the name Winchcombe, a place we must confess we had never heard of. Thank you to Dave who we met at the "The Ketch" for recommending it.
Somerset


Saturday 10th September 2011
Cottage Farm Certificated Location, Banwell, 51 20 33 N, 02 53 03 W, (68 Miles).
Jenny had asked Leslie the owner of Cottage Farm if we could arrive at the camp site (normally 12:30 pm) a little earlier explaining that I wanted to see the qualifying for the grand prix to which she readily agreed. Then joked with me when we arrived that I had only 20 minutes before it started and "to get organised quickly", and made sure I knew in which direction to point the aerial. After the end of qualifying, which Rhiain didn't want to miss either, we waited for her to pick us up to take us to her house to spend the rest of the afternoon and evening with her, Ian and our wonderful little granddaughter Kura.
Sunday 11th September 2011
On my own for most of the day, Jenny went to "do" a Car Boot sale with Rhiain, very successful it was too, achieving almost £100 in sales, although Jenny and Rhiain eat some of the profits buying Bacon Baps and Burgers for breakfast! I obviously watched the Grand Prix and "the red button forum" before Rhiain came and collected me to spend the rest of the day with them.
Monday 12th September 2011
Spent the day with Rhiain and Kura
Tuesday 13th September 2011
Moorland Farm Certificated Location, Banwell, 51 20 44 N, 02 52 25 W, (22 Miles).
A 10:30 am appointment at West Country Motorhomes who despite being "fully booked" today have very kindly offered to look at the habitation door upper catch which seems to have broken,. Sandra who handles the warranty claims also told us of the situation of the "ongoing" saga with Swift Motorhomes (the manufacturer) with our concern with the poor reception on the radio after having 2 aerials and a new radio fitted without improvement. Swifts are supplying an improved design of aerial, plus, a new radio of our choice to the value of £95. A result, as long as we can get "traffic information" when we drive along the M5. We are very pleased with another satisfactory outcome when dealing with West Country Motorhomes. We left WCM just before 12 noon, Fran the technician explaining a return spring had broken on the top catch and reached John's at Moorland Farm shortly afterwards a camp site which we are always pleased to return to and where we will stay until Sunday.
Wednesday 14th September 2011
Jenny went to baby clinic (I've told her to grow up)! I stayed at the camp site, reading, altering photographs and listening to music.
Thursday 15th September 2011
Spent the day at Rhiain and Kura
Friday 16th September 2011
I stayed at the camp site and fished, Jenny went shopping with Rhiain and Kura before Rhiain collected me in the evening for a roast dinner at their house. Great rainbow tonight, worth getting wet for as I hadn't time to put wet weather clothes on!
Saturday 17th September 2011
A very showery day, pouring down one minute, bright sunshine the next. We did manage lunchtime to "dodge" the showers to pick blackberries from the bushes along the lane, after the success of the cheesecake last time, Jenny just had to bake another one, trouble is that we are sure that both Rhiain and Ian will like it.
Sunday 18th September 2011
Newton Mill Holiday Park, Bath, 51 23 05 N, 02 24 63 W, (27 Miles)
Unusually I am starting to write this at lunchtime, Jenny went with Rhiain this morning to another car boot sale, and luckily they booked an "indoor" stall for an extra £2 (£8 total) as since early this morning we have had heavy rain. I have prepared everything for leaving, the only doubt I have, is whether we will be able to get the motorhome off the paddock as the ground is sodden, I can see us having some fun if we get stuck! I had intended catching up with updating the web site this morning, whilst not the fastest internet connection, I thought with patience I might be able to do it, Murphy's law, for some reason this morning there is no network coverage whatsoever. I also wanted to see if I had "fixed" the font and formatting problem, Daily (the internet site provider) have said it may be because of "hidden code" in "Word 2007" that I have been forced to use since the "computer crash" and suggested I copy to "Microsoft Notepad" and then paste to the web, bit "long winded" but we will see whether it works. (Any "Word" experts out there or has anybody got a copy of "Word 2002" they don't want.)
Time now18:30pm. I was right we got hopelessly stuck! I reversed off the ramps and along the paddock, then attempted to go forward towards the gravel path and there we stayed for the next hour, with the front wheels getting lower and lower. John tried pulling us out with his 4WD but in the end we had to resort to jacking each front wheel up and putting some hardcore underneath. By this time Ian had arrived with Rhiain & Kura and he lent his expertise to the debacle and with his help, plus another man and pushing from the rear, Jenny leaning on the back and Rhiain & Kura standing smiling, plus numerous pieces of wood, grip mats and floor mats, John managed to pull us out onto the drive. Must purchase one of those light, but extremely strong tow-ropes and store it beneath the passenger seat with the jack, hi-viz jackets, etc. After a delay of about an hour we drove without any other problems to Newton Mill, about 3 miles from Bath a private camp site and first impressions are very favorable. The lady in reception was very helpful on transport into Bath and the pitch was perfect right near a pretty stream. After finalizing plans via text with Runa (see below) who we are meeting tomorrow we walked down to "The Old Mill" for a drink, we expected that it would be "oldie worldie" but were disappointed as the inside unlike the outside was nothing special, still I did enjoy a pint of Thatcher's Pear Cider which I haven't had before, although I did have to "share" some of it with Jenny who took a liking to it! I should tell you who we are seeing tomorrow. We met Runa and her best friend Violet in Australia on the Kimberley Wild Tour (see our website page Western Australia 27th August 2008) and had a fantastic and fun filled time with them and it was one of the highlights of our time away. We subsequently met them shortly afterwards when we arranged to meet them at our camp site in Kununurra for a BBQ and again in their home town of Melbourne in Victoria where we spent a wonderful evening with them both and then Runa kindly took us out a few days later to Dandenong National Park for another fun day. Runa emailed us in July to tell us that she was spending some time in the UK and Europe after a "holiday" in Bosnia digging and conferences in Spain and Austria, so we managed to arrange to be in Bath to spend a day with her
Monday 19th September
The lady at reception had given us directions to the bus stop, which entailed a short walk up a track through a wood to the main road, where we caught the bus to Bath bus station which was within a 5 minute walk of Runa's hotel. It was great seeing Runa again after such a long time and after our greeting's we walked to the roman baths for the free 2 hour walking tour Runa wanted to do around some of Baths sightseeing highlights. Jenny and I where the odd one's out, we were the only people from the UK, the majority being from either Australia, USA, Canada or New Zealand. We did enjoy the very informative walk around the city, we hadn't realised how interesting it was, thinking that the only "interest" was the roman baths.
We thought that Jenny's coincidence last month was extraordinary, Runa's eclipsed it, her math's teacher from Melbourne who she last met 16 years ago was on the same walking tour! We let Runa decide what she wanted to do for lunch, her request? "A Cornish Pasty and Sausage Roll", we managed to satisfy her by finding a "West Cornwall Pasty Shop" and we found a seat inside and we all enjoyed her choice. She was thrilled when Jenny and I made the decision to accompany her to the National trust village of Laycock and Stonehenge on a morning coach trip tomorrow before we drive back to the Midlands. After a long lunch (talking) we walked back the short distance to Runa's hotel for her to change into warmer clothes, she also showed us the Bosnian newspaper where she had made the headlines "An Australian Forensic Scientist visiting their Pyramids" (Dr Runa Daniel was also on TV) We had a fun afternoon, we wanted to visit the last remaining medieval gate in Bath which we had seen this morning on the tour and wanted to visit again to take some photographs. Despite at least 1½ hours of walking up streets and alleys, plus asking at the Tourist Office we could not find it, it was not until we asked a man at the YMCA that we finally were correctly directed to it, not before he gave us a short history of medieval Bath (minus point for Bath tourist office, who couldn't help us). We did divert at one stage to visit Bath Abbey which Runa wanted to see the inside of, fortuitous as it rained while we were in there. Dinner tonight was recommended to us by Tony (Runa's math's teacher) and at 6pm we found "jamie's ITALIAN" and had a wonderful meal there, "pucker" food, reasonably priced and first class service. Tony and his wife Nella also joined us later at our table for dinner and we had some interesting conversation.
We caught the bus back to the camp site at 10pm, it was fun walking back to the campsite down the track and through the wood, luckily my night vision is good, with Jenny hanging on to me and the rucksack we slowly negotiated the path and footbridge across the stream safely back to the motorhome.
Staffordshire


Tuesday 20th September 2011
Cathedral Grange Caravan Park, Lichfield, 52 41 83 N, 01 50 53 W (125 Miles).
We had obtained permission yesterday to leave the motorhome on site until 3:00pm to enable us to take the tour to Stonehenge instead of the normal "leave time" of 11:30 am. It was however an early morning "alarm call" for us as we had booked a taxi for 7:30am, nice touch from the taxi company as Jenny had a text message just as it arrived, which said "taxi is waiting with the make, colour and Reg' No. We were soon in Bath and had plenty of time to find a little café for tea and toast, before walking a short distance to the coach pick-up point where we met Runa. Ironic that we were on the "Kimberley Wild" tour with Runa and this one was a "Mad Max" tour and both drivers were called Gary. We were soon on our way to our first destination which was Lacock a village in Wiltshire, England, 3 miles (5 km) from the town of Chippenham. The village is owned almost in its entirety by the National Trust, and attracts many visitors by virtue of its unspoiled appearance. The village has been used as a film and television set, notably for the 1995 BBC production of Pride and Prejudice and the 2007 BBC production of Cranford. It has also made brief appearances in the Harry Potter films Harry Potter and the Philosopher's Stone and Harry Potter and the Half-Blood Prince. We parked outside "The George" pub for our 30 minute circular tour of the village and decided to let Gary guide us around rather the make our own way as he obviously new the history of the village.
Finishing at the pub we went inside to look at the many photo's of the famous (and infamous) actors and actresses who had been there, before re-joining the coach for our next stop a small village where we stayed a few minutes for a "photo stop" of the many pretty thatched cottages. After 40 minutes we reached Stonehenge and Runa could hardly contain her excitement, she told us she had dreamt about seeing Stonehenge since she was 6 years old! Gary had gone ahead to obtain "group" tickets so within a very short time we were through the turnstile and pedestrian tunnel underneath the main road and gazing on the wonder that is Stonehenge. The last time I visited the site was with my parents when I was a small boy, at that time there were hardly any visitors and we could wander through and climb on the stones, now, there was a perimeter rope fence and a path all around it.
Surprisingly the hour that we stayed here went extremely quickly and we were soon on our way back to the coach, in fact Runa & Jenny were the last to board. Within an hour we were back in Bath, we all having really enjoyed the morning tour, although the only criticism of the tour was their tour brochure gave the impression that we also stopped at Caen Hill Canal Locks and also a Wiltshire "White Horse" when in fact we only saw the canal as we crossed over it and we only had a glimpse of the white horse from about 3 mile away. After alighting the coach at Bath, we accompanied Runa to the train station to make sure she obtained her ticket OK for her journey to Oxford tonight, we then had a light lunch at Café Nerro opposite the bus station and just 100 yards from the train station where we sadly said our farewells, but as Runa said, not to say goodbye, but in a strong "Aussie" accent "see yer later" There was a bus waiting when we walked over to the bus station so within 30 minutes we were back at the camp site and preparing to leave. A very wet drive to Lichfield arriving at about 5:30 pm, Jenny was down at the house paying Vanessa and I was filling the fresh water tank when Michael, Sharon and our little grandson Charlie arrived to see us for a short time, the perfect end to a great day!
Wednesday 21st September 2011
Another early morning "alarm call" as Michael was collecting us at 7:45 am to drop us at Samuel Johnson Hospital in Lichfield for Jenny's Physio' appointment. Eddie the Charted Physiotherapist was pleased with the improvement that Jenny had made since her last visit, if she progresses like this she will be able to do all the washing-up again! We called in at the Health centre to arrange our flu jabs and Jenny to have her blood test, I have also arranged to have my hearing test on the Sunday, we will have a busy 3 days when we come back. A walk then down to Michael's workplace to look at the car radio that we are purchasing (see 13th September) before Michael took us back to the camp site where we relaxed for the rest of the day.