Ref:
Date:
Location:
Photographer:
[clikcontent type=paymentBuyLink replaceable=true]
Ref:
Date:
Location:
Photographer:
[clikcontent type=paymentBuyLink replaceable=true]
14th October 2011 - 24th October 2011
Derbyshire
Staffordshire


Friday 14th October 2011
Cathedral Grange Caravan Park, 52 41 83 N, 01 50 53 W, (60 miles).
We left Worcester this morning at 9:15am and with a surprisingly quiet drive to Birmingham arrived at the NEC and were parked by 10:15. Wanting the exercise and on another pleasantly warm morning we decided to walk to the exhibition halls rather than catching the shuttle bus. After sharing (I wasn't too thirsty) a cup of tea in the food hall, we, (with list in hand) started to explore the many stands. On the list? Awning (to look at), satellite systems (information), plastic tumblers ( I keep breaking the glass ones) Plastic Wine Glasses (Jenny wants a bigger one) and a low-wattage kettle, Jenny keeps tripping the electric and I have to keep going to the EHU to reset it on camp sites with low amperage electric, i.e., Cathedral Grange, plus a digital aerial locator for use on those camp site where the digital signal strength and direction is a bit "iffy". We accomplished "looking" before having lunch and then spent the early afternoon visiting some of the motorhome stands to see "what's new" before purchasing our immediate needs, tumblers, wine glasses and the digital aerial locator. Because we were now carrying various purchases plus a wad of brochures and leaflets and 2 un-wanted and un-necessary jumpers we caught the shuttle bus back to the East car-park and were soon on our way to Lichfield where we were able to park on our preferred No 14 pitch. We then spent the early evening with Michael, Sharon and Charlie before having an early night (5:00 alarm call tomorrow for qualifying for the Korean F1 Grand Prix).
Saturday 15th October 2011
Went back to bed for a short time this morning after being up so early and snuggled up to my human hot-water bottle. We walked down to Lichfield late morning to get a few grocery items, especially bread as for some reason what we had had gone mouldy, good job we only wanted porridge for breakfast! We also visited the library to borrow Ordnance Survey Maps for the two areas we intend visiting in the next two weeks, we have actually got the one's we want ourselves but they are no good being left in the storage unit (although we might go there on Monday). After a pleasant lunch sitting outside in the warm sun, I decided I would give the roof of the motorhome a thorough clean to remove any stubborn dirt, hopefully in the next few weeks I will be able to then give it a gentle wash before re-waxing it. Jenny said I was not concentrating on it, being more interested in watching the hockey match that was taking place on the Lichfield Cricket and Hockey Club sports field adjacent, from my high view point, I denied the accusation, (White's 3, Red's 2). What I did notice at the end was that the Red's goalkeeper removed his Halloween movie Michael Myer's face mask, walked behind the goal and put his glasses on, no wonder they lost! Anyway, I still deny I was watching it, now if it had been a female's match?????
Sunday 16th October 2011
No guessing what I was watching this morning between 6:00am and 10pm, yes that's right the F1 Grand Prix from Korea and with another weekend of getting up early I must admit to being rather lazy for the rest of the morning. Made up for it in the afternoon though, washed the rest of the motorhome after cleaning the roof yesterday. Then we decided to sit outside in the sun, that didn't last long, when the sun went behind a cloud it went rather cool, so we retreated to the warmth of the motorhome. Michael visited us after he had finished work, unfortunately he likes his mum's Apple Cake and came around for another slice, must remember to hide it next time he calls! Tomorrow, unless "Tamworth Camping" return our call about the purchase of an awning we will drive to the Bakewell Camping and Caravan Club Site near Youlgreave in Derbyshire where we are staying for a week on the "7 for 5" club offer.
Derbyshire


Monday 17th October 2011
Bakewell Caravan & Camping Club Site, near Youlgreave, 53 09 90 N, 01 41 64 W, (50 miles).
Needing Bread & Milk this morning we had plenty of time to walk to Morrison's Supermarket in Lichfield a 20 minute walk from the camp site, before driving to Derbyshire. We were hoping that "Tamworth Camping" would have phoned us about purchasing an awning from them, but we guess they are still clearing their stand at the NEC, however we would probably not have used it this week anyway, as high winds are forecast. We had already looked at the map and decided we would go a longer route to avoid a low railway bridge (dis-used and now the High Peak Trail) near Newhaven, but we didn't realise as we approached the camp site that there was a river bridge with a weight limit on it, which necessitated a further de-tour through the town of Bakewell and along the A6. With plenty of room on the campsite we had a choice of pitches and chose one which was close to the farm drive (and public footpath) and on which Tony (the Manager) said we would be able to get an Internet signal, plus the all important view over the hills opposite. No digital TV reception here, not that we would have normally bothered as there is no F1 race this next weekend, but as we are thinking of having a satellite dish next year (because of the BBC sharing the Grand Prix's with Sky) and Tony hires them for £15 per week we thought it was an ideal chance to try one out, especially as he set it up for us which gave me a "better" understanding of the system.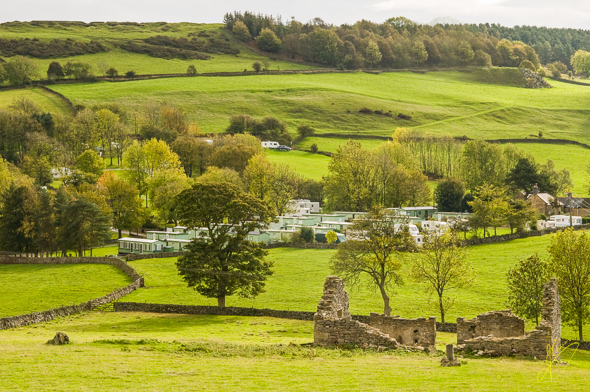 Tuesday 18th October 2011
Very pleased this morning when Michael texted to say he was coming over from Lichfield with Sharon & Charlie, he did at least give his mum time to bake a Victoria Sandwich cake (his favourite), plus prepare a Cottage Pie and an Apple and Summer Fruits Pudding for lunch, (no, she doesn't spoil me like that). Arriving at 11:00 am they spent a great day with us, just a pity that the weather was so windy and there were also frequent, albeit short, heavy showers. Michael, Charlie and myself did manage to have a short walk towards the old mine ruins on the hillside opposite which we enjoyed, especially Charlie treading in puddles and chasing chooks, before we returned for lunch. They left mid-afternoon as Michael wanted to show Sharon some of the Derbyshire country side near Dovedale and he also managed to take half the Victoria Sandwich (and last piece of Apple Cake) with him and left all the washing up with us!
Wednesday 19th October 2011
No traffic noise whatsoever here, the nearest road (which is extremely quiet anyway) is at least ½ mile away, but, there were a pair of very noisy Tawny Owls trying to "out hoot" each other in the trees at the back of us and also a bull roaring at the farm opposite, we are not complaining! Weather-wise it is much the same this morning as yesterday although the wind has abated, so between the showers we decided to go for a walk and took the same route as I did yesterday with Michael and Charlie and walked up to the ruins of the old mine workings and took some photographs before returning to the camp site for lunch of Tomato Soup with toast (see what I mean about Jenny not spoiling me) although at least there was Basil in the soup.
We then spent the rest of the afternoon relaxing, reading and listening to "Gold" a radio programme we don't usually receive on our normal digital channels.
Thursday 20th October 2011
The coldest night of the autumn so far, it went down to 0.9 degrees c outside last night, even the Owls and the Bull stayed indoors, we hardly heard them. We decided this morning, as although it was cool it was a sunny day, to take a circular walk through the unofficially called "Bradford Dale" along the River Bradford to Youlgreave and back through the lanes to the campsite. We looked for the castle ruins on the way that are shown on the Ordnance Survey Map but there was no sign, looking on the Internet afterwards, evidently only the "mound" is still visible, the stone being re-used for the building of a nearby farm house. We continued downstream along the banks of the "dry" river bed passed a series of crystal clear pools formed by the "Bradford Dams", jutting pieces of land marked by distinctive metal sluice gates before reaching a point where we could walk up to the small village of Youlgreave.
Youlgreave a village of three pubs, a butchers and a grocery shop, which we went into to purchase a newspaper, alas, she only sold "The Guardian" and of course I always read "The Times" and occasionally "The Daily Mail"!!!! Arriving back early afternoon we then spent some time deciding what arrangements we need to make for Christmas and have booked Blackmore Caravan and Camping Club site at Great Malvern for the bank holiday period. Which reminds me, must start making my Christmas prezzy list, 1) Stollen, 2)Toleberone, 3) Glennfiddich, 4) Southern Comfort, hope you're all taking notice!
Friday 21st October 2011
Lathkill Dale was my destination for a walk today and Jenny is letting me out on my own! We decided last night that I would spend the day walking while Jenny relaxed???? at the camp site. I set out at 11:15 am on the same path as I took with Jenny on Wednesday, however I diverted half way through Bradford Dale and climbed the trail through a wood towards a lane North of Youlgreave, before once again joining a public footpath across fields to "cut a corner" to reach Moor Lane, where we parked when we did a walk to Lathkill Dale in 1999 using directions from "Country Walking" a magazine we subscribed to at that time. Once again leaving the bitumen I walked across several fields (giving a bull a wide berth) and arrived at the top of Cales Dale which is one of two smaller dales that are the creation of Lathkill Dale, the other being Ricklow Dale and descended the hundred (at least) stone steps to the dale bottom and after a short time reached Lathkill Dale proper.
Here I had a surprise, last time Jenny and I were here there were children enjoying themselves paddling in the river, not this time, there was a notice asking people not to allow children or dogs to paddle in the river because of the White-Clawed Crayfish population, but this was not the reason, there was no water, the river was completely dry! Continuing along the dale I stopped at the first (dry) weir for my lunch in the pleasant warm sun, bemoaning the fact to myself that the last time I stopped here I took photographs of a Dipper feeding it's young in a crevice in the weir's wall as the water tumbled over. After enjoying the lunch that Jenny had prepared I progressed further along the dale track stopping for a short time at the ruins of Batemans House, this unusual building was originally built in 1830 by the Lathkill Dale Mining Company to cover a 12m deep shaft housing a novel design of water-powered pump to drain their lead mines. It later also served the dual purpose as the family home for the company's agent James Bateman.
Eventually reaching the end of the dale managed by English Nature and at last the River Lathkill was exactly that, a river and yes, there were Mallard, Coot, Pochard and Brown Trout to be seen.
I arrived at Conksbury Bridge and diverted for a short time from the river up the lane towards Youlgreave, then taking the public footpath to Alport. I did deviate at Raper Lodge to walk down to a very attractive part of the river to photograph reflections of the autumn coloured trees in the water, (the Swan was a bonus).
I was "homeward bound" when Jenny rang to ask where I was, I joked and said "I was lost" and that all that I could tell her was "I was probably still in Derbyshire"! I hoped she was also joking when she said "good, I'll sell your pyjamas on Ebay"! Arriving at the small village of Alport I strode on, past a herd of Balwen Welsh Mountain Sheep, not a breed seen every day, they look quite striking with the white stripe on their heads, four white feet and half white tail. I was then at a place I recognised, the lane to the campsite and was soon enjoying a cup of tea and a slice of Jenny's Ginger Cake (how lucky am I to have married the best cook in the world). Having walked a good few miles in 5¼ hours and with just the use of the Ordnance Survey Map and without my navigator being with me, not getting lost once! I had great day in fantastic countryside and the weather could not have been better, dry and warm, with just a light wind, perfect walking conditions, Jenny also had a good day too, relaxing by reading and knitting, doing some baking, plus making a delicious Macaroni Pudding.
Saturday 23 rd October 2011
After such a long walk yesterday, today was a day for relaxing and we both spent the day reading and listening to music. I have "surfed" the internet as I wanted to find out more information on why the River Lathkill was so dry. I can't remember in which month in 1999 we first visited Lathkill Dale, although because we can remember children paddling in the river and we know that Dippers nest between February and June, plus it was a warm day it was possibly late spring. Evidently the River Lathkill is a disappearing river, in summer or after long spells of dry weather the river follows an underground route and appears from a series of swallet holes downstream. The other reason that is being investigated by English Nature is that in earlier times when the dale was an important lead mining area, Soughs an underground channel to drain mine's to allow miners to dig deeper may have collapsed into limestone caverns and are effectively "draining" the river. Looking at weather history May 1999 was a very wet month perhaps we visited at that time and because this summer has been very dry the river has dried up. This is what Charles Cotton wrote in "the Compleat Angler" about the River Lathkill, ...[i] "by many degrees, the purest and most transparent stream that I ever saw, either at home or abroad, and breeds, it is said, the reddest and best Trouts in England",[i] bet he's turning in his grave! Hopefully the photographs I took yesterday have captured some of the interest of the dale. I have also found out that the dry weir I mentioned and took a photo of is actually a "Tufa Dam", much too scientific for me to explain.
Sunday 24th October 2011
Fish n' Chips from the Mobile Fryer last night, not impressed, The chips were OK, but the Cod (if it was Cod), was a miniscule piece and not that tasty, we won't be using it again, now the "Maazi" takeout and delivery menu from the Indian restaurant in Matlock looks interesting and I also notice it is delivered in a box, (I noticed one in the dust bin, not that I usually rummage in dust bins), maybe next time we visit? Also no doubt will be in Shrewsbury next week and a visit to the "Town fryer" is a must. Spent the day editing photographs listening to music and reading, Jenny did some knitting. Tomorrow we are back in Lichfield for Jenny's physio' treatment and staying just one night at Kingsbury Camping and Caravan club Site (to catch up with some washing) before driving to Condover near Shrewsbury hopefully the awning will have arrived at "Tamworth Camping" and we will be able to try that out this next week. Watching the fun that people have erecting their new awnings, we are making sure we erect ours for the first time at a quiet location away from nosey people (like us), although perhaps I could sell tickets for the event, I am sure it will be better than the comedy shows on the television nowadays. Watch this space!!!
Warwickshire


Monday 24th October 24th
Kingsbury Camping and Caravan Club Site, 52 34 10 N, 01 42 21 W (67 Miles).
We left Bakewell at 11:15 am and decided not to take any notice of whatsoever Betty said and use the Ordnance Survey Map to negotiate the narrow lanes through Youlgreave village and back to the Ashbourne to Buxton road, it helped that on Thursday I did walk along part of the route out of Youlgreave. Having plenty of time before Jenny's Physio' appointment we stopped at Fairview Nurseries near Ashbourne to have a look around and it was also time for a cuppa. We have had excellent meals here in the past, but as it was rather early we weren't tempted this time. We were trying to think of a place we could stop near Lichfield (Lichfield is not an easy place to park) and Jenny came up with the idea of parking at Curborough Craft Centre which was perfect. Michael then came to bring our post, Hearing-aid batteries from Specsavers being important as I had not realised I was using the last few, luckily excellent service (once again) from them and they are the cheapest too. Michael spent some time with us before leaving with half my Ginger Cake, evidently Sharon had threatened him not to come back without some of his mother's home-made cake! I dropped Jenny at the hospital and I drove the short distance to the Co-operative Super store, with its large car park being used more by learner drivers practising their reverse parking than store customers. I parked well out of the way, before going to purchase bread, milk and a newspaper. Jenny rang me when she had finished with Eddie (or was that the other way around) and I picked her up from outside the hospital and we drove to our overnight stop at Kingsbury. We will have a busy day tomorrow, hopefully picking up the awning, dropping off and collecting from the storage unit, stocking up with groceries (probably at Tesco in Shrewsbury) and then driving to Condover.