Ref:
Date:
Location:
Photographer:
[clikcontent type=paymentBuyLink replaceable=true]
Ref:
Date:
Location:
Photographer:
[clikcontent type=paymentBuyLink replaceable=true]
1st January 2013 - 17th April 2013
Mostly in the Midlands waiting for Jenny's eye operation(s)
Note:
Very few photographs in this section, it was the "waiting" period for Jenny's eye operation appointment and the preceeding tests.
West Midlands
Tuesday 1st January 2013
* * * A Very Happy New Year to all our Family, Friends and Fellow Travellers * * *
Wednesday 2nd January 2013
Appointments this afternoon at Samuel Johnson Hospital at Lichfield, we went early as we needed to go to Specsavers for lens cleaner and Jessops for photo paper, good deal at Jessops, three packs for the price of two, what they didn't have was three of the "Satin" which is what I use, I agreed with the salesman that I would take a "Gloss" and then exchange it at a later date when they have the satin in stock. We had to be at the Xray department at 4:00 pm for "photographs" of my knobbly knees, " Murphys Law" I was asked to go in early and didn't have time to finish the article in a F1 Racing magazine that I was engrossed in. My next appointment at the Physio' department was at 5:30 pm so the receptionist was rather surprised when we arrived a little after 4:00 pm, until we explained that we had had another earlier appointment to fit in. By the time we had chatted to the receptionist that we know about her impeding "redundancy" (although she mustn't use that term) and then her "interview" for the same job. . . yes really (NHS at it's worst) and then read our books it was soon time to see June my Physiotherapist, good news I have been dis-charged, subject to my problem with my back/leg continuing to improve, although I still have the outcome of the Xray's outstanding. We walked back to Tesco to do some shopping, Jenny had got some Steak out of the fridge for tonight's tea but because it was rather late we decided to buy two Pizzas for "quickness", then when we were driving back to Kingsbury we stopped at the Fish & Chip shop in Fazeley to make our teas even quicker, the Pizzas and Steak can wait!
Thursday 3rd January 2013
A short drive towards Lichfield this afternoon to look at another "5van" site this time at Packington, between Tamworth and Lichfield advertised as at the Packington Farm shop, I went into the shop and the girl assistant did not even know that it existed until she asked at the meat counter, it is in fact further along the lane and we had looked at it before and decided it was not suitable.Especially as there was a notice that said it was closed because of wet conditions and I do remember that it was up an incline which I think we would struggle up even if the ground was dry. Our storage unit was next, I didn't even bother climbing the stairs, Jenny just popped up to take a few items and within 5 minutes we were on our way again. We then drove to Hobbycraft to purchase some bias binding (whatever that is) and Boots for some shampoo before driving back to Kingsbury Water Park.
Friday 4th January 2013-Saturday 5th January 2013
Quiet days.
Sunday 6th January 2013
As today is the last day we have the hire car we went over to Fradley to visit Michael, Sharon and Charlie before returning to Lichfield for a "big shop" at Tesco.
Monday 7th January 2013
Returned the car back to Enterprise this morning at Sutton Coldfield, one slight problem was there was a chip on the windscreen that I hadn't noticed which cost a further charge of £45 as we don't pay for the full insurance cover.
Tuesday 8th January 2013
Another quiet day.
Wednesday 9th January 2013
A dry albeit cold day so we decided we would walk to Kingsbury for some bread (and potatoes we forgot Sunday). The walk was extremely muddy, with the amount of rain we have had recently and we noticed a "tide line" at least two feet up the walls of the tunnel which we go through beneath the motorway, no wonder the manager at the site said that the path was impassible a few days ago. Coming back from the Co-Operative store we de-toured at least a ½ mile around the perimeter of the large sailing lake to miss the worst of the mud, it still meant we both needed to change our trousers when we got back to the motorhome, good job Jenny is doing our laundry tomorrow.
Thursday 10th January 2013
Because the weather forecasters are telling us that next week will be cold we decided this morning to drive over to Kingstanding to top up the two gas cylinders. We have now paid a total of £180.64 for our LPG since first having the motorhome in March 2009 and although we rarely use it for heating, Jenny does use the oven quite a lot for cooking, we also switch to gas for "quickness" when we use hot water for showers when we are not on a camp site with amenities. We also stopped at Tesco at New Oscott on the way back for a few bits before returning to Kingsbury.
Friday 11th January 2013
A quiet day! Michael rang to say that the repair quote from Jessops had arrived, the problem is that there is no indication where the camera is, we have decided to travel to Lichfield to collect the letter and we will investigate from that.
Saturday 12th January 2013
Another walk over to Kingsbury this morning to catch the bus to Tamworth, we took the longer way around this time to avoid the mud, pity we missed the bus by just five minutes, not because we took longer but because the Arriva timetable in the amenities was out of date! Unfortunately when we arrived at the bus station in Tamworth we had just missed a bus to Lichfield, fortunately the Carnegie Hall adjacent were advertising an "Age Concern" cup of tea and biscuits for just 50 pence, so we were able to sit in the warm, drinking tea while we waited for the bus. Despite the bus "going around the houses" we were soon at Lichfield and we browsed in W. H. Smith until we were able to meet up with Michael who was out on deliveries for his company to collect our mail. We then walked to the library to photo-copy some of the documentation required to substantiate the claim for the camera repair, plus borrowing some books. We then caught the bus back to Tamworth and had time to walk to the precinct to have a coffee before returning to Kingsbury and the cold 40 minute trek to the campsite.
Sunday 13th January 2013
A relaxed day, spending time sorting photographs that we have decided to put into print.
Monday 14th January 2013
Spent the morning trying to find out where our camera was and after contacting 2 camera repair companies, Jessops receivers, Jessops at Leicester and the shop in Lichfield, I was relieved to find that Nikon UK have it for repair, I just need the insurers to OK the repair now. I must admit this morning we had a lot of help from all the companies we rang this morning, which was very pleasing. This afternoon we walked over to the post office in Kingsbury to post some letters, once again using the longer route to avoid the muddy field near the river, a very pleasant walk today, especially as the sun shone through on the way back.
Tuesday 15th January 2013
A lazy morning before spending time printing some of our "best" photographs out, only problem I can't take the glossy photo paper back to Jessops that I purchased as a "3 for 2" in exchange for the satin that I prefer.
Wednesday 16th January 2013
Despite the cold we decided to walk over to the Co-operative in Kingsbury to buy some bread, this time we were able to take the shorter route, the ground being so hard we weren't going to get muddy. I spotted a Kingfisher on the way flying along the small stream which surprised me. Enjoyed the cup of drinking chocolate when we arrived back.
Staffordshire
Thursday 17th January 2013
Cathedral Grange Caravan Holiday Park, Lichfield 52 41 85 N, 01 50 58 W, (17 Miles).
Our allowed 28 day stay at Kingsbury finished today and timed so that we can stay at Cathedral Grange for one night and drive over to Tixall near Stafford tomorrow to have the motorhome heating elements fitted and then return to Kingsbury. The only stumbling block is the weather as there is heavy snow forecast overnight. We arrived at Lichfield lunchtime and pitched on what has become our normal pitch No2 almost a perfectly flat one, which because of the snow warning I reversed into to make it easier to drive straight out of tomorrow morning. After lunch we walked into Lichfield and for my visit to the Doctors, the result? It looks as though my knees are wearing out, which given their age I mustn't grumble about, I'll give them an occasional "squib" of WD40! We were lucky when we walked to the bus station the No 825 was waiting for us, well not just for us but about 200 school children that also wanted to get on, getting on wasn't too much of a problem, getting off was, our elbows helped. Michael arrived after work and had a cup of tea with us . . . just as it started to snow, oh dear, not what we wanted. As I am typing this at 8:15 pm it is still snowing, I wonder what tomorrow will bring.
West Midlands
Friday 18th January 2013
Kingsbury Water Park Camping & Caravan Club Site, Kingsbury, 52 34 09 N, 01 42 21 W, (17 Miles).
Well today hasn't worked out! We got up at 7:00am as we wanted to arrive at Tixall at about 9:00am, I looked out of the window and knew we had a decision to make, drive to Tixall, stay at Cathedral Grange or drive back to Kingsbury. I was dubious whether we would be able to drive up the incline off the pitch; however the owner's son, Mark, was already clearing snow with his tracked mini digger and said he would tow me out if we got stuck. I rang Richard at Central Caravans to ask him what the roads were like near him, his advice was to cancel and re-arrange as it appeared the snow was heavier at Stafford. We decided to attempt to leave Cathedral Grange to drive back to Kingsbury and surprisingly managed to drive most of the way off the hardstanding area before coming to a standstill, Because there is a steep hill from the bottom of the camp site there is a salt/grit box situated about half way up the drive and the campsite handyman fetched some and shoveled it in front of the motorhome, we thought we would not manage it and Mark got his tow row prepared, however we just managed to get enough grip to get over the "hump" onto the flat drive to the exit. The drive to Kingsbury was uneventful, the roads were only wet and in fact there was a lot less snow towards the camp site, only the long drive to the entrance having settled snow on it and the trees either side of the drive had sheltered the ground somewhat. We pitched on the same one as before, the pitch outline still being visible beneath the snow and we were soon organised for our stay. Our decision to drive across early and not go to Tixall was absolutely correct, within a short time the snow really came down heavy and we were hearing reports of traffic hold ups (including on the A38 which we had driven along). The snow is still falling as I am typing this and the is now several inches deep, we are so glad that we managed to get back here today and we have re-scheduled the heating elements to be fitted on the 1st February, hopefully the snow will have disappeared by then!
Saturday 19th January 2013


* * * A Very Happy Birthday to my Wonderful Wife Jenny XX * * *
A quiet day in the warmth of the motorhome with my birthday girl.
Sunday 20th January 2013
Well like elsewhere across the country we have had more snow today, it started at about 9:00 am and again whilst I am writing this in the evening it is still snowing. Suffice to say we had no intention of going out today, a visit to the amenities for a shower, a top up of our water containers, a trip a couple of times to wash-up is all we have done. Correction, Jenny has been to the laundry, to do the washing, it was whites turn! I have spent some time preparing some photographs for printing, we were just looking at them on the lap-top and digital photo frame, but we have purchased four leather A4 size albums to put our favourites in. Jenny read and did some knitting and watched those "detective" programs I don't like, still there's football.
Monday 21st January 2013
Requiring bread and milk we decided this morning to walk to Kingsbury, however, we had only tramped across the campsite over deep virgin snow through the private gate and my leg "knew" it wouldn't make it the distance to the village. We have powdered milk and bread making flour so we will use both of them over the next 2 days until we go to the supermarket. Instead, we had a short circular walk along the pools, spotting a large dog fox, obviously looking for something to eat on the way. We came back along the lane to the camp site entrance, which is opposite the Kingsbury Water Park Outdoor Education Centre, the manager had got his car stuck in the deep snow in their car park and was attempting to dig it out, Jenny and I pushed it while he drove it up to the lane, he was very grateful and we had a nice chat to him before we arrived back at the motorhome. In the afternoon I printed some of the photographs I prepared yesterday, before exhausting the ink tanks and using up the "satin" photo paper, I did print a few on "gloss" and was presently surprised as I don't normally like (my own preference) glossy photos, I may use it on the UK photo's I want to print as I can't now take it back to Jessop's.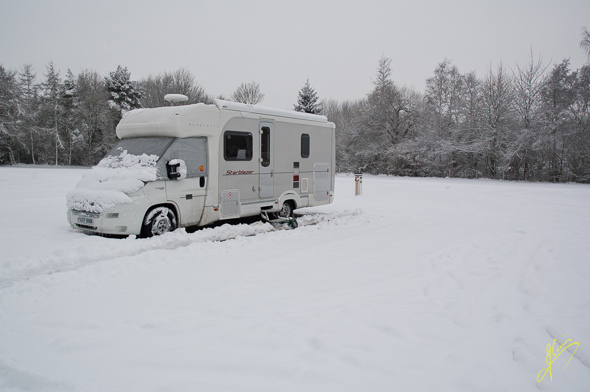 Tuesday 22nd January 2013
A relaxed day, who wants to go out in this weather?
Wednesday 23rd January 2013
James from Enterprise collected us at lunchtime and drove us to the office at Sutton Coldfield. We have found out within the last few days that the small oil-filled radiator that we use in the cab of the motorhome to keep the chill off (the cab not being insulated like the rest of the motorhome) is leaking a tiny amount of oil, so we decided to take it back to Asda in Tamworth. They (Asda) were as usual unhelpful and wouldn't exchange it without the receipt, there loss, instead of spending about £70 on our grocery's we just bought bread and milk and will shop at Tesco tomorrow. We tried various other stores for a new radiator but none had what we required and after picking up some ink cartridges from W.H Smith we had a "Cajun Boxmaster" at KFC, very nice it was too, before we drove back to Kingsbury.
Thursday 24th January 2014


* * * A Very Happy Birthday to a wonderful man . . . ME * * *
Jenny's appointment at Good Hope Hospital was at 9:30 for her eye measurement prior to the cataract operation. We knew it would not take long so rather than struggle to find a parking space at the hospital which is always difficult I took her to the door and drove to the shell station near-by to buy a newspaper, what I didn't realise was, it was a Tesco "Express" with 20 minutes parking, so I decided to stay there reading the newspaper and attempting the crossword and it worked perfectly, Jenny ringing me to collect her within a short time. Disappointingly Jenny will have to have a further appointment at Heartlands hospital for another eye measurement to be taken before her operation; it looks now as though that will be in early March. Food shopping was next and we went over to the large Tesco at New Oscott for our weekly shop and spent £72, which if Asda had been more helpful would have been in their coffers.
Friday 25th January 2014
Our annual fasting blood tests this morning so we were without our customary cup of tea in bed. Unusually the clinic was late running, the nurse having her first day at the Health Centre, to "catch up" another nurse was helping and we were in different rooms for our "operations", just as well we normally cause chaos when we go in together. Michael and Sharon were waiting for us in reception as we had made arrangements to meet them for breakfast at "The Causeway" in Dam Street, where we all enjoyed a "Full English" our usual "vice" when we have our fasting blood tests. W.H Smith was next to renewing my driving licence photo and for an extra £4.50 used the post office service to do the necessary documentation which included having a "mug shot" taken. After saying our farewells to Michael and Sharon we walked back to Tesco where we had parked the car, we had a difference of opinion which way to go, Jenny won, which was fortuitous as we passed the "Pound Stretcher" store and they had the window "full" of the very oil-filled radiator size and type we wanted. Clever wife!!! This afternoon our friends Jan and Don came over to visit us and we had a great couple of hours talking to them as we hadn't seen them since the autumn of last year.
Saturday 26th January 2013-Tuesday 29th January 2013
Four relaxed days, I printed some more of our favourite photographs and watched two FA Cup matches on the television. Jenny did some baking, Mince Pies and Coffee/Walnut tray bake, knitted and read.
Wednesday 30th January 2013
A walk over a very wet and muddy Kingsbury Water Park this morning to catch the 11:35 am No 116 bus to Tamworth, we needed to be extremely careful to avoid wet feet before we arrived at the bus stop. We only required a black printer ink cartridge and some photo paper so we walked directly to the indoor shopping arcade expecting (and thinking) there was a W H Smith there, there wasn't the only one is the one at Venture Park and we certainly didn't want to walk all the way across to there today. Luckily, there was a Ryman's which had the items we wanted and we purchased them from there. We also bought a few items from Boots and newsagents before browsing the rest of the shops whilst we waited for the return bus to Kingsbury. We had missed lunch so I had the bright idea of buying Pie and Chips from the "Atlantic" fish bar in the village, the assistant very kindly wrapped them in tin foil to keep them warm, although with the 40 minute walk back across the park Jenny did need to give them a re-heat in the oven when we arrived back, we only needed crackers and cheese to-night for our teas and it saved me washing-up!
Staffordshire
Thursday 31st January 2013
Park Farm Certificated Site, near Stafford Showground, 52 49 40 N, 02 03 84 W, (34 Miles).
We didn't leave Kingsbury until after twelve noon and it was a straight forward short drive to Stafford, helped by knowing almost exactly where we were going thanks to visits to Stafford Hospital when Michael was a baby and Google Earth. We are parked in the "farm yard" of the "5van" site, as the field is far too wet for us to pitch on, not the most attractive place we have stopped at, however very convenient for our appointment tomorrow at 9:00 am at Central Caravan Repairs at Tixall, less than 2 mile away.
West Midlands
Friday 1st February 2013
Kingsbury Water Park Camping & Caravan Club Site, Kingsbury, 52 34 09 N, 01 42 21 W, (32 Miles).
We were up early this morning because Mr. Williams said there was a cattle truck arriving at 8:00am and he was not sure whether the driver would be able to reverse into the gateway opposite to where we had pitched, he managed easily and we watched them filling the truck with sheep. I was a bit worried about their fate, however they had overwintered on the farm were all pregnant and were "going home" to lamb. We drove to the unit on the farm at Tixall less than 2 mile from the last nights stop and Richard of Caravan Central Services arrived shortly afterwards and started to remove our Truma heater unit. Within a short space of time the unit was in the repair shop being stripped down, I in the meantime had a chat to Richard's dad who was working on a small caravan they were building from a kit and as their assistant was out on a call Jenny made herself useful brewing us all a cup of tea. We had a good chat with the guys at Tixall during the morning we were there and we were delighted with the service that Richard gave us and we were more than pleased (and surprised) at the cost of only £45. We drove straight back to Kingsbury arriving a little after two o' clock and Graham the assistant site manager had kindly "reserved" our previous pitch for us and within a very short time we were having lunch and drinking tea.
Saturday 2nd February 2013
Just a walk to Kingsbury this morning for Bread and Milk, don't know why we didn't stop yesterday and pick some up.
Sunday 3rd February 2013
Another quiet day, however I did have a nice chat with Linda a lady who was in a motorhome near us whilst I was doing the washing up this morning. I took over to their motorhome a note of the 3 useful motorhome forums I look at which give a wealth of information on all motorhome matters and after stopping for a short time with Linda and her husband I invited them over for a cup of tea before they left this morning for Canterbury.
Monday 4th February 2013-Tuesday 5th February 2013
Spent time printing more of our favourite photographs, spreading them all over the motorhome to dry before putting them in the albums. Good news, my camera arrived from the repair at Nikon to Michael's house this morning, I am mightily relieved.
Wednesday 6th February 2013
A very wet night, luckily it dried up before we walked over to Kingsbury to catch the bus(es) to Lichfield for our appointments with Mary (Dr Crossman) for our annual medication reviews. It was a good job we decided to wear our waterproof walking boots, the pathways over the park were very wet, and luckily most of the large areas of water on the paths were shallow so we walked through. We don't know where the 11:25 got to, we think it may have left early and we had to wait until 12:05, that was fun when we got to Whittington, the normal road to the village was closed so rather than turn at the new roundabout the driver decided to leave the village out completely, the lady who wanted to go to St Giles Hospice was rightly aggrieved, when the driver told her he would only go through the village on the way back! The library was our first destination when we arrived in Lichfield to return the 4 books I have finished reading, before doing a "bits and pieces" shopping at various stores and then going to Costa Coffee for coffee and cake prior to walking to the health centre. Unfortunately my cholesterol is rather high so even though I have resisted taking "statins" in the past I have agreed to give them a try, although it means having a further blood test on Monday. The bus back to Tamworth was on time so we were soon on our way back to Tamworth (this time via Whittington), Jenny remarked on the way back "I can smell cheese and onion", I couldn't, but then she remarked, "My legs damp", whoops, the take-away Indian meal for two pack that we had purchased from Tesco was leaking! the smell wasn't cheese and onion, bad news, it was Jenny's Tikka Masala, no actually, it was good news, it could have been my Jalfrazi and when we got to Tamworth bus station we put some extra packing around it, it had only leaked a small amount, which was just as well, 'cos she wasn't getting any of mine.
Thursday 7th February 2013
Great, got my camera back! Michael and Sharon came over this morning (minus Charlie, he was at nursery) and brought back my camera and lens, plus a lot of post, including a further appointment for Jenny at Good Hope Hospital on the 4th March, prior to her cataract operation, we will have to change some of our appointments, we have got the motorhome booked in for servicing at West Country Motor homes on that day and we are/were stopping at Cheddar Caravan Club site. We had a very pleasant morning chatting to Michael and Sharon, being very amused with the "leaking curry" saga yesterday, couldn't possibly repeat what Michael said! We spent the afternoon relaxing and making sure the camera was working correctly.
Friday 8th February 2013
Time today to sort and clean all my photography equipment, spreading it all over the table, charging batteries, formatting cards, Nikon have fitted a new Dc board and the camera is back to default settings so I have to re-read some of the 400+ pages of the manual to remember how to put my own settings in.
Saturday 9th February 2013
A small task this morning, having used a small fan heater for the last few months we have decided we like the ability to alter the heat settings more accurately, i.e. we are neither too hot or cold, so this morning I looked to see whether we can fit a permanent power supply near the bedroom rather than the temporary set up we have at present. Removing a drawer in the rear and emptying the lower section of the oven I soon threaded a section of cable through which was the most difficult part, knowing it is possible as there is a socket below the oven for the single electric hob, we will purchase the parts required when we go to the motorhome show next week. We have amended the arrangements at the beginning of March, We had intended to stay at Cheddar for a few days, however, the plan now is to arrive at Cheddar and stay just one night, take the motorhome to West Country motorhomes on the Monday (4th March) morning, drive up to the Midlands for Jenny's hospital appointment, drive back to "The Webblington" Best Western Motel near Lower Weare Monday evening and collect the motorhome the next day and then drive back towards the Midlands for Jenny's operation on the following Monday, hope it all works out! The rest of the day we relaxed, reading, listening to music, etc.
Sunday 10th February 2013-Monday 11th February 2013
Two lazy days.
Tuesday 12th February 2013
Despite the very cold weather we decided to walk over this morning to Kingsbury to purchase Bread & Milk, however what we didn't do was wear our wellingtons, instead relying on our walking shoes. We got as far as the pedestrian tunnel underneath the motorway and stopped, the subway was completely flooded all the way through, in fact even wellingtons would not have helped, flippers may have done. We retraced our steps and instead walked around the perimeter of Broomey Croft Lake before returning to the camp site, The good news, Jenny made the fresh oven baked bread (Note: Sainsbury's bread making flour is not as good as Tesco's), the bad news was we have to use dried skimmed milk!
Wednesday 13th February 2013
With more suitable footwear this morning we once more attempted the walk to Kingsbury and luckily the tunnel had dried out. Digressing slightly Richie the site manager was telling me that there is a gauge on the edge of the campsite which measures the water table, at present it is 3 feet over what he has previously seen. Wearing wellingtons we went the shorter way over the water park, albeit it was very hard work struggling through the mud and water and when we returned we decided to walk along the drier but much longer way back to the campsite at least we have fresh milk know, we weren't too bothered about bread.
Thursday 14th February 2013
We were going to purchase new carpet tiles for the motorhome, having decided that the ones we bought in 2010 were actually to light and were showing the dirt too much, however we thought we would take them up four at a time and attempt to clean them with a solution of "Rug Doctor" which was surplus to requirements when Rhiain left for Canada in September. After soaking them with the solution and taking them to the laundry to scrub them, we were surprised how clean they "came up" and will therefore leave them down a bit longer, only another 16(ish) to do now over the next few days. This afternoon I left Jenny to continue her knitting and went for a walk, taking with me my "large zoom" camera and binoculars to hopefully photograph and identify some of the water birds in the park, identification of which I am not good at. I walked to all the bird hides on the various pools including the Sika Hide on Otter Pool alongside the canal, I didn't see anything "unusual" although there were 15 of the notorious Cormorants preening in a large tree on one of the islands. I arrived back just before 5:00pm, Jenny had spotted me walking back and there was a welcome cup of tea a slice of home-made Ginger Cake waiting for me as I settled down to watch one of our favourite television programmers, "The Chase".
Friday 15th February 2013
More carpet cleaning this morning, only another 8 to go, plus all the small pieces, remembered today not to scrub my finger as well, they were mighty sore yesterday. I decided to visit the other pools this afternoon and the plan was to walk along the River Teme from the footbridge to the village upstream and then take the track underneath the motorway and then back to the campsite. The signs were ominous when I reached the motorway tunnel and found that the last 1/3 was under water, I slowly "waded" through the water reaching mid-calf on my "wellies" at the deepest point. When I reached the place where the track forks, at which point Jenny and I either go left for the short route to Kingsbury village or right for the longer (dryer) path, I realised that my intended walk was a "no go" the water in the stream normally at least a foot below the bank top was flowing over the bank and bridge and at such a rate that it would have been dangerous to attempt to cross. Instead I re-traced my steps, back to the motorway tunnel negotiated the water again and walked round the pools close to the site which I hadn't visited yesterday, the river walk and the pools near it will have to wait until the water level falls.
Saturday 16th February 2013
Very disappointed last night the second time (the Geminid meteor shower in December being the first) that I was unable to view a heavenly body (discounting Jenny's), there being too much cloud to see the "Asteroid 2012 da14" which was making a "fly-by" of the Earth tonight, I know it's only a lump of rock but I really wanted to see it! We once again required bread, having used our bread flour earlier this week so we walked to the village Co-operative this morning; low and behold the tunnel was dry although we did decide to go the "long way". However we did make a wrong decision on the way back, we thought we would try the path along the river and then cut across near the children's play area, the ground was so wet and muddy and it was very heavy going, we were exhausted by the time we reached the gravel path and it would have been quicker and easier after all if we had returned the same way as we went. Just in time when we did arrive back to watch the FA cup match on the television and relax for the rest of the day.
Sunday 17th February 2013
A lazy day and unusually for us we decided to have a proper Sunday lunch, having purchased a Pork joint at a reasonable price from the supermarket yesterday.
Monday 18th February 2013
Another relaxing day.
Tuesday 19th February 2013
Took the opportunity again this afternoon in the pleasant warm sunshine to walk to the bird hides on Cliff Pool to see if I could see any birds that I had not seen before or been able to identify, however other than more Pochard and Teal and a couple of Redshank looking for small invertebrates in the mud, there wasn't, although at least the scrapes mud banks were now visible now that the water level had fallen encouraging the birds to feed on and near them. I stayed there until late afternoon when it started to get cold and then walked back via the canal tow path to the camp site, just as Jenny had gotten the dairy-free (because we had run out of butter) Honey Cake, actually a Maple Syrup Cake (because we hadn't honey) out of the oven, delicious it tasted too, although she made me wait until it had cooled!
Wednesday 20th February 2013
The Spring Caravan & Camping Show (and motorhomes) at the NEC was our destination this morning and of course we are ideally located at Kingsbury Water Park for the short 10 mile drive and arrived at about 10:15 am. As usual the parking was easy, the car park attendants marshall us to a specific area where we (motorhomer's) can park without the constraints of parking in specific bays. As we knew we would be doing rather a lot of walking around the show we decided to use the shuttle bus service to take us the main entrance and luckily one arrived within a few minutes. We were just removing our coats in the Piazza for me to the cloakroom whilst Jenny went to purchase our admission tickets when a lady came up and asked us whether we wanted a complimentary ticket, we gratefully accepted and it saved us £9! As is our "custom" we started by walking clockwise around the perimeter stands, being careful (as it was still quiet) not to be "sucked in" to a demonstration of a steam carpet cleaner, sharp knife or an instant cure for arthritis. There were a couple of items we wanted so we did spend some time at the accessory stands, not buying anything because we wanted to check prices and we didn't want to carry our purchases around for the rest of the day. One purchase we did make for £25 was the "Britstops" guide, like the "French Passion, Italian "Fattore Amico" and Espana Discovery to name but three, the guide is a list of free stopovers throughout the UK at farm shops, pubs, vineyards, breweries, craft ski and antique centres, there is no obligation to purchase, however buying a pound of sausages, a pint of cider or a bottle of wine is obviously cheaper than a camp site fee for a night. We will try it this year and see whether it works for us. We continued our walk around the show and said "hello" to Andy from West Country Motorhomes who was on the Autocruise stand who we purchased our motorhome from in 2009; we did have a look in about 5 other new motorhomes and where actually disappointed with what we saw, both in quality and lay-outs despite price tags between £35,000 and £68,000, what a good decision we made 4 years ago. After a cup of tea and sandwich at the café we walked to the holiday/tourist information stands, however, the one we specifically wanted the "Scotland Tourism" wasn't exhibiting this year, pity we wanted ferry prices to the islands and other information, we will have to search the internet for what we want instead. Time to make our purchases the "CAK" stand for an electric power socket where the lady was extremely helpful and then the "Riversway" stand for a new washing up bowl, de-humidifier and a trolley for the water container/toilet canister where the lad serving was a right misery. Via the shuttle bus again we made our way back to the car park and were soon on our way to the Asda supermarket at Minworth for a "big" shop. We have really got very low on our provisions so we spent a lot of time at Asda and not having the benefit of the Tesco app which gives us the locations it took longer than usual in a un-familiar store (although we have used this store before), we were very pleased when we had finished and after filling up with diesel, the first time since mid-November we made our way back to the water park.
Thursday 21st February 2013
After our busy day yesterday we had a lazy day.
Friday 22nd February 2013
A bus ride over to Lichfield today to collect a power drill from Michael to enable me to fit the power socket. As usual the buses in Tamworth don't connect so having a 25 minute wait and the weather being very cold to stand waiting we visited the Carnegie Centre again for a cup of tea and a biscuit, courtesy of "Age Concern" and then walked to the bus shelter for the bus to Lichfield. Specsavers was our first point of call when we arrived to have a small adjustment made to Jenny's spectacles and we had a good talk to the manageress Helen while we were there, having known us for so long she's as excited as Jenny on her upcoming cataract operation. After making a couple of further purchases we waited for Michael in Tesco and had a quick chat before catching the bus back to Tamworth and on to Kingsbury.
Saturday 23rd February 2013
Because the motorhome heating elements had stopped working (see previous months) we had relied over a few months, until they were replaced, on a small fan heater and found that we preferred the heat distribution and regulation of it, but it did need an extension lead from the power socket on the work top which required removing to use the kettle so we have decided fit a permanent socket at the rear of the motorhome from a supply underneath the cooker. A lid of the curry powder container was the exact diameter of the socket body so I used that to draw around before drilling a series of holes to make the large hole for the socket, pity I had sold my hole cutter tool on a car boot sale in 2007. Having already fed a cable around the rear of the fridge I soon had the wires connected and the job finished, I just left my mess for Jenny to clean and vacuum up, whilst I sat down did "The Mail" crossword and drank a cup of tea!
Sunday 24th February 2013
With the show finishing at the NEC today the camp site is slowly emptying this morning, I guess by tomorrow lunchtime it will be only the usual "long stayers" on site. Spent a relaxed day the weather having turned much colder I decided I would not be walking around the pools today. Jenny made a Chocolate/Cinnamon cake, although despite putting the correct amount of cinnamon in it we could hardly taste it, still delicious though!
Monday 25th February 2013
Kathy, Jen's niece and Sharon Jen's great niece came over to see us this morning and we had a great chat with them, both keen on camping they enjoyed the NEC show that they went to yesterday. . . they enjoyed the chocolate cake as well! I spent the afternoon printing the last of our favorite UK photographs for the album, Jenny continued knitting. I had a late night, watching the fishing programme on the television, I fell asleep, waking up when there was a programme on (Quest) about a cruise ship in Antarctica, and Jenny was in bed reading, why didn't she wake me?
Tuesday 26th February 2013
A nice surprise this morning, Michael and Charlie arrived from Lichfield to visit us, Charlie riding his new bike, which he had for Christmas, from the car park. We had a great time with them this morning and they left with 3 portions of the chocolate cake, only one piece left for me and Jenny only made it on Sunday.
Wednesday 27th February 2013
Up fairly early this morning awaiting the arrival of Michael to drive us to Heartlands Hospital at Bordesley Green, Birmingham, for Jenny to have her eye scan and measurements. The hospital is just 10 miles away and with the help of Maureen (Michaels Satnav) and Betty (our Satnav) and despite them both arguing which way to go we arrived in plenty of time. We didn't need either anyway as I could have got there with "my eyes closed" having worked in that area for a number of years. Shouldn't have said that about my eyes closed, but it gets worse, we arrived at the reception and asked the way to the clinic and the receptionist gave Jenny a laminated card with instructions with such a tiny font, I could hardly see. It gets worse or better, Jenny wanted to visit the ladies and made her way to the facilities there were three doors and yes. She chose the wrong one, I just managed to shout and stop her going in the gents. Just as well, Michael and I were wetting ourselves laughing! All three of us were still laughing when we arrived at the eye clinic reception, good job we had the instructions on where it was it was quite a hike from the main reception and we weren't seated to long before Jenny was called in, 5 minutes before her actual appointment time. Leaving the hospital we drove to Lichfield stopping on the way to purchase a new rucksack for Jenny from "Go Outdoors". I tried to make sure that she bought a larger one than the one she had (a "free bee" from Ordnance Survey) so that she could put more stuff in hers and less in mine, it didn't work, she was to clever and bought a 15 litre one, mine's a 25 litre. Michael dropped us off near the library and we went there to renew our bus passes that expire the end of March, Unfortunately the lady there couldn't access the internet so we had to email our photo's to Stafford for them to be sent from there at a later date. Our favorite café was next "The Damn Fine Café" in Bird Street and we were their early enough for them to still have the Packington Pork on the menu (on the last two occasions they had run out) and we enjoyed a baguette with apple sauce, stuffing and a piece of crackling on the top. After a bit more shopping we made our way to the bus station and the bus to Tamworth, we were lucky when we arrived there, the bus to Kingsbury was late departing and was still loading passengers so we were able to join the back of the queue and within 45 minutes we were back at the campsite and at last the paths over the park had started to dry out and we were able to use the shorter route.
Thursday 28th February 2013


* * * A Very Happy Birthday to our Son Michael XX * * *
The birthday boy came over late morning with his fiancée Sharon and of course he opened his presents as soon as he arrived. Jenny had made his favourite cake, a Victoria Sandwich complete with the figure "30" in candles that he blew out and which also enveloped us with a cloud of icing sugar which Jenny had sprinkled on the top. We haven't been to the "Dog and Doublet" pub on the canal side for quite some time so we decided to take Michael and Sharon there for lunch. Michael, Sharon and I had Steaks and Jenny had Steak and Stilton Pie which we all enjoyed and the side of mushrooms were the nicest tasting we have had for a very long time. We needed to get back to the site for a "Facetime" call from Rhiain in Canada before Michael and Sharon left to collect Charlie from nursery, so we didn't have a pudding, although with the size of our meals, I don't think we could have managed one anyway. Jenny and I spent the rest of the afternoon reading and watching a film on television.
Worcestershire
Friday 1st March 2013
Blackmore Camping and Caravan Club Site, near Great Malvern, 52 58 72 N, 02 16 61 W, (56 Miles).
Timed leaving Kingsbury Water Park to perfection, we arrived at Blackmore at 12:05, although we did stop in Hanley Swan village for bread and milk. We were very surprised when we attempted to book in to learn that they were full, we didn't expect that, as Kingsbury was almost empty other than the usual "long stayers". Evidently they have been busy for some time and this weekend there is some sort of show on (I know not what) at the Three Counties Showground, luckily Jo was in the office and offered us a pitch on a seasonal pitch at the bottom of the camp site, which was OK by us. A plus point, nice and quiet, far away from the maddening crowd with a great view of the Malvern Hills, the minus point, a distance from the open amenities building, although the washing-up room is available in the amenities close to us and the fresh water point in the same place.
Saturday 2nd March 2013
A nice peaceful night, no constant motorway traffic drone like at Kingsbury, although we did have some noise from the Rookery in the high trees close by, but we don't mind that. After a shower and breakfast I just could not miss the opportunity of the "milder" dry day to wash the outside of the motorhome especially as I could get hot water from the washing-up room and I spent most of the morning and early afternoon washing and drying the bodywork and then cleaning the windows. I would have been quicker if I hadn't spent time chatting to John a seasonal pitch user who we have met several times at either Kingsbury or Blackmore, in fact, we were instrumental in him purchasing a Kampa awning when he came and asked about ours in 2011 and also to a man who was passing who lived in Harlaston, near Tamworth. After I had finished I took some empty containers to the re-cycling area near the reception, whilst Jenny made a cup of tea, my tea was cold when I arrived back, I was not surprised, I stopped to talk to Bill and Joe and was away for over an hour! Having seen a Nuthatch and Tree Creeper the last time we were here I spent the hour before the "Footy" results walking through the woodland at the rear of the camp site, however I didn't spot either, only the noisy Rooks.
Somerset
Sunday 3rd March 2013
Cheddar Caravan Club Site, 51 16 32 N, 02 46 57 W, (87 Miles).
A very cold night the temperature outside went down to -4.6c during the night, although by 9:00am it had climbed to zero. No rush to go this morning as the caravan club site at Cheddar is unusually a 1:00pm arrival time because of the narrow access lane. Despite four lots of road works on the M5 motorway we arrived at 1:05pm and were second in the "queue" and we had plenty of pitches to choose from as the camp site was fairly quiet, this weekend being the opening weekend after the winter closure. After getting ourselves organised we had lunch before walking to the Budgens Supermarket in the village for a few food items that will carry us over the next few days. We are keeping everything to a minimum as the motorhome is due for its service tomorrow at West Country Motorhomes whilst we travel down to the Midlands for Jenny's hospital appointment. I think we will be in bed early tonight!
Monday 4th March 2013
All organised last night for an early start to drop the motorhome off at West Country Motorhomes at Lower Weare which is about 6 miles away from Cheddar, the only thing we had to do this morning was empty the waste water tank which didn't take long. We picked up the courtesy car and we were on our way before 9:00 am, just stopping at the Morrison's Supermarket at Worle to fill the car with fuel before driving back to the Midlands. We were actually far too early for Jenny's appointment at 1:30 so we decided to have a look around the stores in Sutton Coldfield, great didn't cost us anything to park, a lady gave us her parking ticket which had got more than enough time left on it for our use. We arrived at Good Hope Hospital in plenty of time and we were lucky again as Jenny went in for her primarily examination before seeing the consultant straight away and after a short wait for Mr. Sivaraj and after her pre-operation discussion we were on our way back to Somerset just before 2:00 am. Because Jenny's appointment was originally mid-afternoon and we would have been unable to get back to WCM before they closed we had already booked and pre-paid a night at the Webbington Hotel and the intention was to collect the motorhome when they opened in the morning, however WCM rang to say it was finished so we decided to pick it up and park it overnight at "The Webbington" which is only 3 mile from Lower Weare. After picking up the motorhome we arrived at the hotel, booked in and found our room and had a "freshen up" before going down to the bar for a meal and drink. We had a delicious Burger with all the trimmings in the very comfortable lounge area with a lovely view over the Somerset Levels and Mendips and were even treated to a nice sunset, before we returned to our room to relax, which I did in no uncertain terms. Jenny was watching a drama on the television, I decided to "chill out" in the bath, and did literately, I fell asleep and when Jenny woke me up the water was cooling!
Worcestershire
Tuesday 5th March 2013
Blackmore Camping and Caravan Club Site, near Great Malvern, 52 05 83 N, 02 16 51 W, (96 Miles, from Cheddar).
Great idea collecting the motorhome yesterday, it meant we didn't have to rush off this morning to return the courtesy car. We decided before breakfast to make use of the hotel's facilities and use the swimming pool, very enjoyable it was too and swimming a few lengths each gave us an appetite for our breakfast. We were naughty at breakfast, with our medications we are not supposed to eat Grapefruit, but we were sure a couple of segments each wouldn't hurt. We then had a "Full English" each, although mine wasn't quite full, as they only had scrambled egg and there is only one way I won't eat eggs, scrambled, made up for it though I had extra sausages! We checked out after breakfast and left for our drive back to Blackmore, still surprised at the cost compared to the Premier Inn that wanted £69 room only, we paid £46 for bed and breakfast and the use of the Spa, bargain I think. Perfect timing although it wasn't intentional arriving at Blackmore again just a little after noon, after stopping once more at the village shop for bread and milk. Plenty of room this time and we were able to pitch on our preferred hardstanding No 16. It's the warmest day of the year so far so we took advantage of it and sat outside for part of the afternoon before it started to cool, we will stay here for 3 days before moving back to Kingsbury.
Wednesday 6th March 2013
A relaxed morning before we caught the 12:13 pm bus to Worcester, alighting before the bus station at St Johns to go to PC World for the latest Adobe Photoshop Elements 11 editing software. We then had lunch (baked potatoes) at Quinn's Coffee Shop/Restaurant where we normally eat, in the winter anyway; we buy fish and chips and sit by the river or in the park in the summer. The Hop Market wool shop was our next destination to collect some wool Jenny had ordered by telephone, before going to Boots to weigh ourselves, (knew I shouldn't have had extra sausages yesterday) and pick up some other items before returning to the bus station to go back to Blackmore.
Thursday 7th March 2013
A relaxed day, although we have sorted out clothes, etc., etc., to take to the storage unit on Saturday.
West Midlands
Friday 8th March 2013
Kingsbury Water Park Camping & Caravan Club Site, Kingsbury, 52 34 10 N, 01 42 22 W, (54 Miles).
We left Blackmore earlier than we originally intended as we were going to stop at the Tesco in Worcester for our groceries but decided we would shop later this afternoon in Lichfield instead. We actually did ourselves a favour as when we arrived Jackie the assistant manager opened the office for us and despite there being more people on the site (because of Cruft's Dog Show) we were able to pitch on No 2 just one away from the one we normally use, although this time we have parked "nose in" as we want to put the awning up and erect it on the "sunny side". James from Enterprise arrived at 12:30 pm to take us to Sutton Coldfield to collect the hire car and we were soon on our way to Lichfield to shop and collect our post from Michael, we were back at the campsite at 15:25 pm with a Fiat Panda filled with food!
Saturday 9th March 2013.
Just a short drive over to Anker Storage at Tamworth this morning to take a few "bits and pieces" which we are unlikely to need in the next couple of months, we also collected our full range of Ordnance Survey maps, "Murphy's Law" we never seem to have the one we want to look at with us so we have decided to keep them all in the motorhome. We spent part of the afternoon erecting the awning, despite being on hardstanding the steel pegs went in easily, partly because the ground underneath is still so wet, in fact when I pulled one out again to re-position it, there was a "sucking" sound as it came out of the ground! We were very pleased how soon we had the awning up and the inside organised as we thought we would struggle more with my knee being so stiff.
Sunday 10th March 2013
A relaxed day.
Monday 11th March 2013
Up early this morning for Jenny's "big" day and we were at Good Hope Hospital at 7:45 am for her appointment to have her cataract operation, I won't go into detail but everything went OK and we were back at the motorhome at noon. Just had to make sure that during the rest of the day Jenny relaxed, which she did by listening to music and completing the Daily Mail crossword, with me telling her the clues and writing the answers in. To make things simple for tea tonight I drove to "The Atlantic" in the village for Fish & Chips as Jenny will not be cooking just yet.
Tuesday 12th March 2013
An emotional moment this morning when we took the dressing off Jenny's eye and for the first time in over 60 years she was able to see with her right eye without using spectacles. Mid-morning we drove over to Lichfield to visit Specsavers, Helen the manager who we have known for many years was as excited as us. We thought the ideal would be just to remove the right lens completely in her spectacles which Helen soon did for us, however once Jenny had tried it for a time on the way back to Kingsbury she found that being without spectacles altogether was the best option. So at present she will try that until she has the other eye done.
Wednesday 13th March 2013
While we still had the hire car we took the opportunity before returning it to do a bit of shopping in Sutton Coldfield this morning. We returned the car and James very kindly dropped us off at the Dog and Doublet on the canal side where we had Lunch, Cajun Chicken for me, Faggots and Peas for Jenny, both were very tasty. We then walked back to the campsite along the canal tow path and spent the rest of the day relaxing.
Thursday 14th March 2013
What we forgot to purchase yesterday were a pair of sun glasses for Jenny to just ease the light on her eyes. We therefore decided lunchtime to walk across the Water Park and catch the bus into Tamworth from Kingsbury village. We went to several shops before we found what we were looking for, but within a short time we were back at the bus stop waiting for the return bus. Coincidently my old work colleague George's wife Barbara got on the bus with her sister and it was nice to catch up with how they both were. At last this afternoon it was warm enough to sit in the awning and we both relaxed in there until the sun disappeared.
Friday 15th March 2013-Saturday 16th March 2013
Two relaxed days!
Sunday 17th March 2013
Up at 5:15 am this morning to watch yesterday's aborted F1 qualifying sessions 2 & 3 from Albert Park, Melbourne that were "rained off" yesterday. Then I went back to a nice warm bed until 8:15 am! The rest of today we just relaxed, Jenny knitting with my help reading the knitting pattern for her, (all foreign to me but Jenny understands what I'm telling her) and I read and spent time sorting photographs on the new Adobe Elements package and of course watching the opening round of the F1.
Monday 18th March 2013
Another relaxed day, Jenny with my help baked a Walnut and Date Cake, I wrote an email to West country Motorhomes complaining about the service we had from them at the beginning of the month. I won't bore you with the details.
Tuesday 19th March 2013
Took the opportunity this morning while the weather was a bit better to wash the outside of the motorhome, all I want now is some nice warm weather to put the polish on it.
Wednesday 20th March 2013
A walk over the water park this morning to catch the bus to Tamworth, the connection to Lichfield didn't quite work out and we had to wait for 25 minutes in the bus shelter. We arrived at Lichfield and met Michael who had brought our post, thank goodness our new bus passes had arrived, I had broken mine in half some time ago and despite Jenny "sellotaping" it back together each time I went on a bus the driver had to manually issue a ticket. I was also getting fed up with Jenny's joke, me to driver, "can you press the button my card is cracked", Jenny to driver, "yes, and he (me) is as well", some drivers were amused, some weren't! After collecting our medical prescriptions from the Health Centre and doing a bit of shopping we walked back to the bus station for the return to Tamworth, missing out again at Tamworth as the Kingsbury bus was just departing. Rather than wait 30 minutes we caught the No 16 which still goes to Kingsbury but via Ventura Park and the Dosthill housing estate, however the driver knew everybody on the bus and their destinations and after confirming with us we weren't getting off in the housing estate he missed that part of the route out and went directly to Kingsbury, which saved him and us some time.
Thursday 21st March 2013
It's arrived, yes the snow starting falling this afternoon and we are definitely not going anywhere today. Now we have a concern, when we had the unexpected snow at Ryton Farm last April the weight of the snow on the awning roof bent 2 poles and we certainly don't want that to happen again so I may have to get up during the night to check it.
Friday 22nd March 2013
I'm tired; I got up at 3:15 am when Jenny woke me up to say that there was a lot of snow on the roof light. When I opened the habitation door, sure enough, there was plenty of snow on the awning roof. I got dressed, I had had the forethought to bring in the extendable brush that I clean the motorhome with and with the help of our small stool was able to reach the top of the awning and brush the snow off. I decided to stop up and at regular intervals went out and brushed the further accumulation of snow away. I eventually went back to bed at 5:55 am and then got up again at 8:00 am. Suffice to say, I didn't do much for the rest of the day and oh dear, there is more snow on the way.
Saturday 23rd March 2013.
Didn't even bother going to bed last night, thank goodness for the television, I found "Top of the Pop's" from 1978 and 1979 as well as other music programmes and watched them until they closed down at about 4:00 am. Once more I went out several times to clear the awning roof, I'm getting used to it now and it didn't take long, just as well it was cold out there. Needless to say again I wasn't at my best all day, but I had the F1 qualifying from Malaysia to look forward to and I did have a "siesta" afterwards. At least the weather forecast reports an improvement, the snow is going to diminish about midnight, in fact there are only a few flurries on occasions now so I will take a chance tonight and go to bed!
Sunday 24th March 2013
Surprised despite 2 nights of interrupted sleep I went to bed rather late last night and although it had snowed again more than we thought it would, the awning roof was OK despite a good layer of snow on it, although it is now the "lighter" stuff rather than the wet heavy type. No football on the "tele" last night because of the World Cup qualifying matches, but at least I had the F1 Grand Prix from Malaysia to watch this afternoon and other than clear at bit of snow from around the pitch we both relaxed for the rest of the day.
Monday 25th March 2013
A lazy day!
Tuesday 26th March 2013
Well today looks as though it's going to be the best one of the next two so we decided this morning to take the awning down ready for our departure on Thursday. We are "experts" at it now so it didn't take long and in the sun it wasn't too cold, although Jenny said "her fingers weren't working to well", when it came to tying a few knots. Disappointment although not too surprised when Jenny rang Ryton Farm this morning which was our intended stay for over Easter and beyond, (we were considering staying until Jenny had her next cataract appointment, if it wasn't too far hence), the campsite is not accessible because of the snow and John (the owner) said that the lane to it is not good. Kingsbury Water Park is fully booked for Easter (although there may be cancellations) so as we didn't want to take a chance on struggling to find a place to stay we have booked Chapel Lane Caravan Club site the South side of Birmingham for a few days and then subject to Jenny's check-up tomorrow we will decide where to go to next.
Wednesday 27th March 2013
What a good decision taking the awning down yesterday, it was snowing when we got up this morning and watching the people on the next pitch take there's down we were so pleased we did ours yesterday. Michael came after lunch to take us to Good Hope hospital for Jenny's checkup, we weren't there too long and everything went very well and we were back by 4:15 pm. All we have to do now is wait for the next appointment, although we do need to see Mr. Patel at Specsavers in Lichfield for Jenny to have an eye test, luckily Helen was in the shop when we rang and she squeezed her in for 4:10 pm next Wednesday, which is the day we leave Chapel Lane.
Thursday 28th March 2013
Chapel Lane Caravan Club Site, 52 22 46 N, 01 53 56 W, (30 Miles).
I decided to make the tea when I got up this morning to "go to the bathroom", then when I got back in to bed Jenny looked at the time . . . 6:20 am, well, at least we had plenty of time to get ready for leaving today! We didn't leave until late however as Michael and Sharon came over to visit us (he forgot to collect his mum's prescription from the health centre yesterday). Our first stop was Asda for groceries and we were surprised when we got there how busy it was, I dropped Jenny off and then went looking for a parking spot, luckily there were spaces with a grass area at the rear so I was able to reverse into one of those without a problem, then once I got into the store I had to ring to see where she was. We were going to top up on the way to Wythall with fuel and gas but we will have plenty of time when we leave here to do both. We arrived at Chapel Lane at 2:00 pm, I went "walkabout" to finding a pitch while the fresh water tank filled with water, I then walked back to reception to inform them which pitch number we were on and collect the barrier card whilst Jenny put all the groceries away and prepared lunch (toasted crumpets), before we relaxed for the rest of the day.
* * * A Happy Easter to all our Family and Friends * * *
Friday 29th March 2013
A relaxed day, well it is a bank holiday!
Saturday 30th March 2013
At last a chance today to edit and prepare some photographs to put on the web site; I have been putting off editing in my new version of Photoshop Elements, but in fact I found it much easier than the older version.
Sunday 31st March 2013
Well with Jenny's eye's being the priority and also wanting "a base" during the bad weather we haven't been far over the last 3 months. Join us in April and hopefully we will be able to tour some of the places on our intended "wish list" for this year. But obviously Jenny's second cataract operation and well being will come first.
Monday 1st April 2013
Another very cold night with temperatures below freezing and the wind chill when we walked over to the amenities was unpleasant (I suppose I shouldn't have been wearing shorts), when will this cold weather end? Needless to say we didn't go far today, although we had thought of visiting the transport museum which is next to the campsite, but we were so comfortable relaxing in the warm motorhome with the sun shining through the windows that we stayed in for the day. We are pitched next to a hedge so we had an interesting hour seeing how many different birds we could see, 9 different types was the result including the UK's smallest bird the Goldcrest. Spotted the ISS at 5:35 am this morning although it was low in the sky, I managed to see it even though my view was concealed somewhat by tree branches and Jenny was complaining about the cold with the roof light being fully open, in the next couple of weeks it will be in a more favourable position to see it and at a more civilised time.
Tuesday 2nd April 2013
At least it's a little warmer today, the very cold wind has dropped and there is hardly any snow to be seen. Mid-day we walked the short distance to Beckett's Farm Shop which took us about 10 minutes, we were surprised how busy it was and the building housing all the farm animal was filled with children, handling new-born lambs and chicks, I gave them a miss and went to look at the pigs which I have a preference for, they had an unusual species from New Zealand called the Kune Kune which evidently the Maori first kept in their settlements, very cute. We had intended to purchase fruit and vegetables from the shop but it was evident that it was all "bought in" produce so we didn't bother, we like our farm bought vegetables to at least still have some soil on them! We had also thought about having a meal there, but it was very busy and we didn't want to wait for a table so we walked back to the campsite without spending a penny and had lunch at the motorhome.
Wednesday 3rd April 2013


* * * A Very Happy Birthday to our Daughter Rhiain XX * * *


Kingsbury Water Park Camping and Caravan Club Site, Kingsbury, 52 34 10 N, 01 42 22 W, (32 Miles).
A fairly early departure today as we have got a few things we need to do, so we left at 9:30 and were soon at our first stop, the Tesco Extra store just a mile off junction 4 of the M42. A store which we haven't used before, but very convenient if driving South and certainly a preference to visiting the Asda at Minworth, we seem to have it sorted now a Tesco Supermarket which ever of the 4 points of the compass we travel to. Our next stop was the "Flo Gas" depot at Castle Bromwich to top up with gas, it was a disaster, first of all couldn't find it, it was hidden by rows of car transporters delivering to the car auction building and then despite me ringing them yesterday they evidently don't supply "pumped" gas from there only bottled, that's one useless App which we will delete off Jenny's iPhone. We needed to change our plans for this afternoon so first of all decided to drive directly to Kingsbury Water Park and organise ourselves and have lunch. We then drove over to the Texaco filling station at Kingstanding to purchase gas and continued to Lichfield where I dropped Jenny to visit Specsavers for her eye test. I drove to the Kwik-Fit depot to have the tyre pressures checked after the inability of West Country Motorhomes to inflate them correctly, enough said! Thence forward to the Co-operative Superstore car park where there was plenty of space to park whilst I waited for Jenny to ring me to pick her up at Lichfield bus station where I dropped her. We just stopped once more on the way back to Kingsbury, at Canwell Caravans that was a waste of time, they were out of stock of the toilet fluid we use.
Thursday 4th April 2013
Cold and windy, not the sort of day to erect the awning, but erect it we did, it was certainly a relief when I finally finished pegged it down and was able to sit inside with the heater switched on drinking tea! We then got all 12 plastic boxes out of the garage and had a really good sort out of them before cleaning the garage and putting everything back, a good job done, hopefully the promise of warmer weather in the next few days will enable me to polish the outside of the motorhome.
Friday 5th April 2013
Thought we might have to go to Tamworth today to fax a copy of the information the hospital required from Jenny's eye test on Wednesday, however although the camp site didn't have a fax machine, the Outdoor Education Centre adjacent did and the lady there kindly allowed Jenny to use the machine, hopefully the appointment from Good Hope Hospital won't be long in coming.
Saturday 6th April 2013
Warm enough this morning to sit out in the awning and relax! This afternoon we had a nice walk around the pools and visited the bird hides, Jenny was able to use her binoculars for the first time since her operation, although she was using them like a monocular!
Sunday 7th April 2013-Sunday 14th April 2013
Nothing much to write about these last 7 days, we are still awaiting a phone call from Good Hope Hospital on the likely date for Jenny's next cataract operation. We have spent some of the time cleaning the inside of the motorhome, reaching every "nook and cranny" we could find, I even stripped down the top of the cooker as far as I could, hopefully partly to rectify the grille not staying on, but we weren't successful, so much for West Country Motorhomes saying they had fixed it! I also cleaned each of the skylights with a "pastry" brush being used to get in every corner and hole, just wish that the weather was warm enough to get cracking wax polishing the outside. With the F1 Grand Prix from China being fully televised on the BBC at least I was able to watch some motor racing on Friday, Saturday and Sunday this week.
Monday 15th April 2013
Great news, the appointments manager at Good Hope Hospital rang to inform Jenny that her operation was to be the 1st May, then it got even better, as she was speaking an assistant in the office told her that there was a cancellation today and after a further couple of phone calls (to make sure the lens ordered especially for Jenny was there), asked if we would be able to get to the hospital by 1:00 pm. Obviously the answer was yes, so after taking the awning down (to save Jenny helping later) we ordered a taxi for 12:00pm. We therefore arrived in plenty of time and had sandwiches and tea at the small café in the Richard Salt Unit before going upstairs to the "Day Case Unit" and without going in detail we were back in a taxi returning to the campsite at 5:00 pm, with Jenny this time wearing a "pirates patch" over her left eye. We had already decided to move today and we are very low on food as our intention was go to the supermarket to purchase our needs for a few days, but now we have decided to stay until Thursday morning. A take away was the answer (it would also save me cooking) so I went and picked up a leaflet from the laundry room for the Umami Indian Restaurant in Lea Marston a small village about 4 mile away. Unfortunately they hadn't got anybody to deliver, It looked like I would have to cook after all, then our phone rang, it was the manager at the Umami who said he would deliver our meal himself, great we were enjoying a Chicken Biryani and a lamb Rogan Josh within 45 minutes and very little washing up to do!
Tuesday 16th April 2013
A relaxing day, making sure Jenny rested her eyes and we didn't sleep very well last night with the rocking and rolling of the motorhome in the high winds, reminded me of the ferry crossing across the Bass straight from "Tazzy"! Good decision on Monday taking the awning down.
Wednesday 17th April 2013
We walked over the Water Park this morning to catch the No 16 bus which runs hourly to Tamworth via the Ventura Retail Park, we needed to go to Boots to buy Jenny some "ready readers" a "cheap" alternative to purchasing some reading spectacles until her "new" eyes have settled down and she can have them properly tested at Specsavers. We also went to Homebase for some screws, we only spent £3 and came away with a tray of Primulas, free with every purchase, they have been unable to sell them because of the terrible weather, they were originally £5, then £3 then reduced to £1.49, then they were giving them away! We then purchased a few items at Asda (I might manage to "cook" a Pizza) before catching the bus back to Kingsbury. And the campsite managers appreciated the tray of plants.