Ref:
Date:
Location:
Photographer:
[clikcontent type=paymentBuyLink replaceable=true]
Ref:
Date:
Location:
Photographer:
[clikcontent type=paymentBuyLink replaceable=true]
16th May 2013 - 25th June 2013
The North, The Lake District and a visit from our New Zealand Friends
Nottinghamshire


Thursday 16th May 2013
Trinity Farm Organics (Britstop), Cossall, 52 59 21 N. 01 16 98 W, (47 Miles).
Another early drive this morning to Lichfield to have our "bloods" done at the health centre, we were the first "customers" so we didn't have to wait long and were soon "done" and walking over to Tesco to partake of coffee and a breakfast bap in the Costa Coffee Shop upstairs whilst we waited for our medical prescriptions to be filled at the Tesco Pharmacy. We still had to walk to Boots in the precinct as Tesco hadn't got the "WD40" for my stiff knee, but we did call into the Pound Stretcher on the way back to buy a new toaster, ours giving up the ghost yesterday. We were so pleased with the Hitachi Oil-filled radiator we bought as few months ago, when we saw a Hyundai toaster we opt for one of those, Red one £18.99, White one 8.99, guess which one we bought? Well James told us to bring the hire car back empty, we did, not only was the fuel light showing, there was a fuel icon flashing and the words "FILL UP NOW" on the dash, we got to the office, needless to say, James didn't take us back to Kingsbury in the same car. We left Kingsbury just before 1:00pm, intending to join the motorway at the M42, Junction 9 at Dunton Island, we diverted to Tamworth, Betty has died, Jenny switched her on and "nothing", we were pleased that we at least looked at one on Tuesday and after another demonstration by the very helpful salesman we purchased a new "Betty" and then spent 30 minutes in the car park learning how to use the "basics" to navigate us to Cossall. It worked, we got there an overnight stop from the "Britstops" book, we were greeted by Lewis, the owner of Trinity Farm Organics and were directed to the car park at the back of the barn, on a slope so we needed to use the Milenco ramps, but with a nice view over the fields. After getting ourselves organised we went to the shop and bought some four seed Sour Dough bread and two Rhubarb and Custard buns, we had buttered sour dough bread and then the buns for a late lunch, we didn't need tea.
Yorkshire


Friday 17th May 2013.
Triton Fish Restaurant (Britstop), Bilbrough Top, near Tadcaster, 53 54 40 N, 01 11 09 W, (79 miles).
A good night at the farm, but it was so wet last night I didn't have an opportunity to walk down the path to where Lewis said there were a pair of Barn owls nesting, however this morning we were watching Linnets feeding on the dandelion seeds close to us. We took some time this morning organising our stops for the next week, we are using another Britstop tonight then using a CL (certificated location) near York, before staying at a Caravan Club site in the Yorkshire Moors. We had an interesting chat this morning with Lewis who explained the "concept" of the organic farming on the farm and then made some more purchases, another Sour Dough loaf, Tomatoes and Rhubarb, fresh or what? Lewis walked down the field to pick them. Before leaving we walked to the village for a newspaper and to post a parcel, that was a waste of time despite the notice on the door clearing stating the post Office was open . . . it was closed. It was a slow drive along the M1 as there had been a car fire, young Betty, with new "traffic avoidance" did tell us of a new route, but it would only had saved us 7 minutes, so we stayed with the original one M1, M18, M(A)1 and then the A64 and arrived at Bilbrough Top at 4:30pm. We found the Triton Fish Restaurant at the end of the service road (well done Betty) and I went in to find out where to park, they were expecting us as I had rung this morning and the young lady directed us to a corner of the car park, no ramps tonight, it was a nice and level place. I also collected a menu to help us decide on our meal for tonight, I already knew what sweet I was having; I had spotted Pavlova in a cabinet. At 6:00 pm we walked across the car park to the restaurant, not your traditional Fish & Chip Café, nice tables, plenty of room, uniformed and very pleasant waitresses, We had made our minds up before we sat down, we both had the same, regular Haddock, with chips and garden peas and as it was licensed, Jenny had Cider, I had a beer. The meal was superb, the batter on the fish perfect and yes, I did have a Home-made Pavlova. Jenny? White Chocolate and Raspberry Cheesecake, fantastic!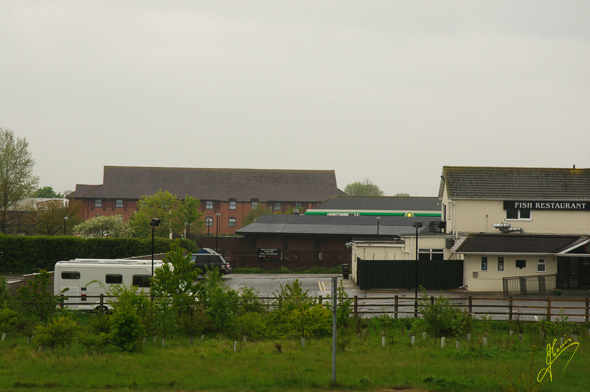 Saturday 18th May 2013
Sheriff Hutton Camping and Caravan Site, near York, 54 04 63 N, 01 01 53 W, (21 Miles).
After a night of heavy rain and the forecast for it to rain for most of the day we have changed our plans for this week-end. The intention was to find a CL close by and we had "earmarked" two to ring this morning, both with fishing pools, drive to the "Park n' Ride" close to York, spend the day in York and stay at which camp site we had chosen. Neither of us wanted to visit York in the rain, nor do I want to fish if it rains tomorrow, so this morning we rang the Sheriff Hutton C & CC to see if they had a vacancy, they had plenty of room so we have decided to go directly there instead. After 4 nights in the last 3 weeks using gas for fridge, heating and hot water and although one gas cylinder is still full we decided to "top up" the LPG, I used a App on Jen's iPhone to find the nearest LPG filling station and was amazed to find there was one just zero miles away!!! We are just off the A64 at Bilbrough Top Services and as well as the Fish Restaurant and MacDonald's, there is also a BP filling station and low and behold, a LPG pump, I walked across to make sure they did have gas after the fiasco last month when using the same App and the information was incorrect, this time the information was correct and we left "The Triton" , drove 50 yards to the BP station and filled with 10.30 litres of gas, our gauges were accurate, the cylinder only holds 11 litres. Two facts pleased us, the small amount of gas we have used since last filling up and the cost at .679 per litre is the cheapest it's been since April 2010. We drove to Sheriff Hutton in pouring rain with deep surface water on the York by-pass a good decision not driving far today and we arrived at the campsite just before noon. We had a short wait before the office opened and the lady we spoke to this morning was right, there were plenty of free pitches, although there were some that were waterlogged. The mobile Fish & Chip van arrives at 6:30 pm, having had fish & chips last night we obviously didn't want them again, or did we? When we arrived we were given a "raffle ticket" (No 35) and if it was the number shown on the "chippy" van the free fish and chips for two was the prize. We enjoyed our sweet Chilli pork chop with vegetables that Jenny cooked, ticket 48 was the winner, wonder who won, the site managers perhaps?
Sunday 19th May 2013
Trying to get organised today for next weekend and beyond as the next campsite The Howard, Rosedale Abbey where we are staying for 5 nights has not got phone coverage or internet and we have not booked anywhere for the May Bank holiday week, hopefully we will be able to find some Britstops which have so far been very successful. I decided to go for a walk this afternoon to Sheriff Hutton Castle, the Castle was built by John Neville between 1382 and 1400, and passed down through the family until the death of Richard Neville at the Battle of Barnet in 1471, I managed to find a public footpath to take photographs from as the castle itself is on private land and very much a ruin. Using the GPS on Jenny's phone, I walked a (almost) circular route of 3.25 miles from the camp site, Jenny while I was away did some baking, including a Rhubarb Crumble with the sticks we bought from Trinity Farm on Friday, it was delicious, I found it very hard to resist having another helping, but I kept strong and at least there will be "puddin" tomorrow.
Monday 20th May 2013
The Howards Caravan Club Site, Rosedale Abbey, near Pickering, Lat: 54.35127, Long: 0.88417, (31 Miles).
Leaving Sheriff Hutton at approx' 9:45am after deciding when "doing maps" that we would not take the route that Betty suggested, instead we drove via the A64 and the market town of Pickering and go the suggested route in the Caravan Club handbook. Arriving at the camp site we walked the site as suggested by the site manager, a site which has just one long lane down a narrow field, with the pitches positioned either on the road side or river side and no turning circle at the bottom, we had plenty of pitches to choose from, the 60 pitch site having only 9 occupied. The pitches here are all grass and some not suited to a motorhome, the motorhome ones however were easy to find, each numbered pitch post had an additional green painted top which signified that there was meshing underneath to aid traction when the grass was wet. We decided on No 48 on the River side (actually the River Seven, no, not the obvious one) and reversed in, (not without a bit of wheel spin) and pitched within 3 metres of the river bank, (fenced with "Caution, Steep Bank, Deep Water" signs), we love to go to sleep hearing the sound of water, but I hope I don't sleep walk! After lunch we walked to the village for a newspaper, Rosedale Abbey comprises 2 pubs and 2 tea shops, one of which, "The Abbey Tea Room" is also the village shop & bakery. The Abbey??? There isn't one, well a ruin somewhere which I noticed on a postcard of a short tower and a stairway, I will try and get some more information on it, but as the CC handbook stated, no internet here, so I can't Google, nor is there a mobile signal. When I went to fetch water this evening the birds were having a "mad ½ hour", Song Thrush with its far-carrying musical song and the mellow sound of the Blackbirds, "outdoing" the smaller tits and finches, it was magic.
Tuesday 21st May 2013
Inevitable this morning that with the piece and quite even the dawn chorus didn't wake us up and we were rather late in having breakfast. We walked up to the village together to "The Abbey Tea Rooms to purchase a newspaper and on the way found the abbey, exactly as the picture on the postcard except the stairway had been bricked up, it was in part of the churchyard. We walked along the back road back to the campsite to take a photograph of the River Seven from the bridge, we didn't go far out of our way, we only travelled .8 miles altogether. It was lunchtime when we got back (told you we overslept) and after lunch we just relaxed and I read whilst Jenny knitted, then late afternoon I strolled along the camp site with binoculars and camera but didn't see anything interesting. Forgot to mention yesterday, the wonderful pungent smell of the Wild Garlic along the river bank, an amazing aroma which lingered throughout the day, curry anyone?
Wednesday 22nd May 2013
Mid-morning we once again walked to the village to buy a newspaper, plus, we wanted to get some bread, we were disappointed we arrived at 11:04 am and the shop closed at 11:00 am, WHAT? The lady was just locking the door . . . and then opened it again to tell us she was closed, we would have thought with the pressures these days from supermarkets a small village shop would not want to turn business away, rant over. Not that we could have gone to the town, we asked on Monday about the bus timetable to Pickering and were told about the printing error in the Caravan Club handbook, evidently there isn't a bus to Pickering twice a day as the handbook states, its twice a week, Mondays and Fridays. However the manager of the site was kind enough this morning to bring us a printed timetable, she realised on Monday she had given us incorrect times, we could have been stood outside the Abbey Stores (yes, that one) for a bus that would never arrive. Before lunch the weather improved and we decided to go for a walk, we chose the lane to Chimney Bank a 1in 3 climb to Bank Top and the ruins of the old Rosedale Ironworks, they opened in 1856 and produced said to be the highest grade iron in the whole of the dales and at its peak increased the population of Rosedale from 558 to 2839 in its first 15 years of mining.
We sat at the top for a short time before walking back down to the campsite and an excellent late lunch of cheese and mushroom omelette and salad. Having walked over 2 miles up a steep hill to a total altitude of 544 feet, we deserved to relax for the rest of the day.
Thursday 23rd May 2013
A cold night and at midday it was just 7.5 degrees c outside and with the wind and heavy showers it is ridiculous weather for this time of the year. We were happy to stay in the motorhome for the day and listen to music, read, play crib (on the iPhone) and watch television.
Friday 24th May 2013
That must be one of the windiest nights we have had since we have been in the motorhome, the rain was dripping off the large tree at the back of us incessantly all night, one of the reasons we don't like pitching under trees, even when the rain stops, it doesn't for a hour afterwards, if you see what I mean. And of course the wind was rustling the trees and with the motorhome rocking, we definitely didn't have one of the best night's sleeps. The weather forecast for the rest of today wasn't much better so we again decided not to go out; hopefully the weather will improve tomorrow. The manager did come and see us this morning, we asked yesterday if there was any room for the weekend, we had looked on the web site booking service before we left Sherriff Hutton, but it showed they were full for the Bank holiday. However we asked yesterday if they had a cancellation to let us know and we were not surprised this morning to find out they had, we would not like to tow a caravan in the high winds of this morning and evidently when we went up to the office to confirm and pay she told us that the people that cancelled had found a camp site nearer to their home. We are therefore stopping until Monday morning and hopefully use more "Britstops" in the Dales before arriving at the Lake District Sunday week.
Saturday 25th May 2013
Low and behold we got up this morning (late) and the sun was shining AND it has shone all day, although there was a cool wind which "knocked a few degrees off the temperature". We walked up to the Abbey stores this morning for bread and a TV magazine, no TV magazine so we bought a Daily Mail, which we don't normally bother with on a Saturday. I also took a better photograph of the "abbey", the light was much improved than on Tuesday, I have also found out it was built in the 1100's, it hasn't lasted, obviously built by Persimmon.
We had lunch and spent the afternoon outside "chasing" the sun around the motorhome to avoid sitting in the shade of the large lime tree on the river bank at the rear of the motorhome. Before the Monaco Grand Prix qualifying I spent some time standing at the fence looking for any interesting birds near the water, I "think" I saw a Kingfisher, although it was flying away from me, I did see a Nuthatch though which pleased me and we also heard a Cuckoo today.
Sunday 26th May 2013
A really lazy day in the warm sunshine and we chased the sun around our pitch again, I found myself a lovely spot over the fence sitting on the stump of a tree, using a couple of our "floor tiles" to cushion my bottom and sat "watching" the river and looking for birds, my blood pressure must be at an all-time low it was so relaxing. I did do one job; we wound out the awning and cleaned, polished and lubricated the awning rail. A man then came over from a the caravan opposite asking for some advice on his Omnistor awning, evidently it rained heavily and the "roof" caved in and they are worried it will happen again. I showed him the centre roof rafter and fixtures which his hadn't got and also mentioned having the roof lower in one direction so the water ran off the side, he hadn't thought of that! Jenny and I had a nice chat with him and his wife and we think we have talked them into buying a Kampa awning, even lending them a measuring tape to measure up, that's the second time, "big" John at Blackmore bought one, pity we aren't on a commission. Fantastic documentary on BBC2 tonight, "Australia with Simon Reeves," it featured the Cape York Peninsula which we have visited, it brought back some great memories to us both.
Monday 27th May 2013.
Lowther House (Britstop), Pickering, Lat: 54.25658, Long: 0.76801 (11 Miles).
We didn't need to rush off this morning as we "hopefully" had only a short drive to Pickering, the "hopefully" being that we couldn't contact Lowther House until we had a phone signal that happened about 10 minutes before we arrived, luckily they could accommodate us. We needed to use the anti-slip mats to drive off the pitch despite the "mesh" being underneath the grass, we still had no traction under one wheel, with the mats under the wheels I got off easily and left Jenny walking up the site (whoops) while I drove to the motorhome service point to fill with fresh water and empty the grey and black waste, she got her own back, she chatted to the site managers while I did all the work. We actually left at 12:11pm and were at Lowther House just before 1:00pm, after we made ourselves known to the owners we parked and decided to have lunch in their gardens, very nice it was too, Pot of Tea, Olive and Sun-dried Tomato Ciabatta Bread with Yorkshire Ham for Jenny and Chicken for me, followed up with slices of cake.
Whilst we were having lunch we were delighted to see two steam-hauled passenger trains on the North Yorkshire Moors Railway steam past about 200 yards from us, I "ran" to the level crossing nearby to photograph "Nigel", A Pacific A4 No 60007, Sir Nigel Gresley a locomotive of the same class as Mallard the high speed record-breaker of 1938. Alas, I was just a shade too late for a decent photo, but I did manage to photograph it later in the day when we returned to the motorhome (see below). After lunch we walked into Pickering spending some time at the station before walking into the town, at last we had a really excellent telephone signal and phoned Rhiain and Michael whilst we sat on a bench at the top of the high street.
After purchasing some tea-cakes for tea (£1 for 4, but they were the last ones and the shop was closing so we were only charged 50p) we walked back to Lowther House, via a forest walk, around the castle grounds rather hilly but more interesting than the road way. We now know from our station visit the timetable for the trains (they depart Pickering on the hour) so rather than take the drive to the house we walked to the level crossing and waited for the next train to come past and were pleased to hear the distinct sound of an "A4's" whistle, it was Sir Nigel Gresley on its return trip, hopefully (I haven't transferred the photographs to the computer yet), I have a decent
photograph of it.
Tuesday 28th May 2013
G&T's Ice Cream, Risplith (Britstop), near Ripon, Lat: 54 11462, Long: 01.62871, (37 Miles).
That was interesting last night, I decided just before 9:00 pm to take a walk along the public footpath which passes the property along through woodland and the banks of Pickering Beck. Over the beck and path a Bat was hunting for flying insects and I watched him circling, taking the same "flight path" for at least 5 minutes, I then decided to step into his/her way, it missed my head by inches and obviously annoyed with my interference, flew off, never to be seen again. We were warned about the noise of a Barn Owl and Tawny Owls in the woods above us during the night, what we didn't expect was the steam engine in the yard close by being prepared for a day's work early this morning (well 7:30 am), hissing, shushing and whistling noisily and that was only the driver! We had a nice quiet drive to Thirsk negotiating the notorious Sutton Bank's steep decline on the A170 in 3rd and at times 2nd gear with plenty of foot brake for good measure. I can understand why caravans are prohibited from using it, I do remember the last time I went down it I was a school boy in a Ford Anglia driven by my dad. We soon completed our Tesco shopping and filled up with diesel at Thirsk, we were pleased we received a "10 pence off voucher" last time we shopped; it saved us £7.70, not an insignificant amount. We stopped in a lay-by for lunch and caught up a bit with emails and messages as we don't think we will have a signal at to-nights stop (correct decision), we then continued to the National Trust property of Fountains Abbey and Studley Royal and spent some time browsing the visitor centre, unfortunately we would have needed more time there to visit the abbey and water features and we had already passed the road to the deer park and as it had started to rain we decide to save it all for another day. We arrived at G & T's Ice Cream mid-afternoon and parked in their large car park with a view of the dales in front of us, just a pity it was rather murky. We introduced ourselves and made sure we were parked in the correct place and then sat down for afternoon tea, with apple pie and frangipane pie, with a scoop of ice cream between us. We were amazed at the varieties of ice cream and before we left we bought a tub each of the Gingerbread and the Pistachio and were also surprised at the amount of passing trade and local people who came in to purchase while we were in the shop and later, they even do a "gravy bone" flavour for dogs. Typing this this evening with a "weak" sun gradually going down in front of us and we have both been outside to watch a Curlew feeding in the meadow opposite and although fairly close to the road, there is little traffic and I am sure we will have a good sleep to-night . . . unless there are Owls about or perhaps the haunting sound of a curloo-oo!
Wednesday 29th May 2013
Town End Farm Shop (Britstop), Airton, Lat: 54.03216, Long: 02.15242, (29 Miles).
No Owls, no Curlew, but we did have a Cockerel at some stupid hour, but he didn't stop us having a very comfortable night in the car park of G & T's. We left just after 11:30 am with the intention of visiting Brimham Rocks a high rock formation about 4 miles from Risplith, however when Jenny spoke to Gillian (the "G") she said with the weather like it is, which is damp and misty there would be no point in going. Taking her advice we will save it and Fountain Abbey & Studley Royal for next time we visit that part of the Yorkshire Dales. We decided therefore to drive to Grassington across Hebden Moor, disappointingly the drizzle and mist got worse as we climbed higher and the two stops at view points and places of interest were abandoned, so we didn't bother stopping until we arrived at the National Park Information car park at Grassington. We did have a phone call as we parked from the Town End Farm Shop which I had left a telephone answering message with yesterday and they can accommodate us to-night, we had also left messages at two CL's (certificated location's) as a back-up and we will use one of them tomorrow night. We had a nice walk into the village, at least this time I didn't have to visit the health centre and see a doctor like I did last year (what a coincidence, I have just looked back on last year's web text and it was exactly 12 months today I was having a problem with my medication and had to visit the doctor in the village). We purchased some ham from the butcher and baguettes from the Spar shop for lunch and also unexpectedly from a Hardware shop a fuse for the 12volt television "cigar lighter" type connector which for some reason had blown, a very helpful lady found one (actually I bought a spare) in the small shop which was like an Aladdin's Cave. The ham for lunch was delicious and we remained in the picturesque car park until mid-afternoon before driving about 8 mile to Airton. Parking in the Farm Shop car park we went into the shop and while I spoke to the manager Jenny's eyes "lit up" and she started to browse and by the time I had been told where to park and the location of fresh water, grey waste drain and the refuse bins she had a basket in her hand and was studying the locally produced jams, marmalades and relishes. Having purposely not bought from a large supermarket for such an occasion we bought 2 jars of marmalade (his & hers), a jar of mango, lime and ginger chutney, 2 crab cakes and some pork steaks, we added a packet of Eccles cakes when we got to the counter. We are in a most comfortable place for the night, even got reception of radio 2, we like these Britstops!
Thursday 30th May 2013
Hurries Farm Certificated Location, Otterburn, Malhamdale, near Skipton, Lat: 54.02253, Long 02.17058, (1 mile).
Well as you can see we didn't go far this morning (an understatement). Although we don't need electricity, especially with the solar panel fitted on the roof and we can top up the fresh water tank and empty the grey waste, the Britstops we have stayed at the last three nights did not have facilities for disposing of black waste (the toilet), therefore we are stopping at a CL "5van" site tonight, (we may extend), which has the facility we require, we can also top up those re-chargeable appliances as we have power on this site instead of relying on the inverter. Before leaving this morning we had coffee and cake in the tea room, bought some sausages and another packet of Eccles cakes, those others (4) didn't last long and not wanting to arrive at Hurries Farm before noon, our morning coffee was very casual. Arriving at the farm there was nobody in, however a lady, we think in a self-catering apartment told us to pitch and "they" would be back soon. Actually it was 3:15 pm before "David" arrived and Jenny went to pay, we can't stay another night as they are full tomorrow so we will make other plans, possibly another "Britstop" which isn't far away. This is a nice site we are almost surrounded by animals, Angus cattle at the back, Lleyn sheep at the front and 3 Rhea to our left. Rhea? A flightless bird from South America not unlike an Emu or Ostrich
Friday 31st May 2013
The Station Inn (Britstop), Ribblehead, near Ingleton, Lat: 54.30734, Long 02.36326 (35 Miles).
Leaving Otterburn mid-morning we decided to drive to Settle to purchase a few items, however where we anticipated parking was difficult and very busy so whilst I took over two bays and waited in the motorhome, Jenny went into the Co-operative adjacent and bought "a newspaper"??? And used the cash machine, she didn't "fancy" the bread. We stopped next for lunch in a lay-by on the A65, before continuing to "Growing with Grace" and organic shop near Clapham, however after we parked just off the busy main road and asked at the shop where the "Britstop" parking area was, we were informed it was exactly where we had parked. It was far too near the main road to be comfortable, especially for sleeping, so we declined the offer to stay and continued on to Ribblehead. We stayed in a very picturesque parking area near Ingleton for the afternoon, reading and listening to music, I found the opportunity (at last) to experiment on the surrounding landscape to optimize the settings on the camera to my own preferences, having "lost" them when it went in for repair when they were put back to the factory defaults.
We also stopped a bit further along when the famous much-photographed Ribblehead Viaduct on the Settle-Carlisle Railway came into view, although I have been across it on a special train excursion many years ago, it is the first time I or Jenny had seen it.
We then only drove a further mile to to-nights "Britstop" and definitely the best location yet, a fantastic view of the viaduct, Whernside the highest peak in the Yorkshire Dales and a 270 degree view around us and a level place to park in the car park of the Station Inn. To-night we both had two different fish dishes at the Inn and they were excellent, I also tried a pint of Yorkshire Beer Thwaites "Wainwrights", I'm not a big beer drinker but I really enjoyed it, so much I had another ½!
Cumbria


Saturday 1st June 2013
The Fat Lamb Country Inn (Britstop), Ravenstonedale, near Kirkby Stephen, Lat: 54.41595, Long: 02.40321, (31 Miles)
Waking up this morning I thought I might see the sunrise, not at 6:35 am, I wasn't going too, I did get dressed though and take a few photographs as the early morning sun was in the right direction to catch the light on the viaduct. After breakfast I walked to the railway station "just for a look", however, I didn't realise Ribblehead Station contained a heritage centre with 4 rooms of the old station containing information on the history of the Settle- Carlisle and specifically the area around Ribblehead and Blea Moor tunnel, It was a pity that Jenny hadn't accompanied me, so I didn't look at everything I thought I would save it for when she was with me, perhaps if we decide to return this way on the way back to the Midlands. We left The Station Inn at 10:30am and drove over Blea Moor to Hawes before stopping in the small lay-by which is close to the footpath to Cotter Force, a waterfall we visited last May, but wasn't satisfied with the photographs I took, the pains in my back and legs not helping, when I attempted to scramble over the rocks to the centre of the river. We then continued to Kirby Stephen across Aisgill Moor and Wild Boar Fell, finding a great place for lunch near a pretty waterfall, where I spotted several Spotted Orchids growing.
Our last stop was a surprise, we rounded a bend in Mallerstang Dale and right in front of us were the remains of a castle on a raised hill, we stopped and investigated, it was Pendragon Castle which evidently in legend is linked to Uther Pendragon, father of King Arthur, it did look rather mystical and certainly commanded an impressive view over the Eden Valley.
We reached the Fat Lamb Country Inn near Ravenstonedale mid-afternoon and were shown a parking space on the side of the car park, Jenny identified what ramps we needed to use to get level and as usual she was spot on, a billiard ball wouldn't have rolled off the table! After a drink in the bar we decided to visit an usual hotel amenity, Crossbank Nature Reserve at the back of the Inn, we walked firstly to the bird hide and watched the Canadian Geese with their young and noisy Oystercatchers screaming around the sky, Jenny stayed in the hide while I walked down the meadow across a wooden footbridge to an island and then walked around the perimeter, other than what we both saw at the hide there was nothing really of interest. At 6:00pm we went for an evening meal, this time both deciding to have the same, Steak and Ale Pie with fresh vegetables, followed by cheesecake for Jenny and Bread and Butter Pudding for me, an excellent meal it was too.
Sunday 2nd June 2013
Troutbeck Head Caravan Club Site, near Penrith Lat: 54.61736, Long: 02.95599, (24 Miles).
Not far to drive this morning so before leaving I had another walk around the nature reserve, again nothing unusual although I did see a Red Squirrel earlier on this morning running along the fence near the motorhome, Jenny missed it!, The Fat Lamb was another great "Britstop" and one we will hopefully return to in the future.,
Needing some groceries we drove directly to Sainsbury's in Penrith, the parking area was rather "tight" so I stayed in the motorhome looking enviously at a 2013 Yellow McLaren sports car and Jenny did the shopping. We were rather early arriving near Troutbeck so we pulled into a lay-by for 30 minutes, I read the paper and Jenny sorted out the purchases from Sainsbury's and put them away, we still arrived at the camp site before twelve noon, however we weren't the first and the reception was already open so it didn't really matter. I topped up the fresh water at the motorhome service point whilst Jenny found us a suitable pitch, flat, sunny and with a view, (not asking for a lot are we?), Pitch 149 ticked all the boxes and we were soon sitting outside having lunch and a cup of tea. This afternoon, unusually because we usually do it the day following our arrival, we decided to put the awning up, in the nice warm sun and without any wind we were able to take our time and two further cups of tea later it was erected and I had washed the part of the motorhome the awning covers before we put it up.
Monday 3rd June 2013


* * * A Very Happy Birthday to my Brother Brian * * *
We had a good sort out today, taking out everything in the garage, sorting and tidying our storage boxes and then putting everything back. We also have a few extra items (2 chairs and bedding) for the visit Friday of our friends from New Zealand Brian and Judy, the rest of the day we relaxed in the sun.
Tuesday 4th June 2013
A very relaxed day, just doing a few little jobs on the motorhome including washing the rest of the motorhome which I didn't do on Sunday, watching out for the site managers as they don't allow washing of any vehicles on site, I got away with it though.
Wednesday 5th June 2013
A busy morning, we decided to "spring clean" the inside of the motorhome, Jenny cleaning all the woodwork, carpets and furniture while I did the windows, roof-lights and mirrors, then while Jenny did some washing I went up on the roof and cleaned the outside of the roof-lights and the solar panel. After lunch Jenny knitted and read and I went for a walk to Matterdale Forest the plantation above the camp site, my intention was to go for a long circular walk, however when I found a gate with "Caravan Club Access Only" I decided to take a look. . . and ended up at the top of the campsite in a part I hadn't seen, I did find out that if I had continued along the forest trail I could have reached some of the higher parts of Matterdale Common, I will save that for when Jenny is with me.
Thursday 6th June 2013
We found some incorrect information after we arrived on Sunday, the Caravan Club handbook stated that the bus stop for both Penrith and Keswick was outside the site entrance, the information sheet they gave us at reception stated that the bus stop was 1½ mile away approximately a 30 minute walk! I went to reception to check, the information sheet was correct, evidently they are "still" waiting for the information to be corrected via the club magazine. Needing a few items of groceries we decided to walk to the bus stop, which is on the main A66 at the top of the lane from Troutbeck head, at least there was a seat to sit on when we arrived. We went straight to Sainsbury's, I had to ask two pretty female police ladies the way though from the bus station, as we were arriving from a different direction to that of Sunday in the motorhome. Having bought our needs we browsed the shops in the main square and found a nice little café "The Lemon Tree" where we had tea and cake while we waited for the return bus. We alighted at the "Troutbeck Inn" stop and decided to have a drink in the beer garden before the 30 minute walk back to the camp site, we were almost within sight of the entrance when a vehicle stopped near us, it was a couple who were in a caravan pitched near us and they very kindly gave us a lift the rest of the way. We spent the rest of the day and early evening relaxing in the warm sun, good weather at last.
Friday 7th June 2013


* * * Welcome to our New Zealand Friends Brian and Judy * * *
A final clean of the motorhome inside and out this morning, well we couldn't have it dirty for the arrival of Brian and Judy could we? We were pleased and surprised that when we texted them mid-morning that they were well on their way and expected to arrive at approximately 3:00 pm. I returned the text with specific instructions on our location and road conditions (the motorways were free of any holdups or accidents) and at 2:30 they texted to tell us they were just two motorway junctions away from us. I judged the time to walk to the top of the lane perfectly and didn't have to wait long before they arrived and I escorted them down to our pitch. We obviously had a lot to catch up on and spent the rest of the day and evening chatting outside in the nice warm sunshine, I told them to bring some sun from Egypt, and they did. Oh! And we didn't cook tonight the fish & chip van arrived on site, Haddock, Chips AND Mushy pea's, yes, mushy peas for the Kiwi's, they liked them!
Saturday 8th June 2013
We have given up our bed in the motorhome to our guests (they didn't want us to but we insisted) and slept in the awning last night using our air beds and sleeping bags, it was rather a cold night so I (not Jenny) was a bit chilly at times, we will use our "emergency" fleece blanket tonight which normally serves as one of the cushion fillings in the motorhome, it's the one we bought in Glenn Innes in a "colder" part of Australia, it was worth bringing it back. Late morning we all went to Penrith for Brian and Judy's first browse around a "Cumbrian" town, purchasing a few items from Sainsbury's while we were there. We then drove (Brian driving) along the right bank (not literally, Brian's driving is not that bad, Lol) of Ullswater to Aira Force and had lunch in the picnic area before walking through the ancient woodland and glades passing the "wish tree", where visitors hammer coins into a fallen tree with rocks from the site, towards the upper part of the falls. We then descended to the car park along the opposite bank of Aira Beck by crossing the small arched bridge above the 65 foot waterfall, deciding that the many steps to the base of the fall being a "step to far", especially as my knee was rather stiff today. Driving the short distance back to the campsite, we once again sat outside, this time enjoying Jenny's home-made chicken curry and partaking of Crabbies alcoholic Ginger Beer, they had tasted Jenny's curry before at Ayers Rock Resort Camping Ground in the Northern Territories, (what a fantastic time that was), but not the Crabbies, ditto last night, they liked it. Our driver was good today, even using the windscreen wipers when it wasn't raining and the indicators when he wasn't turning, I wonder if those switches could be changed over?
Sunday 9th June 2013
Today a circular drive to Buttermere, our first stop was the pencil museum at Keswick, Brian and Judy had seen a film called Sightseers a black comedy film (released in the UK December 2012) and the pencil museum was one of the locations for it, unfortunately the museum itself was closed, but then it was the car park where "the murder" took place. After a walk through part of the high street we continued to the Lodore Hotel on Derwent Water which has the Lodore Falls at the rear, Brian, Judy and I walked up the public footpath to the base of the falls where Brian took some photographs, Jenny in the meantime stood outside the car, looking as though she was waiting for someone to come out of the toilets, we had parked in the "toilets only" lay-by, we did use them when we got back though! We continued on, looking out for a parking spot for a picnic lunch, harder than we thought, however it was Sunday and the sun was shining, we eventually found one with only room for three cars, however there was a bench to sit on. A first for Brian and Judy today, the sound of a Cuckoo in the trees over the field, they did say they had heard one before, however one in their Cuckoo clock at home hardly counts and anyway that one would be Swiss. A photo opportunity near the parking area at the top of Honister Pass next to Gatesgarthdale Beck was next, Brian and I roaming about while Judy and Jenny chatted near the car. I crossed the beck to look at a notice board, it said, "Danger Area Blasting Daily Falling Rocks" then in smaller letters "You May Die", not wanting to die alone I called Brian across, he was brave, he stayed and took a photo of me leaning against the notice board, begs the question though, why wasn't the notice board on the other side of the beck? Buttermere was our next stop 1½ miles long, ¾ mile wide and 75 feet deep and said to be one of the prettiest in the Lake District, it was certainly probably the quietest and we found a spot to park just off the road. Judy and Jenny found a grassy spot to sit, while yes . . . Brian and I went to take some photographs at the top/bottom of the lake, (length not depth) eventually we returned, good job, Judy was almost asleep, but then that happens to me when Jenny's talking. Hee, hee, yes they had found a grassy spot to sit, pity it wasn't completely dry though and when they stood up both of them had got wet bums.
After three more scenic stops, and a reverse because I'm no good at map reading we returned along the East side of Derwent Water to Keswick, Brian and Judy went off to find a place to buy some food for tonight's tea, Judy, putting Brian's name forward to cook, what a relief they came back empty handed, all the shops were shut, (it was Sunday and after 4:00 pm), Jenny therefore cooked a Frittata when we got back and we enjoyed that with a salad, we will save Brian's cooking for a rainy day, just hope it stays fine for the rest of their stay. Judy drove today, so much better than yesterday's driver, the navigator wasn't very good though.
Monday 10th May 2013
An excursion today over to the Yorkshire Dales, retracing the steps for some time over the drive Jenny and I did in the last days of May. The first stop was un-scheduled, Appleby Horse Fair was on last week and the "travellers" were returning to? to? to?, well somewhere, Brian stopped the car on a piece of land when he spotted a gypsy camp and asked a man if he could take some photographs, he agreed, Brian was happy, the man was happy, the man's wife???, wasn't, we were ready to drive away quickly, Brian or no Brian! After three more photo stops at Pendragon Castle, Ais Gill and Cotter Force, we reached Hawes and visited the Wensleydale Creamery and of course the "tasting room".
We all went around the dishes of samples to decide which ones we liked, inevitable that we weren't sure on more than one occasion whether we liked one or not and had to have a "re-taste", Pity that Brian isn't too keen on cheese and didn't do too much tasting, NO. . . it's not a pity, Judy and Jenny and I had his share, except the blue, I wouldn't taste that one. Ironically an old lady (about my age) dropped a wrapped pack of blue on the floor; she thought it was funny when I said "it was still alive". After tea and coffee in the tea room Judy bought three cheeses, Special Reserve, Double Gloucester with Chive and Onion and Wensleydale with Ginger, Jenny (definitely not me) bought the Wensleydale blue. We then carried on to Aysgarth Falls, not before I (yes, Brian it was me) spotted a fantastic display of wild flowers in a field, with a backdrop of an old barn, hills and other old buildings, it was a marvelous place to take some photographs and we went into the field to hopefully (I will review them later) get some great shots.
Reaching Aysgarth Falls, Brian, Judy and Jenny started to walk to the Lower Falls while I returned to the car with the parking ticket, I got delayed, when a lady asked me about my hand-knitted (by Jenny) jumper, I think I could have sold it, coincidently the lady was telling me that both her children were born in Lichfield Maternity Hospital (now a housing estate). Jenny was waiting for me at the bottom of the path and we walked together to the Lower Falls and joined Brian and Judy. Good news, on this visit I was "given permission" to scramble down the rocky bank to the edge of the water, last year we were here I was suffering with my femoral nerve problem and could barely manage to reach here. Brian and Judy followed me and Jenny stayed on the path, the scenery was stunning so I coaxed Jenny to join us and with a bit of help she reached the bottom and we all got closer to the falls. After a short stay, Brian and Judy continued to Middle Falls while Jenny and I at a slower pace climbing back up the rocky path followed, reaching Middle Falls as they were leaving them.
Time was getting on so I suggested that we miss the Higher Falls as last time we were there they were disappointing and the water level was lower this time. My favourite falls were next, West Burton Falls in the village of the same name and with the small car park within a few yards of the River Waldron, being so pleased with the photograph I took of the falls last year, I didn't bother taking my camera instead just enjoyed the view with "the girls" while Brian took photographs. Through the narrow lanes next to Grassington where Brian filled up the Focus with diesel, attended service as well, too late to buy some of the tasty ham we bought last Wednesday week from the village butcher, too late for most of the other shops as well. We continued on through Arncliffe, the fictional village of Beckindale in the ITV soap Emmerdale Farm from its inception in 1972 before moving to Esholt in 1976 and climbed up onto Malham Moor, stopping at the top for photographs of Littondale and the village below us. We were all thirsty and hungry when we reached the Station Inn at Ribblehead, not before driving past it for Brian to take some photos of the viaduct from the side lit by the evening sun. Jenny had her "usual" Station Inn drink a Somersby Cider, I recommended the drink I enjoyed last time, Thwaites "Wainwrights" and as the bar seating was full decided to eat in the restaurant, I won't tell you what each of us had, but suffice to say both starters and mains were delicious, so much so Judy couldn't finish her Steak and Kidney Suet Pudding and asked for it to be wrapped up to take back as a "doggy bag". Brian and Judy were pleased when the bar lady confirmed that the viaduct was another location for the Sightseers film, I was also pleased, my intuition was also correct, their description matching my vast knowledge of UK film locations (if you believe that then you believe anything). The lady in the bar also telling us that it is to be used later this month as a location in a forthcoming ghost film, with some leading film stars, the plot and players at this time being a secret. Our journey back in the late evening light to Troutbeck Head was via the very pretty Dent Fell and Dentdale through the tiny village of Dent with its cobbled main street, (I thought we had gone the wrong way) to Sedbergh to join the M6 at Junction 37. We arrived back at the campsite at 10:30 pm having been out exploring for the last 10 hours, a day which we all thoroughly enjoyed, Brian drove all day, better than yesterday's driver, the navigating improved as well, I didn't get us lost once and if I had I would have bluffed it.
Tuesday 11th May 2013
Brian and Judy went to Penrith this morning to do some shopping and post some "unwanted" items back to New Zealand, we caught up with a few items on the lap top, deleting emails, checking Facebook and the motorhome forums and uploading yesterday's photographs, I have also started "writing up" the web site from notes I have taken in the last 4 days. Lunchtime, Heather a friend of Judy's from her time working in London in the 1980's arrived and they went off to, at my suggestion, Lake Windermere, as I am writing this up at 8:00 pm they haven't arrived back, I hope they haven't got lost! The weather which has been so nice over the last 10 days has changed and today it's much colder and rather showery, at least we have had some nice weather in the first few days of Brian & Judy's visit.
Wednesday 12th June 2013
Brian & Judy returned at about 9:00pm having had a nice afternoon and evening with Heather, they did go to Windermere over the Kirkstone Pass to Ambleside stopping at Glenridding for a "cuppa" continuing to Windermere before having a meal at "The Mortal Man Inn" at the "other" Troutbeck near Lake Windermere. Today, we were still in our sleeping bags when they left at 6:30 am to have a day driving towards the East coast in Northumberland. We have spent the day relaxing, Jenny did some reading and I have been sorting some very early photographs from our original HP laptop, which I have been putting off for quite some time. Brian and Judy arrived back at about 9:30 pm, having had a good day out, reaching Holy Island on the east coast, photographing Bamburgh Castle and visiting Hadrian's Wall, to name but three places.
Thursday 13th June 2013
A very busy day today I had planned a route around some of the lakes and passes in the "centre" of the Lake District, which I thought our guests would enjoy. With Judy driving today we weren't long arriving at our first stop which was only about 6 mile from the campsite. This was a location that John a friend of Brian & Judy had suggested and none of us were disappointed, Castlerigg stone circle on the outskirts of Keswick were probably constructed about 3200 BC, making it one of the earliest stone circles in Britain and possibly in Europe. An American lady was going around the stones touching each one, she told me that she had been told "it was lucky to touch each stone", I told Judy, and you can guess the rest.
Our next stop was at Thirlmere on the A591, a reservoir built in the 19th century to supply water to the Manchester area, we parked and walked along a path hoping to get a photograph of the lake, however although the track went up above the lake, with trees obstructing the lake and poor light, the opportunity for decent photos were not good so we returned to the car.
We continued to Grasmere for a short stop, strolling through the village, we were hoping to get some photographs of Grasmere water, however the parking area was a long walk from the water, so we just picked up "Coffee to Go" and continued on, just catching fleeting glimpses of the water below as we skirted the west side of the water along the narrow road. It was almost time for lunch so, finding a parking area near Blea Tarn surrounded by the Langdale pikes I thought would be ideal, pity I navigated Judy the wrong way, but did I? Of course, it was my intention to arrive at the tarn from the North West through the very pretty Great Langdale, rather than from the South East past Little Langdale, honest. We had a very enjoyable picnic in the National Trust car park albeit it was rather cold and windy before Brian and I walked the short distance to the tarn, we were more sheltered near the water so Brian called Judy and Jenny down to join us, Judy got excited when she spotted a frog, I managed to catch it to show to her, although they have frogs in New Zealand they are not seen very often.
Brian and I took some photographs of the tarn with Side Pike in the background, shame the wind was rippling the water, spoiling any reflection shots, but at least the weather is improving with several patches of blue sky and no sign of any rain. A test of Judy's driving skills were next, the 1in 4 (25%) Wrynose Pass and one of two of the steepest roads in England, the 1 in 3 (about 33%) Hardknott Pass both of which reach a height of 1289 feet, it was better than a ride at Disney World and we stopped at Three Shire Stone at the top of Wrynose Pass for photographs and then at Hardknott Pass Roman Fort to change my underpants (joking, I think). The fort was built between 120 and 138 is on a rocky spur 800 feet high with a superb view over the River Esk and Eskdale, Jenny stayed in the car while Brian, Judy and I walked up to the ruins where we had a wander around the walls before walking out of the "back" of the fort for a sight of Scafell and Scafell Pike our two highest mountains in England (note: mountains, Judy, not hills).
Coniston was our next destination, we intended to have a look at the menu at The Bluebird Café on the lake shore, and unfortunately we arrived 10 minutes after it had closed, so after a short walk along the lake we continued to Ambleside. Not before we had been delayed by about 30 minutes on the lane from the lake to the village by a load-loader delivering a large launch, we had to wait while a mobile crane lifted it off and lowered it on to a boat trailer. At Ambleside we parked and walked into the town to find a place to eat, we were luck almost straight away, at the "The Ambleside Tavern" we each enjoyed our different meals at very reasonable prices, Brian made us laugh while we were there by also buying 2 packets of scratching's. Brian drove us back from Ambleside via the Kirkstone Pass, and we arrived back at the camp site towards 10:00 pm, we thought our first driver today was better than Tuesday's, our second driver today was better than the first, but did do the easy bit . . . the navigator was brilliant!
Friday 14th June 2013


* * * Bon Voyage, Brian and Judy, we had a wonderful time with you * * *
No electricity this morning when we got up, it had tripped for some unknown reason at the EHU (electric hook-up), we think Judy had something to do with it, she said she was going to make our brews. We were sad this morning to see Brian & Judy leave for the next stage of their European tour to Croatia and Greece, we had a fun time with them in the last 7 days and will miss them, we will get our bed back though! With the weather forecast for Cumbria showing at least a 40% chance of rain for the next three days and this morning there was some sunny periods and the awning dry we decided to take it down. Using it as a "bedroom" this last week, sleeping on air beds and using our 25 year old sleeping bags (it paid to buy the best, Ajungilak from Norway) we were very comfortable. We managed to take it down before we had the first of short, sharp showers, which have persisted for most of the day, good decision; it means we won't have to "air" it at a later time. Jenny wasn't so lucky with her washing; she put it on the washing line and still had to resort to using the drier in the laundry this afternoon. I spent part of the afternoon typing up yesterday's trip, Jenny did some knitting, I have also got plenty of editing of the many photographs I have taken in the last few days to do, however many I have to do, Brian will have twice as many. We heard from Brian & Judy early evening, they have reached Heathrow safely, with a stop at the Eden Centre at High Wycombe on the way for some retail therapy, they did mention they took a couple of wrong turns, obviously to-days navigator wasn't as good as yesterday's!
Saturday 15th June 2013
What a good decision taking the awning down yesterday, during the night it poured of rain and the wind became very strong, so much so, that at least two people had a problem with them. We spent the morning doing "maps", now we know Jenny's next post-cataract operation appointment is in 10 days , with a further one 12 days from that one we can plan for the next 3 weeks. Jenny had a great idea for lunch, a left over Naan bread, topped with cheese, onion and tomato; it was just like a triangular pizza and delicious. This afternoon we spent relaxing, Jenny knitting and me editing photographs, we had also an email from Britstops with a further forty stops, so we printed those out on to plain paper and then I cut them out to fit the book.
Sunday 16th June 2013


* * * A Very Happy Birthday to our Wonderful Granddaughter Kura XX * * *



Nent Hall Country House Hotel (Britstop), Alston, Lat: 54. 484 Long: 02. 2269 (34 Miles)
We were both awake early this morning so having already decided not to leave until after 11:00 am we were able to take our time in preparing to leave and after replenishing the fresh water tank and emptying the grey waste we actually left at 11:36 am. We didn't have far to go before our first stop at the Rheged Filling Station to top up the LPG, luckily I noticed when we were returning from Penrith on the bus last week that they sold it, it didn't show on our LPG app on Jenny's iPhone, however after the problem we had near Birmingham last month, it should have come as no surprise, the "Flo Gas" app is useless. Sainsbury's was next in Penrith, the car park this time was being well used but I managed to find a "lay by" on the access road to park in while Jenny shopped, needed to be careful though I was parked on yellow lines. The road out of Sainsbury's lead nicely to the route we needed to take to Alston so we were soon out of the town and on our way. We were on the A686 and we climbed up Hartside Pass through 37 bends and we arrived at the café at Hartside Summit, The car park was full of bikers with motorbikes of all ages from an old Vincent to the latest Kawasaki, but there was plenty of space for us to park and have lunch and while Jenny prepared it I walked to the viewpoint and took some photographs. At a height of 1,904 Feet (although Jenny's app only showed 1,860 feet so I guess I was standing in a hole), the view over to the lakes was fantastic with the mountains of Helvellyn, Great Gable, Skiddaw, and in Southern Scotland – Criffel, in view, although rather hazy. We then continued through Alston the highest market town in the country with its cobbled high street to Nent Hall our overnight Britstop and parked at the lower end of the parking area, next to the children's play area, I just hope that I can keep Jenny off the trampoline!
Northumberland


Monday 17th June 2013
Haltwhistle Camping and Caravan Club Site, Haltwhistle, Lat: 54.5719, Long: 02.2951 (33 Miles).
A peaceful night at Nent Hall Country House Hotel, we had an excellent evening meal in the bar, sharing a starter of Whitebait and I had Gammon and Jenny Mushroom Stroganoff. I had noticed in our AA road map a National Trust place called Allen Bank and Stawards Gorge which sounded interesting so we decided as it was on our way to Haltwhistle we would stop there on the way. It wasn't the easiest place to find as the National Trust web site advised not using a Satnav, however we asked a man in Hebden Bridge where it was and he knew precisely and proceeded to draw a map on the back of Jenny's tissue box! We drove straight to it, who needs a Sat Nav when all you need is a local man and a tissue box? We had a pleasant surprise when we arrived the quiet car park was located within a large walled garden and it was very easy to park, an extra plus was that the ticket machine was out of order and we couldn't pay. After a cup of tea we looked at the information panels in the Pagoda and decided to do the straightforward walk for an hour along the banks of the River Allen towards a place called Plankey Mill, the walk to Stawards Gorge was a 5 hour round trip, too long for today. It was a great walk through ancient woodland and when we found a bench in a pretty spot with a small rapid and a "sandy" beach, we stayed there relaxing for quite some time watching the small trout, jumping out of the water catching flying insects, before returning to the car park and lunch sitting at one of the picnic tables.
The Haltwhistle camp site was only about 6 miles away so it didn't take us long to get there and we chose a nice flat pitch with the National Trust Bellister Wood to our rear and the River South Tyne in front. We relaxed for the rest of the day, although I did go for a walk through the adjacent woods to the river to take some photos before returning to the motorhome for tea.
Tuesday 18th June 2013
After arranging our stay at the Barnard Castle camp site for Thursday (we are now staying here an extra night) we went for a walk this morning. Leaving the camp site entrance we turned right along the lane and within about 200 yards we came to the river, road and river then ran parallel to each other for the next ½ mile until we reached the "high-arched" bridge called Featherstone Bridge, where we found a comfortable seat. Unfortunately it was occupied by 3 elderly walking gentlemen who had stopped for a cup of tea; luckily they had almost finished and were ready to be on their way, not before they told us about Featherstone Castle a further 1 mile along the lane. A privately owned castle that evidently housed German Officers who had been taken prisoner during World War 2, I joked, "was it like Colditz and they attempted to escape", "no", was the reply, "none escaped, none tried to, they liked it there"! Jenny sat, with her feet on the wall, while I crossed the bridge to take a photograph from a better position on the opposite side, (spotting a very large Trout as I clambered down the bank) hopefully I have, I haven't looked yet, with a reflection of the bridge in the water.
We continued along the road to the castle and I took a couple of photos of the castle before we turned back, spotting a red deer which had obviously been disturbed by a farmer mowing the same field, by the time I had taken the lens cover off the camera he had vanished.
We did see one strange gruesome sight this morning, about 20 dead Moles hanging on the roadside barbed wire fence, we couldn't understand why they had been left there, and the only thing we could think of was they had been left as carrion. However looking on the internet there are other explanations, either it's a medieval act to show the landowner that his farmer is looking after his land, or, they are left by trappers employed by the farmer as a tally for payment due . . . anybody got any other ideas? This afternoon we just walked along the path through the woodland with a wonderful array of wild flowers to the bank of the River South Tyne and sat on two flat rocks for a couple of hours, with the only sounds being of the water tumbling over the rocks and the incessant 'tee wee wee' of a pair of Common Sandpipers, we actually took our books with us and didn't get them out of the rucksack.
Wednesday 19th June 2013
A decision today to walk to a waterfall that was featured on an information chart of the local region in reception, We hadn't an Ordnance Survey map of this area, so we "memorised" part of the route and also downloaded a map onto Jenny's iPhone. Taking our lunch and drinks with us we left the campsite at 11:00 am, walked over the adjacent meadow, over a burn and up a series of steps through a wood to Park Village (not a village called Park, but a village called Park Village, if you see what I mean). Leaving the pretty village we made our way along the lane to the bridleway to Lynnshield Farm and found the public footpath to Broomhouse Common just before the farm buildings, skirting the farm we continued to walk upwards with the river (which we have since found is called Park Burn) on our right in a ghyll below us. We eventually arrived at a ladder stile on Ramshaw Fell, climbed over and followed the footpath towards where we anticipated the waterfall may be, we were amazed at what we seen when we crested a rise, one of the prettiest waterfalls we have ever seen. Linnshield Falls (note the different spelling to the farm) was below us and its location was stunning, in an open position with the surrounding flowering trees, purple heather and hills in the background, it was the perfect place to have lunch and other than one other walker that visited the falls, we were the only people there.
After a long stay in the sun, sitting on soft heather, eating and drinking, taking photographs and enjoying our surrounding we left the falls and Ramshaw Fell and continued towards Broomhouse Common, the walking became more difficult across the heather as the path became more indistinct and we deviated off the track several times, the GPS app on Jenny's iPhone helped and we eventually reached "The South Tyne Cycle Trail" the dis-used Haltwhistle to Alston branch line, opened by the Newcastle and Carlisle Railway Company in 1852, and was closed by British Rail on 1st May 1976 and now a very smooth tarmac pedestrian/cycle route.
From the cycle trail we reached Park Village and returned to the campsite arriving back at approximately 4:00 pm having walked 5.33 miles. We deserved the bottle of Rose Wine we drank tonight!
County Durham


Thursday 20th June 2013
Barnard Castle Camping and Caravan Club Site, Barnard Castle, Lat: 54.5469, Long: 01.9621, (44 Miles).
Rather than go via the A69 to Brampton we shortened the drive by about 10 mile taking an unclassified road to Lambley, we saw a coach using it yesterday so presumed it would be OK for us, it was. We had a quick stop at a Spar shop at a filling station in Alston to purchase some Cracker Biscuits for lunch (to use the last of our Wensleydale Cheese's, thanks Judy), negotiated the cobbled high street and took the B6277 road across the fells to High Force. We found an excellent place to park in the car park (£2), reversing so the that the rear of the motorhome was over the grass, unlike the motorhome that was parked near us, front end first and sticking out about 3 foot onto the drive! We should have visited the falls first, by the time we had finished lunch and walked to the gift shop to buy our tickets (£1 concessionary) it had started to rain, although not too heavy and walking the 1/3 mile to the base of the falls we were sheltered by tall trees. High Force is said to be one of the most impressive waterfalls in England the River Tees dropping 21 metres into a plunge pool below, which I remember one of my uncles saying was "bottomless", then many years ago, I believed him. But no longer could I cross the river clambering over rocks to the opposite bank, walk down the hill to below the falls, re-cross the river and walk back to the top to my Mother and Father . . . and I was still in short trousers then!!! Yes, since my last visit, "Elf and Safety" has arrived and there is a locked gate preventing access, pity because it was very pretty up there and afforded great views towards Cronkley Fell and beyond. We spent about 30 minutes at the falls, Jenny took a video on her iPhone, meanwhile I took a series of photographs from different positions and shutter speeds, we then returned along the track, the rain having stopped and the sun now shining to the motorhome.
We stopped on our way to Barnard Castle at what I hoped was the location of the Lower Falls, however whilst I could see parts of them and could certainly hear them, it was impossible from where we had parked for me to photograph them so we will save them for another time, park near the little village of Newbiggin and walk along the Pennine Way to them. We arrived at the Camping and Caravan Club site at about 4:00 pm and were shown a pitch that was perfect for us, nice short grass, near the amenities and flat, we will be comfortable here for the next 3 days.
Friday 21st June 2013
One of the attractions of this site is to be able walk into Barnard Castle which is about 2 miles distance without walking on to the roads and late morning that is exactly what we did. Leaving the campsite we walked along the farm track which runs parallel to the site through the farm yard, then between the paddocks to Deepdale Wood, following the winding undulating path and after crossing a small footbridge we arrived near the castle. After taking a few photographs of the ruined castle with the River Tees in the foreground we continued into the town, other than some bread rolls for lunch we didn't need anything else so we just browsed the shops and the old buildings, with a history lesson from the "Town & Shopping Map" that had been given to us on our arrival yesterday. After a couple of extra photos of the castle from a bridge lower down the river, which we hadn't noticed earlier we returned through Deepdale Woods.
Rather than return along the same path decided to take a lower one across a shallow ford and over a different footbridge, this took us on a much longer path back to the camp site (infact possibly an extra 1½ miles), it was also much more difficult and at one point we had to re-cross the river over some "stepping stones" which to say were "wobbly" would be an understatement, but we both made it without wetting our feet. We arrived back mid-afternoon, our timing was perfect, it had started to rain although it didn't last long and as I am typing this at 6:07pm the sun is shining, we must now make the most of it, the weather forecast for the next few day's doesn't look great.
Saturday 22nd June 2013
As promised the weather today is far from good, windy and wet although at times we have seen glimpses of the sun, A chance then to catch up with a few tasks on the lap top, Jenny doing the internet banking and the paperwork that goes with it, I updated the web site, (except for today), did a review on Britstops, ordered repeat prescriptions and we both chose tomorrows nights Britstop by looking on Google Earth and Trip advisor, I then edited some photographs while Jenny baked and then did some knitting, which reminds me, Jenny rang Ryton Farm CL in Shropshire yesterday to book a stay for next week, we found out she is known their as the "Knitting Lady", wonder what they call me?
Yorkshire


Sunday 23rd June 2013
Crooked Billet, Saxton (Britstop), near Tadcaster, Lat: 53.8250, Long: 01.2949, (68 miles).
No need to rush off this morning as we have "calculated" how many miles we have to drive and divided it into 3 runs stopping 2 nights at Britstops. We actually left at 2:30pm after asking for an extension to our stay (normal departure is 12:00 pm), and had an easy run to Saxton which is only about 3 mile from Junction 47 of the M1, apart from approximately 11 mile the rest is either dual carriageway or motorway. The car park was quite busy when we arrived so we parked towards the centre and when a vehicle left near the grassed area at the side of the pub, we reversed into that space, which Laura the owner had suggested. We went for our evening meal and decide on the dinner that they are evidently famous for a filled giant Yorkshire pudding filled with vegetable's, mash and a roast potato, I had the roast beef and Jenny the sausages and an excellent meal it was too and we finished up sharing lemon and lime cheesecake. We returned to the motorhome just in time for Jenny to watch a "Miss Marple", whilst I typed today's events up and listened to music on my headphones. There is not a lot of traffic on the road past the pub so we are sure we are going to have a good night's sleep and tomorrow we will (weather permitting) go on a local walk before continuing towards the Midlands.
Nottinghamshire


Monday 24th June 2013
Trinity Farm Organics (Britstop), Cossall, Lat: 52.98684, Long: 01.28296, (72 Miles).
The second morning that by our "norm" we have overslept not waking up until 8:15 am, a good job we didn't have to be on the road early. We were interested in a public footpath sign that denoted an "historic church" so decided to go and take a look, we didn't need to go far it was in an adjacent field just over the road, it did look interesting though, this small church isolated in the middle of a field and I took a photo of it. When we got to it, we thought it would be locked, I was surprised when the door opened, then fascinated with what was inside. Now those that know me and Jenny know that we are not interested normally in old buildings, churches or stately homes, although we do like the occasionally ruined castle. This was rather different, St Mary's Church, Lead, a redundant church managed by "The Churches Conservation Trust", is close to the site of the Battle of Towton, said to be one of the bloodiest battles of the War of the Roses, what stories the walls of this church could tell. Other than a much eroded Norman Font, benches and a very old pulpit and a few other items the church was bare, although evidently the original Tyas family who owned the church are buried between the walls and in the floor! It is rather difficult for me to describe it, so I will quote a passage from the informative "church tour" pamphlet that we picked up,
"The church today is a simple structure of one room but there is evidence that a chancel originally stood at the end of the end of the building. The date of its demolition is not known. The interior of the surviving church however, is evocative and a real treasure awaits those who have made the trek across the field and walk through the door".
The last sentence sums up nicely how we felt.
After returning to the public footpath nearby we continued over two meadows before retracing our steps back to the motorhome, determined to return to the Crooked Billet in the future and do some of the circular walks in the area . . . not forgetting having another one of their Giant Yorkshire Puddings! At about 1:30 pm we arrived at Trinity Farm Organics the "Britstop" we stayed at last month on our way to Yorkshire and before long was enjoying Sourdough Bread purchased from their farm shop with cheese, followed by home-made Scones with currants, (we have run out of sultanas).
Warwickshire


Tuesday 25th June 2013
Drayton Manor Camping and Caravan Club, Tamworth, Lat: 52.6087, Long: 1.718911, (47 Miles).
After buying more produce from the farm including picked "while we waited" rhubarb and salad leaves we stopped just 3 mile along the A610 at Morrison's just to put some diesel in before we fill up "to the brim" at Tesco where hopefully we may have a "5p off" voucher when we purchase our groceries tomorrow. Two further stops before we arrived at Drayton Manor were at Asda for BBQ meats (yes we could have stopped at Morrison's this morning but we don't like their meats) and our storage unit to drop off some of the extra items we had taken with us for Brian and Judy's stay. Our first stop at the Drayton Manor Camping and Caravan Club and we had a very pleasant surprise, nicely landscaped, there was hardly anybody there and it was very quiet apart from the occasional "screams" from the girls??? on the log flume ride which we could see rising over the trees, beats the incessant drone of the motorway traffic 24 hours a day, 7 days a week, (I hate putting 24/7) when we stop at Kingsbury Water Park. Jenny caught up this afternoon with all our laundry and with it being such a nice warm day we managed to use the washing line, which saves having to use the dryer in the amenities block. Michael, Sharon and Charlie came over this evening and we had a lovely evening with them and we all enjoyed the BBQ, not so much the rhubarb crumble that Jenny had made. We know that Michael isn't keen on rhubarb so Jenny made a part of it without the fruit, however he told us that Sharon liked it, she doesn't and didn't, still never mind, more for us!