Ref:
Date:
Location:
Photographer:
[clikcontent type=paymentBuyLink replaceable=true]
Ref:
Date:
Location:
Photographer:
[clikcontent type=paymentBuyLink replaceable=true]
9th July 2013 - 19th July 2013
Yorkshire and Derbyshire
Yorkshire
Tuesday 9th July 2013
Triton Fish Restaurant, (Britstop) Bilbrough Top, near Tadcaster, Lat: 53 00673. Long: 01.8472, (109 Miles)
Specsavers in Lichfield was our destination this morning to organise reading and sun glasses for Jenny. She tried a few pairs on whilst Helena was dealing with another customer, (we only see Helena or Helen the shop managers), hence us going there today, as it was her day off yesterday, she soon organised us and whilst she was sorting out measurements etc., I explained to her how easy it is to fit an outside garden tap, hope she took notice! Leaving Specsavers as we usually do, in a state of uproar and dis-organisation we collected our medication from Boots which we had ordered earlier and then Jenny and I parted company, Jenny went to Tesco to purchase our groceries, I went back to the campsite and waited for her telephone call to tell me to pick her up, it worked well by the time I arrived back and organised leaving I only waited about 5 minute and she rang to collect her, we were soon on our way, however it was now lunchtime so we stopped at Branston Water Park for lunch before continuing North. An easy run up to Tadcaster and we parked in the same place as our last visit in May, however this time we decided to have Take-Away Fish and Chips instead of eating in the restaurant (A conspiracy by Jenny so I can't have another Pavlova). We were undecided where to stay near York and luck played into our hands, a motorhome parked near us and I thought that they were also stopping for the night, but no, the couple (Irene and Malcolm) had just stopped to pick up a "fish supper" and I asked them about a campsite, they recommended "The Lord Nelson" certificated site ("5van" site) at Nether Poppleton, a quiet site with a bus stop to York right outside, I telephoned straight away and they have space, great our stay for two nights now sorted.
Wednesday 10th July 2013
The Lord Nelson Certificated Site. Nether Poppleton, near York, Lat: 53.98708, Long: 01.14882, (9 Miles).
With an extremely short distance to drive this morning we didn't need to leave Triton early, so we read the Daily Mail, completed the crossword and relaxed and after a brief stop at the adjacent BP station to top up with LPG we drove to Nether Poppleton. Thank you, Irene and Malcolm the campsite is perfect, a level grass site at the back of the pub, with electric for £12 per night, the landlady showed us the facilities and we were soon "pitched up" and having lunch.
The No 10 bus to York terminates at the bus stop outside the pub and they run every ½ hour so we were rapidly our way to York, the route was unusual in that I couldn't understand why the bus was going along a "no through road", then it arrived at 2 bollards in the centre of the road, which lowered into the ground to allow it to pass through, very clever, we haven't seen that method of preventing through traffic other than buses before. We arrived at the station and followed the direction signs to the Railway Museum, to say it was busy when we got there is an understatement, we joined the back of a long queue and were advised it would be about 45 minutes before we could enter as they were restricting the amount of people going in and were working on a "one out, one in" system. Actually it was probably about 30 minutes before we went through the door and we immediately made our way to the Great Hall and the "Mallard 75" event and the "Great Gathering" the re-uniting of the record breaking Mallard with its five surviving sister locomotives of the A4 class, two of which Dwight D Eisenhower and Dominion of Canada have been temporarily repatriated from their home museums in the USA and Canada.
Despite the restriction of visitor numbers it was still very busy and almost impossible to take a photograph without people being in the way, however we enjoyed seeing them, and after walking through "The Warehouse, The Works and Depot" and having a cup of tea in the Station Hall we made our way back to the bus station and caught the bus back to Nether Poppleton. We have decided we will return to the museum at a later date, when it's quieter and spend the whole day there. We did try to book an extra night but unfortunately the camp site is full on Friday night, we have found an alternative on the internet, which is a camp site we passed on the bus as we drove into the village, we will see if they have a pitch for the night.
Thursday 11th July 2013
Great having the bus terminus outside the Lord Nelson, a bus was waiting for us this morning to once again travel the 35 minute journey to York. Arriving at the station we walked over the River Ouse Bridge towards York Minister which we could see in the distance and had a walk around the outside before "peeking" in, we were not prepared to pay £9 each to walk around the inside and we rarely have a particular interest in them anyway.
We continued walking around the narrow streets of the old part including "The Shambles with the buildings on each side almost touching each other. Time to moan, I must be getting "tight" in my old age, but I do begrudge paying 40 pence to have a wee, Jenny was even less happy, the toilets were dirty with no toilet paper, she mentioned it to the attendant taking our money only to be told "the toilets are self-cleaning", we supposed they "self" replenished themselves with toilet paper as well, rant over. After continuing browsing the shops it was time for lunch, we both knew what we wanted, baked potatoes and we found the ideal place in "The Antique Centre", "Molly's Tearoom Restaurant", upstairs at the back of several rooms full of antiques, Jenny had her potato with creamed mushrooms, I had my usual coleslaw and both were most satisfying and we both enjoyed our home-made cakes afterwards as well. After a further browse around the shops, making some "proper" purchases on the way, we walked back to the bus stop near the station and thence back to the camp site. Good news, we rang the other camp site this morning and they have room for us tomorrow.
Friday 12th July 2013



* * * A Very Happy 44th Wedding Anniversary to my Wonderful Wife Jenny XX * * *


The Cherry Tree Cottage Listed Site. Nether Poppleton, near York, Lat: 53.97649, Long: 1.140541, (0.7 miles).
Well as you can see we certainly didn't drive far this morning, almost just to the other end of Nether Poppleton village and even on the same road. We didn't want to get there before 12:00pm though, so we decided to have a walk along the bridle path beside the River Ouse and we covered just under a mile before we turned back, must add the village with its older houses is very pretty with a profusion of flowers in all the gardens, however with a new built small "town type" house with a starting price of over £224,000 it looks expensive.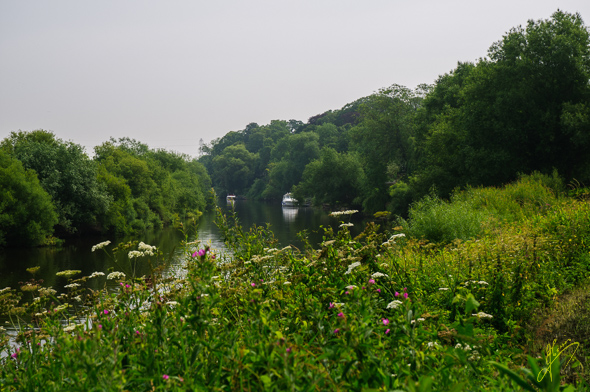 Cherry Tree Cottage was a very pleasant surprise, the owners had put our name in a plastic pouch on the gate, with which pitch to use (any empty one, except six), with a booking form and information sheet, the pitches were manicured grass spaced well apart and there was a small information hut with, leaflets, exchange books and games, plus fresh eggs for sale. When the lady owner came to collect payment we had a lovely chat with her, as we did with her husband who was mowing a pitch that had been vacated. We had made our minds up to go back into York on the bus, but it was very hot and the camp site so comfortable, we unfurled the awning and spent the whole afternoon and early evening in its shade with our head phones on listening to music.
Derbyshire
Saturday 13th July 2013
The Royal Oak, (Britstop) Old Brampton, near Chesterfield, Lat; 53.24061, Long: 1.52252 (75 Miles).
Pity when we came to York in May that we didn't know of yesterday's camp site and even though we were happy with our 2 night stay at the Lord Nelson we much preferred Cherry Tree Cottage and its top of the list for our next visit to York. We left just before 12:00 pm for our drive towards the Peak District, however when I was looking at the information from the York Railway Museum I noticed that on our way is Barrow Hill the only British Railway "roundhouse" still in existence, which was built in the 19th century to house the steam locomotives which served the Staveley Coal and Iron Works. It is also home to one of the UK's largest collections of steam, diesel and electric locomotives, plus the Deltic Preservation Society Depot and Museum; we thought we would take a look.
We arrived at Barrow Hill at about 1:30 pm although we did pass the entrance initially and had to find a place to U turn, but there was plenty of room to park in the depot yard. I remember being here in the diesel era, walking round, quite unofficially with John aka "Tote" from Totem Pole because he was tall and thin and his surname was Warpole in the 1980's. Jenny and I walked round for about an hour enjoying the nostalgia of the building and locomotives before continuing on our way, unfortunately I took a wrong turn on approaching Chesterfield and we went through the town centre, however it did give us chance to see in close up its famous crooked spire. Continuing to Old Brampton we have stopped at our Britstop for the night "The Royal Oak" parking at the bottom of the car park (as instructed, I phoned ahead yesterday) and spent the rest of the afternoon with me attempting to teach Jenny cribbage, she soon picked it up, well, there is math's involved! The pub was closed until serving evening meals at 7:00 pm when we went inside shortly after for our "celebratory" anniversary meal, Jenny having Salmon and I had a steak, very nice the meals were too and we were both good, we didn't have a pudding!
Sunday 14th July 2013
Bakewell Camping and Caravan Club Site, near Youlgreave, Lat: 53.16570, Long: 01.69337, (14 Miles).
Timed our departure this morning to arrive at Youlgreave just after 12:00 pm, again with such a short distance we didn't rush to leave, in fact as it was cool in the motorhome due to low cloud, Jenny did some knitting and I read. We don't know (although we could have found out) how high we are here, but last night when it was clear we could easily see the town of Chesterfield "below" and the crooked spire and when it got dark the panorama of lights was remarkable. We rang the site last week and they said they had plenty of room so we didn't bother booking and they gave us a large choice of pitches, hardstanding/non-hardstanding, sun or shade, internet or non-internet and TV or no TV, we chose hardstanding, sun AND shade, internet and no TV, we were sorted and spent the rest of the day relaxing.
Monday 15th July 2013
At last a chance this morning to edit some of the photographs for insertion into the web site, although by noon the shade we enjoyed this morning from the tall trees behind us was no longer. I caught up with a few other tasks on the lap-top, notably deleting Kaspersky Anti-virus, which has come up for renewal, at present I have not been able to purchase the "disc" copy of the programme, so in the interim period I have downloaded AVG and will give that a trial. We had 2 phone calls today, the first from the Caravan Club who I had sent an email to a few weeks ago detailing our dissatisfaction with certain aspects of the club site at Troutbeck, without going in to all the details, they are sending us 2 free night vouchers, which if we use in the peak season will be worth over £40. We are both pleased with the result. The second phone call was from Specsavers, unfortunately a pair of the lenses have been sent incorrectly and it doesn't look has though they will receive them until later in the week, we have decided therefore (at least we think we have decided) to leave here on Thursday instead of Wednesday, it certainly won't be a hardship!
Tuesday 16th July 2013
About a mile to the bus stop outside the George Hotel in Youlgreave a steady walk apart from the last ¼ mile up the very, very, steep hill past the church, it was obviously a time of rejoicing that I made it without collapsing, the church bells started to peel! Actually the peel which lasted until the bus arrived, (more rejoicing, it was 10 minutes late), were fantastic and we enjoyed listening to it, which was just has well we couldn't talk to one another, the bells were that loud. Bakewell was our destination a 15 minute bus journey from the village and we alighted at the top of the high street near the Rotary Club gardens. Not quite knowing where to walk to first we walked along the floral garden path, the display was fabulous, probably one of the best we have seen for a long time and the climbing roses actually had a wonderful scent, not something we seem to have now with modern roses.
Browsing the shops on the way, we walked to the riverside walk, (the Derbyshire Wye) and stood on the bridge near the small weir watching the many birds and some enormous Trout in the shallows.
Returning to the town centre we had previously spotted the "Naughty and Nice Café and Chocolatier" with a lovely shaded outside court yard at the rear, we couldn't go to Bakewell without having some Bakewell Tart or Pudding, Jenny had a helping with cream and an iced coffee drink, I was good, I just had a flat white coffee, I'm not that keen on Bakewell Tart as I'm not fond of the taste of almond, although I did try it and it was rather nice. We walked back to bus stop to catch the 1:15 pm bus back to Youlgreave and a great position for the bus lay-by; we could sit in the floral garden and wait for it to arrive, in the shade of a large tree too. Arriving back at Youlgreave a short time later, we had a steady walk in the hot sun back to the camp site and relaxed for the afternoon, moving to the shade of the tall trees at the rear of the motorhome when it was too hot. No television signal unless we wanted to hire a satellite dish, which we weren't bothered about and after we had our evening meal (Cornish Pasty and salad), we started to chat about some of the bed & breakfast establishments and hotels we have stopped at in the UK and other countries, we decided the best bed & breakfast we have ever stayed at is "The Drovers Lodge" on the Isle of Mull, the best meal ever was difficult, either the waterfront restaurant on The Keys in Florida or the bush restaurant in the Daintree in Queensland, although Dundee's in Cairns and Friends in Mission beach were close. The rest of the evening I have spent time looking at camp sites for our forthcoming trip to Suffolk and Norfolk; I think one with a swimming pool will be a priority!
Wednesday 17th July 2013
A relaxed morning, I again spent some time looking at camp sites for the next month, at least we have some idea now of where we are heading to first there does seem to be a great number of "5van" sites in both counties so we don't think we will have a problem finding a place to stay, although I did notice that there were several already fully booked. Mystery solved! When we were walking to and from Youlgreave we noticed and old steel gate to a long drive with the letters MMY on it, while "googling" other local information on the internet I found out they stood for, Mawstone Mine Youlgreave and there was quite a tragic history to it, In 1932 there was a terrible accident there and 8 miners lost their lives when there was an explosion of firedamp gas and they were overcome by gas. I decided this afternoon to go for a walk and investigate the dis-used mine which according to my Ordnance Survey Map was a short distance from a public footpath on land above the camp site and was surprised there was still some old buildings there and also the original cage, which once carried miners up and down the mineshaft and also 2 tubs used to transport lead ore.
I returned to the footpath and continued upwards past Mawstone Farm and eventually reached the highest point and shortly afterwards following the public footpath over 2 meadows I reached a point where I could see the camp site below and even got a signal on the mobile phone to contact Jenny who was able to see me, at least she got the kettle on for when I eventually arrived back at the camp site.
Staffordshire
Thursday 18th July 2013
Drayton Manor Park Camping & Caravan Club Site, near Tamworth Lat: 52.60872, Long: 01.71896, (55 Miles).
We left Youlgreave just after 10:00 am and with planning yesterday by checking on Google Earth the height of a low bridge near Heathcote and using an unclassified road instead of the B road we managed to shorten our drive by at least 7 miles. I dropped Jenny off near Lichfield Library to borrow Ordnance Survey maps for Suffolk and Norfolk before she walked to Specsavers to collect her spectacles. I in the meantime drove to the Co-Operative car park about a mile away to wait for her phone call to collect her from near the bus station. I did have over an hour to wait because they were still working on them, however, I did have a Daily Mail to read and Michael drove around from work with our post. After a short visit to Anker Storage to leave a couple of unwanted items we continued to Drayton Manor Park for a 2 night stay, our preferred camp site now as it's quieter than Kingsbury Water Park. Jenny immediately organised the laundry and within a very short time, we had had lunch AND our clean washing was drying on the line. Great to see Keith and Pam on the site, pitched a short distance from us, a couple we had met and chatted to several times at Kingsbury and we talked for at least an hour catching up since the last time we saw them in April.
Friday 19th July 2013
A very relaxed day in the hot sun, we both put plenty of sun cream on and remained outside for most of the day. Keith and Pam came over about 1:00 pm and we chatted until 6:30 pm when they returned to their caravan for Keith to prepare for work (he gets up at 3:00 am to deliver vehicle spares to London).