Ref:
Date:
Location:
Photographer:
[clikcontent type=paymentBuyLink replaceable=true]
Ref:
Date:
Location:
Photographer:
[clikcontent type=paymentBuyLink replaceable=true]
24th March 2014 to 12th May 2014
Yorkshire and Northumberland
Derbyshire
Monday 24th March 2014
Poolsbrook Caravan Club Site, Staveley, Lat: 53.25730, Long: 1.35276 (74.5 Miles).
We were invited over for a coffee at Pam & Keith's caravan late afternoon yesterday and had a great chat for a couple of hours, they full-time and stay mostly at Kingsbury as they are still working, we first met them there about 2 years ago. Organisation required this morning as Jenny had her check-up post-cataract operations last year. We prepared most of the motorhome for our departure before I drove her over to Good Hope Hospital, after leaving her there I returned the hire car back to Enterprise and they took me back to the camp site (via Sutton Coldfield with another one of their drivers to collect another vehicle). Coincidence that I was talking to a lady whilst washing up this morning and she belonged Stockton on Tees, as did the driver from Enterprise who drove me back, it is a town I know very well from my (very) younger days and one we may visit on our way to Northumberland. I arrived back at the camp site and continued to get everything ready to leave, only waiting for Jenny's phone call to collect her from the hospital; just leaving the power on. I decided I would ring Poolsbrook CC to make sure they had space available, as we have decided to drive a bit further today as the weather is so nice and it will mean a shorter distance tomorrow when there is forecast of rain, plus it will be almost an even mileage for both days. I never did ring the camp site, whoops . . . Jenny had rung three times, but I had left the ringer on my phone on low, I was in trouble! I rang her straightaway and told her I was leaving and on my way (almost), meanwhile she finished her coffee in the café in the maternity wing of the hospital (don't ask) and then walked (slowly) up to Bedford Road, the arranged pick-up spot. We were soon on our way to Lichfield to fill up with diesel, the first time since December and with the help of the new clubcard "Tesco Fuel Save" saved 8 pence per litre on our 75 litre fill. After a short stop at Michaels place of work to say cheerio, and a stop at "Leisure Kingdom" at Hilton, near Derby to check the availability of new garage door weather-strips, (ours were leaking in the heavy rain in Devon), we continued our journey to Poolsbrook our over-night stop near Chesterfield.
Yorkshire
Tuesday 25th March 2014
Cherry Tree Cottage Caravan Site, Nether Poppleton, near York, Lat: 53.97973, Long: 01.14063, (64 Miles).
Weather forecast was spot on, a beautiful day yesterday, a wet day today, pleased now that we drove further yesterday, although we didn't get to stay at the Britstop, Trinity Farm Organics. With only an hour and 10 minutes driving time, we didn't need to rush away from Poolsbrook, which was just as well, we have mis-laid the barrier card, and despite looking everywhere in the motorhome we cannot find it. The site manager wanted £18 for a new one, however when she realised that we had not gone off site, she assumed it must be in the motorhome somewhere and told us when we do find it to post it back, after another search when we arrived at Cherry Tree, it still remains lost! An easy drive to Nether Poppleton and we were delighted when we arrived that since an overnight stop here last July, (we only stopped one night when a camp site we stopped at (The Lord Nelson) last year was full and couldn't accommodate an extra day we wanted to stop), that Karen and Martin had laid hard-standing pitches, we were more than happy being here last year, the hard-standing pitches are an extra bonus and they have landscaped the camp site nicely too.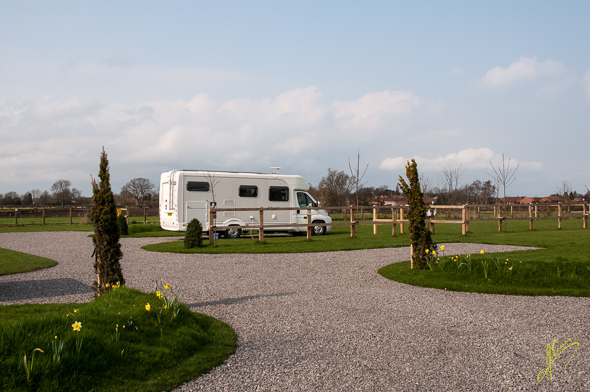 Wednesday 26th March 2014
Well we are comfortable here, we didn't have breakfast until 10:00 am, and to say we overslept is an understatement. We decided just to have a stroll around York and caught the No 10 bus just 2 minutes' walk from the camp site and within about 20 minutes we were in the city centre and walking along the "Shambles", the famous old street with over hanging timber-framed buildings, with some dating back to the fourteenth century. After a further walk we decided on lunch at "Mollys Tea Room" where we ate last time we were in York, trouble was other than remember that it was on the top floor of an antiquities showroom we didn't know which street it was in. Google Maps to the rescue and we were only 4 minutes away, although it actually took 6 minutes, I was "in charge" of the navigation, big mistake, we started to walk the opposite way! We enjoyed exactly the same as we had last year, Jenny the Baked Potato with creamed Mushrooms and me the coleslaw, served with a large pot of tea, excellent service and a very reasonable cost. After lunch we made our way back to the bus stop near the train station and after a short wait caught the bus back to Nether Poppleton.
Thursday 27th March 2014
A day at the York National Railway Museum, although we did go 2 stops further than the station this time on the bus to be nearer the market where we purchased courgettes and lemons. The museum is only a 10 minute walk from the shopping centre and as we arrived at lunch time we decided to have a light lunch first before "exploring", we decided on their home-made soup, we don't know what was in it other than vegetables, but it was delicious. It was certainly much, much quieter than last July when we were here last for "The Great Gathering", when all A4 Pacific Locomotives were around the turn-table, as part of the "Mallard 75 celebrations (75 years since she reached 125mph, the fastest steam locomotive in history), Mallard is still a resident and there was another A4 outside and this time the fantastic Princess Coronation class "Duchess of Hamilton" was back from Shildon Railway Museum, (that we hope to visit shortly) where it had been kept whilst the celebrations were on.
We had a great wonder around for at least 2 hours and we also walked about with Jenny's iPhone on Facetime to our granddaughter Kura in Canada to show her the engines especially of course, the model of "Thomas the Tank" and a large green steam engine which she immediately informed me was called "Percy", she enjoyed it and so did we! After a cup of tea and a slice of cake we continued looking at all the exhibits before we walked back through the famous York Station to the bus stop, our timing was impeccable, we were just crossing the road when the No10 bus arrived, we were back in the motorhome within 25 minutes.
Friday 28th March 2014
A relaxed morning before catching the bus to York to buy a bucket, last night I picked the bucket up from under the outside drain tap which was full of grey water from this morning's shower to empty it and grabbed it with obviously more vigor than I thought, the handle snapped! Buying a bucket in York was more difficult than we thought, despite trying several ironmongers, etc. we couldn't find a square one (unless we wanted to pay £9.99) and left empty bucketed, although we did buy a few items of fruit and vegetables and some chicken thighs at the market. Walking back to the bus stop near the railway station I realised that a bus was due, however I knew we wouldn't have time to catch it, I decided to try another stop nearer, fantastic timing a No10 was just stopping, Jenny was impressed with my initiative, (well, I was).
Saturday 29th March 2014
Ashfield Caravan Site, Lockton, nr Pickering, Lat: 54.29818, Long 0.71278, (35 Miles).
We were delayed this morning by a tropical typhoon, the intention was to watch the qualifying of the Malaysian Grand Prix which started at 7:00 am then organise ourselves for our drive to Lockton. Unfortunately the qualifying was delayed for about an hour due to the very heavy rain so we were a bit behind in leaving, not that it mattered to Kevin the owner he says we could stay as long as we liked! In the end we left about 11:30 am and it wasn't long until we stopped, when on passing a Retail Park we noticed a Wilkinson's and a Tesco, we went too Wilkinson's first and managed to purchase a square(ish) bucket for £2.50 (when we put it underneath at the camp site it is actually too tall), before "popping" in to Tesco for a few items. We arrived at Ashfield Caravan Site and pitching was not without its problems, the pitch was on a slight incline and with the grass being damp we could not reverse without the wheels spinning, in the end our traction mats we had and a wooden plank that the owner of the camp site found solved the problem. We then relaxed for the rest of the afternoon and evening with only 2 other caravans here and the main road being at least a mile away it is going to be lovely and quite.
Sunday 30th March 2014
We spent most of the morning watching the Malaysian Grand Prix, not one of the most exciting we have watched but at least Lewis won. After lunch we had a short walk from the camp site of about 1½ mile along a path on the top of a ridge through a wood, tomorrow we will, weather permitting, have a longer walk along the surprisingly deep valley which is a couple of hundred feet below us.
Monday 31st March 2014
With the weather forecast being dry, we decided that this afternoon we would do the longer walk along the valley we were near yesterday. We left the camp site after lunch and walked towards the village, branching off at a T junction which went down a 1 in 5 hill to the bridal path we needed to take along the valley, with the steep wooded bank near the camp site on our left and Levisham woods on the right. At one point where both woods closed in on the path there had been tree cutting in operation making the track very muddy and slippery we had to walk very carefully until the track improved. We eventually reached a farm which the North Yorkshire Moors Railway line ran adjacent to, I went running (well walked quickly) towards the track when I heard a train coming to hopefully take a photograph, the train didn't materialise, Jenny asked "are you sure it wasn't an aeroplane"? She can be a "know all" at times! Reaching a steep track up towards a lane we climbed that, we were about half way when I heard a train whistle, typical.
When we reached the Fox and Rabbit Farm we found a very nice campsite with wonderful views across the moors, we will save that one for another time, although we are more than happy with our present one. Continuing along the lane we spotted a couple of Yellowhammers the first ones we have seen for some time before eventually reaching Lockton village and the camp site having walked 3.22 miles.
Tuesday 1st April 2014
A longer walk today to the Hole of Horcum said to be one of the most spectacular features of the Yorkshire Moors National Park – a huge natural amphitheatre 400 feet deep and more than a mile across, caused by water from the hills undermining the slopes above over thousands of years, unless of course you believe the legend,
Wade the giant scooped up a handful of earth to throw at his wife during an argument.
Knowing we would be out much longer we took both rucksacks with us with our lunch and drinks and as a precaution our warm jackets, although the forecast is for dry weather. Leaving the campsite we walked to the far end of the village and found the public footpath near the cemetery, we made the decision to do the circular walk in an anti-clockwise direction and with the heavy rain we had last night and early this morning we found the path to begin with very hard going until we reached the way-marked path across the fields over several stiles. Not having internet for the last few days we hadn't got any information on what to expect from the "Hole of Horcum" but having reached an old ruined settlement in the centre of a "bowl" we concluded we had arrived.
Our timing for lunch was perfect it was 1:20 pm and we found a comfortable grass covered rock to put our groundsheet on and enjoyed our cheese sandwiches and ginger cake. Using "MAPS 3D" our GPS map on Jenny's iPhone we easily found the path along the valley towards the village of Levisham, we were so pleased we decided on doing the walk in an anti-clockwise direction, the narrow path through a wood with constant inclines and declines, was very wet and muddy and it was very difficult in many places, however we reached the outskirts of the village and found a bench to rest a while before tackling the descent down to the lane towards Lockton and then the steep 1 in 5 ascent to the village. However, when we got to the woods below the camp site, instead of walking up the lane, we opted for the path through the woods, a lot steeper but a considerably shorter distance. We were pleased to arrive back at the motorhome and have a nice cup of tea, having thoroughly enjoyed our walk, a total distance of 6.57 miles in perfect walking weather.
Wednesday 2nd April 2014
York House Caravan Park, Hawsker, Nr Whitby, Lat: 54.45139. Long: 0.57101, (19 Miles).
We left Lockton at 12:15 pm with the intention of stopping in the car park on the A169 to take a short walk to the view point above the Hole of Horcum and take some photographs from a different (much higher) position. It was not to be, the weather forecast was fog for today and it was fog that we got, there was no point in stopping at the viewpoint we carried on across the moors the fog getting gradually worse as we climbed up, disappointingly all we saw was the occasional patch of heath, heather and the rear lights of the car in front! We arrived at Whitby just after 1:00 pm and were shown our pitch, put £5 in the Electric (£12 pn plus electric) and within a short space of time had our lunch, we have booked here for 4 nights, hopefully the weather will change in that time and we will be able to see something!
Thursday 3rd April 2014


* * * A Very Happy Birthday to our Wonderful Daughter Rhiain. xx * * *
Well the weather hasn't changed it's still very foggy, we were hoping to walk to either Whitby or Robin Hood's Bay but we have postponed for today. We relaxed for most of the day and did some more planning for the next week, at least it has given me chance to catch up with editing of some of the photographs I have taken.
Friday 4th April 2014
We woke up this morning to one of the darkest, most foggy, miserable days we can remember for a very long time. It was fairly obvious we were not going to be going far today, we decided we would concentrate this morning on looking again at our "itinerary" for the next couple of weeks, we made a decision! We are going to stay here for an extra 2 days, we have found a CL to stop at nearer Robin Hood's Bay for 4 days, we will then make our way towards Northumberland, via the National Railway Museum at Shildon and "Beamish" the living museum of the North. At least the weather improved this evening and there was a sunset of sorts.
Saturday 5th April 2014
A much better day to wake up to this morning and the weather forecast for the day was quite favourable we decided to walk to Whitby. We had a choice, The Cleveland Way which was a walk down to the coastal path and along the cliffs past Whitby Abbey, or The Cinder Path, we chose the latter, we thought the walking would be much flatter! The Cinder Path is a dis-used railway line which closed in 1965 and is now a route through part of the North Yorkshire Moors National Park for walkers, horse riders and cyclists, the last time I travelled the route was by steam train when I was still in short trousers. We joined the path via a public footpath about 5 minutes' walk away from the camp site entrance, passing the old Hawsker station which is now a home and a cycle hire establishment, plus interestingly accommodation in a couple of vintage LNER coaches. As we suspected the path was in the most part level and surprisingly straight for long stretches until it eventually curved towards the Whitby, crossing the River Esk by way of the Larpool Viaduct a 13 arch structure 120 foot above the river. From the Cinder Path it was only a 5 minute walk towards the quay and time for lunch, trouble was we had forgotten the names of the two fish restaurant's that Don & Jan our friends from the Midlands had recommended, we took a chance and chose Gatsby's Restaurant, we weren't disappointed I had Haddock, Jenny had Scampi and we both enjoyed our meals. Fed and watered we continued along the harbour side towards the beach, Jenny's iPhone rang whist we were there, it was our daughter requesting "Facetime" Rhiain's timing was perfect we were able to show our granddaughter Kura the donkeys on the beach and the small fun fair rides. In spite of a short rain shower we decided to walk to the Abbey, so we crossed the swing bridge, walked along the narrow cobbled streets to the steps, 199 of them! Yes, we (I) did rest several times on the way up and continued through the graveyard of St Mary's church to the abbey, we didn't go in to the grounds (we won't pay the ridiculous entrance fees of English Heritage), but did manage to take some photographs from outside.
Returning to the town (my knee prefers to go up rather than down) we went to the Co-Operative Supermarket for a few food items, before walking the very short distance to the bus station for a bus back to the camp site, with the walk to Whitby, plus the walk around the town and up to the abbey we covered 5.21 miles, no wonder my knee was hurting!!!
Sunday 6th April 2014
With the weather being extremely windy we decided to stay in the motorhome and have a relaxed day, we also spent an enjoyable late evening watching a very exciting F1 Grand Prix from Bahrain.
Monday 7th April 2014
Jenny did all our washing this morning and I washed the outside of the motorhome, all I need to do now is find an opportunity to polish it, it wasn't going to be today, this afternoon the rain has poured down, stopping us going for a walk down towards the coast.
Tuesday 8th April 2014
Croftlands CS, Fylingthorpe, Nr Robin Hood's Bay, Lat: 54.43411, Long: 00.55074, (6 Miles).
A very short drive today and we even went 4 miles out of our way to visit the Sainsbury's Supermarket towards Whitby. We are now on a CS (Certificated Site) in a superb location overlooking Robin Hood's Bay which we were hoping to come to 2 days ago but they hadn't a vacancy, a bit dearer at £16 per night than the £13.67 (average p.n) we paid at York House, but in a much better position and our own amenities are needless to say, cleaner! After settling in and having lunch we decided to walk to Robin Hood's Bay a1¼ mile downhill walk to the sands, where we stopped for a short time before the very steep uphill walk back. We did stop about halfway however at the Old Bakery for a cup of tea (in china cups) and a "shared" slice of cake.
Wednesday 9th April 2014
We decided this morning to walk to Whitby and left the camp mid-morning and made our first mistake of the day, yesterday we noticed a public footpath at the bottom of the lane which we knew came out above the campsite, we decided to try it, a long time later and after 5 stiles we reached the lane! We joined the Cinder Path a few minutes later followed the path through the old station car park and through a housing estate and lost the path!!! What we did find was the Cleveland Way Track, having completed the latter part of the walk to Whitby on the Cinder Path on Saturday, we decided to remain on the Cleveland Way, albeit with the path for the most part following the cliff edge it was far more arduous with the constant ascents and descents but the seascapes more than made up for it.
We found a great spot for our lunch sitting in the lee of a small hillock before continuing to Whitby, at least walking this way we approached Whitby Abbey from another direction and photographed it from a different perspective, however the sun wasn't in an ideal position. After finishing the remains of our lunch (¼ of a sandwich, apple and 3 grapes) in St Mary's Churchyard overlooking the town, beach and quay we descended the 199 steps again, walked along the medieval narrow cobbled streets over the swing bridge to the bus station. We were a bit early for the bus so we ventured into "Subway" and sat for a while with a cup of tea until it was due and arrived back at the camp site at 6:00 pm having walked just over 9 mile.
Thursday 10th April 2014
I found on a "walking" web site an interesting place called Hayburn Wyke a secluded cove with a waterfall falling over a cliff to the beach and we thought that it would make a nice walk for today, especially as I found that by using both the Cleveland Way and Cinder Path we could make it a circular one and not too far with a total distance of about 5 mile. The walk started at a village called Cloughton about 12 mile away from Robin Hood's Bay which entailed us catching the X93 bus in Fylingthorpe village a 5 minute downhill walk from the camp site. Due to circumstances we were late setting off and the bus arriving 20 minutes late didn't help either, so as soon as we got to Cloughton we decided to look for a place to eat our lunch, finding the perfect spot, a bench on the lane down to the Cleveland Way. After our "picnic" we continued along the lane to the path along the cliffs, for the first part it wasn't easy going lots of "ups and downs" and we soon relieved ourselves of our Fleece Jackets and put them in our rucksacks. The path soon got much easier as it levelled out for about a mile just before reaching Hayburn Wyke, where we descended towards the cove via a National Trust wood, but, when we had a view of the cove from above we decided not to continue, a photograph of the waterfall from where we were looked a better proposition than a photograph of it from the beach, there was a "jumble" of branches, tree roots, etc., at the base of the waterfall which would have made the shot "untidy". We clambered back up through the wood and took the path onward to the Cinder Path, from which we had an easy level walk back to Cloughton village, this time we timed the return bus much better (only by luck) and we only had to wait about 20 minutes for it to arrive to return us to Fylingthorpe. Another great walk, very sensible of us to do the hard bit along the Cleveland way first, leaving the easy bit for when we were tiring, tomorrow we will have an easier day, we are going to Scarborough.
Friday 11th April 2014
Completely ignore the last part of yesterday's last sentence, we have decided to go to Scarborough, BUT, we are going to walk part of the way along the Cinder Path from Cloughton! We got on the X93 once more in the village (late again), we didn't think the double decker bus was going to make it up the very steep 25% incline out of Fylingthorpe, it appeared to only just make it in the lowest of low gears, in fact a warning signal started to bleep every time the bus went up an incline, I could see the lady driver from where I sat getting really agitated, I did ask as we got off the bus what it was "faulty oil warning sensor" she said, "it's OK for you at the back of the bus"!!! When we were out walking yesterday we met and started to chat with a couple who were staying in "Oscar" a "camping coach" at Cloughton Station, they told us the renovated station also had a tea-room, we thought it would be a good idea before starting our 5½ mile walk to Scarborough to have a cup of tea and a snack . . . wrong, they only open Saturday's through to Wednesday's. Thirsty and hungry, not really, we had bottles of water and Trebor extra-strong mints, we walked along the old railway to a small village called Scalby, where the "official" Cinder track ended and the track bed became the public footpath/cycle way into Scarborough town centre.
We arrived mid-afternoon and having already decided we would have fish and chips for lunch/evening meal we looked for a fish and chip restaurant and having walked through the town centre to the South beach and esplanade were lucky enough to find a Harry Ramsdens, we didn't think twice, wow, a Harry Ramsdens, we went upstairs and had a perfect seat next to the window overlooking the harbour, beach and bay and enjoyed Haddock, chips and mushy peas. Other than "tick off" Scarborough, we didn't want to stop too long and as there was a bus due, we walked back to the bus station and caught the 16:40 bus back to the camp site, another great walk, should be as "fit as fiddles" before the end of the year, other than we both have colds at present.
County Durham
Saturday 12th April 2014
The Foresters Arms (Britstop), Coatham Mundeville, Lat: 54.58025, Long: 01.55669, (53 Miles).
Not a very long drive today so we didn't get up early and didn't leave the camp site until just before noon and then stopped 3 mile along the road at Sainsbury's to buy some fresh vegetables, fruit and bread, we are looking forward to using some of the Britstops further into our trip that are farm shops, etc. to replenish fresh produce. We were soon on our way again driving over the Yorkshire Moors when Jenny suggested we find a place to stop for lunch, she had such good timing, the next lay-by was the picnic area for Scaling Dam, we stopped there for a cup of tea and a sandwich before continuing directly to tonight's "Britstop", "The Foresters Arms" the first we have used this year. We easily found a flat place to park at the rear of the car park, next to the farm animals, an enclosure containing, geese, ducks, chickens and a lone sheep. I went into the pub to tell them we had arrived and brought a menu back to the motorhome, I hadn't reached the motorhome and I had already made up my mind, hickory chicken with a cover of bacon and melted cheese, sounded delicious, it was! We went for our evening meal at 18:30, Jenny having duck rolls for starter and I had whitebait, both accompanied by a nice salad, Jenny had Stilton creamy chicken for her main that was good too. So she said, I won't touch Stilton, we didn't have enough room in our stomachs for a pudding.
Sunday 13th April 2014
The Granary CS, Maiden Law, Lat: 54.84248, Long: 01.73031, (29 Miles).
Not the best of sleeps, nothing to do with our location, Jenny just decided to sneeze for most of the night! We left at about 10:15, our stop last night ideally located for a short 6 mile drive to the National Railways Museum complex at Shildon. A fantastic museum not nearly as large as the museum at York, but nevertheless containing a wealth of old locomotives mostly from the UK, but also some from other country's that were made in Great Britain. Two of the A4 Pacific locomotives, "Dominion of Canada" and Dwight D Eisenhower", from the "Great Gathering" were still in attendance which was nice to see.
Leaving the main building it was a cold and windy walk up to the "Welcome" centre another part of the museum to view "Sans Pareil", the original not a replica, built in 1829 to compete in the Rainhill trials. We then caught the shuttle bus back to the main building and after a further walk around some of the exhibits we continued our journey to Maiden Law our stay for the next 4 days. We were warmly welcomed by the owners Maureen and Dixon and they showed us where all the facilities were and our hard standing pitch, with a fantastic view of Newcastle and the coast in the far distance. Should be interesting here, Dixon runs two gauges of model railway and when we went to get further information (bus timetables) he showed me his cabinet of O gauge locomotives he had made and within his workshop is 7.5 inch gauge locomotives, meanwhile Jenny chatted to Maureen about "things" as females do. The afternoon weather developed into being very wet and windy, we stayed in the motorhome relaxing, tomorrow we have decided to do the same, as Jenny has now caught my cold and after our long walks over the last week we deserve a rest.
Monday 14th April 2014
A very relaxed day, Jenny read and knitted, I bought a new "MagBook", "The Nikon Guide to Landscape Photography" which I am slowly studying for hints and tips to improve my photographs.
Tuesday 15th April 2014
The very reason to be in this area was to visit Durham and after a "rest" day yesterday and the weather forecast being good we decided to go today. We caught the 11:15 No X31 bus from the stop which is only a 5 minute walk from the camp site and unlike the buses last week it was on time. This bus took us about 2 mile to the village of Lanchester, 8 mile west of Durham where we caught our second bus the No 15 to the bus station in Durham. Maureen had given us an information booklet on the city so we had a good idea in which direction to walk for the river, cathedral and castle from the bus station and walked down North Road to Framwelgate Bridge and the River Weir. Descending the steps on the bridge we continued along the riverside walk, passing the castle high on the far bank towards a view point opposite the cathedral and the weir, an iconic place for a photograph to "showcase" Durham, continuing on, we reached Prebends Bridge which we crossed to walk up to the Cathedral.
Entering the Cathedral we had a walk around before we decided it was time for lunch and we chose to eat in the Undercroft restaurant within the Cathedral itself, enjoying baked potatoes and coleslaw and cups of tea. Leaving the cathedral we walked the short distance to the castle, managing to take a couple of photographs from the gates, we were unable to go in as it is part of Durham University and only open to the public at certain times. We then had a short browse around the shops and indoor market before walking back to the bus station to catch a No 15A which went to Lanchester, although after there it takes a slightly different route to its ultimate destination of Consett, than the No 15 we arrived at Durham on. Like this morning we caught a No X30, which again went to Maiden Law and then by another route to Newcastle. This evening Dixon showed me his collection of old tractors in one of his barns, massive machines built by Caterpillar and John Deere, to name but two.
Wednesday 16th April 2014
A bus ride today to the Tanfield Railway "The World's Oldest Railway" and Causey Arch "The Oldest Existing Railway Bridge", the X30 and the X31 the buses to Newcastle both pass the Tanfield Railway so all we needed to do was ask the driver to stop at the entrance, which he kindly did, (although I had our GPS position on Google Maps as a backup). We wondered up and down the lines at Marley Hill, the engineering and restoration base for the railway, an awful lot of the rolling stock looked far beyond "restoration" to us, lots of rotting wood and rusting metal, but still very interesting.
We then walked to "Andrews House" station where during weekends and holidays they run steam and diesel trips in Victorian carriages along a 6 mile stretch of track. The small tea room (being run by a volunteer) was open and we enjoyed eating our lunch sitting on a bench outside and drinking large mugs of tea for just a £1each. The volunteer gave us walking direction to Causey Arch which is about a 2 mile away from the station; it was a pleasant surprise the walk wasn't back along the busy road that I thought, but along a public footpath across farm land and through a wood. Within 30 minutes we had reached the car park and picnic area and had two choices of track, an upper one which went to the arch viewpoint and a lower one through a wood and along the banks of Causey Beck to the base of the arch, we chose the latter. After 10 minutes we found a bench near the beck a great place to rest and have a drink and a slice of Jenny's home-made Date and Walnut Loaf, before continuing a short distance to the Arch. Causey Arch was built about 1727 to carry Waggons pulled by horses along a track which carried coal from 4 coal mines to Newcastle, There were plenty of interpretative notice boards and the one beneath the bridge stated
"930 horse-drawn waggons a day crossed in each direction. Every 20 seconds a waggon went by, with only 50 yards on average between a waggon and the one following
(note: waggon not wagon). After photographing the arch and Causey Beck from the bottom, we walked up the many steps to the top and photographed from the viewpoint before walking back through the picnic area to the main road, where we waited (having just missed one) 25 minutes for the bus back to Maiden Law, via Stanley and many small villages in between.
Northumberland
Thursday 17th April 2014
Nunnykirk Caravan Club Site, Nunnykirk, Nr Morpeth, Lat: 55.23245, Long: 01.88969, (43 miles).
We made a decision yesterday after visiting both Shildon and Tanfield museum's that we would give Beamish Living Museum a miss this time, we are sure we will be visiting this part of County Durham again and perhaps plan our visit for their "steam" week, which we missed by a couple of days. After saying our goodbye's to our host's Dixon and Maureen and taking some photographs of the locomotives that Dixon had moved out of the workshop and the lambs that had been born yesterday, digressing, yesterday morning I saw a lamb that had just been born minutes ago, the Ewe was still licking it clean.
Although we did "maps" last night and decided which way we were going and checked the Satnav, we made an adjustment to our route afterwards and unknowingly travelled further up the A1 then we intended, it made no difference to the overhaul mileage, but we had intended to stop and purchase bread and a TV magazine on the way but didn't go through any villages to buy them. We only found out when "Betty" insisted we turn left in the direction of Nunnykirk and I insisted we needed to turn right. Betty won (this time)! We arrived at the camp site at about 1:30 pm and found a pitch without too much trouble, although we did have to choose carefully as all of the pitches here are grass and we were conscious of a problem with getting stuck if the ground becomes waterlogged. We were also pleased to find that there had been a cancellation for Saturday night, when we originally booked we could only book Thursday and Friday night and Sunday and Monday, we thought we would have to find a place to stay (perhaps a Britstop) on Saturday. We then relaxed for the rest of the afternoon and evening, with the road being a least a ½ mile away and a quiet one at that, we are going to have a very peaceful stay here over the Easter Bank Holiday weekend, our exact intention.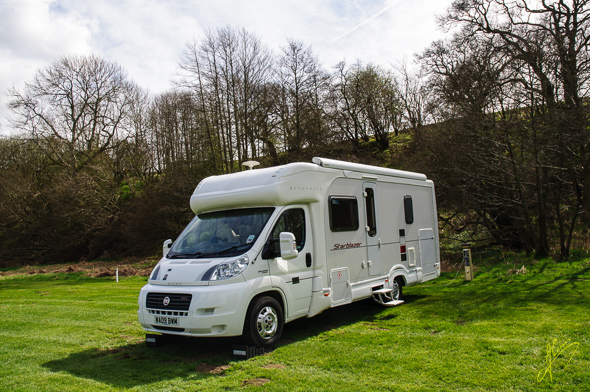 Friday 18th April 2014
A walk today to Fontburn Reservoir, (the River Font itself runs through the centre of the campsite), which is about 2 miles from the camp site, all we knew was that it was a reservoir, we had no pre-conceived idea what to expect at all and we had a very pleasant surprise when we arrived. It is a Trout fishery with a fishing shop, lodge, picnic area and first-class toilets and a walk can be done around the perimeter.
We had a nice chat with one of the Northumberland Water guys when we arrived who told us of some of the wild life he has seen and photographed whilst working there, including Otters and Osprey, he also pointed me in the direction of where Adders bask on rocks near a sluice, we went to see if we could spot any but weren't successful, however there were some children playing nearby which wouldn't have helped. We had lunch sitting at one of the picnic tables before deciding to walk around the water, the going was easy at first until we reached a nature reserve, where we had to clamber over a stile onto the heathland, the wet and muddy ditches we had to cross made the walking more difficult until we reached the edge of the reservoir once more. Then after walking over 2 mile since leaving the fishing lodge we came across a notice on a gate stating that "due to lambing" the Fontburn circuit walk was closed, not in our book, if they wanted it closed (we think it was a farm notice not a Northumberland Water one), then the notice should have been near the start of the circuit walk, not in the middle! We carried on, only seeing about a dozen sheep, which we gave a wide berth too, and carried on to join the path along the bank side. Eventually we completed the perimeter of the water and walked back along the long entrance lane to the road and then the short distance to the camp site, having completed a healthy 7.40 miles on a very enjoyable walk.
Saturday 19th April 2014
Hair-trimming time this morning or in my case a mow, Jenny cut mine rather shorter than normal, it doesn't matter, I won't have to bother with it again until this time next year and in the meantime I will wear a hat! The Grand Prix this week-end is from China, annoyingly only the highlights on BBC, however at least I didn't have to get up to watch the qualifying at some ungodly hour and after it finished we went for a walk. A Nunnykirk Estate private lane is available for camp site users so we walked along that between forest and the River Font until we reached Nunnykirk House, quite a fine looking building which is now a school, having no internet signal (or phone), we will have to get further information on it at a later date. We returned the same way stopping to watch a Heron fishing in the river on the way, a nice short stroll this afternoon of 2.61 miles.
Sunday 20th April 2014
A relaxing day, just a bit of cleaning, watching the Grand Prix and spending sometime editing the photographs, I am a bit behind with them at present.
Monday 21st April 2014
Another relaxed day, our idea of being in a quiet spot (except for the Pheasants and Black Grouse) for Easter worked perfectly, strangely although there are 82 pitches here it never seemed at all crowded, it helped we think by the camp site being split into 3 sections and obviously today a lot of people have left in fact there are only 18 pitches occupied and 6 of those are only caravans the people having left. I went for a short walk today, only really to attempt to climb high enough at the rear of the camp site to obtain a mobile phone signal. I was successful and was able to call to make sure we could stay at a "Britstop" tomorrow night, which they confirmed we could, otherwise we would have stopped an extra night here as we are not booked into Beadnell Bay until Wednesday.
Tuesday 22nd April 2014
Beadnell Bay Camping & Caravan Club Site, Lat: 55.156086, Long: 01.63644, (34 Miles).
Again we have missed out on some great scenery, when we left Nunnykirk; there was fog and mist all the way across the Northumberland countryside to Alnwick where we stopped at the Sainsbury's Supermarket to buy groceries. It was even foggier and also raining when we left the car park so we made the decision rather than go to our intended Britstop tonight we would drive directly to Beadnell Bay, we had intended to walk to Dunstanburgh Castle this afternoon from our Britstop, The Cottage Inn Hotel in the small village of Dunstan, but the weather has prevented it so we decided to arrive at the campsite a day early. With the amount of people leaving the camp site at Nunnykirk we expected the same at Beadnell Bay, it wasn't, they hadn't got a vacant hardstanding pitch with power for tonight, they did have a grass pitch without power so just for one night we accepted that and would have moved to our allocated pitch for 7 days tomorrow. However, at about 5:00 pm, the manager came over and said there had been a cancellation and there was a hardstanding pitch available, did we want it? We decided to move, which only took us a few minutes and we were shown a pitch which suited us perfectly for our stay.
Wednesday 23rd April 2014
We woke up this morning to much of the same as yesterday, fog and mist, but the weather forecast was for it to lift and for the day to be dry with sunny intervals. We decided to do a coastal walk from Craster back to Beadnell Bay passing the much photographed Dunstanburgh Castle on the way. We are perfectly located here for catching the coastal bus (X18), which runs between Berwick and Newcastle via Alnwick and we can "flag" the bus down outside the camp site entrance so we caught the 11:02 to Craster which is approximately 20 minute drive away and alighted at the harbour. The Northumberland Coastal Walk passes through the village and we were soon walking along the path towards the castle. I wanted one of the iconic shots of the castle showing the rocks in the foreground, sea and the castle in the background, but the poor visibility with a mist still present made the long distance photo's I took not very satisfactory, hopefully we will be able to visit again on a clearer day.
We continued past the castle and left the coastal path for a short time, choosing the flatter track alongside Dunstanburgh Golf Course, enjoying the song of several Skylarks in the sky on the way, in fact, we had never heard so many at any one time. Halfway along the golf course we came to the car park for Embleton Bay and there was an ice-cream van there, we indulged, the first ice-cream eaten this year. The ice-cream was our pudding; we stopped a bit further along for our lunch at a spot near Newton Pool Nature Reserve, well at least ham sandwiches and then another stop after about a mile for refreshments. We had arrived at the small coastal village of Low Newton by-the sea and recognised "The Ship Inn" as the pub that Robson Green visited in his excellent travel documentary "Tales from Northumberland", we sat on the village green, Jenny with a cider and me with an half of "Squid Ink", not a beer connoisseur (still got 11 bottles of Cobra of a box of 12 we bought 5 weeks ago), but I did enjoy it. Passing the beach called Football Hole, we know not why, we walked at the back of the dunes of Beadnell Bay crossing Long Nanny bridge, again we know not why, eventually reaching Beadnell and shortly afterwards our campsite at the northern side of the village. I admit I was pleased to arrive back, the last mile through un-interesting caravan parks was rather tiring on my knee, but then we had walked over 8 miles!
Thursday 24th April 2014
Thought this morning we would sort out our next stops, it wasn't as easy as we thought, we had forgotten that it was May Bank Holiday next weekend. We took the easy option, although it wasn't that easy, we are going to stop here an extra 7 days, however within that time (unless again the site have cancellations), we will change to a grass site with power, to a grass site without power and then back to a hardstanding site with power, I'm glad Jenny organised it! After lunch we walked into Seahouses "The Gateway to the Farne Islands" a walk of 2.93 miles which started along the top edge of sand dunes, continued for a short distance along the road until we reached the nature reserve at Annstead, walked through the sand dunes to the beach, climbed up a low cliff to a golf course, which we crossed (not before sitting on a bench at the 16th tee admiring the view for a short time over North Sunderland Point) to a road leading down to the busy little harbour. There were several boat trip kiosks to choose from for information of a trip to the Farne Islands, we spoke to a lovely lady at the Billy Shiels kiosk (the one used by Robson Green for his trip) and she was most informative, we can actually book by phone on the day we decide to go, rather than book for a specific day, which means we can check on the weather forecast beforehand and choose a good day. The Tourist Information Centre was our next stop, we wanted to visit Holy Island (Lindisfarne), either walking or by bus, neither was going to be easy, the walk would be at least 5 mile from a bus stop on the A1 and the buses which leave from Berwick-upon-Tweed are very infrequent due to the tides over the causeway to the island and do not link very well with the X18 bus. The girl in the tourist information was very helpful and worked out the very confusing timetable for us; however we will need to study the options in more detail to decide, how and when we go. Cup of tea time and we found Rosemary's Tea and Coffee house near the harbour and had a cup there the chocolate cake was good too, before catching the bus back to the camp site. We didn't go directly back to the motorhome, we went down to the beach and explored the rock pools and then "Facetimed" our granddaughter Kura in Canada to show her the tiny crabs we had found, including a family of Hermit Crabs, that was fun!!!
I managed to add a few photographs to the web site tonight, if the weather forecast is as promised for tomorrow misty and wet, we will stay in the motorhome and hopefully I will be able to update the whole site.
Friday 25th April
A better day than was forecast just rather misty with the occasional bit of drizzle, however we are still relaxing today, reading, writing, knitting, etc., we will also decide what we will do tomorrow.
Saturday 26th April 2014
Yet again a day better than forecast, we expected it to be raining heavily when we woke up, instead, although it was cloudy at least it was dry. We decided to spend the day at Alnwick and we "flagged down" the 11:00 pm X18 towards Newcastle, from the camp site to Alnwick is approximately 13 miles, by the time we went to High Dunstan and back to the main road and then Craster and did the same and then to the RAF Boulmer (which incidently was the RAF station that was responsible last week for alerting the Typhoons at RAF Leuchars that 2 Russian aircraft had "strayed" near UK airspace and "chased" them away), we must have trebled that distance, which is probably why it took an hour and five minutes to get there. First thing was to drop our medical prescriptions into Boots, which Sharon had collected and posted on to us, the first one didn't have all we needed, we went 50 yards up the road to another Boots, they didn't have everything either, but why have 2 shops in a small town within yards of one another? We then followed the signs to the castle, and then found out that there was a small alley next to the chemist which would have saved a longer walk, we went back that way when we found out the little lane that we wanted to use was closed for some building work. We didn't actually want to visit the castle, but take some photographs and looking on Google Earth there was a path from a bridge which went along the far bank of the River Aln, ideal I thought for a photograph of the castle with a reflection in the water. We walked down to the bridge and were delighted when we saw it, a magnificent structure, built in 1773, with a large "Percy Lion" (being distinguished from other lions by its straight tail), made of cast lead and standing on a sandstone plinth; it was waiting to be photographed!
Because it had started raining, I was initially going to be satisfied with some photos of the castle from the bridge; however the rain was only light so we decided to walk along the river path as far as a weir I had seen on Google Earth. We were pleased we did, the rain stopped and we had a lovely stroll along the path, which considering the rain we had last night was surprisingly dry, which was just as well, we were only wearing "town" shoes and not our walking boots. I took some photographs from different positions, although the dull sky didn't inspire a "great" photograph and with the downstream wind a "reflection" photo wasn't possible and we re-traced our steps back up the hill to the town for lunch.
We had spotted "Grannies" this morning, a "deli/café" with a downstairs tea room and decided to eat there, we are glad we did, we enjoyed Baked Potatoes with fillings and a pot of tea, surrounded by old memorabilia, like a hobby horse and a copper posser (if you're under 65, look it up) and a meat mincer. Leaving the café, we collected our prescriptions from Boots (both of them) and walked to the castle gardens and "nic nac" shop for a look around, before walking back to the bus station for our scenic drive back to Beadnell Bay. A great day out, just wish the weather was a bit better for photography,
Sunday 27th April 2014
A busy morning, I edited the photographs that I took yesterday and Jenny made an Apple Cake, Scones and Plum Pie, I did all the washing up when she'd finished! We went for a short walk this afternoon, we were going to walk along the beach and then back through the sand dunes, we didn't get far, we hadn't realised how cold the Northeasterly wind was and decided to turn back, not before we spotted Eider Duck, Turnstone and one only Ringed Plover looking for food and preening on the rocks.
Monday 28th April 2014
Whoops! We really overslept this morning; we were still having breakfast when Ken Bruce was doing "pop master" at 10:30 am! I have started to use the shipping forecast on the internet to get an area forecast of the weather, today will be, "Wind: variable 3 or 4, Sea State: slight, Weather: occasional rain, fog banks, Visibility: moderate, occasionally very poor." Great, No wind, no waves, some rain & fog and we might or might not see something. But for the landscape photography we want to do we want sun, blue sky, white fluffy clouds and I want to see the horizon, not too much to ask is it!!! We think until the wind changes from East or North Easterlies we will continue to have poor visibility and the BBC forecast doesn't show a change for several days, we will see. We decided we would have a walk from Bamburgh to the lighthouse and onwards to Budle Bay, which looked quite pretty on pictures we have seen and we caught the 1:00pm bus from the campsite entrance. We arrived at Bamburgh within 20 minutes and found an ideal place to eat our sandwiches on a bench facing the castle before we walked through the sand dunes to the beach.
We then walked along to Harkess lighthouse (this was disappointing just a house with a light on top), however we found a perfect spot to stop on a bench overlooking Harkess Rocks and Harkess Gut, a pretty little cove with a rock with a stag painted on it, called obviously Stag Rock,
"of which origins are hidden in mists of time, though many stories exist",
There's some choices,
" because an animal jumped into the sea to escape hunters chasing it from nearby Spindlestone, that it was painted in 1914 by a local artist and it is repainted each time the lighthouse is painted, or painted by Italian prisoners of war during the Second World War"
I think the second theory is closest and surely the third one could be verified by local folk even 70 years hence.
After watching the Eider ducks and the occasional seal for a short time we changed our minds about walking to Budle Bay and instead chose to walk back along the beach (although there is an inland route available as part of the Northumberland Coastal Walk) to Seahouses and with the tide having turned and on its way out we were able to walk on the firm sand close to the water's edge. We judged our arrival at Seahouses perfectly and only had to wait 10 minutes for the bus for the short journey back to Beadnell Bay, for an enjoyable cappuccino and home-made scones having walked 5.22 miles. Note: Just a mention of our walking mileage, we use an app on Jenny's iPhone called Maps 3D and coincidently there was an update on it tonight, we were able to "Fly" along our track with Google Earth", quite fascinating, what an amazing app Maps 3D is.
Tuesday 29th April 2014
Another foggy day, we have chosen to stay in the motorhome and relax.
Wednesday 30th April 2014
Ditto yesterday's weather, if not worse, at least it has given me time to edit and sort some old family photographs that I originally scanned and archived in a rarely used folder on the laptop, in fact they were originally put on a lap top that we had bought in 2005. I found a photograph that was taken on the SS Balmoral in 1928 (a steamship that was used for excursions in the English Channel and Bristol Channel), which until I did some work to renovate it today, I didn't realise was a photo of my Grandmother, Grandfather and father, only the second photograph I have seen of my grandmother, who passed away in 1940, I was really pleased. We should have moved off the hardstanding this morning onto a grass pitch, however, the site warden came over at 9:00am and told us to stay where we were for another night and to move to a pitch, which is used in "emergency's" or as he said "a get out of jail pitch" tomorrow.
Thursday 1st May 2014
Well it poured of rain last night and until lunchtime today and the wind was very strong, but at least it has cleared the mist and fog away and we can actually see the horizon not just the end of the campsite! This morning we had to move, it didn't take us long just out of the "proper" site and onto a hardstanding pitch (just paving slabs) which is on the "grass only" part of the camp site, but it does have power, we will have to move again on Saturday for 2 nights without power, before returning to a "normal" hardstanding with electric for the rest of our stay. Moving to the front of the camp site we do now have a great view over the sea and the waves rolling in, which look quite fierce, hopefully if the weather forecast is correct I may get a photograph of a sunrise tomorrow morning . . . if I get up.
Friday 2nd May 2014
Up before 5:00 a.m. to photograph the sunrise, not spectacular, but nice to be on the beach so early in the morning and yes, I did go back to bed.
A change of plan today, with a major improvement in the weather, we had intended to visit Dunstanburgh Castle and Alnwick Castle today to take some photographs. Instead we rang Billy Shiel at 9:15 am, who run the boat trips to the Farne Islands to see if we could book for their 12:00 pm sailing today, they weren't sure when we rang because of the swell after the winds, however we rang again at 10:45 am and they told us they were running the trips. We caught the bus at 11:00 am and walked down to the harbour and booked in and paid for our trip and then sat on the harbour wall in glorious sunshine until "M.V Glad Tidings" arrived. We then sailed to and between the Inner Farne Islands before crossing Staple Sound to the outer islands where we viewed the sea birds, Guillemot, Razorbills and Kittiwakes, to name but three, which were nesting on the cliffs, before continuing to see the large Grey Seal colony on another island.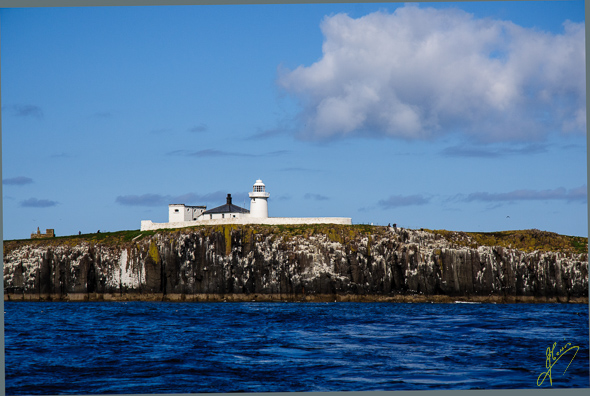 The island of Longstone was our next viewing "stop", (as much as a boat can be stopped on an ever moving tide), to see the Longstone lighthouse, famous for the daring rescue in 1838 by Grace Darling and her father of 9 people from the wreck of the "Forfarshire" which had foundered on the nearby island of Big Harcar and to which we next sailed to view the exact spot of the tragedy.
Back to Inner Farne and a landing for an hour on the island owned by the National Trust to visit the sea birds there, St Cuthbert's Chapel and the lighthouse. Because of the proximity of the nesting sea birds and more importantly (for humans) the steep drop of the cliffs, there was a roped off boardwalk around the island, although the rope didn't stop me stepping off the boardwalk at one point and nearly breaking my ankle in a Puffins nesting hole, much to Jenny's amusement, good job the Puffins home was still "To Let"! We came to the point where the Shag's, Guillemots and Kittiwakes were nesting and here the barrier was more substantial, steel ropes preventing anybody falling off the edge into oblivion, we were surprised though how close the nesting Shag's were, literally inches from our feet and despite the many people there, taking absolutely no notice of anybody, despite the constant clicking of cameras and camera lenses being poked up their nostrils.
All to soon it was time to leave the island a return to Seahouses, both agreeing that it was a great trip and a first for us seeing the Puffins and a myriad of other sea birds (to many to mention) both on the island and in the surrounding sea. We were going to have Fish and Chips in Seahouses but just as we arrived in the main street a X18 arrived so rather than have to wait another 2 hours for the next one, we caught that one back to the camp site, we didn't miss out on the fish and chips, this evening we walked up to the small shop in Beadnell Bay and bought our tea.
Saturday 3rd May 2014
Again up early to photograph the sunrise, it was better this morning, high tide was an hour later than yesterday and I was able to use the reflections of the sky in a rock pool that yesterday at a similar time was covered.
We didn't have to move this morning after all, Ann the manager came round to tell us the people booked on our pitch were not arriving today, although we may have to move tomorrow. Yesterdays planned day, is now today instead, (does that make sense) on the bus to Craster to photograph Dunstanburgh Castle in hopefully better visibility than our last Wednesday, then back on the bus to visit Alnwick again. Whoops! I've lost my walking pole. Because I was busy talking near reception, Jenny locked the motorhome and bought everything around to the front of the building, (I hadn't noticed it was almost time for the bus), including my walking pole, which I thought I wouldn't really need, when we got off the bus at Craster I fastened it to the back of my rucksack. Because the path is wide we walked side by side, normally on narrow paths Jenny walks behind me (like a dutiful wife should, but she insists since walking into a Huntsman's Spiders web in Australia when she was in front) and would have noticed it falling off, it wasn't until we reached the rocks where I wanted to photograph the castle from we noticed it was missing. Whilst I got myself organised to take some photos, Jenny (bless her) walked back along the path about ½ mile to the harbour, to look for it but with no success, somebody had obviously picked it up. After taking a series of photographs from different places around the south side of the castle (the more interesting side), being rather disappointed as the sun had disappeared and the light wasn't as I would have liked, with a bland greyish/blue sky we walked back to Craster, visiting the famous smoked kipper shop on the way to the bus stop, we didn't stop long as we had timed our walk to catch the 13:28 bus to Alnwick and we only waited a few minutes before it arrived.
Arriving at Alnwick we checked with Boots the Chemist to see if they could fill the prescription that were unable to last week, this time they could so we left it there to collect later. It was now after 2:00 pm and our stomachs told us it was after lunch time, as we had thoroughly enjoyed our last meal at "Grannies" we decided to go there again and were lucky that there was a table vacant. We had the Ploughman's from the specials menu, mine with Pork pie, Jenny's with Quiche, we did not need to eat tonight. We didn't bother walking along the river as was our intention to photograph the castle again, with the now cloudy sky I didn't think I could improve on the ones I had already taken, instead we visited the camping shop and bought a pair of walking poles at a cost of 24.99 (that's my pocket money for 3 months gone), they weren't "big name" like my previous one, but we compared the weight of one with Jenny's and it was about the same and the hand grip was identical to my old one so I was happy. After collecting my prescription and buying bread and milk we walked to the bus station for the bus back to Beadnell Bay, a couple got off at the "proper" bus stop in the village, we got off at the "improper" bus stop at the camp site entrance, they arrived 10 minutes later, they obviously hadn't read the camp site information leaflet.
Sunday 4th May 2014
Required to move this morning to a non-powered pitch, it only entailed moving about 50 metres and tomorrow we are back on a powered pitch for the rest of our stay. We spent part of the morning planning our stays for the next 2 weeks (ish) after leaving Beadnell Bay, we are going to stay at Berwick-on-Tweed for 5 days before crossing the border to a site near Dunbar, with a Britstop on Wednesday night, and we haven't booked anything yet so our plans may alter. The rest of the day we relaxed, I edited some photographs, lots of them to sort from the last two days, but mindful I needed to leave some "sparks" in the computer to type this up, (there was) and Jenny read and knitted: it was perfect time to be without electricity, we didn't bother with the television, never anything to suit us on a Sunday (or Saturday) night, but there was a great radio programme on "Absolute 70's" a whole hour of the Eagles, that did for me (and Jenny).
Monday 5th May 2014
Musical pitches again today, back to a powered site for the last 2 days, the assistant manager came over just after 9:00 am to tell us which pitch we were on and after breakfast and filling up with fresh water at a nearby tap we moved, we have travelled ¼ of a mile in the motorhome in the last 2 weeks without moving off site! We actually made a mistake today, the weather forecast was for wind and rain so we decided just to stay in the motorhome and relax, and in fact it turned out to be quite a nice day. We did manage to book our next 2 stops and it is as planned, 5 nights at Berwick-on-Tweed and then into Scotland to Dunbar for 5 nights, with a Britstop on Wednesday night.
Tuesday 6th May 2014
With the promise of a good day weather-wise we decided to return to Bamburgh and walk along the coastal path towards Budle Bay and hopefully take some better photographs than I did last week. Visibility was perfect and the sky interesting when we got off the bus in the village and immediately we knew that taking photographs today was going to be better as we made our way through the sand dunes to the beach, revisiting the locations from which I took last Mondays photo's.
After sitting on the rocks near Harkness Point and lighthouse for biscuits and a drink we continued along the path to Budle Bay and arrived to find a fantastic expanse of pristine beach with wonderful panoramic views to Lindisfarne towards the North and the Farne Island East. We walked beneath the low cliffs and found a pleasant place for lunch before retracing our steps towards Bamburgh village, although at the lighthouse we left the beach and continued along the quiet lane to the village centre instead of walking through the dunes and past the castle.
Having time to spare before the bus to Seahouses arrived (more than we thought the bus was 20 minutes late) we visited the grave of Grace Darling in St Aidans Church, completing the chapter of her short life. We had got off the bus at Seahouses to purchase a few items at the Co-operative super market and then have tea and cake at "Rosemary's Tea Room" the café that we went to last week and after enjoying Tea and delicious Rhubarb and Lemon cake we walked back across the cliffs and golf course clambered down to the rocks and along the beach. We stopped and looked in some rock pools for "critters" on the way, one crab and four fish being the total of our success before we walked back over the short stretch of dunes to the camp site having walked a total distance of 4.6 miles.
Wednesday 7th May 2014
Oxford Farm Shop & Tearoom (Britstop 738), Ancroft, near Berwick-on-Tweed, Lat: 55.71486, Long: 01.99244, (31 Miles).
Holy Island, originally known as Lindisfarne was our destination this morning, only accessible across a tidal covered causeway at low tide and with the safe crossing time not until 11:20 am, we didn't need to rush off this morning although we were up early (too early). We also needed LPG, we try now as soon as we empty one bottle (11 litres) to fill up, although the last fill has lasted us over two months, so theoretically we should be good until July, although we anticipate using more Britstops and to "free camp" when we are in Scotland, so it will depend if we need some heating, as using gas for the fridge when not on power will be a constant. We stopped at Lindisfarne Services on the A1 at Beal, coincidently also where we needed to turn for Holy Island. Where we were able to help an Australian couple from Brisbane who were struggling to top there gas up on their hired motorhome, we had a nice chat to them too. Safely across the causeway we had an early lunch before starting our exploration of the island, pleasantly surprised that the anticipated wet weather did not materialise. We decided to go to the farthest point first Lindisfarne Castle about a mile from the car park at Castle Point, an easy walk through the village and along the lane to the castle entrance. I took some photographs as we went along, however I wanted some shots with the sea in it, so whilst Jenny sat on a bench, I made my way across the rocks to the water's edge and was delighted that the sun was showing through the light cloud enough to "show off" the best view of the castle, hopefully (I haven't looked at them yet), the photographs should be good, if what I was seeing through the viewfinder was anything to go by. Re-joining Jenny, we walked to a walled garden "The Gertrude Jekyll Garden" created in 1911, however at this time of the year in lacked colour and were rather disappointing.
We returned along the track past the rear of the castle to view the lime kilns, they were much more interesting, stone was quarried on the north of the island and taken by horse drawn wheeled tubs to the kilns to be turned into quicklime for fertilizing. It was fascinating being able to walk through the inside workings of the old kilns and the interactive boards showed how it all worked, after taking photographs of both the interior and exterior of them we left Castle Point and walked back along the lane to the harbour and continued a short walk to "The Heugh" and the former Coastguard lookout tower, where from the top there was a stunning 360 degree panoramic view.
We then made or way back to the car park via the priory ruins and village, timing our arrival to perfection, it had started to rain.
We only had about 10 mile to drive to tonight's "Britstop" and after making ourselves known in the farm shop we found a flat place to park for the night and relaxed for the rest of the late afternoon and evening.
Thursday 8th May 2014
Berwick Seaview Caravan Club Site, Berwick-on-Tweed, Lat: 55.7574, Long: 01.9956, (10 miles).
A perfect night at the farm shop, Jenny said, she couldn't sleep because of the lack of noise!!! We left at 9:50 am buying some home-made preserves in the shop and thanking our hosts before we left. Our first stop was at an outdoor leisure store to look at light summer "windcheaters" we didn't find what we wanted but did buy some toilet fluid and a grey waste canister, (the bucket we bought doesn't fit under the waste tap, I had an "incident" with our old one when we were staying at York), we thought a proper container will be better. Our next stop was the Tesco supermarket, because we had plenty of time before our arrival at the camp site (after 12:00 pm) we didn't do our "norm" and dash round, grab what we wanted a dash back out, we took our time, probably a mistake, we spent more money. After filling with diesel, an upside to spending more we had .6p a litre off the retail price saving us £4.80 on 73 litres, we drove to the camp site. We didn't have much choice of pitch as it is unusually governed by the length of the motorhome as some of the pitches are quite short, however we did find one that suited us and with a view over to the harbour and were soon organised and having lunch. As we normally do, we relaxed for the rest of the day, although putting all the groceries away, wasn't a 5 minute job and Jenny also baked a carrot cake tray bake, delicious it is too!
Friday 9th May 2014
There was a walk from the camp site around Berwick-on-Tweed published in an issue of the Caravan Club magazine which looked interesting so we decided today that we would give it a try. However at a distance of 6.2 mile, we thought it may have been too long as the weather for this afternoon was for heavy rain, so we shortened it by taking a route over the 2nd road bridge over the River Tweed in the town rather than cross the river further upstream. We followed the directions until we arrived at the Royal Border Bridge the 28-arch viaduct built between 1847 and 1850 by Robert Stephenson, which carries the East Coast Main Line over the river, where I was hoping to take photographs of reflections of the arches in the water, alas, a downstream wind put paid to that idea, however I was delighted with the photos I was able to take from both upstream and downstream of the bridge.
We walked back from the Tweedmouth side to the Berwick-on-Tweed side into the town over the Royal Tweed bridge another iconic bridge built in the 1920's, which at one time the northern arch held the record for the UK's largest concrete arch The 16th century walls around the town were our next destination and we walked almost around the complete perimeter, seeing some outstanding views over the river, town, North Sea and harbour and looking at the five bastions, the gun emplacements that project from the walls.
Returning to the town centre, it was well past lunch time so after a bit of shopping, (a casual jacket for me and a cigar lighter charger for Jenny's iPhone) we found a fish and chip shop and enjoyed a nice meal there. We changed our minds when we left the restaurant, we were going to catch the bus back, we decided to walk back instead and crossed another bridge, Berwick Bridge, also known as the Old Bridge and the oldest being built in between 1611 and 1624, this route took us past the small docks and along the river, before we took a footpath up to the road to the campsite.
We just couldn't believe the weather today, warm sun and none of the forecast rain, we could have done the 6.2 mile walk after all, but then, with our walk around the town and walls we actually walked 6.82 miles!
Saturday 10th May 2014
A wet day forecast and it was, which worked quite well with our plans, as we weren't going out today. We wanted to watch the 3rd practice and the qualifying of the F1 Grand Prix from Spain, Jenny wanted to finish her knitted jumper and I had a lot of photographs to organise, edit and delete, from those I have taken in the last few days.
Sunday 11th May 2014
A relaxed day, although Jenny wouldn't say so, she did all our washing this morning, whilst I continued to work on Adobe Elements with my photographs. A nice sunset tonight, I wasn't looking outside and it took me by surprise, no time for formalities, I dashed out and stuck the camera on a post!
Monday 12th May 2014
A pleasant walk today along the cliff tops to a place on the coast called Saltpan Rocks, for no particular reason other than we liked the name. We made a mistake almost straight away after leaving the campsite, taking notice of a road sign that said, Spittal Promenade, we opted to walk that way, which just took us along a long road with houses either side, what we should have done was take a road that went directly down to the beach, we eventually found a short cut and found the beach walk, which then lead to the promenade. At the end of the promenade we came to Huds Head where we walked up a track to join the Northumberland Coastal Path, parts of which we walked at Craster, Beadnell Bay and Bamburgh. Even though it was a "cliff top" walk there were no major ascents or descents, in fact the maximum we climbed from sea level was only 135 feet and the track appeared for the most part to be an old green lane.
After 3 mile we reached our objective Saltpan Rocks; however we haven't a clue where the name came from, but it seemed a good place to have lunch, sitting on the grass on the cliff edge overlooking the sea.
Re-tracing our steps, we passed an overgrown garden containing chickens at Seahouse Farm and were saying to each other that it needed a tidy up, Whilst we were talking we seen 4 Brown Rats, obviously feeding on the chicken feed, looks like they also need a clowder, clan, glaring, or pounce, of cats, whichever collective noun that you fancy, I like pounce. We arrived back at the campsite mid-afternoon having decided to walk as far as we could along the road along the shore to Sandstell Point a bit longer but more picturesque with views over to Berwick-on-Tweed and up the river. After a cup of tea and whilst Jenny knitted, I decided to walk back to the River Tweed and take some photographs from a point I took some from on Friday, but this time with the tide in, however the visibility today didn't seem so good, I haven't put the photos on the lap top yet, so we will see.