Ref:
Date:
Location:
Photographer:
[clikcontent type=paymentBuyLink replaceable=true]
Ref:
Date:
Location:
Photographer:
[clikcontent type=paymentBuyLink replaceable=true]
13th May 2014 - 2nd October 2014
Scotland Tour.
SCOTLAND
East Lothian
Tuesday 13th May 2014
Dunbar Camping and Caravan Club Site, Dunbar, Lat: 55.99390, Long: 02.48294, (32 Miles).
An easy drive to Dunbar this morning, we only stopped at the "border crossing" to take a photograph before driving directly to the camp site and arrived a little after twelve noon. While Jenny booked in at reception, I used the motorhome service point to fill with fresh water and empty the grey waste and waiting until we arrived here was a good choice, the service point was infinitely better than the one at the Caravan Club site, with plenty of space and the drain on the right side. We found the perfect pitch facing the Firth of Forth, in sight of Bass Rock and with the Isle of May in the distance, we are here for 5 days, although we may extend. I went out tonight to photograph the sunset and the (almost) full moon, I took a photograph of the listed ruin on the site with the moon showing, evidently it is/was called Sloe Bigging Tower, I can't find much information on it other than it was an old Victorian observatory.
Added Saturday 17th May:
The tower was once known as Broxmouth Park Observatory (belonging to the large house in the deer park now an upmarket hotel) and built circa 1850 and to give it its full title now known as Sloe Biggin Lookout Tower.
Wednesday 14th May 2014
A walk to Dunbar today, whilst I washed up Jenny went to reception to ask for directions. We had two options either along the A1087 which was approximately 40 minutes or the coastal way of 1 hour 40 minutes, I couldn't understand when I could see the town about 1 mile away (actually just calculated it on "Maps 3D" as 1.31 miles), why, a) it would take so long, b) the instruction from reception, "walk towards the lighthouse". We found out! Between the coastal path which is part of the John Muir Way, (John Muir 1838-1914 was a Scottish naturalist born in Dunbar whose activism helped preserve Yosemite and Sequoia National Parks in California and who we first heard about when we visited Yosemite in 2001), there is a golf course and unlike the ones at Dunstanburgh and Seahouses, we could not walk across it, in fact it was fenced off and we had to walk along the lane and yes, "towards the lighthouse" before we could retrace our steps along the coastal path at the edge of the golf course. We got to the point at Whitebeach car park where we needed to turn, but as by this time the actual lighthouse was not too far away, we decided to go there first and take some photographs. We are pleased we did, as well as spotting a Yellowhammer and Reed Bunting; we also visited an old quarry and lime kiln, with an informative notice board which showed the geology of the surrounding area.
Walking back, taking notice of the sign "flying golf balls" and how to avoid them, yeah well, we continued along the edge of the golf course and 3.5 miles later we passed close to a green gate which is less than 500 metres from our motorhome! Reaching the town we had a stroll along the main street before looking for a coffee shop, we found a nice one and ordered coffee and 2 slices of cake, we were served our coffee and 15 minutes later were still waiting for our cake, despite the cake display being at the back of us, when the waitress eventually decided to serve us, it was too late, we paid for our drinks and left, it was not as though the café was busy, although we were in the rear part away from the front counter. A quick shop at the small Co-operative supermarket for some fresh milk and we opted to walk back to the campsite along the A1087, actually it was quite nice along a pavement all the way, with the walled "deer park" (no deer, plenty of park) and coastal views on our left and it was a lot shorter than the "golf course" option, although we still managed to walk 8.64 miles.
Thursday 15th May 2014
Relaxed morning, I edited some photographs, Jenny baked a fruit cake, I didn't get around to washing the outside of the motorhome as I intended. After lunch we decided to "stroll" to the lighthouse, the light today being much better and the sky more interesting to take photographs than yesterday. Once again we saw a Reed Bunting and today also Stonechats and Shelduck, not very co-operative when I tried to photograph them though with the 500mm lens on the D70s camera. Arriving at the lighthouse, Jenny sat on a rock overlooking the sea while I went "walkabout" taking photographs of the lighthouse from different angles, one I am pleased about is with the sun partly on one side of the tower, hope it looks as good on the laptop as it does "in camera" I haven't downloaded them yet. After sitting with Jenny for some time "sea watching" we walked back along the path across the short stretch of dunes before reaching the road to the campsite and a cup of tea, we had forgotten to take a drink with us!
Friday 16th May 2014
A busy day, with Jenny's help I washed the motorhome, before I put wax on it and then polished it off, it took me over 5 hours and I still have some of the top to finish, which I can only reach with the steps and with Jenny holding them on the uneven ground, hopefully we will do that tomorrow.
Saturday 17th May 2014

We finished the cleaning of the outside of the motorhome this morning, although we still need to do some work on the part over the cab . . . darned flies! This afternoon we relaxed and did some organising of the next couple of weeks, we have decided not to stay here for extra days but move on to North Berwick just 17 miles further up the coast tomorrow. Several reasons, It will be easier to catch a bus to North Berwick from the camp site to hopefully have a boat trip to Bass Rock, we also want to visit Tantallon Castle again a bus ride, plus although we have enjoyed our stay here, it isn't easy to get to the sea's edge without a long walk around the golf course, frustrating when its actually so close and notwithstanding our "missing cake" (see Wednesday), Dunbar wasn't one of the "prettiest" towns we have visited, just one main street with un-interesting shops.
Sunday 18th May 2014
Yellowcraig Caravan Club Site, North Berwick, Lat: 56.05793, Long: 02.77954, (19 Miles).
A very short distance to travel today, so we took our time this morning getting ourselves organised, especially as we were disturbed in the night by high winds, which were still fierce when we left. Our first stop was un-scheduled (not that we normally schedule them anyway); we wanted to visit Tantallon Castle and thought that the best way to do it was catching the bus from North Berwick. I had looked at Google Earth and thought that the car park looked small for our motorhome; however I had missed the large car park a ¼ mile from the entrance at the top of the drive. Being able to see the car park from the road it was immediately evident that we would have plenty of room to park and with the weather dry and warm we decided to visit today instead of later. Now as you are probably aware by now, we don't normally "do" museums and look around castles, etc., but this one set atop cliffs overlooking the Firth of Forth and with Bass Rock in the background looked very photogenic. We spent well over an hour exploring the ruins, climbing up the spiral stairs and down into the "prison" and looking into the "digs". There was a team of archeologist's and volunteers working in the inner grounds and they were very informative of what they were doing and showed us some of the artifacts, animal bone, pottery and part of a clay pipe (dated early 17th century, on first appraisal), which they had dug out this morning. I wanted to take a photograph of the whole panorama of the castle from the cliffs opposite, I asked the assistant in the shop/entrance, he had obviously been asked the question many times before and gave us precise directions, not sure whether we can drive close enough however, we shall see.
After a short stop at Tesco for bread and milk we arrived at Yellowcraig and booked in, the site was very busy and after circumnavigating the site we eventually found a pitch, which we had missed first time around because it wasn't long enough, until we saw that it had a small notice on it denoting it was a "sideways" pitch, it suited us perfectly. After a late lunch we thought it a good idea to have a walk to the beach, unlike at Dunbar we didn't have far to walk, just out of the camp site entrance, across the Yellowcraig Nature Reserve car park and through a wood, before crossing a short stretch of sand dunes to the sea. And directly opposite just 400 feet from us was picturesque Fidra Island, complete with a working lighthouse, Fidra was said to be the inspiration behind Robert Louis Stevenson's "Treasure Island", the author spent many summers at North Berwick and on the beaches of Yellowcraigs. The high wind we had in Dunbar, (and which had decreased substantially at Tantallon Castle) was now a warm breeze and we had a pleasant stroll along the beach before retracing our steps back to the camp site.
Before sunset tonight I walked back to the beach, I wasn't expecting a sunset photo, but I did want to try some "low light" photography and have the lighthouse in the photo, it actually worked out much better than I anticipated, the sea was so flat that I was able to get reflections of the lighthouse beam in the water, the difficult part was the timing, setting the camera timer which is 10 seconds, with the flash from the lighthouse which was 4 flashes every 30 seconds.
Monday 19th May 2014

This morning we booked our trip to Bass Rock, because of the tides it didn't sail until 16:00 so we relaxed until after lunch and then walked to North Berwick. At some point across the dunes we deviated from "The John Muir Way" and arrived at another golf course, however with the tide out, we were able to walk along the firm sand below the golf course until we crossed it on a public footpath which took us into the town, actually this way we had better views of the islands of Craigleith ("The Craig") and Lamb Island (owned by Uri Geller, which he bought for £30,000 in 2009). After calling in at a bank to do some money transfers as we are unable to do it online as we are without internet at present, (when we asked in a shop the location of a bank, the lady didn't know whether it would be open, at this point we found out why it was so busy this weekend on the campsite, it is an Edinburgh Bank Holiday), we continued to the harbour and sat waiting for the departure time of the boat.
We were disappointed! Because of the Easterly wind, which we didn't think was that strong, the trip was cancelled, the captain of Sula II explained with the direction of the waves we would have got wet within a very short space of time. On reflection we should have gone with another company with a boat with an enclosed cabin, but we were too late it was full for today's trip, we had preferred a trip in a traditional open launch, it sounded more interesting, Sula II is crafted from Honduras mahogany and will shortly join the Historic Ship register. Our disappointment was soon over when we decided to have a cup of tea at "The Buttercup Café", We sat down and the owner immediately put a clean tablecloth and doily on the table, we ordered our drinks and scones, home-made and they were delicious, almost, yes almost, as good as Jenny's (I had to write that). I started to admire the framed photographs that were on the wall, the owner a fantastic character with a great sense of humour, told me he took the photographs and where he had taken them, one particular I recognised a cottage with a red roof near Loch Torridon, which I had also photographed in 2010. We obviously started to talk about photography and he bought out an album of photos he took several years ago in his native Cyprus (Greek part), they were excellent, although most of them were of interesting local people, which I rarely take. Leaving the café (wish we had time to visit again) we followed the "John Muir Way" out of the town, this time using Maps 3D we followed the trail correctly, past some wonderful large houses, one of which had some lovely Clematis adorning the walls and another with a profusion of Bluebells along the drive before crossing fields and walking through the wood once more to Yellowcraig. Although disappointed we couldn't go on the boat trip we had another good walk, in total a distance of 8 mile, we didn't have the fish and chip meal we intended to have after our trip either! The sky looked promising for a sunset tonight so I walked down to the beach, more disappointment the sun disappeared into a thick fog bank, the lighthouse was hazy (the fog) and because of the wind the sea was too choppy for reflections, but not rough enough (because of the shelter of Fidra) to pound the rocks for some "slo-mo" photographs, I didn't stop long before walking back to the motorhome.
Tuesday 20th May 2014
A quiet morning, Jenny did our washing, I edited some of the photographs, I have taken so many in the last few days I am behind with sorting and cataloging them. After lunch we walked to the nearby village of Dirleton to photograph the castle, the position in the middle of the village was obviously not going to be as photogenic as Dunstanburgh, Bamburgh and Lindisfarne castles in Northumberland or Tantallon in Scotland all sitting on top of crags overlooking the North Sea, however it looked interesting so we decided to take a look. We didn't go in to this one we walked around the perimeter wall and managed to take photos from a distance before walking around the rest of the village, said to be a typical . . . English village, we supposed because of the village green and the types of cottage. We then re-traced our steps back to the motorhome the cold wind and cloudy sky making us not want to stay out for too long. I didn't walk down to the beach tonight, by 7:00 pm a sea mist had rolled in; I would have been wasting my time.
Wednesday 21st May 2014
With the weather much improved, clear skies, quite warm, and only a slight breeze and for it to be the same all day we decided to return to Tantallon Castle and take some photographs from a point which I had asked about at the castle shop on Sunday. The place we needed to be was Seaview Beach and when I googled it, it sounded an interesting place to spend some time at, so we chose to drive there in the motorhome rather than go by bus and we wanted to shop at Tesco before leaving here and it would save stopping tomorrow. Unfortunately when we drove down the private road and arrive at the entrance barrier (£2 parking all day), it was clear we would have a tight squeeze getting through, we didn't attempt it, we reversed out and drove the short distance to the Tantallon Castle and parked where we had before. I made a cup of tea while Jenny made up a picnic to take with us and then we walked back along the main road, along the private lane and through the woods to the beach. It was as the website "Undiscovered Scotland" states a hidden gem, it is one of the best stretches of coastline we have visited for some time and with the trees and cliffs at the rear of the beach reminiscent of some we saw in Australia.
After a pleasant lunch we went exploring and I found Auldhame Castle a castle built in the 16th century, hidden in the woodland on a crag above the beach, I couldn't find a way up to it through the undergrowth, I was wearing shorts, hadn't taken my walking pole and the stinging nettles were tall! I did manage a photograph though before returning to Jenny on the beach.
Our next stop was over a scramble of rocks to another unusual piece of history, an incredible harbour built in 1890 and said to be the smallest in Scotland, although this is disputed by the people of the Isle of Arran, certainly it must be the most intriguing.
Whilst Jenny returned to the beach, I continued across the rocks to photograph Tantallon Castle, not the easiest of walks, I continuously had to re-trace my steps to avoid deep rock pools and slippery wet seaweed to reach a small bay opposite the castle to get the photograph I wanted.
Returning to the beach, we relaxed for a short while in the warm sun before walking back to the castle car park, however on the way back we investigated a narrow path that went off the main track and "low and behold" we found the castle, well at least a door, part of a wall and a turret, it looked very eerie covered in vines and surrounded by tall grass, weeds, bushes and trees, I certainly wouldn't want to be there in the dark, especially as St Baldred of Tyinghame who died in 756 is said to be buried nearby.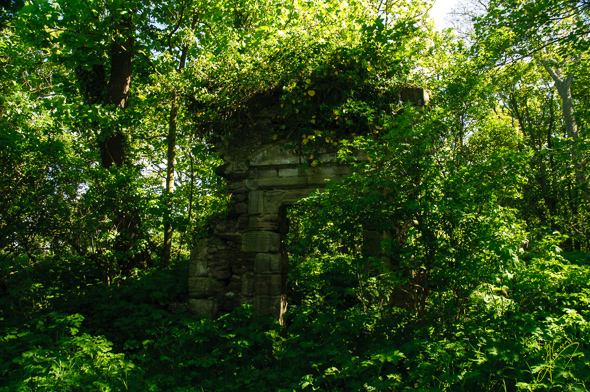 After tea tonight I walked down to the beach again to photograph the sunset, high tide was at 9:06 pm, sunset was at 9:22 pm so they coincided nicely, although with only a slight breeze, the waves didn't "show" too much and using "Photographers Ephemeris" I positioned myself so that the sun set to the left of Fidra Island, hopefully, (I haven't looked yet) I have taken some decent photos and again when the lighthouse lamp started flashing (it must be on a light sensor, it started later each time I have visited), I had to judge the shutter with the lamp flash.
Fife

Thursday 22nd May 2014
Blacketyside Farm Shop and Tea Rooms, Leven, Lat: 56.20857, Long: 02.98208, (72 Miles).
Not the sort of day we wanted to travel, Jenny didn't have a good night the wind keeping her awake and just as we started off this morning it started to rain heavy. Luckily as we were on the outskirts of Edinburgh it eased off somewhat and when we joined the motorway just before the Forth Road Bridge it stopped completely. Once we were over the other side we attempted to follow the brown tourist signs for the bridge(s) scenic view point, however we think because of the construction work for the new forth bridge crossing it has disappeared, we couldn't find it and ending up going round in a circle. Rather than use the main road to Leven we chose the Fife coastal route, hoping to find a nice place to stop for lunch en-route, but the rain reappearing and taking the incorrect turning twice (where "Betty" expected a traffic island was now traffic lights not helping), we continued to our overnight stop, a "Britstop" at Leven. Parking on the overflow car park we had lunch before visiting the extensive farm shop, where we bought vegetables and a nice Ecclefechan Tart for desert, although we have remembered since we still have strawberries to finish up. I also rang a local tyre shop to check the price of tyres for the motorhome, twice this morning I had "wheel spin" when driving off on an incline, the tyres aren't at the minimum tread depth, in fact when we had the MOT it was suggested they would still be OK until the winter, however as we will be doing a fair mileage in Scotland our thoughts are that we will replace the two front ones, or rather purchase one tyre and use the un-used spare.
Friday 23rd May 2014
Bankhead Farm Certificated Site, Near Crail, Lat: 56.2431, Long: 2.6634, (18 Miles).

We left at 11:30 am this morning after a phone call from Lynn at "HiQ" in Leven to say that the tyres had arrived, great service when I didn't place it on order until late afternoon yesterday and they are special tyres specifically for motorhomes with extra strength in the sidewalls. Kevin came out to the motorhome with us to check the tread pattern was the same, it was, which meant we would only have to purchase one and use the "best" used one as the spare. They needed the motorhome for about an hour so we walked to the town to get some birthday cards before returning to Sainsbury's café for tea and cake; we were upstairs with a view of the tyre centre so we knew when it was completed. Whilst Jenny paid, I chatted to Kevin a retired gentleman who used to own the premises and still goes in twice a week to help them, he used to be a parts manager and for a short time with Ford, we had a lot to talk about! I couldn't have chosen a better place to ring yesterday, completely at random, I just "Googled" Tyres, Leven, Fife and it came up with HiQ, excellent service and nice people. Leaving Leven we drove directly to the camp site near Crail and have a very comfortable hardstanding pitch near the barns and with an hourly bus service from right outside the gate we are already contemplating staying longer. Late afternoon I decided to walk down to the shore line about ¾ of a mile away, down a track almost opposite the farm entrance, then walked along the "Fife Coastal Path" for a short time before I came to a find . . . a cliff with caves in it and with marvelous shapes and colours on it, just a pity the sun wasn't shining when I photographed it to pick up the colours, I didn't even tell Jenny about it when I got back, she can see for herself, probably tomorrow when we walk to Crail.
Saturday 24th May 2014

Mid-morning we started on our walk to the small Fife village of Crail, taking the track again opposite the camp site to the sea and then along the coast path. Our first stop was at the cliffs and caves I went to yesterday, having "Googled" the caves I now know they are called Caiplie Caves and were evidently a site of early Christian worship, were used by farmers to house livestock and also prior to World War II was used by a hermit as his dwelling. We stopped there for a time to take some more photographs in a different light before continuing past two old dilapidated cottages and through a rocky area with a profusion of wild flowers, including bluebells and a few orchids before reaching the outskirts of the village where we climbed upwards to street.
It was now lunchtime so we walked directly to the little harbour where we found a gallery/tea shop; unfortunately there was nothing on the menu we fancied so we decided just to have a cup of tea in the nice tea garden overlooking the sea. We needed to post a couple of birthday cards so we walked back to the main street and found a post office and almost next door there was a fish and chip shop, we didn't want fish and chips for lunch today, but what they did have on their board was home-made Cullen Skink with crusty bread, now we were talking, we ordered and sat down in the restaurant area and when it arrived it was delicious, as good as when Jenny makes it, (almost)! We walked back the same way along the coastal path, again the weather was better than was forecast, the owner of the campsite was telling me this part of Fife has its own "mini-climate" often dry when 5 mile down the road it is raining, he's right and we were back in plenty of time to watch the qualifying for the Monaco Grand Prix having walked a total of 5.46 miles.
Sunday 25th May 2014
Late morning I decided to walk down to the sea and see if I could take some "slow" wave effect photographs at high tide, because the sun was out I actually couldn't get the photographs I wanted. I thought instead I would take advantage of the bright light and photograph Caiplie Caves once again. A cow thought different she was standing on top of the cliff spoiling a shot, shouting at it didn't help, throwing a rock near it didn't work, in fact it showed its contempt by turning round lifting its tail and you can guess the rest! In the end it ambled off in its own time and I was able to take my photos.
I then walked further to near the old cottages where I saw some nice wild flowers yesterday and took some more photographs there before returning to the motorhome three hours later, to a welcome cup of tea and Jenny's home-made coffee and walnut tray bake, (much improved, we bought a new tray on Friday and now the slices are bigger).
Then it was almost time for the Grand Prix a good race, just wish we could have seen all of it instead of just the highlights.
Monday 26th May 2014
We set the alarm this morning to make sure we were up in time for the bus to Anstruther; we had decided to take a trip on the May Princess the boat that goes to the Isle of May. We "flagged" the No 95 bus down at the entrance to the farm and were at the village in plenty of time for the 11:00 am sailing. We were disappointed, the crossing was fully booked today and they had a list of people who were awaiting any cancellations, we didn't expect the boat to be that busy, however a large party of French school children arrived, so obviously they made a big difference to the passenger numbers. We had decided to stay longer at Bankhead Farm anyway so we will probably book to go either Thursday or Friday instead, weather permitting. After a walk around the harbour side and small shops we had a cup of tea at the Fisherman's Museum before deciding to walk back along the coastal path to the campsite, we had bought return tickets for our journey costing £6.50, but evidently they are valid for 28 days so we may use them later in the week.
We just strolled back along the rock edge coastal path, finding a very convenient bench to stop and eat a snack at about half way along, before continuing back to the camp site, where in the warm afternoon sun we sat on the bench outside the motorhome and relaxed and drank tea.
Tuesday 27th May 2014
Don't believe the weather forecast if you come to this part of the country, we thought it was going to be a wet day and decided to stay at the motorhome. In fact it was a dry warm day with little wind (watching a wind turbine about a mile away told us that) and we should have gone out for the day either for a walk or to St Andrews on the bus. Well at least it has given me chance to get fully up to date with editing the photographs and Jenny to do some baking. We also have now made a definite decision to stay another 5 days and the weather forecast, if it can be trusted, looks good for Friday when hopefully we can take the ferry to the Isle of May. Typical change of weather again tonight, it looked as if it was going to be a good night for a sunset. I got my entire equipment ready walked down the farm track nearby, some clouds rolled in and that was the end of that . . . well almost, I got back to the motorhome and the sky cleared and there was a sunset, not a brilliant one though, but I did walk back to the beginning of the farm track and take a photo.
Wednesday 28th May 2014
A relaxed day, in other words it's wet and windy and we are staying in the comfort of the motorhome!
Thursday 29th May 2014

"Flagged" the bus down again at the entrance to the camp site for a day at St Andrews, a town we were going to stay near this week, before deciding to stop at Bankhead Farm for longer to visit the Isle of May. We got off the bus at the bus station at the far side of the town from the castle, abbey and harbour and then walked back through the "shopping centre" part of the main street to visit them. We had no idea what the castle looked like (I normally "Google" some information before visiting) and was pleasantly surprised to find it was a picturesque ruin standing on a rock promontory overlooking the sea. Jenny read the information board, while I wondered along the path taking some photographs, managing to hide (don't look too carefully) a van parked "in view" with a Hawthorn bush.
A wonder around the ruined abbey grounds was next, what was the largest and most magnificent church in Scotland, how impressive it must have looked in its prime before we walked down to the small harbour and back uphill towards the castle.
It was lunchtime and we couldn't decide what to eat until we reached "Blackhorn", no McDonald's or Burger Kings in this town, but a completely independent burger bar, very nice they were too, but strangely they didn't serve hot drinks (bear in mind this is a "university town" and students don't "do" tea). However the assistant offered to go and fetch some for us from another café, which we thought was great, we didn't accept his offer though, Jenny had Lemon, I had Iron-Bru "made from girders" to make me big and strong!!! After a delicious lunch we had a walk along the parallel street to what appeared to be the main street, popping in to the Information Office to collect some of "Visit Scotland" brochures for the areas we are visiting, we didn't get them all, (the west coast ones) they would have been too many for the rucksack and we needed room for bread and milk! After a short wait at the impressive bus station (it looked new) we caught our bus back to the camp site, the bus driver dropping us right outside the entrance gate to the farm. A good day out, we are pleased we went on the bus, it was probably easier travelling from here than a camp site nearer to St Andrews that was not on a bus route.
Friday 30th May 2014

Unlike Monday with our aborted trip to the Isle of May and because of the change of tide times the boat didn't leave Anstruther until 2:00 pm so we decided to walk there along the coastal path instead of using the bus. We arrived in plenty of time at the payment kiosk to collect our tickets and then sat overlooking the pretty harbour eating our lunch before boarding the "May Princess".
With a very light wind we had a calm 50 minute crossing to the Isle passing along the western side with place names such as "Slipped Disk", "Green Face" and "Pilgrim's Haven" crowded with sea birds on the cliffs and had a good view of "North Horn" one of the disused fog horns (the other being the "South Horn") before sailing through a very narrow channel to our landing at Kirkhaven Harbour.
Dis-embarking we were given a short "lecture" by the NNR (National Nature Reserve) manager and advise on how to avoid an attack by an Artic Tern, i.e. wear a hat, take an umbrella, walk up the path next to someone taller! Leaving the small harbour we walked up the hill to "Main Light", the lighthouse built in 1816 by Robert Stevenson and even by lighthouse standards quite an imposing building, especially compared with the remains of the coal-fired beacon built about 1635 (now a short white castellated building) on a hill nearby.
Continuing past the lighthouse along "McLeod's Path" (said to be haunted by an old lighthouse keeper) with Puffin's flying above our heads with their beaks full of Sand Eels we reached "Low Light" lighthouse, built in 1844. When this light was lined up with the Main Light sailors could steer a course to avoid North Carr Rocks, it was made redundant when a lightship was stationed nearby and Fife Ness lighthouse was built and is now used by SNH (Scottish Natural Heritage) to accommodate Birdwatchers and Naturalists, must admit I was delighted with some photographs I took there.
We found a nice spot above the harbour to sit and eat Jenny's home-made "experimental" rich fruit cake, experimental because she used her own quantities of fruit and we hadn't got any whisky, we made do with brandy, it was fantastic. We staggered drunkenly onwards, it's amazing what a tablespoon of alcohol does to a cake, it gave us false courage to ward off the Artic Terns as we passed near their nesting grounds to Pilgrim's Haven on the South tip of the Isle, where at last I managed to photograph a Puffin with Sand Eels in its beak.
All to soon our 2½ hours was up and we had to return to the boat, we walked back via the South Plateau festooned with a fantastic display of wild flowers, predominately Thrift (Sea Pink) and White Campion, which with the grey/green algae on the rocks and the sea in the background made a good photograph.
Again to get to the boat we battled the Terns, they won this time we both got hit on the head, good job we were wearing our hats and we heard that one person on the boat had got "blooded".
Leaving the Isle the boat sailed along the East Side passing Low Light lighthouse back to Anstruther across the sunlit Forth. We had already decided to have Fish and Chips at the famous award winning Anstruther Fish Bar, we were disappointed there was a long queue for the take-away AND the restaurant. What we have never done is (well only once in the USA) queue for a table, we didn't bother waiting or look for another place to eat and as we had 30 minutes to wait for a bus we walked back to the campsite, we are getting quicker it only took an hour and five minutes and then Jenny cooked a meal . . . beans on toast, great they were too!!!
Saturday 31st May 2014

I haven't taken so many photographs as I did yesterday, so I had a lot to download, sort, delete, edit and finally catalogue and after our walks yesterday both to and from Anstruther and around the Isle of May (about 7 mile in total) we stayed in the motorhome for the day.
Angus

Sunday 1st June 2014
The Speckled Hen Coffee & Farm Shop, Tealing, near Forfar, Lat: 56.52638, Long: 02.92464, (35 Miles)
Slight change of plan today, (we are allowed), we decided not to stay at the Britstop at Cupar today and instead drive a bit longer to a Britstop the other side of Dundee. The weather forecast today was excellent and the forecast for tomorrow is heavy rain, it was better therefore to drive a touch longer today, rather than in the wet tomorrow, although the distance wasn't great anyway. We only had one short stop this morning which was at Fife Ness, we were hoping to walk to the shore overlooking North Carr Rocks and sight the beacon built by Robert Stephenson, unfortunately there was another blxxdy golf course barring our way! We did however spot the beacon when we stopped in a passing place for a minute on the way back. We arrived at the farm shop just after lunchtime, this is a Britstop that requires a "ring ahead" but we couldn't get an answer on the telephone, when we arrived the owner Ian told me that the STD code in the Britstop handbook was incorrect, we have "messaged" Steve at Britstops so that he can amend it in one of his updates. We are comfortably parked at the bottom of the car park and have spent the rest of the day relaxing; tomorrow we will drive the very short distance to Forfar, where, hopefully we will be able to do a long overdue update of the website.
Monday 2nd June 2014
Forfar Lochside Caravan Club Site, Forfar, Lat: 56.64334, Long: 02.89960, (12 Miles).
A very peaceful night at the farm shop, although the main A90 road was not very far away, there was no sound whatsoever, other than an occasional "moo" from a cow nearby. We left at 10:45 am and our first stop of the day was within 10 minutes at a "Historic Scotland" site, Tealing Dovecot and Earth House, the pigeon house built in 1595 and which housed over 500 nesting boxes to raise the birds for a source of food in the winter was a fine building.
The Earth House less so, I actually went past the gate to it, if Jenny hadn't called me back I would be halfway to Sheffield by now! I thought it would be exactly what it said on the tin, a house made of earth, it wasn't, it was a stone-lined underground passage in the middle of a field, I didn't bother photographing it and walked back to where Jenny was waiting, she hadn't got her walking boots on and her feet would have got very wet walking through the grass, mine weren't particularly dry. We continued on our way over the impressive Tay Road bridge (much better than the Forth Road bridge longer but thank goodness not as high) and arrived at the campsite we waited for a short while until reception was open, we were 20 minutes earlier than we intended. Once reception opened we were soon organised on a pitch facing a football pitch, with a view of Forfar Loch through the trees and eating our lunch.
The rest of the afternoon Jenny used the laundry and read whilst I started putting all the photographs on the web site, a mammoth task when we have taken a lot of photos over the past couple of weeks, putting the text on is somewhat easier as it is already on "Word" and I just copy, paste and do some reformatting. Hopefully I will be able to get completely up to date with it while we are here.
Tuesday 3rd June 2014

* * * A Very Happy Birthday to my Brother Brian * * *
A short stroll into Forfar this morning, we won't be stuck for food, we passed Aldi, Lidl and Farmfoods on the way to shop at Tesco and its less than 10 minutes' walk away and there was an Iceland in the town centre and we also spotted an Asda on the way back to the campsite. What we actually wanted was a post office and we found that too, not at the back of another shop, but a standalone one, complete with sorting office. We were very impressed with the small town centre and we will spend some time browsing around later in the week having decided now we will stop here until Sunday. I had a short walk to the loch when we got back, it's a 3 mile walk around the perimeter we will hopefully have a walk around there also while we are here. I spent much of the afternoon and evening putting some more photographs on the web site, I have also decided to add more photographs to the text pages, to tell the "story" hope you all like the idea; I will be pleased to have feedback good or bad.
Wednesday 4th June 2014
Another walk to Forfar late morning, Jenny found a shop on the internet in the town centre that sold wool, which we didn't notice yesterday. The reason we didn't notice it was . . . it wasn't there, it's now a carpet shop, the wool shop hadn't been there for years, however the lady did tell us where "Koolkrafts" was and we walked the short distance to there. We were pleased we found it, we found the wool, (for me a jumper) and chatting to the lady, we found out that she had a motorhome and was going for a short break at our next Caravan Club Site stop at Silverbank, near Banchory. She also mentioned the seaside town of Stonehaven was nice, I asked what campsite she used, she said the Caravan Club Site, we didn't know they had one there, we still use the 2013 book, only using the 2014 supplement for looking at the booking dates for bank holidays as we know the pitch prices for 2013 and just "add a bit". We hadn't looked at new sites for this year and "Stonehaven Queen Elizabeth Park" was new since the handbook was printed for last year. We have now booked it for 4 days after our stay at Silverbank. We bought two of the famous "Forfar Bridies" at the bakery for to-nights tea, like a Cornish Pasty but no vegetables just filled with steak, they were delicious full of shredded beef and onion, although next time we buy "them" it won't be "them" it will be just one and we will share it!
Thursday 5th June 2014
A lazy day and we got up late, although I did leather the motorhome down and Jenny baked a Apple cake.
Friday 6th June 2014
A pleasant sunny morning and a short walk this morning to the town to purchase some bread rolls for lunch and a bottle of car shampoo. But with the promise of wet weather this afternoon I had decided that I would tackle one of the tasks on the motorhome which has been long overdue, cleaning the roof, armed with a plastic pan scourer, scrubbing brush and a bucket of suds it was much easier than I anticipated The algae growth in some of the parts which aren't in sunlight, i.e. under the roof rails, awning and solar panel, being the most difficult to shift. The hardest part was getting enough water in the bucket up on the roof, Jenny "feeding me" half buckets at a time to swill the dirt off and me attempting to sponge it up, in the end I found using a chamois leather the best option. It took most of the afternoon to do it and then the rain arrived and that helped, although I will have to wash the rest of the motorhome now where the dirty water has run down.
Saturday 7th June 2014
Washed the rest of the motorhome this morning it's looking "spick and span" again now, there was certainly plenty of heavy rain last night to "rinse" it off. We spent the afternoon sitting in the sun reading and listening to music before the qualifying started for the Canada F1 Grand Prix.
Sunday 8th June 2014
A nice restful day, once more the weather was kind and it enabled us to spend most of the day outside, before spending the whole evening watch the race, exiting it was too.
Monday 9th June 2014
Milton Haugh Farm Shop (Britstop 811), Carmyllie by Arbroath, near Arbroath, Lat: 56.56964, Long: 02.73142, (12 Miles).
With only a very short distance to drive today we asked the site manager to extend our leaving time until 3:00 pm instead of the "norm" of noon. Once again we walked into the town, one of the nicest towns we have visited for some time with some unique shops, including several nice butchers and bakers and as mentioned before a multitude of supermarkets, what we didn't see was many empty shop premises which is good. We walked to the bakery and bought "one only" Forfar Bridie, before walking to another bakery for our bread rolls for lunch and again sat outside relaxing before we got ourselves organised to leave. We should have left earlier! It started to rain whilst we were filling up with fresh water and emptying the grey waste, and it was still raining as we left Tesco in the town 40 minutes later. I wouldn't have minded except for the most part of the drive along "B" roads to Carmyille farmers had decided to leave mud and cow sxxt on the road and by the time we arrived at Milton Haugh Farm Shop, the pristine cleanliness of the motorhome was no more, to say it was filthy would be an understatement. I was not very happy!!! We parked in the overflow car park at the farm shop and made ourselves known with the shop owner, tomorrow we will purchase the fresh vegetables we need, tonight I was going to just sulk over the dirty motorhome, but seeing a Yellowhammer sitting on the farm gate nearby cheered me up no end, I went to bed happy.
Tuesday 10th June 2014



* * * A Very Happy Birthday to our Grandson Charlie xx * * *
Charleton Fruit Farm (Britstop 813), Montrose, Lat: 56.74063, Long: 02.46145, (28 Miles).
Well the 4:00 am wake-up call from the resident cockerel we had been warned about didn't materialise, we didn't wake up until after 7:30 am and after the very wet night, it was a surprise to find the sun out and the weather forecast at least for this morning to be dry, although heavy showers were expected for this afternoon. We eventually left for Arbroath at 10:15am after buying fresh "veggies" at the farm shop and drove directly to the car park at the east end of Victoria Park at Whiting Ness. After a "cuppa" and a biscuit in the motorhome we joined the tarmac path and walked up above the red sandstone cliffs, where it leveled out between open fields on our left and the sea to the right.
Passing through Seaton Cliffs Wildlife Reserve, home to a range of seabirds including Fulmars and Herring Gulls plus an array of wildflowers and butterflies, we continued about half a mile from the start to Needle E'e (Needle's Eye), a rock with a narrow hole cut through it. The path then curved around a loop above Dickmont's Den, a deep, narrow inlet where the sea bubbled and frothed below.
Continuing on we reached De'il's Heid (Devil's Head), an impressive sea stack, which was our intended destination for today, although we walked further to a view of Carlingheugh Bay, where we found a bench to sit on to enjoy our lunch.
Whilst we were eating right on time we could see some ominous dark clouds gathering in the West so having photographed the places I wanted to, we walked back along the cliff tops to the motorhome. We were just in time (how often do we do that?), we arrived and the rain started, albeit it didn't last long, but not having our rain jackets with us we would have got rather damp. With the rain showers appearing to pass over we decided to visit Lunan Bay, said to be one of the most beautiful beaches in Scotland, although I think each county with a coastline seems to think they have the best! It was nice easy free parking through a private farm (shearing) drive and we were right next to the extensive sand dunes. Two things of interest we wanted to see here, the traditional nets strung from poles on the beach to trap fish in the falling tide and Red Castle (not well known and not shown on the road map we use). We walked across the dunes and towards the castle first, pity, if we had photographed the fishing nets first we could have seen the fisherman arrive on his old tractor to check his nets, we passed him on the way. It wasn't possible to climb up to the castle, Lunan water a swift river prevented us reaching it, I took some photographs instead from the river edge, (William I) used the castle while hunting and it stayed in royal hands until given by Robert the Bruce to the Earl of Ross in 1328, It suffered from attacks by Covenanters in 1579, 1580 and 1581 and has long been disused.
After taking a look at the fishing nets and photographing them we returned to the car park and drove to our overnight Britstop, north of Montrose.
We expected plenty of traffic, however the main road skirted the town centre and we were through it within minutes and the fruit farm was only a further 4 miles. We parked in the large car park and went to the shop to tell them we had arrived and buy some fresh strawberries for "puddin", we are going to be nice and comfortable here tonight.
Aberdeenshire

Wednesday 11th June 2014
Castleton Farm Shop (Britstop 814), Fordoun, Lat: 56.89326, Long: 02.38938, (19 miles).
Had fun last night watching the tiniest of baby rabbits munching on weed leaves next to the motorhome, our granddaughter enjoyed them to, we sent her a short video of them. We didn't drive far when I saw a photo opportunity an old railway viaduct (note: found out since it's called Fisherhills Viaduct) over the River North Esk, luckily we were turning down a lane to St Cyrus and managed to find a place to park. Jenny stayed in the motorhome while I walked back to the road bridge over the river and back into Angus, the river bridge is the county boundary.
We then continued to St Cyrus Scottish National Nature Reserve, a place the lady at the farm shop told us about last night and we thought would be worth a look. We arrived at the car park and there was a slight problem, a height barrier, we were deciding what to do when the manager of the nature reserve came across to us and said we could use the coach parking area in front of the visitor centre as there were no school parties arriving today, it was ideal. After looking around the visitor centre it became apparent that we would be staying here longer than we anticipated, of interest, the centre was the old life boat station, and prior to 1879 lifeboats were launched into the North Esk which flowed to the sea several hundred metres further north than today. During a particularly stormy night in 1879 the river, fuelled with water from melting snow upstream, burst its banks and took a direct course out to sea, leaving the life boat station high and dry. We returned to the motorhome had a cup of tea and Jenny made some sandwiches to take with us on a walk through the grassland at the bottom of the sea cliffs, these were left "high and dry" a bit earlier than the life boat station, some 8,000 year earlier! Then across the sand dunes to the end of the beach where we could see the waterfall through our binoculars which we had seen photographed in the reserve guide leaflet. The first part of the path was easy, the "Tyrie Trail" which was suitable for the less-abled, we continued until the track became narrow across the dunes, before we stepped on to the beach and strode on until we were stopped by the sea against the cliffs and despite a receding tide we couldn't reach the place where the waterfall was.
We did find an ideal place to sit and eat our sandwiches and we stayed there quite some time. I did manage to cross between the cliff and a large rock to the next bay whilst Jenny stayed at our "picnic" spot but still the waterfall was out of reach as was the ruin on a rock promontory of Kaim o'Mathers castle just the remains of a tower visible at the extreme seaward side.
We started to walk along the water's edge on the way back, but the sand was so soft it was hard going, eventually we changed direction and retraced our steps through the dunes back past the visitor centre to the River North Esk estuary, we were going to go to the bird hide but it was further along the estuary than we wanted to walk so we crossed the dunes again and returned to the visitor centre. It was then an easy drive to tonight's Britstop another farm shop a little way from the A90, where we found a nice flat parking place in their over-flow car park. I was spoilt here, we bought eggs, chicken, spring onions AND a tub of Rocky Road!
Thursday 12th June 2014
Silverbank Caravan Club Site, Banchory, Lat: 57.05638, Long: 02.47075, (28 Miles).
Banchory via the main road or Banchory via the "adventurous" road was the decision this morning, we decided on the latter. We left at about 10:00 am and within a very short time we had to take a different route, to avoid the village centre of Fettercain, evidently although we are royalty, the motorhome is too wide to go through the "Royal Arch" (A memorial archway erected in 1864 commemorating the 1861 visit by Queen Victoria and Prince Albert, while staying at Balmoral), we re-traced our route along a lane we had passed earlier and rejoined the road to Banchory, in fact we should have taken that lane anyway it cut a corner. We then drove up Cairn O' Mount (Cairn O' Mouth), Cairn o' Mount is the name of a prehistoric round cairn also the name of the 1480ft hill the cairn stands on, and to the road that crosses the hill, we stopped in the parking area close to the cairn and walked up to it to take some photographs before having a cup of tea in the motorhome.
It was then downhill all the way to Banchory and past the Caravan Club Site to the Tesco Supermarket just ½ mile further on. After a quick shop for bread and milk and a few other bits we arrived at the camp site to be greeted again by Mary the site manager who was deputising at Forfar and was now deputising here. When they were leaving Forfar last Saturday I joked that she must have a cup of tea and two digestive biscuits ready for me on arrival at Silverbank, she hadn't! Although the sun wasn't out it was very warm so we had lunch outside and spent the afternoon reading.
Friday 13th June 2014
Well the weather forecast for to-day was for it to be wet, it wasn't and having already planned the day we didn't change it. Jenny did the laundry this morning, I started to edit the photographs, the ones chosen for the text pages of the web site, I have started to put captions on as suggested by "Paul K", thank you Paul, more work for me! Before lunch I had a short walk down to the River Dee, there was a useful footpath just out of the camp site that led down to the "Deeside Way" another old disused railway track that originally ran from Aberdeen to Ballater, while in operation, the railway was used by the British Royal Family during travel to their Scottish retreat at Balmoral and was known locally by the name Royal Deeside Line. This part of the track bed has still to be tarmacked and was very muddy underfoot, I found it easier to walk to the path along the river bank and walk along that for about a mile before returning to the motorhome for lunch. More editing of photographs this afternoon and evening eventually I'll get up to date again, Jenny in the meantime is getting on well with my pullover she's knitting.
Saturday 14th June 2014
The one place we wanted to visit while we were in the area was the "River of Feugh" just 2.5 miles from the campsite, a tributary of the River Dee that joins it at Banchory and which near the confluence has a series of falls (Falls of Feugh), which at this time of the year Salmon can sometimes be seen leaping up on their Spring run. Although the weather forecast was for rain at midday we decided to go today as the forecast for tomorrow is for heavier rain (actually we should in hindsight have gone yesterday). We started our walk on the same path I took yesterday and within a short time we were in Banchory, having deviated slightly to take a look at a show on in the local park (the Banchory River Festival). We arrived at the footbridge over the Feugh and were lucky straight away to see Salmon attempting, without it appeared much success, to leap the falls. I didn't have much success either trying to take photographs of them, my reactions aren't quite as quick as they used to be, however I did manage a couple of photographs, I won't tell you how many I took of just white water though!
Actually we were a bit disappointed, we expected a riverside walk, but the only view was from the footbridge, however watching the Salmon made up for it, we didn't anticipate seeing any. We then walked back to the town to browse the shops and again we were "side tracked" this time by the sound of bagpipes. Banchory Pipe and Drum Band were playing in the square, I love the sound of bag pipes and we watched and listened for some time before they stopped playing and marched away.
We saw them again playing at the park where the festival was taking place and I listened again until Jenny dragged me away. We sat on a bench and had lunch along the riverside walk (we had intended having them at the falls), before retracing our steps to the camp site, arriving back earlier than we predicted. We then sat outside for the rest of the afternoon, I had my headphones on listening to M83 and Jenny was reading and I think I was just dozing off, when I was rudely "awakened" by water on my face, it had started to rain, we retreated to the inside of the motorhome for the rest of the day.
Sunday 15th June 2014
Well it had to be done, I couldn't stand the dirt on the motorhome any longer from the drive from Forfar on Monday, this morning I washed it again and then dried it off, it seems a quick job but it took me nearly two hours. Realised this morning when I was looking at the road map . . . we are at the wrong place!!! We previously used a 2009 AA Concise Road Atlas of Great Britain and in it I had "starred" a place where Julia Bradbury had done a Railway walk as a place I wanted to visit, When the map "wore out" we purchased the 2012 edition which I had not "re-starred", I thought she walked the "Deeside Way", she didn't it was the "Speyside Way", wondered why I couldn't find a Whisky Distillery! Still never mind we haven't past it, we will go there later luckily it's not out of our way. This afternoon we had another walk along the River Dee and Deeside Way to "The Royal Deeside Railway" closed in 1966 as a result of the Beeching Report. Thirty years later the Royal Deeside Railway Preservation Society was formed and the work of restoring a short stretch of line commenced in 2003, at present it is just about a mile long. I told Jenny it was a just over a mile away from the camp site, whoops, that was the railway sidings, the station at Milton on Crathes was a further mile and a half, not that it mattered we wanted a good walk today anyway. We had a wonder around the station and watched the steam engine with two coach's leave for its short journey along the track and then browsed the Milton on Crathes complex of craft shops and galleries before walking back along the trail, past two very unusual pieces of rolling stock, a 1940 Wickham track workers trolley and an inspection railcar which there doesn't appear to be any information on, fascinating "vehicle" though.
I thought it a nice idea to take a short video of "Percy, The Green Engine" for our granddaughter Kura, as it came past us I shouted to the driver " give us a whistle and wave on the way back", he did, that will please her, it was worth the 20 minute wait. We returned almost the same way to the camp site, except on the way we walked along the river path and railway path and we reversed it on the way back, an enjoyable walk of just over 5 mile, even if it's the wrong "Way"!
Monday 16th June 2014



* * * A Very Happy Birthday to our Granddaughter Kura XX * * *


Stonehaven Queen Elizabeth Park Caravan Club Site, Stonehaven, Lat: 56.97122, Long: 0.20436, (16 Miles).
Not necessary to go early today with such a short distance to drive, we left at 11:30 am and arrived here at 12:15 pm and that included buying a few items at Tesco and filling with diesel. We are staying here for 4 days at the moment, although we have asked for 2 extra days if they have a cancellation for the weekend which is presently full.
We had a walk along the "bay walk" to the old town and harbour this afternoon and took a look at the Tolbooth Museum the towns oldest building, erected in the late 16th century to store materials for the building of Dunnottar Castle.
We were quite impressed after hearing a "negative" report from a man at Banchory this morning who said it was a "grey" town, of course it's grey they used granite to build with, but that doesn't mean it's not bright, cheerful and picturesque. And we were very impressed with the town map a booklet we were presented with when we arrived at the camp site reception.
Tuesday 17th June 2014
We didn't want to walk too far today so decided on the cliff top walk to a ruined chapel about a mile away at Cowie. We followed the shoreline from outside the camp site until we came to the cliffs, it entailed a gradual climb up, however the path was very narrow and overgrown in several places and as Jenny was wearing a skirt, we had to walk very slowly and carefully where nettles were growing but we made it to the top and sat on a bench for a time admiring the views over Stonehaven Bay. After exploring the old chapel ruins dedicated in 1292 to "St Mary of the Storms" and which fell out of use during the reformation we walked back along the main road, rather easier than trying to avoid the nettles.
The phone rang while we were on our way back, or rather to the town to buy some Sour Dough for tonight's tea (Jenny's home-made Crab and Sweetcorn Chowder), it was the camp site, the post had arrived which we had been expecting (more later) and there has been a cancellation, we can now stay a further 2 days, i.e. until Sunday. The girl at the bakery looked puzzled when we asked whether they had a Sour Dough, they obviously hadn't, we found some at the Co-Operative store in the end. The post was our medical prescriptions, (thank you Sharon), however they (not the medical centre but the people who do the repeat prescriptions) had made a mistake on Jenny's, luckily the girl that we know at the medical centre sorted it out for her and we went to the Boots chemist in the town this afternoon, obtained there fax number and the medical centre sent the prescription through to the shop, sorted we can collect everything tomorrow which should last us some time. We had a nice cup of tea and cake at "Maggie Mays" while we were waiting for the fax to arrive and be sorted and then walked back to the motorhome, sitting outside relaxing until it got cool and time for Jenny to prepare our delicious tea.
Wednesday 18th June 2014
A short walk up to the town this morning to collect our prescriptions, they hadn't had the anticipated delivery this morning with some of our medication on it, we will go back again tomorrow. We were not sure whether to go on our long walk to Dunnottar Castle today, although it is very warm there is a light southerly wind which has brought with it a sea mist, the war memorial on top of the hill 1½ mile away at about 160 feet ASL (above sea level )is shrouded in the mist and was sometimes invisible. We decided to go, my thinking was if there was mist around the castle in would create an atmospheric scene for photography. We walked along the "bay walk" to the harbour, diverting slightly to "check out" Carron's a fish and chip shop which has been recommended to us, but we didn't know whether they had an "eat in" (they haven't), we had two adverse reports of the fish and chip shop outside the campsite, despite it being "another" top British chippy. We climbed up the path at the back of the harbour, sitting a short time at the top to enjoy the extensive view of the harbour, town and beyond and take a photograph before continuing up to the war memorial. Another fantastic view from there despite the mist and it gave us our first proper view of Dunnottar Castle and another photo' opportunity.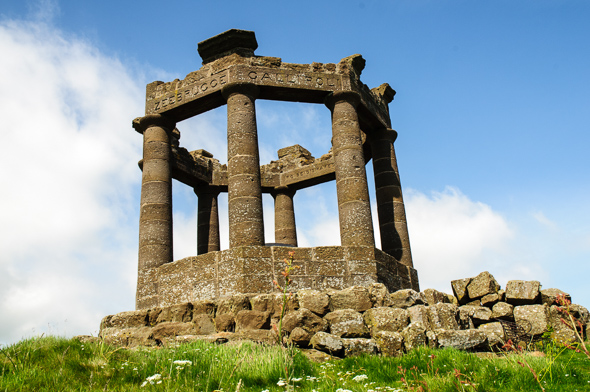 We continued from there along the cliff top path and found a bench in an ideal place to have lunch overlooking the bay towards the rock which the castle stands on, the narrow path was slightly off the main one and we stepped over two "footpath closed" signs to get to it (our thoughts were that if they were lying on the floor then the path was "open")
Another 10 minutes and we were close to the castle, which was down a steep track before a climb to the entrance, glad we weren't the enemy in bygone days,
"There were only two ways in or out of Dunnottar Castle. The first was via the incredibly strongly defended main gate set in a cleft in the rock where unwanted callers would be vulnerable to attack from all sides. The second was via a rocky creek leading to a cave on the north side of the rock. From here a steep path led up the cliff to the well defended postern gate".
We didn't want to visit the inside of the castle so carried on and thank goodness the "rocky creek" has now a bridge over it, where we stopped again to take some photographs along the deep rocky creek towards the castle, before arriving at a grassy cliff an obvious place to see the castle and the fantastic sea-scape around it at its best. The mist was still drifting about, but minute by minute it was dispersing and we lay on the short grass just soaking in the sun and scenery (and eating home-made chocolate cake).
I then decided while Jenny was asleep and snoring (not really), I would walk further around the cliff edge to get a different perspective of the castle, by now the mist had almost disappeared, however the sky had become a lot cloudier and the contrast between the colour on the castle and its surroundings was not as good. The view from where I stood, was I thought one of the best, so I returned to where Jenny sat and suggested that she follow me back to another rocky outcrop to enjoy the scene herself.
We then walked back along the cliff path to the town, stopping once more to sit on the seat above the harbour and more photograph, this time with water filling the harbour and no mist. We then stopped at the Carron fish and chip shop "Birthplace of Deep Fried Mars Bar" and unlike the three Rumanian students we were chatting to along the walk back, we resisted the Mars Bar and "made do" with Haddock and Chips and walked down to the sea front and found a picnic table and bench to eat them enjoying the evening sun. Another fantastic easy walk despite some hills and with great weather a total of 6.01 miles according to "Maps 3D" and guess what . . . we had a heavy rain shower again and we had only been back 10 minutes, great timing yet again.
Thursday 19th June 2014
A very relaxed day, with just a short walk to the town for the rest of our medical prescriptions and buy some fresh baguettes from the supermarket and try the cooked ham from the independent butcher for lunch. Obviously watched the football tonight, wish I hadn't!
Friday 20th June 2014
Yesterday we became "full members" (we let our subscription lapse last year) again of Wild Camping" an internet web site and forum for motorhomers, which is a wealth of information on free camping spots, travel and motorhome advice. This morning I amazed myself (and I think Jenny) by downloading to Google Earth and our Garmin SatNav all the POI's successfully on my first effort! Dunnottar Woodland Park just a mile South of Stonehaven and then continuing to the castle was our intended walk today. We started off along the bay walk towards the harbour, then we back-tracked, we had forgotten to buy our baguettes from the Co-operative super market for lunch! We soon arrived at the woods owned and managed by Forestry Commission Scotland and cared for by the Dunnottar Woodland Park Association and followed the marked path through the mainly broadleafed trees passing on our way a folly called "The Shell Housie" inspired in the early nineteenth century by Lady Kennedy of Dunnotar House (now demolished and only the walled garden survives) for the amusement of her children.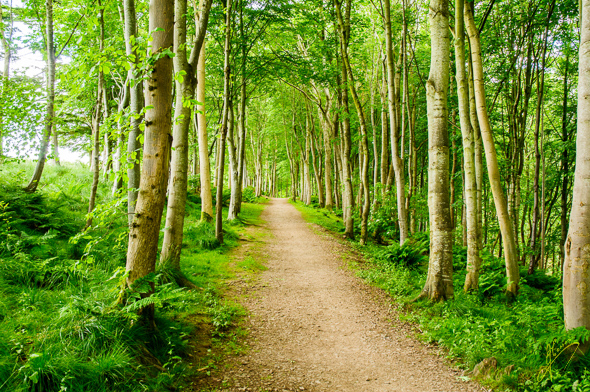 We reached the other end of the wood sooner than we expected and walked along the busy main road for a while before turning along a very quiet lane towards the castle entrance. It was now lunch time and the picnic kiosk was open we bought cups of tea there to have with our lunch sitting comfortably at the picnic table with a view towards the castle and coast then walked down the path to the castle. I wanted a photograph from a certain point today. If you have Windows 7 and look at the desktop backgrounds, Dunnottar Castle is one of them, however no matter where I positioned myself I could not get the same shot and although the tide being out would have made a difference I am convinced they must have "photo shopped" to remove a fence and some rocks at the very least, or dangled over the cliff!
We sat relaxing on a grassy knoll for almost 2 hours, waiting for the sun which was being obscured by cloud to break through to "light" the castle we did make ourselves useful several times whilst we were there, taking photographs for couples and groups of different nationalities who wanted a "together" photo with the castle in the background, thank goodness there weren't any Japanese they would have wanted a sea gull perched on some ones head as well! Eventually we left the castle and walked back to the motorhome the same way as Wednesday, not stopping at the "chippy" this time, tempted as I was to try a deep fried Mars Bar.
Saturday 21st June 2014
With the weather not so nice to-day, cloudy and cooler, we decided to relax in the motorhome, which was just as well, we didn't get up as early as we intended. I had plenty of photographs of the last 3 days to edit and sort, Jenny did our washing. We also did "maps" deciding where we will visit in the next few days on the "Dolphin Coast" in Banffshire (actually Aberdeenshire), which is an area between Pennan in the east to Cullen in the west. Hopefully we may see some wildlife along this coast and if we are really lucky Dolphins. We also intend hopefully to "wild camp" and use a Britstop; we are not sure how good an internet connection we will have to be able to update the website.
Sunday 22nd June 2014
Port Errol Harbour, Cruden Bay, (Britstop A04) Lat: 57.41145, Long: 01.84550 (44 Miles)
After filling up with fresh water and emptying the grey waste, plus having a nice chat with the German man who was doing the same in front of us, whom we had to wait for, we left the campsite at exactly 11:00 am. Our first stop was at Asda just off the A90 on the outskirts of Aberdeen to top up with LPG, we filled at the correct time, the one bottle had just emptied, they hold approximately 11 litres and we filled up with 11.10 litres. Second stop shortly afterwards was at Tesco, yes, we could have bought our groceries at Asda but the store was away from the filling station and we would have had to move a distance anyway, plus we earn "fuel off" vouchers at Tesco and we are now up to 9p off per litre. We enjoyed our walk so much at the Scottish National Nature Reserve at St Cyrus; some 2 weeks (ish) ago we decided to go to the one at Forvie on the way to Cruden Bay only a mile from the main road.
No difficulty in parking there was only about 5 cars there and we sat in the motorhome to have lunch before walking the circular part grass, part sand, 2.1 mile "Heath Trail", through heathland covered by heather, crowberry and lichen and a profusion of wild flowers, including one of our favorites the Meadow Orchid.
We did extend our walk slightly to Hackeley Bay a hidden bay further through the dunes before returning to the visitor centre car park and continuing on our way.
We arrived at Port Errol harbour late afternoon, this is a Britstop, however it is based on a French Aire, a place for motorhomes to stop for up to 3 nights, with limited facilities, this one has just toilets, which are immaculate and a water tap. A donation of £10 per night is requested which is being used by "Friends of Errol Harbour" to help with the maintenance of the pretty harbour, a more picturesque stop for the night would be hard to imagine.
Monday 23rd June 2014
Wild Camping, near Rattray, Lat: 57.60801, Long 01.85931 (18 Miles).
It was a great night at the harbour side, I was watching two lads fishing from the wall until late, they didn't catch anything and I found out talking to another fisherman this morning that they fish for Sea Trout here. Waking up this morning to the sound of the waves nearby was very relaxing, I could have gone to sleep again. The weather had been showery for most of the morning, but as it appeared to improve this afternoon we decided to walk across a meadow above the cliffs to the ruin of Slains Castle about ½ mile from the harbour. Built in the 16th century, attempts at reconstruction have been carried out several times lastly in 1837 when it was rebuilt as a Scots mansion. Plans to restore have been on hold since 2009. It is also said that in 1895 the author Bram Stoker visited the area staying at a cottage near Cruden Bay and the castle is commonly cited as an inspiration for Stoker's 1897 novel Dracula.
We arrived and found a wire fence surrounding it evidently put up by the owners on the orders of Aberdeen Council and notices saying "Danger Keep Out" I took some photographs at the side and front of the castle before walking around to the rear . . . and found a gate open! To good an opportunity to miss Jenny and I spent quite some time exploring the rooms and passages of the ground floor, we didn't risk going up a spiral staircase to the top of the tower.
While we were exploring we started to talk to a man and within the conversation found out that he and also his female friend both owned motorhomes and both "full timed". We were talking about "wild camping" and he said he uses the forum "Motorhome365: The Motorhomers Fulltimers Association", which we are members of, his name on the web site is "Wandering Star", his friends is "Wandering Babes" (she has a lovely 2 year old girl), we of course told him ours, which on all the motorhome forums is UK Grey Nomads, "Gosh", he said, "I read your website", a long conversation ensued all the way back to where they had parked the car in Cruden Bay. (Jeff, as soon as I edit the photographs I will email them to you). We had planned to stay an extra night but having managed to photograph the castle successfully this afternoon (having thought we would have to wait for better weather tomorrow) we decided to move on. We didn't travel far and we were at a pleasant location using the POI from Wild Camping, on the one side we have a view of the Loch of Strathbeg and the dunes of Rattray on the opposite side of the road we have the ruins of St Mary's Chapel, complete with cemetery, just hope our nearest neighbour's are quiet tonight!
Tuesday 24th June 2014
Wild Camping, Cairnbulg Harbour, Lat: 57.67976, Long: 01.94411 (12 Miles).
A very peaceful night near Rattray, the tiny patter of feet on the roof being the only sound we heard, a young Pied Wagtail who seems to have adopted us.
After breakfast we walked along the narrow lane just over a mile to Rattray Head lighthouse, another "Stevenson" build completed in 1895, at a cost of £18,949/1/1d, it became automatic in 1982.
There are reported a number of ship wrecks here, however with it being close to high tide we were unable to see any and after a walk through the high dunes we returned to the motorhome and had a cup of tea. After a short visit to the ruins of St Mary's Chapel we left our overnight stop, driving just 3 miles to the RSPB at Loch of Strathbeg and parked at the visitor centre.
We didn't stop long, just watched the Terns and Black-headed Gulls with their young on an artificial island through the centre's binoculars before continuing to Inverallochy and Cairnbulg (two villages so close together they are often called Invercairn) When we arrived at the Inverallochy "side" wild camp site we weren't too keen on it so we drove through the village of Cairnbulg and found a pleasant spot near the small harbour, we will spend the night here.
Two things of interest we have seen since being here. Firstly a ship wreck near the entrance to the harbour, the "Sovereign" a fishing vessel, that ran aground in 2005 and despite the efforts of the some local people to get rid of the "eyesore" the rusting hulk, still remains. However, the hulk closely resembles the fishing boat in the poster to the film "Life of Pi" and indeed it does before the cabin was torn off in another gale it looked identical, other locals want it to stay as a tourist attraction.
Secondly for the first time ever we have seen an amphibious car being used; the man was out in the bay in it, sailed into the harbour and then drove up the slipway and along the road, fascinating!
Can't possibly tell you about the two men attempting to pull a boat up the slipway on a boat trailer with a flat tyre on a long rope and Citroen Picasso, we could still smell the clutch half an hour later and they kept us amused for ages!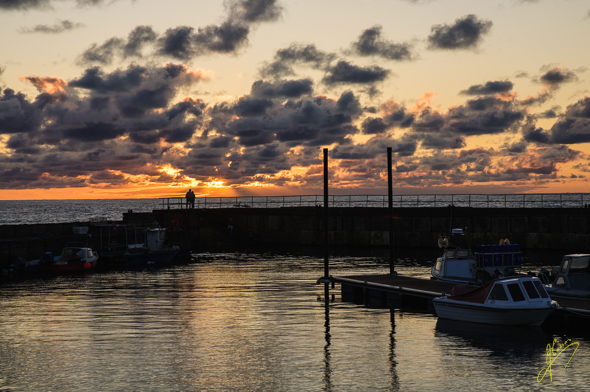 Banffshire
Wednesday 25th June 2014
Gamrie Bay CL, Easter Cushnie, Gamrie, Lat: 57.6513, Long: 02.3343 (22 Miles).
Another comfortable night "wild camping" and to wake up open a blind and see the sun out over the sea was a great plus. Before we left this morning we organised to-nights stop a new CL along the coast and when I rang up to book we found out we will be the first guests of Michael and Linda. Having "googled" places along the coast we found a place called Aberdour Bay famous for its red sandstone caves and arches that sounded interesting so we decided to drive there first today. We were there within 30 minutes and driving down to the car park we could see we were not going to be disappointed, the azure blue sea, red cliffs either side of the bay and the noise of the surf and stones rattling on the beach. We parked "sideways" there was plenty of room in the car park and we had a cup of tea before we went for a walk and I had my binoculars to my eyes hoping to see dolphins or other creatures but unsuccessfully. Following the path at the side of the car park we walked up a grassy bank to the top of the cliffs, from where we had a fantastic view and we could see in the distance the remains of Dundarg Castle, but only the inner gatehouse still stands, of the thirteenth century castle and it didn't warrant a long trek to it.
We then walked back to the beach and to the sea caves so impressive and photogenic, after taking some photographs we went back to the motorhome and while Jenny prepared lunch I walked back again with my tripod and ND lenses to take some more.
After our lunch we relaxed for a short time enjoying the scenery before continuing along a very windy and undulating road to Gamrie. Our hosts Michael and Linda are holiday at present due back this evening, but we were warmly welcomed by Linda's father who showed us where everything was and gave us some information on the surrounding area. With the pretty coastal villages of Gardenstown and Crovie only about a mile away, plus the RSPB reserve at Troup Head, we have only booked 2 days, we may be staying longer.
Thursday 26th June 2014
Decided on a walk to the coastal villages of Crovie and Gardenstown today and as we are at just over 500ft at the camp site and we were descending to sea level we knew we would have a climb back up. We therefore decided to visit Crovie first, the steeper descent and save the longer but more gradual climb back up until last. We stopped first at the viewpoint and car park above the village to take photographs.
The small village comprising a single row of houses are now mostly holiday lets, Crovie is situated on such a narrow ledge that any cars have to be left at the South of the village, until a storm in 1953 it used to have a fishing industry, however most of the residents moved to Gardenstown when some of the houses were swept away. While we were at the lookout a couple arrived in a motorhome and we got talking to the man and then his wife when we found that she lived in Erdington just 3 mile from where I lived and they got married in 1970 at St Barnabas in Erdington where Jenny was confirmed and indeed where her parents are buried. After a long chat we continued down the very steep hill to the village and the coastal path to Gardenstown, however we were a bit concerned to see a notice "Danger Coastal Path Closed"; we carried on a short distance where I had spotted a bench to sit overlooking the beach for our lunch. It was while we were eating lunch an old gentleman came from the opposite direction, I asked him about the closure and he told us although the path had been closed it was now OK to use. We started to have a chat with him and he explained that he used to live in the village and lived in the last house in the row, (if it shows up in the photo it is the small white house on the left hand side near the cliff.) until 1956 and he told us an interesting story about the storm of 1953. After our lunch we resumed the walk past "The Sneuk" the rocky promontory that separates Crovie from Gardenstown and over the shingle beach (the tide was going out) past the pier to the harbour.
After a short break at the harbour to eat our home-made fruit cake we took a steady walk up the long winding hill back to the camp site. We had a nice surprise when we got back; we were presented with a bottle of Champagne being the first visitors to the campsite a lovely touch from Michael and Linda.
Friday 27th June 2014
The weather isn't as good today, although we understand better than "down South" so we decided to stay in the motorhome for the day. Jenny knitted and "hooray" I am finally up to date with editing the photographs, now I am adding captions to the photos in the text pages it obviously is taking me a bit longer to do them. I have also "experimented with several different colours for the text and yellow appears to be the best one to use. It consistently showed up best, although I do appreciate some captions are more difficult to see, (but only like in some magazines that are printed). We have now decided to stop here until Monday, we had originally booked for two days and were going to extend until Sunday, but Portsoy one of the places we may visit has a boat festival on Sunday and will be very busy, will now probably go on Monday on the way "West". Glastonbury tonight, could be up late in the morning!
Saturday 28th June 2014
Well I was right, we did get up late, I was watching Arcade Fire at Glastonbury until 1:00 am this morning, great they were to and I got in trouble because Jenny said I came to bed "hyper"! We thought the weather forecast was going to be better today; it wasn't so we again relaxed in the motorhome. I had a really good sort of the photographs on the laptop, I can almost say I am "up to date", the only confusion I have is with the Scottish county boundaries, (I "tag" my photographs for each county of the UK, the trouble with Scotland is the changes they have made, i.e. we are at present in Banffshire, but actually it is Aberdeenshire, when we get to Invernesshire, we are in the Highlands county, see what I mean?
Sunday 29th June 2014
Weather forecast wasn't great for this morning but showing a good improvement for this afternoon, so we waited until after lunch to go on our walk to Troup Head. The start of the walk was along the main road (10 cars per hour) then we turned towards the coast and a much narrower lane before we reached the RSPB reserve at Northfield Farm, where the lane became a rough farm track, narrowing still further by the side of a field and then across grass land, we knew we were getting close, the "fishy" smell before we arrived at the cliff edge and the seabird colony. This colony plays host to over 150,000 breeding seabirds during the summer months and is the only mainland Gannet colony in Scotland, plus large numbers of Fulmars, Kittiwakes and Guillemots, it was the Gannets we had come to see. Conveniently there was a bench for us to sit on close to the cliff edge and from there the thousands of Gannets and the other sea birds could be seen on the rocks and cliffs below us, including, we were delighted to see, a lone Puffin.
Jenny continued to sit on the bench while I walked along the cliff top path to take photographs, not easy I kept looking in one direction and they flew over my head from the other, I turned around and the birds did the same, until I found a place where they seemed to hover which made it a bit easier for me before they crash landed on the cliff, upsetting Gannets which were in the closest proximity.
After about an hour we started our walk back to the campsite, seeing our first Red Deer on our trip when we startled it as it was grazing near the lane, it was quite funny, it went bounding through the wheat crop in the field and when it stopped, from our vantage point we could just see the tops of its ears, before it went running off again. The walk was over 9 mile long and we were tired when we arrived back, however we were pleased that we had experienced the sight, sound (and smell) of so many birds in one place, plus weather-wise it had been perfect.
Monday 30th June 2014
Blackpotts Cottage CS, Whitehills, Lat: 57.68040, Long: 02.57008 (12 Miles).
We said our goodbyes to Michael and Linda this morning, Michael kindly had some Smoked Salmon for us, caught this morning, smoked this morning; you can't get fresher than that. We drove directly to our next stop, we had intended to park at Duff House in Banff and have a 4 mile walk to "The Bridge of Alvah" which we have read is a nice walk, but having the long walk yesterday we decided to give it a miss. We stopped in Whitehills near the harbour and walked back to a fish factory and shop we had been told about (the man and his wife at Crovie). They were right, we bought Finnan Haddock, Haddock, Breaded Haddock and Prawns and we had a heavy bag for just over £14. Whitehills was a place we thought of wild camping at tonight so we thought it would be a good idea to walk to the place, but as we were walking along the lane towards it we past a Camping and Caravan Club, CS (Certificated Site) in a fantastic spot yards from the sea overlooking the bay. We knocked on the door and asked whether they had room (there was only 1 caravan there) and the price, "yes" the lovely old man told us, they did have a pitch and it was £6 per night. We didn't hesitate, we booked and paid and went back along the lane to the motorhome and drove the few hundred yards to the camp site.
Shortly after getting ourselves organised, (no EHU so no electric cable to plug in, but we did need ramps on the slightly sloping site) we were having lunch and were pleased to see one of the mammals we were hoping to see along the Moray Firth, a pod of approximately twelve Dolphins were swimming across the bay, what a wonderful spectacle. After lunch we had a walk into the village for bread, a wonderfully clean village with spotless public conveniences, we also re-visited Downie's the fish factory as I had noticed they sold fresh eggs there, we also purchased some Megrim a fish belonging to the Brill and Turbot family, we had looked it up on the internet before we bought it, it sounded interesting, especially the description, "only a fish its mother would love", well its eyes are both on the left side of its head", we're sure it'll taste better than it looked! We spent the rest of the day and evening relaxing, admiring the views and the pod of Dolphins returned, we didn't even bother having the television on. I did have a short walk before our evening meal to the end of the lane to Red Well and have a chat to the man in the motorhome that had parked at the wild camping site we were going to use.
Moray
Tuesday 1st July 2014
Findochty Caravan Park, Findochty, Lat: 57.69821, Long: 02.90801 (20 Miles).
Before leaving this morning we both walked to Red Well, an interesting building said to have been built by the Romans to protect the "reddish" water that came out of the nearby spring which supposedly had curative properties, it was certainly red, (look on the road in the photograph), but curative, we're not so sure about, there was a notice inside that said "Unfit for Human Consumption"!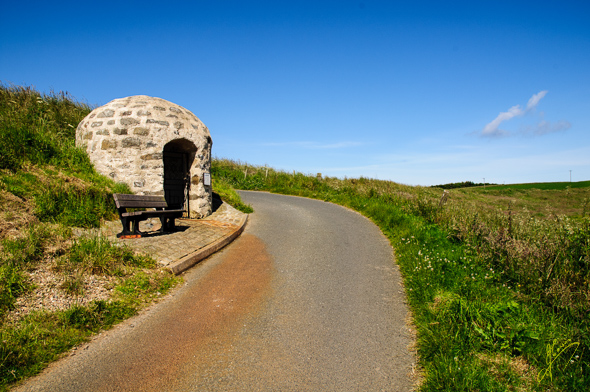 Our first stop this morning was at Portsoy a picturesque historic harbour that this last weekend held the Scottish Traditional Boat Festival, evidently this annual event attracts interest from all over the UK. We had a short walk around the harbour side before continuing towards tonight's stop at Findochty (or Finechty as the locals pronounce and spell it). We were driving along the A98 when we saw a "P" sign for Findlater Castle, too late to turn, we discussed very quickly whether we should turn around and visit it today, it was on our "itinerary" for either tomorrow or Thursday. With it being such a lovely warm sunny day we decided to go today and managed to turn in a lay-by a bit further along the road and then follow the lane to a car park at a derelict farm that was being renovated. We were at the cliff top above the rocky promontory where the castle sits after a 10 minute walk and the was an interpretive board which told us of the bloody history of it which dates back to 1246, although the ruins we could see were probably built around the 1450's. The views to the castle were fantastic from the cliff top path and the best photography shots were from above and although there were paths that clearly went down to the castle, it was too dangerous to do so.
We returned along the path passing a beehive doocot on the way back to the farm we then drove directly to the camp site near the harbour at Findochty and were soon pitched with a wonderful view over the Moray Firth and having our lunch.
Not being content with three walks already today, albeit shortish, we could not miss the opportunity of the glorious weather (unfortunately we have not got an Internet signal here and was unable to check the weather forecast but I was fairly sure when I checked it last, tomorrow some rain was expected) so we decided to walk along the Moray Coastal Path towards Cullen.
The views across the Firth were stunning and the visibility so clear we could see the coastline of Caithness and when we arrived at the small coastal village of Portknockie we started to chat to 2 elderly gentleman sitting on a seat and the one told us that the distinctive mountain we could see was Morven (2306 feet) and that it was 54 miles away. We had an interesting conversation with the other gentleman as we walked through the village with him; he was a retired detective with the serious crimes squad and was posted to Birmingham for a short time. Just the other side of Portknockie was the natural attraction we had come to see, Bow Fiddle Rock, a spectacular arch-shaped 50 foot high quartzite rock just off the coast. I walked along the path taking photographs from different locations whilst Jenny chatted to two people from Evesham who have bought a holiday cottage in the village.
We then walked down to the beach for another photograph and investigate a sea cave before walking back along the coastal path to Findochty. We had the Smoked Salmon tonight that Michael gave us, to say it was delicious would be an understatement a fitting finish to a day that we have thoroughly enjoyed and there was even a decent sunset tonight, (look carefully and the distinctive shape of Morven can be seen towards the right).
Wednesday 2nd July 2014
What a great idea yesterday, we came to Findochty for 2 days to specifically visit Findlater Castle and then walk along the Moray Coastal path to Bow Fiddle Rock and we did both on our first day! Another plus is the weather today is not good, cloudy, and windy with some heavy showers; we have stayed in the motorhome with our panoramic view over the sea, with the occasional view of the opposite coast, a show by a pod of Dolphins and plenty of sea-birds to see. The weather did clear sufficiently tonight to take a photograph of the scenery before sunset, until the sun once again went into cloud, I then edited the photograph to black and white, it created more atmosphere, what do you think?
Thursday 3rd July 2014
Speyside Camping and Caravan Club Site, Archiestown, near Aberlour, Lat: 57.4826. Long: 03.24115, (41 Miles).
We left Findochty at 11:00 am, having overslept! Cullen was our first stop and we parked in the beach car park about ½ mile from the harbour and town, Unfortunately one of the photographs I wanted to take, the Cullen Viaduct
"the most westerly (and by far the longest) viaduct is highly photogenic and often features in tourist guides and Scottish calendars"
was spoilt by a funfair being dismantled underneath it. We were further disappointed when we walked into the town itself, unlike Whitehills and Portsoy there was nothing of interest and a lack of people and atmosphere and we couldn't find anywhere that sold the famous Cullen Skink, just a good job that we bought Finnan Haddock from Whitehill, Jenny's home-made one is always delicious. We were pleased though that we didn't walk the further 4 mile to Cullen on Tuesday from Portknockie we would have felt we had wasted our time. After another stop at Tesco in Elgin for groceries we arrived at the camp site and with it being surprisingly quiet we had plenty of pitches to choose from, a level one, without shade from trees and near the amenities was our choice and as usual we were soon organised and having our lunch. We relaxed for the rest of the day, looking forward to the mobile fish and chip van arriving at 6:30 pm, good news the van arrived and Jenny went to fetch them . . . then bad news she came back empty-handed, the generator had broken down, no generator = no fish and chips, we had the Indian meal that we had originally bought for to-nights meal instead.
Friday 4th July 2014
I have probably made a mistake in us visiting this camp site, We have driven here specifically to walk the short distance between Craigellachie and Aberlour on the Speyside Way seeing the walk on Julia Bradbury's excellent programme Railway Walks "The Whisky Train" (that there are so many whisky distillery's in the area didn't influence my decision . . . honest). But the campsite is further away from the Speyside Way than I originally thought and there was a private campsite a lot nearer, although more expensive. We are stopping here five nights, however tomorrow and Sunday is the British Grand Prix weekend so we won't be walking far for two days. We decided although the weather forecast was not brilliant to at least walk to Aberlour this afternoon as the site manager told us it was only 35 minutes away, which was not what any of my perusing at maps or calculations told me. Nevertheless we followed his directions, "through the dog walk and keep going", Wrong! We came to a new barbed wire fence, which I got over OK, as did Jenny but with a few scratches and then we went right, no wrong, we ended up in a field, we went left and followed a lane that didn't show on Maps 3D, which eventually led to the Victoria footbridge (nicknamed the penny bridge from a longstanding toll) over the River Spey and into the village of Aberlour a hour longer than we were told.
A cup of tea was what we needed and found a great little teashop at the old station, very reasonable to, 2 teas, 2 slices of cake were £4., made by the proprietor's wife who managed the visitor centre next door. We went next door and had a look around the visitor centre "the wife" giving me details of the Speyside Way, Glenfiddich Distillery (my ears pricked up) and a couple of castles nearby. She also told us of a different way back which was quicker and avoided the very steep hill we had come down, "along the river, past 2 fishing lodges, up the steps at the "posh" fishing lodge, past the Macallan Distillery to the road and you're there". Wrong! We never did see the "posh fishing lodge" and as it was we were too far past the camp site. What made it worse it had started to rain heavily and we had to walk by the side of a crop field, when we eventually arrived back having walked at least an extra mile along a busier road, we were soaked, I took my walking shoes off and a Trout fell out! Did we avoid the "very steep hill? Yes, they were just steep hills that were very much longer!!!
Saturday 5th July 2014
Drying out!
Sunday 6th July 2014 – Monday 7th July 2014
Two relaxed day, yesterday we watched all we could of the British Grand Prix, today we concentrated this morning on our plans for the next week or two, especially a visit again to the Camping and Caravan Club site at Rosemarkie. It is just a very short distance from Chanory Point, one of the top Dolphin spotting places in the UK and where we were successful in seeing them close-up in April 2010. We had to compromise on our 5 day stay there, we arrive on Thursday are on a "power" pitch for 2 nights before switching to a non-electric, a 5 night stay on electric pitch is not possible until August! We have also booked Dingwall for 2 nights before continuing into Sutherland.
Tuesday 8th July 2014
Lossiemouth Beach Bar (Britstop), Lossiemouth, Lat: 57.72446, Long: 03.29240 (35 Miles).
After exchanging some paper-back books, filling with fresh water and emptying the waste we left Speyside mid-morning to drive the very short distance to Aberlour to walk the Speyside Way. The old railway track-bed took us along the banks of River Spey and out of the village into the countryside, an easy flat walk, although it was muddy in places. Unusually we went through a tunnel, we have normally found, we presume because they are no longer safe that we have had to by-pass them, this one was obviously still in a good state of repair.
I thought the path would take us to our first destination, Craigellachie Bridge, a cast iron bridge built from 1812-1814 by Thomas Telford with mock medieval towers at each end, which I wanted to photograph. In fact the path took us away from the bridge and river until we arrived at the village of Craigellachie where we found a sign post directing us to it a further ¼ mile away. It was worth walking to, if not just to see where the road appears to go straight into the cliff face at the other end, in fact there is a sharp turn right. After taking a few photographs we re-traced our steps to the village, hoping to find a tea shop for refreshments before walking back, alas, we couldn't find one.
We walked back to Aberlour and spotted the "posh" fishing lodge, near the Macallan Distillery that the visitor centre lady told us about on Friday, on the rivers opposite bank, are we pleased we didn't walk that far, we would have been even more out of our way. After lunch in the motorhome we drove 5 mile to Dufftown, the home of the Glenfiddich Distillery. Parking in the impressive large car park we walked across the road to the distillery, we were going to look in the shop first, but it seemed quiet around the visitor centre and I wanted to take a photograph "without crowds" so we wandered down to there first.
After taking a photograph we went inside and looked at some of the history of the Grant family and distillery, However we had only been in there a few minutes when a guide shouted "anymore for the 2:15 pm tours, we asked if we could join and with an affirmative we followed everybody else into an auditorium where we were shown a 10 minute film of "The Birth of Glenfiddich", we were then split into 3 groups (we didn't know which one to join but opted for the classic one). Hoping we had chosen the "free" one hour one we joined 2 Swedish people and 3 Germans and were then guided around by a lovely young lady through the various process's in each building to produce the unique product. At the end we were shown into a tasting room and were given a very generous dram one at a time of 12, 15 and 18 year old single malts to sniff and taste, we were surprised how different each smelt, each one different to the next, plus the difference a drop of water made to the taste. I obviously was driving so only had the barest sip of each, how I wish I could have drunk the lot, plus Jenny's although she did have more than me! We did think perhaps we had made a mistake and joined a "chargeable" tour, but no, the chargeable tours are of longer duration and there is sampling of some of the older malt. I then remembered that the lady in the visitor centre in Aberlour saying that Glenfiddich are one of the very few distilleries that don't charge for a tour AND still give a tasting, well at least she got something right! Leaving Dufftown we drove back through Craigellachie and Elgin and returned once more to the coast. Our "Britstop" tonight was the Beach Bar in Lossiemouth and as instructed "parked around the back for the best views", Tuesday was curry night so we decided to eat in the bar, Jenny having a Korma and I had a Jalfrezi they were both excellent and the total bill with drinks and a "puddin" was only £23.75.
Invernesshire
Wednesday 9th July 2014
Connage Highland Dairy (Britstop), Ardersier, Nr Inverness, Lat: 57.55795, Long, 04.03584, (34 Miles).
A peaceful night the only sound being the waves on the rocks and today's weather forecast looks very promising. Needing cash, plus bread and milk we walked down towards the harbour and were lucky enough to find a RBS and Co-operative store in the same street and after getting our requirements had a short walk around the small harbour before walking back to the Beach Bar. The Beach Bar is only a very short distance from RAF Lossiemouth, my idea was to sit in the motorhome and watch and photograph the Tornadoes and Eurofighters (Typhoons) from there, however I could see some vehicles parked further along East Beach, just to the west, so I looked on Google Earth and found that there was ample parking there for our motorhome. We decided to move, all of ½ mile and found an ideal place overlooking the beach and bay and nearer the fighters taking off and with a seat on the promenade right next to our parking spot, it was so perfect and with an almost cloudless sky (probably the hottest day this year), we made the decision to stay there for the day.
We sat on the seat to have our mid-morning "cuppa" and our lunch, watching the planes, people and an unruly dog called "Brian". After lunch whilst Jenny stayed at the motorhome I decided to have a walk along the beach and to try and get nearer the runway end. I was successful, finding the track near the golf course took me right to the edge of the air field boundary with a view of a row of Tornadoes and Typhoons. Unfortunately I chose a quiet time to be there as only one Tornado took off during my hour long stay; although 2 others did a slow fly over before landing. Returning to the motorhome and after a Cappuccino and a chat to our granddaughter on "Facetime" (taking the iPhone on to the beach and showing her the sandcastles made by some children) we continued to our overnight "Britstop" at a cheese making dairy at Ardersier. We arrived just as they were closing, which didn't matter as I had phoned to confirm our stay this morning and I was told "park where you like", it was nice to see a "Welcome Britstops" sign at the entrance, the first time we have seen one at a stopover and we parked in a place to catch the evening and morning sun (as promised by Thursdays weather forecast). Tomorrow we will have a look at the cheeses, I'm sure Jenny will find one she will like, for me I'm a boring Mature Cheddar or Cheshire man.
Ross and Cromarty
Thursday 10th July 2014
Rosemarkie Camping & Caravan Club Site, Rosemarkie, Lat: 57.58499, Long: 04.11010 (27 Miles).
Before leaving Connage Highland Dairy we went into the cheese pantry and bought 3 different types of cheese, Connage Cheddar, Connage Dunlop and their Cromal, all handmade cheeses made on their premises at Ardersier (more later). We then drove a short distance to the village itself and found a parking place overlooking the Moray Firth and our destination for today just 3 mile away "as the crow flies" on the opposite side of the bay.
We judged our departure from Ardersier perfectly, we stopped at a Halfords on a trading estate in Inverness for a "top up" container of oil (which they didn't have in stock although they were expecting it in a delivery) and then arrived at Rosemarkie just before noon. We were soon pitched on a power site for the next 2 days, at present they haven't had a cancellation so we will move to a non-power site for another 3 days on Saturday. This site is very busy and popular and the site manager said something funny when we asked about a cancellation, "you have as much chance of winning the lottery", we did last night (£25). Lunch time and a cheese board was obviously our choice with salad bites, all 3 cheeses were very tasty and we both liked them in the same order as above, we also had my "normal" cheese with it, Tesco Mature, I don't like it anymore! We spent the whole of the afternoon outside, we started off because of the cool wind in long trousers and jumpers, for the first time this year I put a wind-break up, within a short time we were wearing shorts, tee-shirts and suntan cream. I am writing this early evening before I walk down to Chanory Point to hopefully spot the Bottle-nosed Dolphins, we will let you know tomorrow if we are successful.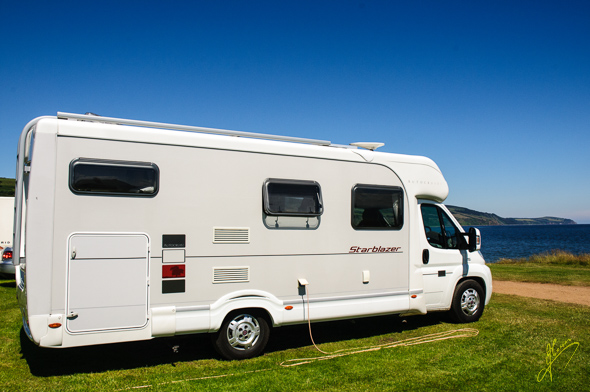 Friday 11th July 2014
Well I saw 2 Dolphins last night but they were too far away to photograph them, a Common Seal came at little closer, the evening light was good though on the lighthouse and over the Moray Firth and a the seal did get in the photograph. We did see some "playing" in the bay this morning while we were having our breakfast and we decided to walk down to the lighthouse again this morning before high tide at 12:09 pm, to look for them as the best time to see them evidently is on the rising tide. It being another gloriously hot day we took our lunch with us deciding to spend the morning and early afternoon there. Unfortunately the dolphins didn't put in an appearance again although we saw plenty of seals and a pair of Cormorants amused us, especially when one caught a flat fish that was far too big to swallow although it did manage it eventually. About 3:00 pm we walked the mile back from Chanory Point to the camp site and spent the rest of the afternoon relaxing outside.
Saturday 12th July 2014
* * * A Very Happy 45th Wedding Anniversary to my Wonderful Wife Jennifer XX * * *
Jenny went down to the office this morning to see if there had been any cancellations on a powered pitch, there wasn't so at 11:00 am the site manager showed us to our new pitch, just 4 further up from where we were. Other than we needed front ramps as the pitch was sloping we were soon organised and having an early lunch before catching a bus to Inverness. Unlike last time we were here we didn't walk up to the bus stop at Fortrose (which we had been told to do), we walked to Rosemarkie which was much closer and waited for the 12:21 pm 26c bus outside the Spar shop in the village. It was on time and we purchased a return ticket for £6 each and got off just before the town centre to visit the Halfords shop again to buy the oil, complete waste of time it "wasn't on the delivery"! A 10 minute walk took us to the town centre and on the way the phone rang, it was the campsite, they had a cancellation did we want it? We said yes and said we would call at reception after arriving back from Inverness. We then visited several stores to try and find a light summer shower/wind proof jacket (without a hood) for Jenny and not for the first time we weren't successful. After window shopping around the indoor shopping centre we had lunch (our anniversary dinner) at McDonald's! The promised rain had now arrived so after purchasing a few "bits and pieces" from Boots and a new 67mm lens cover at Jessop, (mine had disappeared somewhere near Cullen) we walked back to the bus station, visiting the Victorian Market on the way. Arriving back at the camp site we stopped at the reception to pay the extra for the power pitch and were shown which pitch was vacant and moved the motorhome, it was just a case of plugging in the power cable and we were comfortable for the rest of our stay.
Sunday 13th July 2014
This is funny, going back to what they said in reception on Thursday when we arrived, when we asked about a cancellation, "you have as much chance of winning the lottery" and we did on Wednesday night, well they did have a cancellation and we won another £25 last night! After a relaxed morning and after lunch we decided to walk to the waterfalls at Fairy Glen above Rosemarkie, a woodland walk we did on our last visit here in May 2010. We went the same way as last time, however this time Jenny managed to avoid slipping down a bank and wetting her trousers and knickers, shame really could have done with another photo and good laugh! This time I remembered to take my tripod and while Jenny chatted to a very lively lady of eighty-five I took photographs of the lower waterfall and walked a bit further to the top waterfall, I noted last time that we sat on a bench there for some time before walking back, the bench has since disappeared and the bridge has been rebuilt after being damaged by flood water.
We strolled back through the wood to Rosemarkie, very busy on such a fine day with adults and children on the sands, in the water and recreational area. After arriving back at the motorhome we sat outside until tea-time reading and listening to music and watching the dolphins through our binoculars, tomorrow we will probably go to Chanory Point again and see if we can see them closer.
Monday 14th July 2014
We walked down to Chanory Point at about eleven am to hopefully watch the dolphins, we were optimistic as we had seen them several times in the bay since breakfast this morning. We hadn't been there too long before about 5 came close to the point and we were able to watch and photograph them for quite some time.
When they eventually swam further away (they come and go) we sat at the picnic table for our lunch. Unfortunately we were half way through our picnic when it started to rain; very quickly we gathered everything up and walked back to the motorhome as we hadn't bothered taking our raincoats with us. We spent the rest of a wet afternoon relaxing in the motorhome, at least it gave me chance to look at the many photographs I took of the dolphins and pick out the best, just a pity they weren't "playing" today, in fact only one leapt out of the water while we were there, most of the time they were just swimming sedately along. The rain stopped at tea time and I went outside and photographed the rainbow that was stretching across the bay, I think everybody on the campsite was doing the same thing, the late evening light over Rosemarkie wasn't bad either.
Sutherland
Tuesday 15th July 2014
Dingwall Camping and Caravan Club Site, Dingwall, Lat: 57.59766, Long: 04.41997 (34 Miles).
Just 9 miles before we stopped this morning at Cromarty a small seaport at the mouth of Cromarty Firth and found a perfect spot to park overlooking the firth and the little village of Nigg on the northern bank said to have one of the finest dry-dock facilities in Europe.
It is also another favorite place for "dolphin watching" so we decided to stay for a while, especially as a man who had free-camped in his motorhome there for three nights told me "they would be along in an hour". We didn't see them, however we did see a larger tanker leaving the site of a crude oil storage and processing depot opposite (a facility for oil piped in from the Beatrice oil field in the Moray Firth), it was interesting watching a tug, pulling, pushing and maneuvering to turn the large ship (The Scott Spirit) around in the narrow inlet before it was left in the hands of a pilot to guide in out of the mouth into open water.
He/she then left in the pilot boat to return to Nigg and having checked on the internet its destination (ship watch on a iPhone app) the tanker continued on its short sail to Aberdeen. Leaving Cromarty we stopped once more along the Firth at Udale Bay where an information board told of the history of its role as a major base for the Royal Navy's Home Fleet. We "re-stocked" and "re-fuelled" at the large Tesco in Dingwall before we drove to the campsite just 2 minutes away and almost in the town, but in a very pleasant location surrounded by trees. After a late lunch we strolled along the River Peffery over the Pedestrianised railway crossing (yes, we stopped, looked and listened) to the Pedestrianised high street with a multitude of different shops, much smaller, but much better than Inverness we think. We returned to the camp site and Jenny organised the laundry, whilst I read and relaxed, tomorrow we will have a quiet day before moving on towards "the top".
Wednesday 15th July 2014
What we didn't find yesterday was Cockburns the famous butchers in Dingwall and their award winning Haggis and Black-pudding, we decided to put that right this morning. We used the same path into the town as yesterday although we continued further along the River Peffery and came out at the top end of the high street and using "Google Maps" we walked directly to the butchers in Mill Street. We bought both! Wanting a few additional items in the town we returned to the high street bought a couple of cheap mats for the motorhome and an extra knee support (for my right leg) from Boots. We walked back to the camp site via Castle Street, unfortunately only a broken wall remains of the castle (abandoned in 1600) in a private garden, however, a folly said to be built from the stones of the castle remains near the spot of the original, (no, I didn't take the photograph on a slant it's the building).
Mid-afternoon to coincide with a high tide we walked along the river bank, the opposite way to previous to the picnic area where the river flows into the Cromarty Firth staying there for quite some time despite the wind.
Tonight we planned our drive for the next few days, Dingwall has served its purpose, we have clean clothes, plenty of food and all our electrical equipment is fully charged, tomorrow morning we will fill with fresh water and empty the grey tank and toilet cassette and call in at Tesco for a little grocery "top-up". Hopefully for the next few days we will "free camp", don't be surprised if there is a lack of updates for some time. But there is good news, we now have a page on Facebook, "UK Grey Nomads".
it would be great if you can "like" and be a friend on there, more details will follow shortly when I learn how to use it!!!
Note: Updated 2016 now UK Grey Nomads Photography.
17th July 2014
Falls of Shin (Britstop) Near Lairg, Lat: 57.95993, Long 04.40804 (48 Miles).
A leisurely morning not having to leave until noon we just took our time getting ourselves prepared, Jenny vacuumed throughout, I cleaned the windows, emptied the grey waste and toilet cassette and then we filled with fresh water just before we left. A "top up" at Tesco with fresh food and then a stop along the A9 to fill the LPG bottle (we had only used 8 litres since our last fill at Aberdeen) and we are hopefully organised for some "wild camping" in the next few days.We found a lovely spot along the bank of the Cromarty Firth near Invergordon to have lunch, no Dolphins though, but plenty of labour involved in an Oil Rig in the bay.
We then we stopped to take a look at the Glenmorangie Distillery near Tain, in fact we did more than "take a look" we went into the shop and bought a litre of twelve year old Malt!
We arrived at our overnight Britstop at The Falls of Shin late afternoon, this overnight stop was a visitor centre for the falls containing a gift shop, restaurant and other attractions as well "the gateway" to the falls, unfortunately the building was completely burnt down in May 2013 and as yet its future is undecided, its actually owned by Mohamed al Fayed (as is the large estate in the area and the visitor centre was known as "The Harrods of The North", with a wax statue of himself in the entrance, (now obviously melted). We walked down to the falls as soon as we arrived, very impressive and hopefully I can get some decent photographs whilst we are here. The forest walks can wait until tomorrow.
After our evening meal I had another walk down to the falls, we didn't think the Salmon would still be going upstream to spawn but I watched several attempting without success to "swim" up the fall, before the midges drove me back to the motorhome, should have put repellant on!
Friday 18th July 2014
A really comfortable night, no visitors at all after 9:30 pm and with the falls being the only reason (other than a few cottages) for vehicles to travel this road, the first car this morning to park was a salmon fisherman, the coaches, taxis, and people carriers, full of Americans, Japanese, etc. didn't arrive until after 10 am and they park in the road. We have decided to stop here another day as without the visitor centre it is more like a "wild camp" than a Britstop. Our first walk of the day was the "blue loop" riverside walk, not too taxing, a well-trodden path through the woodland over the road then following the track above the river towards the falls, the notice board said thirty minutes, we took an hour, we diverted I found a place where another path went down to the river bank, probably made by fishermen, it was very picturesque with a small waterfall and rapids, a place to return to for "slo-mo" photography I think later. After lunch we chose the "green loop" an hour long walk along Acheny Glen and wood, a lovely walk with children's play areas along the way, we just had to play "hoopla", I won, but Jenny suggested I cheated because I was much nearer the pin, (I did and was). Very pleased that for the first time this year on both our walks we have seen Dragonflies, 3 different species, although we were not able to identify them.
Late afternoon I returned to the river bank with camera, tripod and ND filters and took some photographs at slow speeds, trying the 3 density's of ND filters separately and combined and at different camera apertures, I haven't yet looked at them on the laptop.
Saturday 19th July
The Bannockburn Inn, (Britstop), Helmsdale, Lat: 58.1164, Long: 3.6498, (45 Miles).
Another peaceful night the only sound being the roar of the waterfall a couple of hundred yards away and the occasional patter of rain on the roof. Before leaving we did the last walk shown on the information board, "the red loop", again through Acheny Wood, however somewhere (I blamed Jenny, she's the navigator), we found ourselves back on the green loop that we went on yesterday, not wanting to do the longer one we re-traced our steps, we still can't work out where "she" went wrong. We stopped a couple of times on the short drive to Lairg and Jenny even walked across a swing bridge at one place. The intention was to find a nice stop by the side of Loch Shin in Lairg and stay there for some time, but were disappointed to find a damn dam (see what I did then) across the water, it didn't look very picturesque so we decided to carry on and we stopped for "elevenses" in a lay-by in a much better place on the quiet A949. We then found another lay-by on the A9 overlooking the sea with a good view of Dunrobin Castle about a mile away to stay for a while. I didn't bother with a photograph; it looks like a "fairy castle". We continued mid-afternoon to our overnight Britstop. I was a bit cheeky with this one, Steve at Britstops sent a newsletter via email which said updates would be sent out in August, I e-mailed by return to ask whether there were any new Britstops in Sutherland, he sent me 2, one we passed on Thursday and this one which suited us perfectly. We will be there first customers. We watched the F1 Grand Prix qualifying from Germany before we went for an evening meal at the Inn, just hope we can find a place to stay tomorrow where we can get a good signal to watch the highlights of the race. Despite the un-adorned outside appearance of the Bannockburn Inn, the inside was warm and comfortable with tartan tablecloths, landscape photographs and reading matter. Our belated anniversary celebration meal was superb, from the shared starter, sirloin steak, cooked absolutely perfect and our sweets, all was delicious and all served with a smile. And when we arrived back in the motorhome I had a wee dram of Glenmorangie, the end to a great day.
Caithness
Sunday 20th July 2014
Wild Camping, Lybster, Lat: 58.30318, Long: 03.28558, (24 miles).
Change of plan with our itinerary, not that we had much of a plan anyway. Rather than drive to Wick, John o' Groats, then to Thurso, we are reversing it, Thurso along the A9, John o' Groats then Wick and back to Thurso along the A882. Why? We have plenty of fuel and gas at present, if we went to Wick first we would need little of each before continuing West and have at least 4 nights' stops before Thurso and the west coast. By doing it clockwise we will arrive at Wick having done the extra and can refill a greater quantity of both fuel and gas and then only have one stop near Thurso before driving West. Well, it makes sense to me! A first this morning, emptying the toilet cassette at a public convenience in Helmsdale, having the fluid and fresh water prepared in containers made for an easy task. We had a short walk along the harbour before leaving chatting about our Britstop and excellent meal last night, glad now that we took time to contact Steve (Britstops) and hopeful that there will be more on the West Coast of Scotland in the next few weeks. Our first stop this morning was at Badbea Historical Clearance Village right on a cliff edge about 9 miles from Helmsdale. It was an ½ mile walk from the car park and other than a monument and one ruin reclaimed by nature and covered with wild flowers, there was little else to see (except an unusual cloud formation over the sea) so we walked back to the motorhome for elevenses.
We didn't move off straight away after our tea, a thick mist had come down, so we waited for it to clear. When we did drive off it didn't take long for the weather to get worse, more mist and rain, we therefore decided to find our next free camp earlier. Jenny found one on the Satnav that was in the village of Lybster and thought that village + people + TV = TV reception, she was right, but what we will do with 92 TV channels and 34 radio channels I don't know, I only needed one, BBC2 for the Grand Prix tonight. This afternoon I sorted and edited the photographs we have taken in the last 3 days and surprisingly the internet signal is strong here. Hopefully before we leave in the morning I can add them to the web site and then update it. This evening we did watch the Grand Prix, next weekend it's from Hungary, with skill (or luck) we will be able to do something similar . . . or come back here!
Monday 21st July 2014
Wild Camp, Sibster Forest Commision, near Halkirk, Lat: 58.51642, Long 3.45286, (21 Miles).
A perfect wild camp last night in the car park next to the community centre, we even had spotless public conveniences at the car park entrance to use. We didn't leave until after 11:30 am as I was still editing photographs and I did manage to update the web site as you can obviously see. We had a straight forward short drive across open moorland passing some likely wild camping spots shown on the Satnav before finding Sibster Forest a "new forest" with a large car park and picnic benches. We only intended having our lunch here but then decided it was perfect for an overnight stop so didn't bother driving further to a wild camp at Castletown. After lunch we went for a thirty minute walk around the "red loop" passing a small (very small) waterfall and pool along a path through the newly planted deciduous trees, Beech, Birch and Sycamore to name just three. We then relaxed and read in the warm sun for the rest of the afternoon at our "own" picnic table, (I actually dozed off lying along the bench, Jenny woke me up she said I was snoring). In fact we didn't come inside the motorhome other than for our evening meal until after 7:00 pm.
Tuesday 22nd July 2014
Wild Camp, Dunnet Head, near Thurso, Lat: 58.67031, Long: 3.37677, (20 miles).
We left this morning having decided we would stay at the Dunnet Bay Caravan Club Site tonight, with the idea to empty the toilet cassette, empty the grey waste, fill with fresh water and charge all our electrics before continuing with some more wild camping places. However, the only important one of those was emptying the toilet cassette, the grey waste is almost empty, we still have plenty of fresh water and with so much sunny weather the solar panel has more than coped with fully charging the leisure battery to recharge the low volt equipment the iPhone, etc. and to power the inverter to charge the 240 volt equipment, laptop, toothbrush and shaver. What I didn't realise was that to get to Dunnet Bay we would drive through Thurso. A swift change of mind and we emptied the cassette at the public toilets at the harbour car park, perfect no need to stop at the caravan club site tonight. After buying some fish at the harbour side shop and having a quick "tour" of Tesco for bread and cooked meat we continued to what would have been our Wednesday night probable stop at Dunnet Head and what must be one of the most stunning wild camping spots in the whole of the UK. We are 30 yards from the three hundred foot sea cliffs above the head, with views to Cape Wrath to our west and the Orkney Isles across the Pentland Firth to the North with loads of sea birds to see including, Great Skua's (which we haven't seen before), Puffins and Guillemots. Last night we were told Dolphins were seen and there was a fantastic sunset. We had 2 short walks to the viewpoint above the cliffs near the lighthouse and then to the highest point to views east towards Duncansby Head past John o' Groats. We are also at the farthest point North on the UK mainland, from now on we can only go down and West!
Wednesday 23rd July 2014
Wild Camp, Castle Sinclair Girnigoe Car Park, near Wick, Lat: 58.47574, Long 03.05753 (39 Miles).
Well we didn't see anything of interest last night, literally! The fog bank which had been hovering around the Orkney Islands all the time we had been at Dunnet Head yesterday moved over about 9:35 pm to the mainland, no dolphins, no sunset, no nothing. And it was still there this morning. We left Dunnet Head about 10:00 am and drove to John o' Groats, this is what I put on the web site on 5th May 2010
"The weather was foggy on the way to our first stop at John O Groats, it seemed so "commercialised" since the last time we came here (in the 70's), with gift, pottery and "smellie" candle shops all situated in a purpose built building, pity the famous old and majestic John o Groats Hotel stands empty near-by, why couldn't they have used that? The visibility was so poor; we could hardly see the uninhabited island of Stroma just about a mile across the Pentland Firth".
Some things never change, it was foggy and we couldn't see Stroma, the gift shop, pottery and candle shops are all closed and there's grass growing up the doors! The John o'Groats Hotel was no longer boarded up but empty, I knew we shouldn't have re-visited we were disappointed last time, to repeat, some things never change. What a poor advert for Scotland's tourism it is. We continued to Duncansby Head hoping that the weather would improve as I wanted to take some photographs of Duncansby Stacks again, despite waiting for some time the fog didn't lift (despite the weather forecast for unbroken sunshine) and after a cup of tea we decided to carry on towards Wick. Another first today, although we were sure that we still had enough fresh water in the tank for another 3 days of wild camping, we thought it a good idea to fill up our water container with another ten litres . . . at a cemetery. We stopped on the way to Wick when I spotted a cemetery on the main road with a parking area next to it and sure enough I found after a little search a fresh water tap, despite there being many "residents" nobody complained about me using it!!! I wanted to visit the ruins of Sinclair Girnigoe Castle and saw when I looked on Google Earth that it had a flat car park and that was our next destination despite the fog. It was better than we anticipated when we arrived, as well as the parking area there was an enclosed grass area with picnic tables, ideal for an overnight stop. We waited until mid-afternoon when the fog lifted for a while to walk to the castle about 10 minutes away. We were very impressed by the ruins and the work being done to preserve it, destroyed in 1690 "The Clan Sinclair Trust" has begun restoration to restore it and is the only castle in Scotland to be listed by the World Monument Fund, despite the gloom (or because of) it made for some good photographs before the fog returned. The rest of the afternoon and evening we just relaxed reading and listened to music, we haven't used the television now since Sunday and haven't missed it.
Thursday 24th July 2014
We have decided to spend another day here, although when we got up this morning it was still very foggy the weather forecast was for a steady improvement throughout the morning and hopefully for there to be clear blue skies. We shall see they got it completely wrong yesterday. We had a nice chat this morning with 2 French lads and a girl who camped in the picnic area last night, rather them than us, they were on the west coast yesterday and they had brilliant sunshine all day until they arrived here. Mid-morning the sky did clear although there was still some fog hanging about and we had another walk to the castle, much more pleasant today so we just strolled about exploring everywhere, we even found the toilet, wouldn't have liked sitting there in the 16th century with a north wind blowing up my bum!
We spent the early afternoon relaxing then while Jenny did some baking and preparing of to-nights meal (the haggis we bought in Dingwall), I went for another walk this time to the Ross Head lighthouse which at last was "fog free", however there wasn't a great photograph I could take from the entrance so I decided to walk along the cliff edge "sheep track" towards the castle. I was so glad I did, the view towards the lighthouse was stunning with a sea stack at the point and the sun in the right position to show the colour on the rocks and the blue sea.
It was what Jenny and I call a "wow factor", so much so that when I had finished taking more photographs of the castle when I got back to the motorhome I walked back this time with Jenny, I was right to do so, the first thing she said when she seen the view was "oh wow"! After our meal of Haggis "neaps and tatties" (swede, or as the Scots called it, turnip and potatoes), I did some reading before walking down yet again to the headland near the lighthouse for some photographs of the evening light on the cliffs before continuing to the castle, this time to hopefully take some sunset photographs, although it was more taking the sun going down as the sky was too clear for a real "red" sunset.
I went into the castle itself before the sun went down; it was rather spooky being there as it was starting to get dark. I don't know yet how the photographs have turned out I haven't looked.
Friday 25th July 2014
Dunnet Bay Caravan Club Site, near Thurso, Lat: 58.6145, Long: 3.3448 (29 Miles).
Well everything went according to our plans today. We left Ross Head and drove directly to the Tesco Supermarket just 5 miles away at Wick to buy food and top-up with diesel, strangely one pence dearer than the BP station but we had Tesco club card points for eight pence a litre off. Still cheaper than the Gleaner stations we will have to use as we drive down the West coast until we get to Morrison's at Fort William. You may remember us trying to obtain a top-up of Castrol "Edge" Oil at Inverness and being unsuccessful, it was not the first or last time we had tried. Whilst Jenny made her way to the vegetable/fruit I went to get a TV magazine, I obviously wasn't familiar with the aisle layout and passed the motoring section and "low and behold" there were litres of the 5w-40 on the shelf at £12, £16 if in stock at Halfords, I found the TV Magazine too! Our next stop was in the small village of Watten to fill with LPG, since we last filled up on the 17th July, which has included 8 wild camps, we have used it for the fridge, cooking and heating water and we have used just 9.35 litres at a cost of £8.05, we are extremely pleased with that. We didn't have to serve ourselves either, it was done for us by the friendly man at the filling station. We stopped at a parking area on the side of Loch Watten for our "elevenses", a place we had earmarked for an overnight stop if we hadn't spent the extra night at Castle Sinclair Girnigoe, it would have been another perfect place to "wild camp".
We arrived at Dunnet Bay at lunch time and found a nice flat grass pitch, lucky actually the pitches here are near sand dunes and most pitches are undulating although this time "pitch 4" was occupied so we haven't got a clear view of the bay. We relaxed in the hot (yes really) sun all afternoon only getting up to visit reception to pay and say hello to the two lady site managers from Burton-upon-Trent who we had previously chatted to whilst washing up at The Stonehaven Caravan Club Site when they were taking a short break there. Thought there might be a nice sunset this evening however the clouds came over at about 7:00 pm and put a stop to that idea, perhaps tomorrow.
Saturday 25th July 2014
A very relaxed day, sat outside for most of the morning before having a stroll along the beach before our lunch. This afternoon we sat out again, however it clouded over (again) and a cool wind sprang up, we therefore spent the rest of the afternoon reading in the motorhome before the qualifying highlights of the Hungarian F1 Grand Prix started, the first time we have had the TV on since last Sunday's race.
Sunday 26th July 2014
A very wet night, it started about 7:00 pm, stopped for a time which gave me chance to use the rain water to clean some of the dirt of the motorhome before continuing for the rest of the night. It stopped mid-morning, so I did some more cleaning and then it was sunshine for the rest of the day. Jenny cleaned the inside of the motorhome and we filled the fresh water tank up ready for the next stage of our journey. We are just opposite the service points and our water hose reached so we needn't use the motorhome service point before leaving tomorrow. All our chores done we relaxed for the rest of the day and of course watched the Grand Prix.
Sutherland
Monday 28th July 2014
Wild Camp, Kyle of Tongue, Lat: 58.49322, Long: 04.44650 (54 Miles).
We left at mid-day our first stop after 20 minutes being Tesco at Thurso for milk, bread and a few more "bits". We then drove to the town car-park near the riverside and had a browse along the pedestrianised shopping centre before visiting Caithness Horizons the museum in the former Thurso town hall. There is an interesting exhibition there on the history of Dounreay famous for the fast breeder type of nuclear reactor and the test site for submarine reactors from its commission in 1955 to its decommission in 1994 and the "clean up" which will last until 2025, it will be deemed "safe" in 2335!!! We wanted to buy some more fresh fish at the shop/factory which we went to last Tuesday unfortunately it was closed; luckily we still have some in the ice-box. Continuing the drive we passed Dounreay which is 9 miles West of Thurso (without any ill effects) and stopped at a lay-by near the village of Melvich for our lunch. Our next stop was intended to be our "wild camp" at the Forestry Commission car park at Borgie, however it was completely surrounded by trees (well it is a forest) so we decided to drive to the next one at the Kyle of Tongue.It was perfect we are on the "causeway" between the outer "Kyle" towards the sea with a wonderful view over to the Rabbits Islands and the inner "Kyle" towards an equally stunning view of the mountains of Ben Hope and Ben Loyal, (note: Kyle means narrow sea channel), we are sure to have a pleasant night here.
Tuesday 29th July 2014
Wild Camp, Keodale, Lat: 58.54915, Long: 04.77792, (30 Miles).
A super night last night, we watched a Common Seal for ages just sitting on the shallow sand bar, with its head and shoulders so far out of the water it certainly wasn't swimming. Also managed to photograph the sun going down with the last light shining on the mountains opposite the Kyle and then later still a sunset with a reflection in the water.
This morning Jenny was woken (I was already awake) by a noisy truck, the "bin-men" had arrived to empty our two dustbins in the parking area, great we didn't tell them we haven't paid our council tax! After breakfast we continued our drive along the top on the A838, an "A" road that is windy. hilly and for the most part single track with passing places and it was kind of busy; looking back around Loch Eriboll we could see at least six motorhomes taking the same route, albeit we had passed a few going in the opposite direction. We stopped for a mid-morning "cuppa" at the parking area at Ceannbeinne beach, the last time we were here on 10th May 2010, the sun was out and the view was spectacular, not so good today with mist and rain.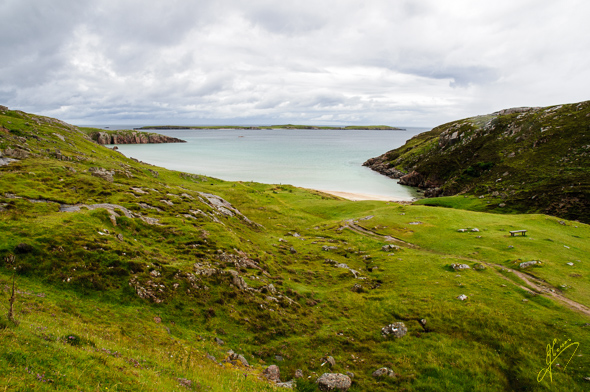 We had a puzzle while we were there, a lovely Border Collie was wondering about and didn't appear to have an owner and was wondering from vehicle to vehicle as they arrived. A man in a RV managed to get the number on his collar and was trying to find out who it belonged to; if we had stayed much longer it would have been us. On our "hit list" for Scotland was a visit to the spectacular Smoo Cave, the entrance sufficiently large it is said that it was used to shelter and repair Viking ships. We descended down the many steps to the cove and went into the gigantic entrance and explored taking photographs of the walls and the waterfall in another smaller cave and then made enquires about the tour, (which a passing "motorhomer" told me about last night).
The tour was approximately 20 minutes long and cost £4, BUT entailed a descent down a ladder into a rubber dingy for the first part of the cavern, well that was a challenge. We booked onto the tour which was 30 minutes later, just enough time to walk back to the motorhome for my tripod, (yes, I should have taken it with me AND I should have put my knee supports on as well). Fitted out with a hard hat we started the tour and immediately had to bend double to get under the pier the dingy was secured to and also a natural cave arch and once we got back on terra firma we needed to keep low to negotiate the narrow passage. Not low enough though, Jenny hit her head three times and me twice, now we knew why we had been supplied with the hard hats! At the cave end we were given a very informative talk on the geology of the cave and its history before retracing our steps to the dingy and the cave exit, we learnt this time ducking further we didn't hit our heads once.
We were un-decided today whether to stay at the camp site at Durness or continue to the camp site at Kinlochbervie, we ended up staying at neither. Another place we wanted to visit was Cape Wrath which entails a ferry boat crossing (more like a dingy) across the Kyle of Durness and then a mini-bus ride to Cape Wrath lighthouse at the North-westerly tip, we were hoping to do that tomorrow, however the weather forecast is not good. Instead when we left Durness we found a great place to "wild camp" at the view point car park at the entrance to the lane to the ferry departure point, we have decided to stay here to see what the weather is actually like tomorrow. In the mean-time with the sun was shining on the water and the hills and mountains opposite we are in a stunning location to stay for tonight.
Although as I am writing this the wind is howling, the rain is pouring and we can't see very far!!!
Wednesday 30th July 2014
Wild Camp, Loch Assynt, Lat: 58.18623, Long: 05.06030 (48 Miles).
No improvement in the windy, wet and misty weather when we got up this morning so our visit to Cape Wrath is cancelled until the next time we visit the area, likewise Sandwood Bay near Kinlochbervie that we were also hoping to visit. So this morning we decided to continue on our drive along the West coast, unable to see much of the fantastic scenery of lochs and hills as we drove the single track road towards Ullapool. Another great app on Jenny's iPhone I downloaded recently was "WC's" by Patient.co.uk and the information was spot on, we found the toilets in an unknown village and emptied the toilet cassette. Our next stop was at a lay-by near a little lochan for our elevenses. It was when we left that we had a problem, a warning indicator was showing on the dashboard I didn't reconise, everything appeared to be OK; however we stopped at the first opportunity to check in the vehicle handbook what it was. Sigh of relief, it was for an "external light failure", however we checked all the lights on the motorhome and couldn't find a problem with any of them. We stopped again for a short time when we reached a lay-by at Loch Assynt from which we could see the remains of Ardvreck Castle in the misty distance. I remembered that along the road towards Lochinver there was a place that I thought would be ideal for our stop tonight so we decided to take a look. I was wrong it wasn't suitable but on the way we did see a place that was, we turned around and here we are. We are parked off the road on the bank side of Loch Assynt with some picturesque small islands just off the shore and if only the mist would lift and rain would stop it would be a fantastic sight.
It was pointless driving any further today we would have seen very little and we are reluctant to push on too far. We haven't got a 3G connection or even a phone signal to get a weather forecast so we will have to see what tomorrow brings. As I am finishing typing this the clouds are becoming lighter and we can see further so we are optimistic. Almost forgot, Jenny was looking at the Fiat Handbook to see if she could see anything about the light fault indicator and asked, "have we got number plate lights?" Well of course we have, I checked and the off- side wasn't working, now why didn't I check those before . . . clever girl!
Rosshire
Thursday 31st July 2014
Free Camp, Little Loch Broom, Lat: 57.87967, Long: 05.37047 (61 Miles).
The weather this morning was not too dissimilar from yesterday evening other than it wasn't raining; the cloud was still very low on the surrounding mountains. I did go out last night and take a photograph of the trees on the island specifically to change it to a black and white; the scene just lent itself to that type of photo.
Again this morning before we left I took more photographs of the same island and surroundings, this time from the shore line of the loch. Our first stop this morning was yet another photographic stop, this time at Ardvreck Castle which stands on a rock promontory jutting out into Loch Assynt, there is little left of it other than the stone tower and some walls and a vaulted basement, but its picturesque location against the Sutherland landscape more than makes up for it. Jenny decided to stay in the motorhome after seeing a man doing a "war dance" as he was being attacked by midges. I armed myself by spraying our Australian "Rid" on myself and hat, (we have nearly used all we have, anybody going to Australia?) and went to do battle with them, (I won). It's an easy walk from the car park to the castle and I took photographs from several different places, yet again I haven't looked at them on the lap top.
Returning to the motorhome we continued until we reached a parking area near Knockan Crag, we didn't visit the visitor centre this time having been there twice before in past years. Ullapool was our next destination to top up with LPG, buy a number plate bulb and get a few essentials from the small Tesco Supermarket. We hadn't a clue where the LPG garage was other than on a trading estate, luckily as we were driving towards the town we spotted it, we only need 3.92 litres. Parking next to Tesco's in the lorry park we had a short walk down to the harbour having decided we would have fish and chips for lunch and we sat on the harbour side enjoying them, much to the disappointment of a Herring Gull sitting on the railing. After leaving Ullapool we drove to Corrieshalloch Gorge and Falls of Measach, although we have been once before we seem to remember they were doing some work on the paths and we couldn't walk the 1 mile circular track, this time we could and enjoyed it.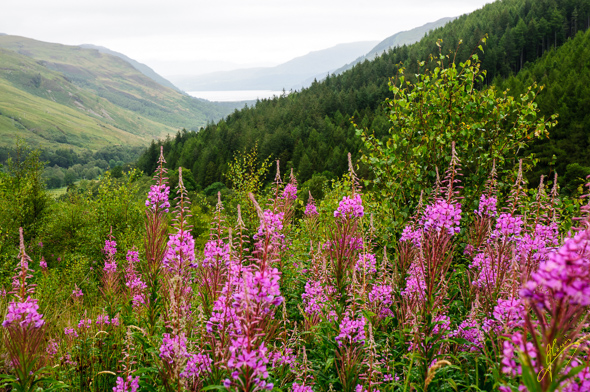 Tonight we are wild camping at a viewpoint above Little Loch Broom, with extensive views over the mountains and coast, last night we couldn't see fifty yards, tonight it appears we can see fifty miles, slight exaggeration, but we can see the Summer Isles and Outer Hebrides! Finishing this for tonight, we think there may be a good sunset. Oh, and I fitted the new No Plate bulb, no annoying warning indicator on the dash board anymore.
Friday 1st August 2014


* * * A Very Happy Birthday to our Son-in-Law Ian * * *



Inverewe Gardens Caravan and Camping Club Site, Poolewe, Lat: 57.76786, Long: 05.59874, (18 Miles).
The sunset after all last night didn't live up to expectation although I didn't stay long taking photographs, despite having "Rid" on my skin and a liberal amount of Boots repellant on my hat the midges were such a nuisance that they won this time and I retreated back to the motorhome. It wasn't that they were biting, although I did have 2 bites on my waist and 1 on my upper arm (how the devil they got there I don't know), it was just the constant swarms around me getting in to my ears and eyes. I took one of Jenny's anti-histamines before I went to bed . . . just in case. We had another great night wild camping, we even overslept and didn't hear the other two motorhomes that stayed last night leave. The visibility this morning was again excellent so I took more photographs before we left, I also climbed a short-way up the hill opposite the view point to take some photographs, whilst I was there a German coach arrived towing a trailer which had windows in it. It was a mobile hotel, we have seen them in Australia but didn't realise they were used in Europe. We decided today to see if the Inverewe Gardens Caravan and Camping Club had any vacancies, the last time we arrived un-announced they hadn't, this time they had so we have decided to stay for 2 nights. Whilst editing photographs this afternoon we had a surprise, an Otter walked between our motorhome and the caravan on the next pitch!
The site manager ran to tell her husband and we both ran down to the edge of the road which is between the camp site and the Loch shoreline to make sure there was no traffic coming. Mr. Otter casually walked across the road to the loch edge and proceeded to forage amongst the sea weed for food. He attracted attention there for at least an hour not bothering at all with the closeness of humans before he got fed up of having his photograph taken and swam off.
Missed the sunset tonight as I was updating the web site with text and photo's I knew it was at 9:40 pm, what I didn't notice was it disappearing behind the hills near the loch (which incidentally is Loch Ewe and a sea loch), still the light on the calm water looked good!
Saturday 2nd August 2014
A quiet day, just a walk to the little village of Poolewe to buy some milk and a short walk along the narrow lane beside the River Ewe. We were right to go this morning, since lunch time the forecasted heavy rain has arrived and we have stayed in the motorhome. Tomorrow we are due to leave, however if the rain continues and the strong winds arrive we may stop here for a further night before moving to the Caravan Club Site at Kinlochewe for 5 nights.
Sunday 3rd August 2014
Well although it was very wet during the night, there were no high winds although the weather forecast is still suggesting heavy rain today. We did decide however to stop an extra night and go to the two places we want to see hopefully tomorrow as we drive to Kinlochewe. Before lunch we went for a walk towards Inverewe Gardens, not realizing that at the end of the bay before you arrive there is a bird hide, we stopped there for a while watching Herons, Oyster Catchers and various other seabirds feeding, being mindful of the bees nest just outside the entrance door, before walking back to the camp site.
Had we made a mistake in stopping another day? We sat on a bench overlooking the bay for quite some time in glorious sunshine! It didn't last, the forecasters were correct, within five minutes of arriving back we had thunder, lightning and a deluge of rain, so much so that the road outside the camp site was flooded for a while, the drain (which emptied directly to the beach) unable to cope with the sudden volume. And that's how it's been for the rest of the day, some sunshine, thunder, lightning and lots of rain. Tomorrow looks better.
Monday 4th August 2014
Kinlochewe Caravan Club Site, Kinlochewe, Lat: 57.60448, Long: 05.30450, (26 Miles).
Well the weather this morning wasn't kind to us, with the low cloud it would have been pointless driving to Cove where the ruins of the WW11 fortifications are which guarded the Atlantic convoys that used to assemble in Loch Ewe before sailing to Russia. Likewise the drive to the opposite side of the peninsular to Rua Reidh lighthouse, instead we drove directly to Victoria Falls. We have visited twice before, the second time we were disappointed because the trees surrounding it (we thought) had been cut down, actually it was a storm in 2005 that felled them. Since then the forest floor has rejuvenated and the forestry commission has done a great deal of work on the pathways. It was much better than 2010 but still not what we enjoyed years earlier.
After visiting and photographing the falls we continued the short distance to Kinlochewe there was plenty of available pitches and we chose one with a fantastic view of the peaks of Beinn Eighe (the weather much improved) overlooking the camp site, the pitch also had the added bonus of being near the amenities and away from the water and woods where most of the midges live!
We have no internet here and despite purchasing a new TV aerial lead to plug into the EHU pillar we haven't got TV/radio reception, perhaps I'll be able to catch up on some reading. Whilst Jenny was preparing our evening meal I went for a walk towards the Beinn Eighe National Nature Reserve (Britain's oldest bought in 1951). There was a way-marked path shown to a view point 1 kilometre away, I decided to take a look however I certainly walked further than that distance and didn't find it, so after taking a few photographs from the path I returned to the camp site via a slightly different route, just timing it right to enjoy a delicious piece of Haddock which we bought and froze a couple of weeks ago.
Tuesday 5th August 2014
A lovely clear morning and the surrounding mountains looked stunning; we decided to walk the same path that I took last night. Where I turned back from last night within a further one hundred yards we came across a very picturesque burn with crystal clear water running down, it made a nice foreground for a picture of Beinn Eighe, which incidentally is the name given to the whole of the steep and imposing mountain range with six peaks over 3000 feet. We continued on to what looked like the "viewpoint" a small hillock with a post on top, before re-tracing our steps back down the path, however when I checked "Maps 3D" we had walked over 2 mile, we could only assume the viewpoint was where a picnic area was situated which I passed last night and this morning.
We didn't walk back to the camp site directly instead we decided to walk along the path to the Visitor Centre, although we had visited before it was still worth having a look around and collect some leaflets on the walking trails, before returning to the motorhome for a late lunch. We then spent the rest of the day relaxing, unfortunately because of the midges, inside the motorhome with all the windows open and the fly (and hopefully midges) screens down, let's hope tomorrow weather remains the same, we may be lucky although they say it rains here two days out of every three.
Wednesday 6th August 2014
Well we could see the tops of the Beinn Eighe mountain range this morning but looking at the "mountain" weather forecast which is printed out and pinned up in the information room we can expect rain this afternoon. We decided that we would have a walk this morning from Kinlochewe along the river(s) to the far shore of Loch Maree or at least see how far we could reach before the weather changed. Reception was closed whilst they cleaned the amenities so we couldn't get the printed route (10 pence in the charity pot) so we relied on Maps 3D to show us the way along the public footpath. It didn't let us down and we followed the footpath and crossed the bridges of the rivers A'Ghairbhe and 'Abhainn Bruachaig (which joined after about a mile and became the Kinlochewe River) and followed the riverside path between it and the towering cliffs of the mountains above.
The notice board at the deer fence gate gave us thought
"TAKE GREAT CARE. Walking from here you enter one of the largest tracts of roadless country in Britain"
Despite it raining lightly it was far too warm for our rain jackets as we continued along the path, through open country and bracken over rock and small burns for quite a long time but unfortunately the Loch still appeared a long way off. Checking on Maps 3D we had already walked 2.62 miles and being aware that the weather could change at any time we decide to walk back. Taking an alternative path through a farm which shortened the walk we arrived back in the village stopping for a very expensive small loaf of bread (£2.25) at the small store, (Jenny will make our own tomorrow for .85p) before arriving back at the camp site having walked a little over 5 mile. Our timing was perfect, the odd drops of rain that we have had all morning turned in to persistent rain almost as soon as we arrived back. After a late lunch (expensive bread and lobster) we again relaxed for the rest of the afternoon and evening and as I am typing this at 19:28 pm the rain has stopped, the sun is out and it's warm, we have had a great rainbow, the mist is still hanging around the mountains, but we can see the summits, it's a stunning evening at Kinlochewe . . . I just love this place!
Thursday 7th August 2014
After taking photographs of the burn we know to be Allt a' Chiurn on Tuesday and deciding it was probably one of the best (in my opinion) that I have taken, we decided this morning to walk up to it again, this time with the tripod and ND filters (to hopefully slooooow the water down). What I needed was the light and sky to be exactly the same as on Tuesday and despite being there at least an hour taking photographs from almost the same position, we were not convinced it was. We will see later when I put them on the laptop.
I found a place off the path to leave my tripod not wanting to use it or carry it any further and we continued up the Allt a Chiurn path. With stunning views of the mountains surrounding we climbed to a height of 640ft ASL (rather short of the nearest summit of A' Chreag Dhubh at 972 ft. ASL) and a distance of 2 miles before we decided to stop, sit and relax on a convenient flat rock, just taking in the views around us. We returned, collecting the tripod on the way, a slightly different route and walked again through the village back to the camp site, a walk of almost 4 miles. This afternoon Jenny did some baking, scones, bread and a fruit cake, for my part I did all the washing up!
Friday 8th August 2014
A walk I wanted to do was the Pony Path another track which ultimately would take an intrepid walker between two high peaks to a further one in the range called An Ruadh-stac Beag. We just wanted a steady walk although the path after leaving the Beinn Eighe Nature Reserve rose up steeply along an uneven and rocky path by the side of a picturesque burn. We had great views of the mountain range opposite including the pointed summit of Slioch at 981 metres with Scotland's fourth largest loch, Loch Maree at its base and three mountains of the Beinn Eighe range in front of us. Like yesterday we found a great place to sit, hoping to see perhaps a Golden Eagle soaring across the scree-covered slopes or even a Red Deer which we thought we would have seen around here although they do live much higher up in summer to avoid the midges. We walked back down the pony path and joined the Beinn Eighe Nature Reserve "Buzzard Path" a circular walk from the Visitor Centre, stopping at the centre for a short time to see if anything "unusual" had been sighted and noted by visitors or rangers before returning to the motorhome for a late lunch. Whilst we were out we had an email, we only have GPRS on Jenny's phone not a 3G signal and it was from Britstops with a listing of 60 new locations, unfortunately because of the limited strength of the signal they wouldn't download as a PDF file. I decided to walk up to the transmitters above the village, stand underneath and see if I could download them, it didn't work, still the walk did me good, I am now three mile off the next hole on my trouser belt!!!
Saturday 9th August 2014
Wild Camp, Loch Torridon Viewpoint, near Sheildaig, Lat: 57.5277, Long: 5.5667 (18 Miles).
Well we were sorry to leave Kinlochewe, although pleased (for now) that we appear to have left the midges behind. The weather during our stay here has been fantastic and although we have had some rain we didn't expect to be able to go walking every single day. Today was no exception, we left the camp site just after noon and drove 4 mile to the Beinn Eighe Nature Reserve Lochside car park just 4 mile away from the village. Our aim was the Woodland Trail a circular path which runs for roughly 1.25 miles upslope and back above Loch Maree. Collecting a trail booklet from the information shelter we followed the path climbing immediately up numerous steps through a Birch wood beside a burn stopping at each numbered way-marker to read the guide for that particular point, most of which had a bench next to them which gave us time to take a breath. We got to the highest point at way-mark post No.6 and diverted for a short way to walk part of the adjoining Mountain Trail, this trail is a more serious one and unfortunately now beyond our capabilities as regards "our poor old bones". However, we were more than content with the shorter walk with some superb views out over the tops of the pines of the slopes below, across Loch Maree to Slioch and to the river mouth of the Kinlochewe River.
After a stop along Torridon Glen for a late lunch we arrived at our intended "wild camp" at the Loch Torridon viewpoint late afternoon, what a place to stay tonight, views along Upper Loch Torridon and several high peaks to almost 1,000 metres on the opposite bank.
Since we have been here we have had rain showers which created two wonderful rainbows and the sky tonight looks good for a sunset photograph, it wasn't a bad sunset last night at Kinlochewe, but there was no way I was going into battle with the midges there, I would have been hopelessly outnumbered!
Sunday 10th August 2014
Wild Camp, near Lochcarron, Lat: 57.4045, Long: 5.5194 (18 miles).
Well I did manage to get out last night to photograph the sunset, (which wasn't brilliant) without getting into a war with the midges, the light wind being enough to keep them at bay. But, they were waiting to ambush me this morning when I got up before 7:00 am to take some photographs of the mountains in the morning light! We had a wonderful peaceful night, what a view out of our bedroom window of an almost cloudless sky this morning and the forecast was supposed to be for wet weather. We stayed at the viewpoint until noon when it started to get busy with tourists stopping to admire the view and who could blame them. As we were leaving the forecasted rain arrived and we had a wet journey to a lunchtime stop near Loch Carron, stopping at Sheilbeig to have a look at the picturesque village on the way. We were going further today but I want to visit Strome Castle which is this side of the loch so we decided to find a place to spend the rest of the day and go there tomorrow morning, hopefully the weather may be better, although the forecast doesn't look good.
Monday 11th August 2014
Morvich Caravan Club Site, Morvich, Lat: 57.2355, Long: 05.38210 (29 Miles).
A very wet and windy night although we were luckily sheltered by a large "cliff" in the parking area we stayed in, but with the forecast for the next few days not being dissimilar to last night we made the decision this morning not to drive directly to "The Isle of Skye" and wild camp on the way, instead we would stay at Morvich Caravan Club site initially for 3 days but in reality until the weather improves. It would have been pointless to drive to Skye and not see anything of the wonderful scenery on the way. Indeed on the very wet drive to Morvich we saw very little and it would also have been pointless to visit Strome Castle to take some photographs, I got soaking wet this morning just turning off the gas bottles before we left! Strangely despite being in "the mountains" we had an excellent 3G phone signal the first time for almost two weeks and this morning we were able to book our stay with the Caravan Club on-line. We then rang them later to check whether we could arrive earlier than twelve noon, it was OK and we did. We are pitched with fantastic views of the mountains which surround the site, well that is unless they have moved since the last time we were here; we certainly can't see much of them at present.
Tuesday 12th August 2014
A day for staying in the dry it has rained now since Sunday lunch time and as I am writing this at 9:00 pm it is still raining although not as much as this morning and yesterday. I did venture out to look at the state of the River Croe at its confluence with the Abhainn Chonaig river (no I don't know why one is "English" and the other "Gaelic") about five-hundred yards upstream of the camp site, in a break in the rain. Whilst it was really rushing through it was still within the banks and had a good way to go before it would have come over. At present we are on Yellow "alert" if it goes to yellow "warning" the wardens come knocking on our motorhome door! Why is it when the rivers in England are in flood they are a shxxxty brown colour and these Scottish are running almost clear despite the torrent of water coming down? At least staying in today I have got the photographs up to date for the web site and we have read, listened to music and played computer games on the lap top, unfortunately the prospect of better weather tomorrow isn't looking good.
Wednesday 13th August 2014
The weather this morning was a little better at least its only light rain but it's still wet!!! We did "maps" trying to decide where we would go to after leaving Morvich, there are two places on The Isle of Sky we would like to see, Elgol on the shores of Loch Scavaig and Ardvasar on the Sound of Sleat so they are "top of the list", then its back towards Inverness (perhaps). This afternoon the weather improved significantly and we decided to have a short walk along the glen alongside the Abhainn Chonaig river, tomorrow the weather is said to improve even more we will probably walk along Glen Lichdt which has great views of the range of mountains "The Five Sisters of Kintail".
Thursday 14th August 2014
Whoops, overslept this morning! It meant that Jenny's "baking" morning started later then we intended and it was after a late lunch we started out on our walk along Glen Lichd. Although it didn't really matter that we were late, there was still low cloud around us and visibility wasn't brilliant and it was gradually clearing as we walked along the old drovers track. We found a great place to take some photographs, without a breath of wind a slower part of the River Croe had some wonderful reflections of trees and the mountains in it, (although the best one, looking up the glen I took on the way back from our walk).
Walking along the track wasn't easy, the amount of rain recently had flooded several sections of it from the many waterfalls that still trickled down the cliffs and we had to tread carefully over higher parts to avoid getting our boots too wet. However, it wasn't too long before our feet did get wet; mine especially, so we just plodded through the rest of the water courses we came across. I have never been satisfied with the waterproofing of my summer walking boots; they will be thrown in the bin before the end of the year. Eventually we did reach a stream which was gushing across the track, and decided not to continue any further, so after taking a photograph of the waterfall from which the water came we walked back along the glen to the camp site having walked just a little short of five miles.
Friday 15th August 2014
Wild Camp, Ratagan Pass Viewpoint, near Morvich, Lat: 57.2234, Long: 05.4637, (80 Miles).
We left Morvich mid-morning for our destination The Isle of Skye, stopping in the village of Inverinate to purchase some diesel, when we reached the village of Broadford on Skye fuel was 7p a litre cheaper! Mistake one, I thought that the price per litre was diesel shown on the bottom of their sign (it usually is), wrong it was the dearer price on the top. Mistake two, I naturally thought that fuel would be dearer on Skye, it obviously wasn't. It was a good job that we didn't fill up which we usually do, I just wanted a "top up" until we reach the Tesco in Inverness and we bought 20 litres. Our next stop this morning was at what I consider one of the most over-rated castles in Scotland, Eilean Donan. Only because it sits on an island with scenic views and it's on a main road does it have its reputation. Still a lot of people do like it given the amount of coaches, motorhomes and cars in the car park. I parked the other side of the bridge, where Jenny and I enjoyed a meal at a small restaurant some years ago, sadly it's now an outdoor camping equipment store with the notice "Closed During Winter Months" on the door, winters apparently comes early at Dornie . . . it was closed!
Arriving at the Co-operative supermarket in Broadford the car park was almost full "of Italian Motorhomes" that had parked there overnight and were within a foot of one another, they obviously don't have the "6 metre" rule for fire safety in Italy. After purchasing a few items of food we were soon on our way along the very hilly 15 mile single track road to Elgol a place at the end of a peninsula I wanted to visit as it gives some stunning views over Loch Scavaig to the Cuillin Mountains. On the way we wanted to stop near the tiny village called Kilmarie from which a track runs to the abandoned coastal village of Camasunary, evidently 1.7 miles up this track there is one of the best panoramic landscape views in the UK, taking in the islands of Rum and Canna, The Black Cuillin's with the mountain of Blaven as a focal point and Loch Scavaig. We were disappointed the car park on the side of the road was full. We carried on to Elgol and despite there being numerous places to park it was evident that with the amount of vehicles parked haphazardly, here, there and everywhere (even in passing places), we would not be able to stay. We turned back and found a place to park near Loch Slapin to have a cup of tea and decide what to do. We decided we would forget Skye this time and return another year in the spring or autumn. It was obvious this time of the year it was very busy, in fact on a single track road we had never encountered so many cars, (mostly "14" reg' hire cars) and had to stop and even reverse
a couple of times. Wanting a nice place to spend the rest of the day and stay overnight we chose a place we had stopped at before, Ratagan Pass near Shiel Bridge. We are now overlooking 735 feet below us Loch Duich, with "The Five Sisters" mountains and many others in sight AND we can just glimpse through binoculars Morvich Caravan Club Site a little under 5 mile away that we left this morning!!!
Invernesshire
Saturday 16th August 2014
Wild Camp, picnic area near Crask of Aigas, Lat: 57.44947, Long: 04.55153.
Well yesterday was the first real disappointing day of our trip so far, today could not be the same could it? It didn't start too well, we were in "cloud" when we awoke this morning, yesterday's fine view across Loch Duich was no more, to be replaced by mist and drizzle, however. It wasn't unexpected it was exactly as the weather forecast predicted. Leaving the West coast we had mist and rain all through Glen Shiel past Loch Cluanie and most of the way along Glen Morison, pity, the road along Glen Shiel is particularly beautiful with high mountains on both sides of the road until the end of the bare looking Loch Cluanie. The weather didn't improve until we were having "elevenses" at the bottom end of Glen Morison as we approached Loch Ness, but by then we had missed the best of the scenery. We were going to have a short "photo stop" at Urquhart Castle but the sign outside said "Car Park Full", we went down the one way system anyway just in case someone had vacated a spot, nobody had, we drove in the entrance and out the exit without stopping. Glen Affric was our next stop and we drove to "Dog Falls" AND another full car park! Again we didn't bother stopping for another good reason, we realised we had been there before, albeit fourteen years ago and whilst we would have liked some photographs of the falls and have a walk, we decided to continue towards the East coast and Inverness. After stopping just outside Glenn Affric for our lunch beside the River Glass we found a picnic area beside the River Beauly to stay for the rest of the afternoon and made it our overnight stay. We have now made a plan for the next few days, although it's already changed several times since we've been here, we'll let you know!
Ross and Cromarty
Sunday 17th August 2014
Dingwall Camping and Caravan Club Site, Dingwall, Lat: 57.59691 Long: 04.41956 (14 Miles).
Well here we are back on the East Coast of Scotland for a short time before "going down the middle" (again for a short time), having done a circular tour travelling further up the East coast along the top and down part of the West coast covering 608 miles since leaving here on the 15th of July. We decided that because Tesco at Dingwall was 6 mile less distance than the Inverness one and with far better parking we would drive to there, stay for just one night then drive over once again to Cromarty on the Black Isle before continuing to the South side of Moray Firth to the Britstop at the cheese factory and then towards Aviemore. Another wet drive the short distance to Dingwall and we were at the supermarket at 10:00 am for a "big" shop and a fill up of diesel (13 pence a litre cheaper than at Inverinate) before booking in at the camp site. We spent the rest of the very showery day relaxing in the motorhome.
When another motorhome arrived on the next pitch to us this afternoon and a lady and man took the dog for a walk I said to Jenny, " that lady reminds me of Linda Washbrook" a lady who worked with me at Hamer Ford during the 1990's early 2000's. As I was typing the website up last night I could hear bagpipes and decided to go and find where they were coming from. A lad was playing them outside the amenities building and the man and lady where listening to him. The lady looked at me, I looked at her, it was Linda (now Mrs Cusack), four hundred plus miles from the Midlands and the person on the next pitch you know! We had a nice chat before I invited Linda and Mike back to the motorhome for a cuppa and we spent the rest of the evening talking about, ourselves, themselves, our ex Hamer Group friends and of course motorhomes.
* * * Thank You for the Bottle of Wine Linda and Mike * * *
Monday 18th August 2014
We had a short chat again this morning with Linda and Mike before they left the camp site on their way south towards the Midlands. I watched Ross County training for a short time there training ground and indeed the football stadium being adjacent to us. I did think to give them some tips, they need them, they are bottom of the Scottish premiership at present, played 3, lost 3! Because the weather is poor at the moment wet, windy and unseasonably cold we have decided to stay here for at least another two days until hopefully it improves before continuing further.
Tuesday 19th August 2014
A cold night but at least the sun was shining for a short time this morning and there is barely any wind, it looks like we shall be moving on tomorrow. This morning we had a short walk along the river towards the town and Tesco, our electric toothbrush has run out of sparks (in fact about a month ago) and Tesco are selling them half-price at present (verified because we checked it at Boots first), after buying the toothbrush and a few other items we walked back to the camp site through the town centre pedestrianised high street. This afternoon Jenny did all our washing with the laundry done, the "larder" full, diesel tank filled and we are topping up the LPG tomorrow, we are completely sorted to hopefully wild camp for a few days. Whilst Jenny did the washing I decided to walk up to the monument to Sir George Mackenzie, haven't a clue who he was or what he did, but the monument looked impressive on the top of the hill overlooking the town. I was somewhat disappointed, not with the monument but with its surroundings . . . in a cemetery, I thought I would be able to take a photograph of it with Cromarty Firth in the background, not gravestones, so I decided to take the photographs in portrait (unusual for me) rather than landscape.
Wednesday 20th August 2014
Wild Camp, Cromarty, Lat: 57.68251, Long: 04.03328, (30 Miles).
We left at exactly twelve noon and after filling up with fresh water our first stop was at the Gleaner filling station at Evanton, we didn't make the same mistake as last time and turn off too soon; we went further which saved us going through the small and narrow village. It was 9 mile out of our way but we are full now in both gas bottles until we arrive at Fort William. With only a short distance to drive we were at the wild camping place at Cromarty within a hour and it being a massive area of shore line in which to park we were soon comfortably "pitched" and enjoying lunch overlooking the firth and watching for dolphins.
This afternoon we had a short walk to the village and had a wonder about the little high street and narrow side streets which had a variety of tea shops and antique shops, a post office, small grocery shop and a very good home bakery. The rest of the day and evening we relaxed and as I am writing this at 9:00 pm we haven't yet sighted any dolphins, but we have been joined by another seven motorhomes, four of which were Spanish which arrived in a convoy.
Thursday 21st August 2014
We have decided to stay another night it is so comfortable here, with great views over the firth and to the coast near Lossiemouth, although it has rained for most of the night and the visibility this morning isn't great. This morning was interesting, first of all at 9:00 am a large cruise ship "The Artania" sailed past, then shortly afterwards a very strange ship arrived and moored opposite us. It was the heavy lifting vessel belonging to the Dutch company Dockwise, the "Black Marlin" and it was carrying a new oil rig "Prospector 5" which has been built in China and was being delivered to Cromarty for evaluation before being used off-shore. We watched all the "comings and goings" for most of the day and it created a great deal of interest judging by the amount of people taking photographs from the coastguard boat and also the tug boat that delivered supplies, including a "fly-past" by what I can only describe as being a "drone", I know they are being used a lot more now for photography. This evening Black Marlin started to "sink"!!!
Invernesshire
Friday 22nd August 2014
Connage Highland Dairy (Britstop), Ardersier, Nr Inverness, Lat: 57.55795, Long, 04.03584, (36 Miles).
After another peaceful night by the side of Cromarty Firth we woke to find that Black Marlin was "sunk" with only the bow and stern above the water line and there was a great deal of activity on the vessel, on the oil rig and on the 3 large tugs that surrounded it. At 11:00 am, 15 minutes before high tide Prospector 5 floated off Black Marlin and was then towed up Cromarty Firth, Black Marlin was then re-positioned. We left at 1:15 pm after going to the village bakery to purchase some bread (Italian Wholemeal) and having our lunch and by then the vessel was well on its way to having the water pumped back out and the sides were once again beginning to show. We have had a very interesting two days watching a great piece of engineering being unloaded from the ship, the skills of the tugboat men and the fascinating versatility of the "submersible" Black Marlin heavy lifting vessel. Just as well we had the oil rig unloading to look at, the Dolphins never put in an appearance although I did see a lone seal this morning. We have decided to re-visit Connage Highland Dairy the Britstop we visited several weeks ago and drove directly there, however the car park was very busy mid-afternoon so after telling our hosts we would be back later we continued to Fort George the Georgian Bastion the imposing fortress which we had excellent views of across the Moray Firth when staying at Rosemarkie. The car park was very full with mostly foreign cars and motorhomes but luckily with a flat grass verge at the rear we were able to reverse in to a perfect spot and have a cup of tea before walking to the fort.
We weren't interested in going inside (especially at £7 each) but were still able to have a walk around part of the battlements and take some photographs before returning to the motorhome. Arriving back at Connage Highland Dairy, just 2 miles from the fort we had our evening meal and relaxed for the rest of the evening, in complete silence except for the very occasional aircraft taking off from Inverness airport nearby.
Saturday 23rd August 2014
Nairn Camping and Caravan Club Site, Nairn, Lat: 57.57190 Long: 3.92728. (6 Miles).
After buying our chosen cheeses this morning we left the "Cheese Pantry" and drove less than a mile to a viewpoint at Ardersier that we stopped at last time overlooking the Moray Firth the views over to the Black Isle was excellent, that was until a heavy rain squall arrived and from being able to see over twenty miles, we couldn't see more than one. It didn't last long however and before we left I did see some Dolphins in the distance through my binoculars. We continued the very short distance to the Camping and Caravan Club Site arriving just before noon, perfect timing by the time we had booked in, chosen a pitch and organised ourselves it was time for the Belgium F1 Grand Prix qualifying from Spa and we settled down to watch that and relaxed for the rest of the day.
Sunday 24th August 2014



* * * A Very Happy Birthday to Sister-in-Law Linda xx * * *
A very relaxed day, I edited some photographs, Jenny did some washing and baking and of course we watched the Belgium F1 Grand Prix.
Monday 25th August 2014
Wild Camp, Nairn Harbour, Lat: 57.59172, Long: 03.86075, (4 miles).
Again overslept this morning, too comfortable in a warm bed that's the trouble! We were still having breakfast at 10:00 am and before then I walked down to reception for the "OK" on stopping over the noon departure time. It's always been OK to stop but we always feel it right to ask permission and have never been refused. We actually left at 1:00 pm and as you can see we didn't go very far. The very informative "Welcome to Nairn" leaflet showed a craft shop in the high street with a large selection of wools so we decided to pay a visit. The camp site manager told us there was plenty of ample free parking near the harbour "past the excellent fish and chip shop" so we decided to park there, Jenny had also seen on the Satnav that it was a "wild camping" place. The parking area was excellent we parked facing almost opposite the spot we were at on Thursday and Friday across the Moray Firth to the opening of Cromarty Firth and with the weather (unlike England) being clear blue skies we could see for miles, north, east and west.
Jenny found exactly the wool she wanted at Caledonian Craft Collections and after leaving there we had a further wonder along the high street shops before returning to the harbour. We had decided to have fish and chips that were recommended but the shop shuts on a Monday, instead we had the cheese selection we bought on Saturday for our lunch. What we did decide to do however was stay at Nairn for tonight, it's such a perfect place to "wild camp" we couldn't have chosen a better spot and we had a couple in the motorhome next to us from Redditch to have a nice chat to. We did after all have our fish and chips tonight we had passed another shop in the high street and we walked back to there this evening for them. The sun looked fantastic this evening as it went down over the firth and the mountains opposite, not good for a photograph though the sky was too clear.
Tuesday 26th August 2014
The Speyside Centre (Britstop), Skye of Curr, Lat: 57.2837, Long: 3.6955, (33 Miles).
First stop this morning Sainsbury's for bread, milk, fresh fruit and vegetables, there was more than enough room to park and the store was the right side of the town for the A939 road towards Grantown-on-Spey. We have chosen to drive to Skye of Curr anti-clockwise over part of the Cairngorms National Park on a quieter road that we have never travelled before rather than use the busy A9 a road that we have. We haven't looked at the mileage but guess there is little difference. We were going to stop on a little side road at Lochindorb (one word) for our "elevenses" but the parking places were all taken up with "Henry's" 4 x 4's who were on a Grouse shoot, instead we continued a further mile and found a great spot near a lochan for tea and biscuits and a short photography shoot.
We arrived at the Speyside Centre at lunch time, despite a wrong turning, I blamed Jenny, Jenny blamed Betty (the Satnav) and they both blamed me! We parked where the lady suggested, pointing into the forest where she said we may see Red Squirrels, great we saw one within five minutes and we have seen several since. Mid-afternoon we went to the Clootie restaurant and treated ourselves to . . . Clootie Dumpling, Jenny had one with black cherries and flaked almonds, I selected one with Stags Breath Liqueur, cream and ice cream both were excellent, although I didn't like the "aerosol" cream. What we did find out though was that their free Wi-Fi signal reached into the car park which was useful in deciding via Google Earth where to stay tomorrow.
Wednesday 27th August 2014
Wild Camp, Creag Meagaidh National Nature Reserve, near Laggan, Lat: 56.95192, Long: 04.49629, (46 Miles).
The coldest night since last winter it was only 6 degrees C in the motorhome, when we got up we switched the gas heating on and it soon warmed up. What we did decide to do however, was drive to a parking place which was in brilliant sunshine and have our breakfast there instead of staying at The Speyside Centre under the shelter of trees. Finding a place wasn't as easy as I thought, the intention was to drive along Loch Insh on a "B" road towards Kingussie and find a place alongside the loch to stay, but there was a weight restriction on it because of an unsafe bridge, instead we turned around and used the "B" road that runs parallel with the A9 until we found an ideal parking area off the road to stop. The unsafe bridge also prevented us visiting Ruthven Barracks which was on the same road. We didn't bother stopping in Aviemore we have been there several times before, likewise Glenmore and the road up to the Cairngorms. Instead we drove directly to tonight's "wild camping" location and we were "wowed" as soon as we arrived, ample room in the car park, surrounded by high mountains, with Loch Laggan a few hundred yards away. What was also pleasing I started to talk to a man that was there who happened to be the manager, I asked whether it was OK to stay the night and he was delighted "the more the merrier", he told me where the toilets were, what animals we might see, the walks we could do and gave us a "potted" history of the reserve.
After lunch we decided to do the 1.1 mile "Alt Dubh" Trail which took us to the edge of the hill land, with great views over the reserve and beyond. Jenny then suggested we continue along the 3.35 mile up the glen to Coire Ardair "a wild and peaceful place with a loch underneath dramatic cliffs".
We read the path notes, which were as follows, Going to Coire Ardair?
"You'll need good footwear". . . Ours are wearing out.
"Warm and waterproof clothes . . . In the motorhome.
"Food". . . A slice of chocolate and hazelnut cake.
"Water". . . 2 bottles,
"A map and compass". . . Yes, on the iPhone,
"An experience of mountain walking". . . Mmmm, not done Everest for some time!
Equipped and well- organised (hum hum) and with hardly a cloud in the sky we climbed the easy to follow path towards Coire Ardair and 1½ hours later we arrived at the loch having only met four other people on the way.
We stayed at the picturesque loch for about 30 minutes and the scenery was stunning, especially with snow still in the gullies on the north cliffs just a hundred feet above us. The only thing was with the sun opposite the loch and the towering cliffs in shadow I couldn't get in a position to take a decent photograph with so much contrast and glare.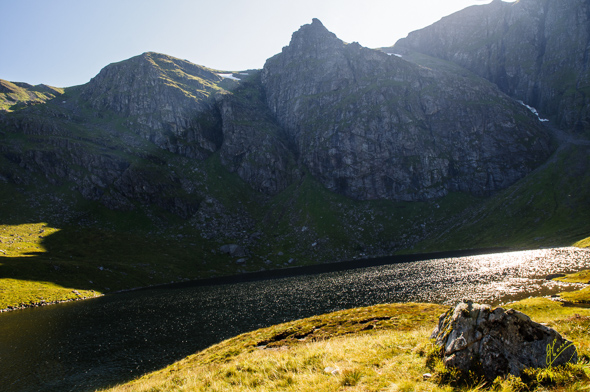 We descended the same way until we arrived back at the Alt Dubh trail, where we continued on the original circular path back to the motorhome, thus completing the Alt Dubh trail having walked a total distance of 8.31 miles to an altitude of 2035 feet. We are pleased with ourselves!!!
Thursday 28th August 2014
After a discussion last night we are staying at this great wild camping spot an extra night. With the forecast for today to be wet early morning and then improving mid-day before turning wet again we decided to do the other two Creag Meagaidh shorter trails together this morning, "The An Sidhean Trail" a flat walk past the reserves ploughed fields and "The Alderwood Trail" through woodland next to the river only 1.3 miles in total, although we did then walk across the road and down a track to the shore of Loch Laggan to have a look at the loch and the mountains in the background. We were going to the loch via the field opposite until one of the reserve lads told us they were going to put some highland cattle in there, not that we are bothered with them they are wonderfully docile creatures, but that I wanted to take a photograph as they were herded through the car park.
For a time this afternoon the weather did as forecasted go wet and gloomy and we just relaxed in the motorhome, but as I am writing this early evening, the sun is out and there is hardly a cloud in the sky, hopefully like last night we will be able to see the Red Deer feeding on the hills opposite the loch.
Friday 29th August 2014
Wild Camp, Glenfinnan, Lat: 56.87155, Long: 05.43752, (49 Miles).
I had another walk before it got dark last night around both the short walks hoping I might see some "critters", I did, two birds, a slug and a hairy caterpillar! We left Creag Meagaidh mid-morning and our first stop was at public toilets in Spean Bridge to empty the toilet cassette as we want to continue wild camping for the next few days and not use a commercial camp site. Next stop the Gleaner Filling Station in Fort William to top up with LPG, surprisingly even though we have had to use the heating system a few times recently which obviously uses more gas we have only used 9 litres since our last fill up. We then continued to the car park we have used several times visiting Fort William at the west end of the town which as always had plenty of space with nice views over Loch Linnhe. We only wanted a few items from Tesco and Boots which are actually at the other end of the town centre from the car park but it is always nice to walk through the pedestrianised high street and browse the shops (like the whisky one). After purchasing what we needed we started to look for something to eat and both fancied fish and chips when we passed "Nico's and smelt them! We were going to eat them back at the motorhome but the dining room looked nice so we "dined out" instead, very nice it was too with two large mugs of tea to wash them down. At last! We found a light waterproof/windproof jacket for Jenny without a hood when we walked into the Regatta outlet shop, she's happy now. Arriving back at the motorhome we had a good phone signal and rang the Bunree Caravan Club Site and booked next Friday and the weekend to stay there (another Grand Prix weekend) and looked on the internet (Google Earth) and found some possibilities for our wild camps in the next few days. Leaving Fort William in pouring rain and headed towards Mallaig we decided to give the first wild camping place a miss at Drimsallie, I missed the turning for the next one and arrived 4 minutes later at the last one at Glenfinnan. It looked OK but because I thought the second one looked better on Google Earth (Callop Forest) we decided to take a look at that one, it wasn't, we returned to Glenfinnan and what a good decision it was. The "wild camp" car park is at the entrance to a private road with pedestrian access to the famous Glenfinnan Viaduct (see Harry Potter) a 10 minute walk away. We weren't aware of that when we chose it and in between rain showers I had a walk along to the viaduct, very picturesque it was too despite the mist on the surrounding mountains, last time we were here was actually when we crossed it on "The Jacobite" steam special in 2006.
I had another walk along again later in the evening to watch a two car diesel multiple unit go across it.
Saturday 30th August 2014
Wild Camp, near Morar, Lat: 56.96157, Long: 05.82550, (23 Miles).
Well at least the rain has stopped this morning. Luckily we had a good internet signal and we were able to check the railway timetable to see what time "The Jacobite" crossed the viaduct we estimated 10:45 am and Jenny and I both walked down to be in a good position to take some photographs with 10 minutes to spare. We had a good laugh whilst we were there, both with a Japanese family who wanted a group photograph taken and an American couple who I almost convinced that the train was running two hours late! It was on time and it looked pretty impressive crossing the viaduct with the driver "putting on steam" and blowing the whistle, but all too soon it had gone.
We then had a further walk down to the shore of Loch Shiel to take a photograph of the Jacobite monument and the view along the loch, then we had a quick browse in the visitor centre before leaving Glenfinnan.
We had a choice of wild camps along the B8008 road which runs almost parallel with the greatly improved A860 and chose the first one we came to opposite the village of Morar a flat car park with excellent toilets and ideal place to spend the rest of the day and tonight, especially as a two minute walk down a narrow track took us to the wonderful white sands that this stretch of coast is famous for. The weather has for a change been kind to us yesterday's rain has given way to a few sunny periods and after lunch we had a lovely stroll along the "Silver Sands of Morar" if it wasn't for the cooler temperature we could have been on a tropical island. We then spent the rest of the day and evening relaxing in the motorhome,
I did walk down once again to the shore of the bay, which I can't find the name of other than it's part of "The Sound of Sleat", in the hope that there may be nice sunset, unfortunately there wasn't but it was pleasant nevertheless.
Sunday 31st August 2014
Wild Camp, Castle Tioram, Lat: 56. 78057, Long: 5.82566, (34 Miles).
Whilst Jenny washed up the breakfast dishes this morning I took advantage of a sunny morning and the high tide to take some photographs along the beach, I also had a nice chat with the man who with his partner and two dogs had also stopped on the car park last night, a musician from Glasgow who had been doing some surfing at the weekend a bit further along the coast. I didn't stop long I had gone wearing a pullover and body warmer and was far too warm, I returned to the motorhome "disrobed" and also changed into my thongs (sandals) as I wanted to take a photograph which necessitated me paddling, I took the photograph, the water was blxxdy freezing!
We returned to the main road via the longer narrower way which went along the coast, surprised at how many camping site there were along there, including one we rang for prices a couple of days ago, "£15 for the motorhome, £5 each person", no thanks, we stayed in a wonderful spot and it didn't cost us anything. Our first stop this morning for "elevenses" was at Loch nan Uamh the scene of a battle between the English/Scots and the French, sorry I can't tell you more history is not my strong point, but I do know "The Prince Charles Cairn" nearby isn't "our" Prince Charles but one who lived about 1746. We had another nice "yarn" to an Australian couple from Canberra whilst we were there who had recently retired and were on holiday, they admitted we had seen more of Australia then they had.
(Why am I whispering to Jenny as I am writing this is that I can see a deer less than a hundred yards from us? He can't hear me). I digress, our next stop was going to be tonight's "Britstop" at the Glenuig Inn, however it was far too early to stop and the view of a "skip" in the car park wouldn't have been great we decided to continue and had lunch at a new viewpoint car park overlooking the mountains of the Moidart.
One of our favourite places in Scotland to visit is Castle Tioram on an island joined by a sandy causeway on Loch Moidart, a place we have visited three times previously and we made the decision to stay there tonight. The weather was ideal for walking from the motorhome parked on the edge of the loch the short distance to the island to take some photographs and for the first time the locked gate at the entrance was open, I ignored the "Danger" signs and walked inside and took two more photographs and also tasted my first blackberries of this year that were growing up the walls (Just closed the lap top for a short time the red deer were at the front of the motorhome).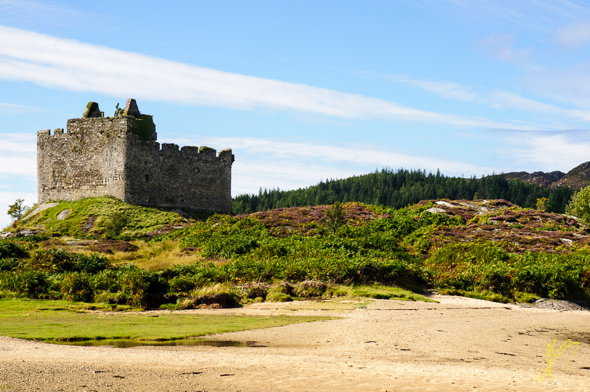 Arriving back at the motorhome I decided to sit on a rock outside with my binoculars and look for any interesting wildlife and was almost immediately rewarded by seeing our first Golden Eagle of our holiday soaring in the sky over the hills opposite, I called Jenny out and we spotted a further two before they disappeared beyond our view, although we watched the first one coming and going for a further thirty minutes. Pity that the weather was starting to change and getting very cloudy and beginning to rain, the visibility also became poor; when we arrived we could see the island of Muck in the distance, not any more. Unfortunately the weather deteriorated even more so the photo I was hoping to take with the evening sunlight on the castle didn't materialise. Instead I watched the red deer until they wandered away and had my face glued against the window hoping to see an otter feeding in the sea weed as the tide came slowly in until it was too dark to see.
Monday 1st September 2014
Wild Camp, B8007, Ardslignish, Lat: 56.68256, Long: 05.98135, (54 Miles).
A wonderful peaceful night, the only two sounds (Jenny say's there were three, the other . . . me snoring,) we could hear was the sea when it was breaking gently on the rock wall near us, when the tide was at its fullest, (because it's a small sea loch, it doesn't come in as a wave but gradually rises) and a Tawny Owl. While Jenny was showering this morning I walked down to the waters and "paddled" to take photos of the castle reflected in the calm water, surprisingly I found the sea this morning much warmer than yesterday, the water in the bay yesterday mixing with that flowing out of Loch Morar a large fresh water loch "above" Mallaig, (which incidentally is said to have its own Nessie, called "Morag").
We had decided to eat breakfast at a different place, the road down to the castle is even for Scotland extremely narrow with fewer passing places and I thought it might get busy this morning. Our first stop though was at a place nearer the main road at a location I have taken photographs from before, an old bridge (built about 1899) with the River Shiel flowing underneath to a much broader part of the river with fishing platforms.
It was here that I noticed I "had dropped a clanger" this morning when taking the photographs, last night I was attempting to take a photograph of the red deer and because it was getting dark I increased the ISO to 1600 (normally 200) and the aperture to 3.5 (I normally set it to 11) you photographers out there will realise the consequences and no, I don't know why I didn't look at it, perhaps I was still asleep! We stopped at Salen for our breakfast and then stopped within 3 miles the other side of the village for elevenses and lunch. Having spent holidays in the area there was one particular picnic spot by the side of Loch Sunart that was a particular favourite "Camas Torsa" (The River of Thor) we remember it because several years ago when we stopped there I fell asleep along the picnic bench! We decided to stop there relaxing and just enjoying the surroundings until early afternoon when we continued on our way along the very windy, hilly and narrow road to the most westerly point on the UK mainland, Ardnamurchan Point.
We didn't stop long there, we had already seen the exhibition in the lighthouse buildings and we didn't bother visiting the gift shop. Last time we were here we had a picnic sitting on the rocks in the warm sun enjoying the views of the islands, not this time it was too cold. Oh and the date last time, 21st October 2009!!!
Leaving the point we stopped at the visitor centre in the village of Kilchoan to enquire the directions to Mingary Castle (one of the reasons for driving here). Big disappointment, the castle is closed to the public and renovation work is taking place to make it habitable once again. At present the whole structure is completely covered with sheeting. The helpful lady suggested we return when it's finished, no thanks, I want my castles to be ruins, not hotels. We decided to return along the B8007 and stop for the night at another favourite viewpoint near Ardslignish. This viewpoint has always interested us with the shape of the mountain "Ben Hiant" opposite with its peculiar ""hillocks" and the "vivid" green colour which seems out of place with the surrounding "greens". An informative board has been erected since our last visit and we now know that Ben Hiant was the flank of a volcano formed 60 million years ago, the "hillocks" are actually cones, the green we guess is the rich nutrients of the soil. There is also a great view (weather permitting) to the north end of Mull at Ardmore Point at present it's just a grey shape, 5 minutes ago the lighthouse started flashing its characteristic two white flashes every 10 seconds, must be getting dark, time for bed.
Tuesday 2nd September 2014
Wild Camp, B8043, near Kilmalieu, Lat: 56.64043. Long: 05.43681 (38 Miles).
Well we stayed at Ardslignish until 2:00 pm hoping that the promised clear skies and sunshine would arrive, alas it never came and I didn't get the photograph I wanted, (I could cheat and use one from 2009). We drove slowly back to the "A" road, not that there is much choice with the number of bends in the road, I rarely got out of third and fourth gear for most of the way. The road from Salen to Strontian isn't much better although I had a coach in front until Strontian. I didn't bother getting past; I let him "force" the other vehicles into the passing places, made life easier for me. At Strontian a village we know quite well having stopped in a croft cottage nearby on three occasions we used the toilets and then walked up to the small caravan park. Enquiring the price it was £19 per night, the site and facilities were just not worth that amount of money we decided to continue to wild camp and emptied out our toilet cassette at the village conveniences. There are plenty of wild camping spots along the A861 towards the Corran Ferry, but we decided to look at a couple on the A884 to Lochaline, then decided instead to turn left along the B8043 a road that for some way goes along the side of Loch Linnhe. We have had fun along this road once before in the motorhome and whilst it doesn't have any very steep hills, it has got an endless amount of humps, dips and sharp bends and then . . . the very narrow part for about a mile where the road narrows and there's a sheer cliff on one side and the loch with a low wall the other. Jenny at this point pulled the near-side mirror in to protect it; the state of the road doesn't help either plenty of potholes to avoid. A road not for the faint-hearted, you have been warned!
We stopped shortly after the narrow part at a wild camping spot just off the road on a nice piece of firm grass with the loch just yards away, we don't anticipate much noise tonight, and we have only seen four vehicles in the past two hours. We have a fantastic view along Loch Linnhe and on the opposite bank we have the Ben Nevis and Glen Coe range of mountains, in fact the distinctive shape of the mountain "Pap of Glencoe" casts a shadow on the water and within the last hour as the clouds have lifted we can just see the tip of Ben Nevis.
We have also seen a herd of wild goats tonight, unbelievable they were almost at the bottom of the cliffs near-by and about an hour later they were hundreds of feet up on top of one of the peaks, silhouetted against the sky.
Wednesday 3rd September 2014
A lovely peaceful night in a fantastic wild camping spot. I went for a walk this morning as far as the narrow piece of road while Jenny finished the jumper she has been knitting for me. There was plenty of birds to be seen as I walked along the road, Buzzards, Herons and Ravens to name but three, I also spotted the herd of wild goats lower down on the hillside at the back of us. When I returned we decided as the weather is perfect at present and the forecast for this afternoon is even better that we would stay an extra night, it's far too nice to move! Whilst Jenny prepared lunch I put my wellingtons on to climb up the marshy hill to hopefully photograph the goats. By the time I found them I felt like a mountain goat myself, hopefully the photos I took were worth the exertion.
This afternoon we just sat in our chairs relaxing in the warm sunshine, Jenny attempting a crossword while I just sat back and enjoyed the scenery with and without my binoculars. Tomorrow we are driving to Glenfinnan again for the night before our stay at the Bunree Caravan Club Site for three days. (It's a Grand Prix weekend).
Thursday 4th September 2014
Wild Camp, Glenfinnan, Lat: 56.87155, Long: 05.43752, (35 Miles).
Went to bed fairly early last night and then got up again because a herd of cows were coming past and I wanted to make sure they didn't pass too close to the motorhome, but like yesterday morning they were all very well behaved. We left our wild camp at 10:30 am and drove leisurely to the main road which was only 4 miles from our location, so again we have done the complete length of the B8043. We then stopped for "elevenses" by the side of Loch Linnhe at the small village of Camusnagaul with Fort William on the opposite side of the loch with the imposing Ben Nevis at the back, before continuing to our overnight stop with a return to Glenfinnan. Once again we walked up to the viaduct to watch "The Jacobite", however because the summer timetable has now finished it only does one trip a day and having missed its outward journey we watched instead its return from Mallaig. This time I walked up the hill above the viaduct for a different perspective which was better and the weather had improved too since last time, just a pity the locomotive was "rearward" on its return trip.
Coincidently shortly after we arrived back two men we had seen last time at the "wild camp" turned up in their motor home. They are on a photographic tour of Scotland and had been over to the Isle of Skye to take some photos; they were somewhat disappointed as the weather had been so poor. We cheered them up though when we put the weather for Glencoe tomorrow their next destination on to Jenny's iPhone and the weather looks good.
Friday 5th September 2014
Bunree Caravan Club Site, near Onich, Lat: 56.71346, Long: 05.23641, (24 Miles).
A morning for "topping up" first at the Gleamer Station in Inverallochy for LPG, (we have used £6 worth in 6 days of wild camping) and then at Morrison's for enough diesel to take us to Oban where we can fill up at Tesco (1p cheaper plus at least 4p at present "Clubcard Fuel Save", per litre). We had already decided not to have breakfast at Glenfinnan but instead have it in the large car park overlooking Loch Linnhe when we arrived in Fort William and then to visit Nico's fish and chip restaurant again lunchtime. I then made a suggestion as we drove past the "Nevis Sport" centre, why not have breakfast there? We have had various meals there in the past and never been disappointed. That is what we did and excellent it was to, Nico's will have to wait and we do know there is a good fish and chip restaurant in Oban and we will be visiting there shortly. We judged our arrival at Bunree for noon and were soon pitched in a perfect position overlooking the loch with the prominent Druim na Sgriodain at 2,408 feet above it and the weather report for the afternoon was correct lovely warm sunshine, we didn't do much for the rest of the day, just relaxed.
Saturday 6th September 2014-Sunday 7th September 2014
Two lazy days, reading, listening to music, editing a lot of photographs and of course watching the F1 Grand Prix from Monza.
Monday 8th September 2014
A good clean today of the inside of the motorhome, not having electric we were unable to use the vacuum cleaner to get in all the "nooks and crannies" whilst wild camping, surprising how dusty it was. We also "planned" our next few days and will stay at the Glencoe Camping and Caravan Club Site for two days before continuing towards Oban.
Tuesday 9th September 2014
After a relaxed morning we had a walk this afternoon to the waterfalls at the Forestry Commission site at Glen Righ. The "Waterfall" track started at the car park above the small village of Inchree about ½ mile from the camp site and we climbed up the narrow path to a viewpoint of the waterfalls. We were impressed, with so little rain fall in the last few days we expected the series of falls to be a mere trickle, they weren't, they drop in a series of steps several hundred feet into the river which we have since learnt is called the River Righ.
Our elevated position also gave us a fantastic view south-west down Loch Linnhe towards the Isle of Mull and Lismore the direction of which we will be going shortly.
Just left typing to take a photo of the sun going down, not a fantastic sunset but the varying shadow shades on the mountains opposite and the reflections in the loch and a very high tide just 30 minutes ago made it interesting.
Argyll and Bute
Wednesday 10th September 2014
Glencoe Camping and Caravan Club Site, Ballachulish, Lat: 56.67324, Long: 05.08475 (18 Miles).
Leaving Bunree at approximately 11:00 am our first stop was at Ballachulish to purchase bread, milk and fruit, easier said than done, Betty sent us to the far end of the village, which was completely wrong after two wrong turns luckily I spotted it near the information centre, perhaps we should have asked there first. We then continued towards the top of Glencoe, however the car park was very busy although we waited in case a space materialised (people stop there take a photo and then continue) today it didn't happen. We gave in when three coaches arrived, millions of Japanese got off and the lone piper started playing his bag pipes . . . out of tune. It was the same piper as May 2010, we gave him the benefit of the doubt then, it was raining and we thought he'd got water in his pipes!!! We drove back down the glen and parked near the small lochan which does give a great view back up the first part of Glencoe and had our late "elevenses" there.
I then got very busy, first of all I gave a group of four young Sri Lankan's the benefits of driving a further 4 mile up the glen to see some fantastic scenery (they were going to stay at the bottom), and I also took a group photograph for them. Then a Swiss couple arrived in their motorhome, I showed them on the map some wild camping spots drew a map of Glenfinnan and where the path was to the viaduct and train time, plus directions to Ben Nevis. Lastly an English couple arrived in a hired motorhome; they asked me numerous questions on the type of motorhome to purchase. Yesterday I was showing an elderly gentleman how to use his camera when we were at the waterfalls, perhaps I should go back in business. After we had had a long conversation with the Swiss couple it was time for lunch so I got the chairs out and we had our Co-operative bread rolls that we always enjoy sitting outside in the fantastic scenery before we drove the short distance to the Glencoe Camping and Caravan Club site next to Glencoe Visitor Centre. We had a choice of pitches and decided on one in the sun away from the "main" road, albeit further from the amenities.
After Jenny organised our washing we walked up to the visitor centre for a browse around the shop before we went to the view point at the rear of the building. We were having a quite nice chat there with a man from Brisbane when a million Japanese tourists arrived, a different million to those that we saw earlier. Is there anybody left in Japan and why do they take photographs of such stupid things? No television signal at this camp site, we read and listened to music this evening and I am still editing photographs that I took several days ago.
Thursday 11th September 2014
A short drive this morning to Glen Etive in Glencoe which has been on our "must visit" list for several years, the last time we drove along it the weather was dreadful, heavy rain and low cloud and we didn't see anything. Today was just the complete opposite an almost cloudless sky and warm without a breath of wind. The drive was through Glencoe onto Rannoch Moor where the single track road leads south past the rocky pyramid of the north end of Buachaille Etive Mor. We had perhaps only travelled 500 yards down the glen when we made our photo stop. A photographer who I had been talking to at Bunree and who also happened to be staying for one night at Glencoe told me the place to take the "iconic" photograph of Buachaille Etive Mor which I have seen in many photographic books, magazine, calendars and postcards. The scene was of mountain with the waters of the River Coupall cascading down in front of it, unfortunately as its been so dry the water wasn't flowing over the rocks and although I took a few of the classic photo, I also took some of the mountain, trees and waterfalls as well.
After elevenses at the same spot we continued up the glen, said to be one of the beautiful detours in the North West Highlands and we must agree the scenery was superb and stopped at a parking area next to a series of waterfalls. And that's where we decided to stay for the rest of the day, we explored the waterfalls of the River Etive, we sat in our chairs just taking in our surroundings, Jenny read her book, I went off taking photographs and watched through binoculars three kayakers attempting to negotiate the river, (with little success there really wasn't enough water).
Late afternoon we drove back to the camp site, we didn't complete the drive all along Glen Etive to Loch Etive after all; it will have to wait until next time.
Friday 12th September 2014
Wild Camp, Aird Peninsula, Lat: 56.14290, Long 05.60367 (70 Miles).
Castles were the focal point of today's drive towards Oban. The first one I wanted to photograph, Castle Stalker I first photographed in October 2009 from the road to Port Appin, however it was from a distance and from the motorhome as I was unable to park. Since then a visitor centre/viewpoint/restaurant has opened on the main road with ample parking, we were disappointed though when we arrived, the new viewpoint was at least a ¼ mile from the castle. I should add that the castle which is privately owned is on an island on a tidal islet on Loch Laich and visiting it (by boat) is very limited. What made it worse was that from the viewpoint two boats were visible moored in front of it, although I did manage to block them out by using some trees in the shot. We then walked back along the path and found another view, from a different angle, so I walked the short distance back to the motorhome and brought back my "longer" lenses and tripod, having had a quick look at the photographs tonight after downloading to the lap top, I am quite pleased with the result.
We then stopped at the bridge over Loch Creran for a photograph, it was going to be a short stop except Jenny spotted some blackberries, ten minutes later we left . . . apple and blackberry crumble tomorrow. After a further stop at Connel to look at the famous tidal race beneath the bridge we arrived at our second planned stop at Dunnstaffnage Castle, seeing this one was much easier, we arrived at a large car park and had a short walk to the ruin and despite millions of school children (no, not Japanese) running riot all around the castle walls we managed to take several photographs from different locations, without even one "photo bombing"
Our next stop was Oban, we like Oban, the car park next to Tesco has several motorhome only parking spaces, why an ambulance was parked in one of them we don't know. Finding "Wool and Needlecraft" in Oban was easy, we passed it on the way to the car park and we bought the wool for a fisherman's rib jumper for me, choosing a fish and chip shop wasn't hard either, we went to the one we visited last time, we resisted the battered black pudding and battered haggis and took haddock with chips back to the motorhome and enjoyed them there. A "big" shop at Tesco was next, that didn't take long we had put all our requirements on the Tesco app on Jenny's iPhone, although unusually some of the aisle locations were incorrect and after filling to the brim with diesel (see 5th September) we were on our way. Not far though, Dunollie Castle is right on the edge of the town and we drove there next, I parked on the side of the road and took a photograph, actually probably one of the best views of it without going into the grounds, (which had closed anyway at 4:00 pm).
We continued south on the A816, looking at a couple of wild camping places on the way, the second one we stopped at was good near Loch Feochan, a lay-by off the main road. But it was while we were putting the shopping away and having a cup of tea there we noticed that a favourite wild camp spot on the Aird peninsula we stopped at in 2009 was only a further 23 miles away we decided to go there instead. We reached Aird a little after 5:30 pm and other than a man who had arrived 5 minutes before us who was camping for two days, a teacher from Edinburgh who had bought his pupils English marking and "beer" with him, we had the place to ourselves. An Aurora Borealis (Northern lights) is forecast for Scotland tonight, hopefully if the sky is clear we might see the phenomenon.
Saturday 13th September 2014
Set the alarm for midnight and although there were breaks in the cloud I couldn't see anything, not that I got out of bed just stuck my head through the roof light! A wonderful peaceful night at Aird, not a sound could be heard and when we woke this morning there was hardly a cloud in the sky. Big discussions after breakfast on our plans for the next few weeks and hopefully our summer holidays next year and then I got our chairs out and we sat in the fresh air until lunchtime, I read, Jenny knitted. After lunch whilst Jenny did some baking I had a walk along the peninsula towards Craignish Point. As often happens when I walk alone I always want to know what's over the next hill, this time was no different, it was not my intention to walk all the way to the end, but what fantastic views, the islands of Jura and Islay in front of me and Shuna, Lunga and Scarba to the North. I then continued along the ridge and gradually descended to a path below me, from this path I returned to the motorhome.
My first attempt this evening for many years at sea fishing using a brand new fishing rod still with covers and labels on that I bought 5 years ago. Using a lure I fished from the old fishing pier and caught four fish which we have yet to identify and a small mackerel, I was very pleased with myself but all five fish wouldn't have made a fish finger, looks like we will go hungry tonight. We didn't Jenny had made a chicken and chorizo tray bake and anyway we had fish yesterday. After our evening meal (with the apple and blackberry crumble) I was going to fish again but the sun going down took precedence and instead we watched and photographed the sunset as the sun dipped below the Scarba. Just realised, forgot to mention although it's probably obvious we are staying an extra night at this fantastic location.
Sunday 14th September 2014
Set the alarm again last night in case the Northern Lights showed but although again whilst not entirely a cloudless night as I could see plenty of stars, there were alas, no reds or greens glowing in the sky. The weather has changed, still dry but with a chilly wind, no longer is the sea like a mill pond like last night, pleasant enough though for us to decide to spend a further night on the peninsula, do you get the impression we like it here? We relaxed for the day, the occasional short walk, a couple of fishing sessions, Jenny knitted and we read, we have no television and very restricted mobile signal. Peaceful is an understatement. Oh, and I found out what the species of fish I caught were, Pollock.
Monday 15th September 2014
Ardfern Motorhome Park, Ardfern, Lat: 56.17364, Long: 05.5489, (3 Mile).
A short photography walk and a fishing session before we left this morning, climbing to the top of the hill nearby to photograph our wild camping spot, the loch and Scarba and Jura.
Then having breakfast before fishing on the slack tide from the old fishing pier, again I caught Pollock, but if Jenny thought she was going to have a fish for a meal she was again disappointed. Leaving this stunning location we drove the very short distance to a camp site we spotted on the way to Aird, near the little village of Ardfern. It has given us the opportunity to empty the toilet cassette, fill with fresh water, empty the grey waste and as an extra bonus with a tap and hose pipe conveniently situated I have washed the outside of the motorhome for the first time for several weeks.
Tuesday 16th September 2014
First time last night we have heard a Barn Owl screeching so close; it could have only been in the trees at the back of the motorhome, thankfully it flew away before we went to bed. Mid-morning we walked back along the lane towards Aird where on Saturday I had spotted an old wreck beached in Craignish Bay which I thought would make an interesting photograph. It did and I had timed it correctly for high tide, although at present it isn't particularly high as the moon is in a waning phase.
After photographing the wreck we walked further along Loch Craignish before retracing our steps past the camp site to the village of Ardfern where we enjoyed tea and cake at "The Crafty Kitchen" a craft centre and tea room, (great name), before returning to the motorhome. We spent the rest of the afternoon relaxing outside in the sun, although I did attempt to photograph, with limited success some dragonflies in a small pool nearby. Tomorrow we move on; however we are reluctant at present whilst the weather is so good to leave Argyll and Bute, we may in the next few days drive down Kintyre instead of crossing over on the ferry to Ayrshire. A great guest book message from Bob and Carol, who were "wild camping" next to us at Nairn harbour.
"We met on 25th August 2014 at Nairn. You gave us such a lot of information that it actually made a big difference to our month tour around Scotland. We both thank-you loads, hope you enjoy your future tours and we will keep looking on your site to see what you are up to. Thanks again".
Fantastic when we get a message like that, Thank you Bob and Carol.
Wednesday 17th September 2014
Wild Camp, Barnluasgan Information Centre, Knapdale Forest. Lat: 56.06071, Long: 05.55134, (23 Miles).
We took our time this morning getting ready to leave knowing that we didn't have many miles to travel today. Our first stop was within minutes of leaving the campsite when we spotted a mobile RBS bank in the pub car park at Ardfern, unfortunately they didn't accept any cash cards other than RBS. Our next intentional stop was just 7.7 miles further at the car park of Carnassarie Castle where we had late "elevenses" before we walked a short distance uphill to the ruined castle. We were impressed when we arrived, no admission fee, no restrictions, we were free to roam around at will and other than four other people we were the only ones there. The partial restoration meant we could explore inside the castle from the cellars then up four flights of narrow spiral stairs to the high tower which gave us a great views of Kilmartin Glen.
After walking back to the car park I got our chairs out and we had a late lunch on the grass bank in the very warm sunshine. Continuing our drive, we wanted to use the B8025 in the direction of Crinan, however there was a three ton maximum weight limit due to a weak bridge (not the first time) so we continued on towards Lochgilphead to use another "B" road. However, because we were only then 3 miles from Lochgilphead we decided to go there first for bread, milk and some more cooking apples, (forgot to mention, yesterday we filled a large plastic box with more blackberries), before driving towards Crinan. We then stopped twice along the very picturesque Crinan Canal, which we must confess up until a few days ago didn't know existed.
"The canal which opened in 1801 takes its name from the village of Crinan at its western end. Approximately Nine miles (14 km) long, the canal connects the village of Ardrishaig on Loch Gilp with the Sound of Jura, providing a navigable route between the Clyde and the Inner Hebrides, without the need for a long diversion around the Kintyre peninsula, and in particular the exposed Mull of Kintyre."
To-nights wild camp was at the Barnluasgan Information Centre car park at Knapdale Forest and we are in Beaver country! Previously extinct for 400 years, beavers were released in Knapdale in 2009 as part of a five-year project, in spring 2010 the first beaver kits were born. The trial has now ended; the findings will be announced in 2016 to help determine if they will be officially reintroduced into Scotland. As they are best seen at dusk or dawn, I walked to Dubh Loch a 20 minute walk from the car park after our evening meal and watched from both viewing points until it was dark and whilst I could see evidence of their occupation, i.e. a dam and fallen trees I didn't unfortunately see the beavers. Good job I had the forethought to take a head torch with me it was rather dark walking back beneath the trees and there was no moon tonight.
Thursday 18th August 2014
Inver Cottage Restaurant (Britstop), Strachur, Lat: 56.10564, Long: 05.2749 (59 Miles).
The last thing I mentioned last night was the dark, there is absolutely no light pollution where we are and last night the sky was so clear we lay in bed opened the sky light and just "star gazed", it was an amazing sight. We both had a walk down to Dubh Loch after breakfast, we didn't expect to see the beavers and didn't, it was still nice to see the environment they had cleverly built for themselves to live in though.
We stopped again at the Crinan Canal, this time we had "elevenses" there and watched a yacht negotiating one of the locks before continuing to Inveraray.
Dis-regard what I wrote on the 16th September, we are NOT now driving along the Kintyre, we are back to plan Y and crossing over to Ayrshire tomorrow, unless of course plan Z comes into action beforehand. We arrived in Inveraray and drove to the castle car park, wrong information, we are not allowed to stay overnight there, which actually didn't surprise us and no, we didn't take a photograph of the "fairy" castle, we don't like it. We then drove to the lorry/coach park and parked there and walked into the town, we only wanted lunch as we have visited and stayed in the town before and opted for fish and chips and took them back to the motorhome to eat. Not being happy with the options for wild camping near the town we decided to continue a further 28 miles and use a Britstop which boasts
"delicious food in a relaxed and comfortable atmosphere with stunning views across the beautiful wooded bay to Old Castle Lachlan",
the castle sold it for me. Plenty of room in the car park when we arrived and we parked at the far end facing Loch Fyne and the
"stunning views across the beautiful wooded bay to Old Castle Lachlan"
and the rest lived up to the description too; we had afternoon tea with warm scones, jam and fresh cream.
We then had a walk around the edge of the Lachlan Bay over a newly constructed boardwalk and bridge to the castle, unfortunately the castle is still undergoing restoration and two sides of it are covered in scaffolding so we were limited with the photographs we could take, still better though than Inveraray Castle and also "New" Castle Lachlan which we could see though the trees.
Ayrshire
Friday 19th September 2014
Ayr Craigie Gardens Caravan Club Site, Lat: 55.4600, Long: 4.6176, (70 Miles).
Jenny organised the motorhome this morning whilst I had another walk to the castle to take a photograph of our "Britstop", this time with Loch Fyne at high tide.
We drove directly to the Western Ferries terminal at Hunters Quay and our timing was perfect the ferry was unloading. We joined, we hoped, the correct lane (HGV and coaches) and I asked a lady whether we paid onboard or at the office, to which she replied "pay at the office its much cheaper", whilst I contacted "Tracker" to tell them we were boarding a ferry. With the ignition switched off and even with the tracker to off, if the motorhome is moved it triggers an alarm at the call centre (suspecting the motorhome is being moved illegally i.e. towed or put on a low loader). We learnt this last time we used this crossing when they rang us whilst on the ferry to make sure we were with the vehicle and everything was OK, (we just have to remember the relevant passwords). Jenny was still in the office when it was my turn to board, wow, I thought finally got rid of her, then I remembered she had got all the money and bank cards, when the last vehicle loaded I persuaded the skipper to let her on as a passenger! She told me the lady in the office had charged the cheapest rate, £17.30, which was great; the Western Ferries web site quoted £33.00. After leaving Gourock we stopped for a short time for a cup of tea and a picnic site at Lunderston Bay and organise our stay for the week end at Ayr. Problem, the caravan club site is full Saturday and Sunday (we now know it is Ayr's Racecourse Gold Cup, Ladies Days, today and tomorrow, the racecourse is less than a mile from the site). We have booked for tonight; we will sort the weekend later. From Lunderston Bay we drove directly to the camp site we find this part of the Scottish coast rather un-interesting and not very picturesque with a series of "worn out" seaside towns along a main road. As soon as we were organised we walked along the riverside path into the town of Ayr and found "The Wool Sak" wool shop without any problems, where Jenny obtained at least one of the wools she wanted (mine) and two patterns. After a late lunch at Burger King and a further bit of shopping we returned to the motorhome and watched some television, we haven't seen any for almost two weeks.
Saturday 20th September 2014
Great, the site manager knocked on the door this morning to say there had been a cancellation, we can now stop for the weekend, which saved us moving to another camp site or wild camping and making sure we had television reception. We had a relaxing day, returning to the shopping centre and buying two "Arcade Fire" CD's at HMV as they were the same price as downloading from the Apple store and then walked along the sea front before returning to the motorhome. Must say we like the shopping centre in Ayr, so much better than Inverness, we even found a Café Nero and had a Latte and Muffin. I spent most of the afternoon editing photographs for the web site, we have the text up to-date, but I am behind with the photographs. And now for the first important reason for TV reception, the qualifying for the F1 Grand Prix from my favorite city Singapore (the second reason being the race tomorrow). Wish I was going to the airport again with the Singaporean Liverpool fan taxi driver, I could remind him of the result last week end against Aston Villa!
Sunday 21st September 2014
Another day of fine weather, we cannot have dreamt that September could have been so good and we hope that it continues. I had a nice chat this morning with a couple we met at the Caravan Club site at Kinlochewe who at the time had hired a motorhome, since then they have bought a caravan and were staying here the weekend, small world. Jenny did the washing this morning, whilst I continued to edit photographs before we had another walk to the town to purchase a Lonely Planet book for Canada, (not too early to start planning) then a lazy afternoon until the Grand Prix started.
Dumfries and Galloway
Monday 22nd September 2014
New England Bay Caravan Club Site, near Stranraer, Lat: 54.7405, Long: 4.9202, (69 Miles).
We left at noon stopping "just around the corner" at Tesco to top up with a few food items, knowing that supermarkets of any size are absent from near our next intended stops. Lunchtime we found a lay-by away from the road on the A77 near the village of Ballantrae, which was going to be our intended Britstop at the Kings Arms Hotel. However, with the perfect weather we have today and the forecast being rain for tomorrow we decided to continue to the caravan club site, (having confirmed by phone that they had space) and enjoy the evening there. The lay-by gave a view in the distance of Alisa Craig an island in outer Firth of Clyde (an old volcano plug) which was for sale at £1.6m, reduced from £2.5m and you get a ruined castle thrown in, you could also make your own curling stones, the islands quarry supplies the special granite.
We arrived late afternoon on what Jenny calls the "hammer head", we are on the "The Rhinn of Galloway" and she says (because she's got a vivid imagination) it's the shape of a hammer head. Dilemma when we arrived should we have a sea view pitch with a walk to the amenities or non-sea view close to the amenities we chose the former and we are within yards of the beach, with great views of Luce Bay, the walk to the amenities will do us good!
Tuesday 23rd September 2014-Wednesday 24th September 2014
Two days of "chilling out", we strolled around the campsite, had a walk to the beach and headland, Jenny read, knitted, baked some delicious blackberry muffins and watched some television, I read, listened to music and edited a great deal of photographs, they seem to be so many lately to look at and sort. Some great sunsets too.
Thursday 25th September 2014
Garlieston Caravan Club Site, near Newton Stewart, Lat: 54.78743, Long: 04.3684 (39 Miles).
Delay in leaving this morning we were watching a Stoat for a long time on the edge of the gorse bushes and it's occasional exploration's on to the short rabbit grazed grass close to us gave us some excellent views, usually we see one and it's gone in seconds. A short distance to drive mostly along narrow "B" roads, more difficult to negotiate than the narrower still single-track roads in the highlands, at least there are many passing places and you can usually see for miles. We arrived just after noon at Garlieston, we were hoping to get a pitch overlooking the bay, but they are not long enough for our 7.4 metre length, we opted instead for a grass pitch which was almost as good.
Strange layout to this campsite, it's in 3 sections, one of which is over a lane in a "walled garden" secluded and sheltered but with no sea views, then a section close to the offices and then where we are over a bridge overlooking the bay. No EE phone signal but there was an O2 signal so after lunch we had a walk up to the post office (the village has the post office, a public house and a small store) to get a phone card for my old phone (our emergency one), the last £10 lasted well, actually since January!
Friday 26th September 2014
The first wet and windy night for a very long time and when we got up this morning to a dark and overcast sky we didn't believe the BBC "app" weather forecast, which showed a warm and sunny day, however, it was correct, by 9:00 am it was lovely. We decided to have a walk along the coastal path to a castle that I had noticed on the information board in the village but was not shown on our map. Investigating on Google we found that Cruggleton Castle, known in ancient times as "The Black Rock of Cree" is a ruined castle on a highpoint above the sea about 3 mile from the village. Not a great deal of it still remains other than a stone arch (part of the tower) and a few walls, evidently it was abandoned in the 17th century and by 1684 was described as "wholly demolished and ruinous", although there seems a great deal of history is unknown about it and indeed the village that was near it, of which nothing exists. We left the campsite late morning and followed the lane past the harbour which lead to the coastal path before it went inland for a short time past Galloway House a massive listed building owned by an Australian and put on the market in 2011 for £1.5m reduced to £1.3m in 2013 and this month reduced to £595,000, that's what I call a bargain. The path then went back to the coast at Rigg Bay, like Garlieston Bay it was used in WW11 as a secret location to trial floating harbours "The Mulberry Harbours" the high rise and fall of the tides being similar to that of Normandy. We continued through a wood climbing gradually until we were on high open land and could see the remains of the castle on a high promontory in front of us. After a series of easy metal gates to go through the "ladder type" stile to the castle site was the most difficult to traverse, but we reached it and after taking a few photographs we retraced our steps to Rigg Bay where we "short cut" the shoreline by using the paths around the front of Galloway House to the camp site having walked almost 7 mile.
We relaxed for the rest of the afternoon and evening didn't go to bed too early though, I watched a David Bowie "Ziggy Stardust" concert and then one from Queen on BBC4.
Saturday 27th September 2014-Monday 29th September 2014
The site leaflet say's
"This is the a ideal location for an un-demanding relaxing holiday",
they weren't kidding, we have booked for an extra three days we like it so much and we are doing exactly what the leaflet suggests, relaxing!
Tuesday 30th September 2014
A rather busier day than of late, this morning because the weather forecast was for it to be wet this afternoon we had a stroll along the length of the village in the pleasant warm sun shine before returning along the back of the camp site to the small harbour. This afternoon we have planned our next few days, cleaned the inside of the motorhome and Jenny did our washing.
Dumfries and Galloway

Wednesday 1st October 2014
Beeswing Caravan Park, Beeswing, near Dumfries, Lat: 54.99853, Long: 03.74484, (58 Miles).
We weren't sure whether to drive directly to the camp site in Cumbria today a total distance of 110 miles or split the journey, in the end we didn't leave Garlieston until late morning so we chose the latter. Our first stop was at Carsluith Castle a ruined tower castle on the shores of Wigtown Bay, parking wasn't easy, the castle is adjacent to a Smokehouse/Deli and the car park at the front was rather full, the notice said "no large vehicles in the rear car park" so we parked beside the disabled parking area, when we did walk around the back the car park was empty and 10 large motorhomes could have parked in it. Their loss, we took some photographs of the castle and didn't bother visiting the deli.
Continuing on the main A75 our next stop was another castle, Cardoness Castle, we turned into the lane missed the turning for the car park/lay-by and couldn't see the castle! We reversed into a drive, drove back up the road and parked in the opposite lay-by and there it was on a hill in front of us! Unfortunately the gate to the castle was closed, probably just as well we wouldn't have paid the £4.50 admission fee anyway and I managed to photograph it from the road.
Tesco in Castle Douglas was our next destination "a big shop" we haven't done one since Oban and we have been down to eating sea biscuits. Our last stop before the camp site was for lunch in a parking area near Dalbeattie. Arriving at the Beeswing Caravan Park (a private site which we had kept the information for from a magazine article in 2009) we found a great hard standing pitch overlooking the picturesque landscaped lawns, gardens and trees and relaxed for the rest of the afternoon and evening.
Thursday 2nd October 2014

Whilst the weather was fine we decided to have a walk late morning to Drumcoltran Tower, built in the 1550's to control the road between Dumfries and Dalbeattie rather than a defensive structure. The information room at the camp site which also contained the washing up sink and laundry had a leaflet containing comprehensive walking directions but we still managed to go wrong initially. By lane we thought the road from the campsite, it wasn't, lane meant the caravan site drive, which "threw" us! Back on the correct path we passed the old ruin of a cottage, a level-crossing controllers home, closed in the Beeching era and now with no apparent sign of where the track bed was, we continued to another lane and within a mile found the tower now part of a homestead. After exploring the inside rooms, not risking going up the steep spiral staircase to the top we returned to the camp site having enjoyed a nice walk of almost 3 miles.
While Jenny prepared our "afternoon tea" I had a walk around the wild flower meadow towards the burn and small lochans, obviously the wild flower season is just about finished but I bet it looked stunning earlier in the year. This afternoon and evening we relaxed reading and watching some television.
That's it our last day of a fantastic tour of Scotland, along the East coast, over the top and down the West coast, through part of the centre, back East and then West and then back to the centre. Phew I was getting dizzy! And apart from August we have had some great weather.