Ref:
Date:
Location:
Photographer:
[clikcontent type=paymentBuyLink replaceable=true]
Ref:
Date:
Location:
Photographer:
[clikcontent type=paymentBuyLink replaceable=true]
26th October 2015 - 31st December 2015
The Midlands and then Devon for Christmas.
West Midlands

Sunday 26th October 2014
Kingsbury Water Park Camping and Caravan Club Site, Kingsbury, Lat: 52.56807, Long: 01.70329, (64 Miles).
Well the overnight stop at Chesterfield broke the journey up nicely only 3 miles difference between both days, we are sure there is much to see around that area, one of these days we will stay at Poolsbrook longer. Arriving at Kingsbury finished our Northern tour having left here on the 24th March, some 7 months ago we have driven a total distance of 2,927 mile and had a fantastic time, the great weather having a part to play only August being particularly wet, made up for though by a dry and warm September. We will be here a few days before going to Drayton Manor for the week end, then back here for a week of appointments.
Monday 27th October 2014

A pleasant 3 mile walk this morning through the Water Park to the Co-operative store at Kingsbury for some bread, bread rolls and onions. This afternoon we printed out some of the photographs in A4 of our trip, and then put the printed paper back through the printer to add captions, bit of a fiddle to make sure everything lined up but we were successful, until we ran out of ink!
Tuesday 28th October 2014 - Wednesday 29th October 2014

After all our activities in the last few months it was time to have a couple of days to tidy up the motorhome and decide what needed to go to the storage unit and what we needed to bring back. The box of Scotland maps being one of those to leave in storage, hopefully it won't be too long before we need them again and other than at the Aird Peninsula I haven't done any fishing, my tackle also will be left, I won't be doing any fishing in the winter.
Thursday 30th October 2014



* * * A Very Happy Birthday to our "Daughter-in-Law" Sharon xx * * *




Enterprise collected us this morning at 10:30 am and drove us to the Sutton Coldfield office to do the required paperwork and collect the car. No wonder we were confused when we rang up and spoke to James, it wasn't "our James" he has left, thought it was funny he seemed unsure of where we "lived". After our visit to the storage unit at Tamworth we continued to Lichfield to take a birthday present to Sharon and have a play with our Grandson Charlie. Tesco was next for a few items; Jenny started the shopping whilst I walked over to the health centre to collect our prescriptions before we drove back to the camp site, via Canwell Caravans to purchase some toilet fluid.
Friday 31st October 2014

An appointment this morning at Good Hope Hospital for Jenny's "Visual Field Test", knowing that she wouldn't be too long I dropped her at the hospital and then drove to the car park in Rectory Park to await her phone call. I decided to have a walk in the park instead of sitting in the car and bumped into Martin an old colleague from Chambers Ford and Hamer Ford, needless to say I didn't walk far and we had a great chat before Jenny rang to collect her. After a bit of window shopping in Sutton Coldfield we then drove to my brother Brian's at Great Barr and stayed there chatting with him and Linda before returning to the water park.
Staffordshire

Saturday 1st November 2014
Drayton Manor Park Camping and Caravan Club Site, near Tamworth, Lat: 52.6089, Long: 1.7188, (5 Miles).
Two journeys from Kingsbury to Drayton Manor today; I drove the hire car to their first and parked it in the visitor's car park, then walked back along the Birmingham to Fazeley canal to the campsite. A very pleasant walk in the sun, in fact I shouldn't have worn my fleece, I was far too warm, I should however had taken a cap, the low sun was in my face all the way. 5.1 mile by car and surprisingly only 3.6 mile walking and now I know where the RSPB Middleton lakes are, I couldn't understand where they were in relationship to Middleton Hall, I do now, the old quarry bridge crosses the canal and the lakes are actually on the Kingsbury Water Park side. Jenny had organised everything in the motorhome other than dis-connecting the power, we did that and within 15 minutes we were back at Drayton Manor where we relaxed for the rest of the day. This evening we watched the fantastic Drayton Manor firework display, although trying to watch the fireworks, take photographs AND show our granddaughter them in Canada via Facetime on the iPhone wasn't without difficulty, good job Jenny came out and helped. At least the F1 Grand Prix practice from Texas didn't clash with it; BBC didn't show it until 10:00 pm
Sunday 2nd November 2014

Another relaxed day, the second firework display was excellent and I just concentrated on photographing them before watching the Grand Prix race highlights this evening.
West Midlands

Monday 3rd November 2014
Kingsbury Water Park Camping and Caravan Club Site, Kingsbury, Lat: 52.56802, Long: 01.70354, (5 Miles).
The reverse today of Saturday towards noon we drove the motorhome back over to Kingsbury and after pitching on one of our preferred pitches (No 4) we both walked back along the canal tow path to Drayton Manor Park to collect the hire car. We were going to take the hire car first but got up too late and the warder wouldn't allow us to leave the motorhome on site after 12:00 (albeit that it would have only been 20 minutes, but then he has got a reputation for being miserable). After our pleasant walk along the canal we drove to our storage unit to take a few more items before driving back to Kingsbury to spend the rest of the day relaxing.
Tuesday 4th November 2014

A drive over to Cannock Chase hospital to the Breast Screening clinic for Jenny routine mammogram, good job we went early parking wasn't easy and we had forgotten the Satnav. We experimented on the way with "Google Maps" on the iPhone and were quite pleased with the result and used that, albeit it was a bit slow in coming up with the routes. One pleasing thing was that "Kate" (that's what we have christened her) came up with 3 alternative routes, Betty (the Satnav) doesn't do that. After the hospital appointment we drove to Castle Vale to meet Jenny's niece Kathy at her daughter Kelly's and spent an hour chatting to them, I also collected the "imitation" chamois leathers that Kathy purchased at the caravan show for me, 5 years I had the old one for, very good it was too, but not unexpectedly now completely worn out.
Wednesday 5th November 2014

A busy day of appointments, first stop was the Greenhill Health Centre at Lichfield for our "fasting" blood tests, blood pressure checks and flu jabs, thank goodness we had Emma the young lady nurse to do them, she allows us to go in together, despite the chaos we normally cause and we had a good laugh with her and as I said when we left, her day could only get better! Fasting blood test = big breakfast and our ritual continues walking to "The Causeway Café" as we have done for many years for a "Full English" and as usual served very nicely and good value too. We had a bit of time before our eye appointments and we had a browse around the shops before Jenny went to Specsavers whilst I continued to the library to look at Canada and New England travel books but I didn't find what I wanted. Jenny was having her Eye test when I arrived at Specsavers and I had a nice chat to Helen and Helena while I waited for my turn, ironically Jenny's test was perfect (after all her eye problems over many years), but there was a change to my prescription, but not enough to warrant new lenses, however still a change. After a bit of shopping at Tesco we drove back towards Kingsbury, but then an idea came into my head (they do very occasionally). We had arranged to drop the hire car back to Sutton Coldfield tomorrow morning, however after today's appointments we no longer needed it and because we almost pass their office on the way to the camp site we decided to take it today instead. We did and it saved us having to drive over there tomorrow and James dropped us back at the camp site, great service again from Enterprise.
Thursday 6th November 2014

A relaxing day, reading and listening to music and Jenny did some preparation for tonight's evening meal. We had invited Brian and Linda over for a meal with us and we had a lovely time chatting with them although we saw them on Friday for a short time we had a lot to catch up on. We did also have a pleasant surprise lunch time when our son Michael popped in for a cuppa (and muffin) on his way back from one of his jobs.
Friday 7th November 2014

Doctor's appointments today in Lichfield (only routine to make sure we are still alive) and we had arranged them for this afternoon to give us plenty of time to get there on public transport. We still left earlier than we needed to as the weather forecast was for a dry(ish) period between 10:00 am and 12:00 pm and we had a 30 minute walk across the water park to the bus stop in Kingsbury. We were lucky we got on the No116 bus at 11:35 am just as it started raining again although by the time we reached Tamworth it had stopped. We had to wait for some time at the bus station for the connection to Lichfield, but instead of getting on the No 765 an "Expre55" arrived first, a new direct service which only takes 22 minutes to get to Lichfield, the No765 goes "around the houses" at Whittington and the journey time is at least twice that. Arriving at Lichfield we had more than enough time for lunch and noticing that the menu on Wednesday looked inviting at "The Causeway Café" we decided to go there. We weren't disappointed two first class beef dinners with lots of fresh vegetables was £11 for two and it was very enjoyable. After lunch we walked up the precinct towards the health centre, unfortunately the weather had deteriorated and we were rather damp when we arrived, although we had ample time to dry off somewhat before our appointments. Likewise when we left the health centre we got wet walking to the bus station, but luckily an "Expre55" was just arriving. We weren't so lucky when we arrived at Tamworth, we had a 25 minute wait for the bus to Kingsbury and it was a further 20 minutes late before it arrived. Although we were in the bus shelter and wasn't getting too wet we were both starting to get cold before it eventually appeared. The rain had eased off by the time we dis-embarked at Kingsbury, we just had the 25 minute walk back to the motorhome to endure, dodging the many pools on the paths was a skill and like this morning we needed to go a longer route to avoid the water and mud over the meadow. We couldn't escape the water in the subway underneath the motorway though and it was almost over my shoes and my socks did get wet, Jenny was OK she was wearing her waterproof winter boots. Glad to be back at the motorhome, it was a quick change into dry clothing before we settled down with a hot cup of tea. Hopefully in the last week we have seen the last of appointments until our next annual "MOT's in January, although Jenny may have an eye "checkup" at Good Hope Hospital before then, but we have "ticked off" flu jab, blood tests, blood pressure checks, mammogram and eye tests at the hospital and opticians in the last seven days.
Saturday 8th November 2014

On Thursday walking to the amenities a man just getting out of his caravan said, I know you don't I? You used to live in Masefield Close", it was Ray who used to live there and this morning we invited him and his wife Jo over for a chat and cup of tea. They had left Lichfield 2½ years ago and are now living in Gloucestershire, we had a lovely talk with them reminiscing about our time in Lichfield our neighbour's living and dead and their travels and ours in the last 6 years.
Warwickshire
Sunday 9th November 2014
Warwick Racecourse Caravan Club Site, Warwick, Lat: 52.279167, Long: -1.597545 (32 Miles).
We left Kingsbury at noon after saying our goodbye's to Ray and Jo from Gloucestershire our old neighbour's and Keith and Pam who we see most times we visit the midlands who "fulltime" at Kingsbury in their caravan. First and only stop was at Tesco to buy our groceries and fill with fuel, 10 pence a litre off this time with our "fuel save" a savings of £7.20 on the total cost. Arriving at Warwick we chose a tarmac "car park" pitch adjacent to the finishing post of the racecourse, no race meeting this time we missed it by a few days. We then spent the rest of the day relaxing and then watching the F1 Grand Prix from Brazil.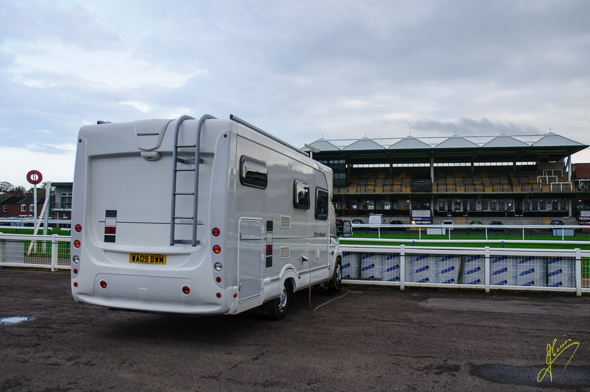 Monday 10th November 2014

A stroll mid-morning to Warwick town centre just 10 minutes from the camp site, Jenny wanted some odd balls of wool so we decided to try all the charity shops, but without success, they all appear to sell it as soon as it arrives and because Jenny wanted 4ply there was little/no choice. We also browsed the book shops for Christmas present ideas before walking to the Sainsbury's near the camp site for some bananas and caramel sauce, mmmm, home-made muffins this afternoon.
Tuesday 11th November 2014

It's been many years since we have visited Leamington Spa so we made that our destination to-day. We had the choice of three buses, two that "went around the houses" and a fast one, we got on the first one that came the X17 that was still within a ½ mile of the camp site when we had been on the bus twenty minutes and we had visited the hospital, railway station and the industrial estate! We obviously when arriving at the camp site via the motorway had only seen a tiny area of the town. We got off the bus at the town centre in Leamington Spa (one stop too early) and found the main shopping precinct window shopping and buying a few Christmas gifts before our lunch. Getting off the bus one stop too early was fortuitous; we would not have spotted "Turtle Bay" a Caribbean restaurant and not having had a Caribbean meal for a very long time we decided to walk back along the high street to it. We shared a whitebait starter and Jenny had a shrimp wrap, whilst I had beef and pulled pork burger both with accompaniments, it was all excellent, nicely served and very good value AND hot and spicy. After our lunch we continued walking around the shopping centre before catching the bus back to Warwick, a different service this time and although it seemed to travel through every housing estate between the two towns it was marginally quicker.
Wednesday 12th November 2014

A wet morning so we stayed in the motorhome, however it did dry up sufficiently for us to walk up to Warwick after lunch for a few items.
Thursday 13th November 2014

We decided to visit Coventry today, a city we have never been to the shopping centre of although we have been to various locations i.e., Go Outdoors" on the outskirts. We caught the X18, the "fast bus" which travels directly to Coventry via Leamington without going "around the houses", whilst waiting for it we browsed in the small Marks and Spencer food market at the bus station, bit of a bonus we had free samples of their Belgian biscuits. We arrived at Coventry alighting at the motor museum, pity it was closed until the 18th November for some refurbishment we would have had a look, another place on our "to see" list. We were somewhat disappointed to begin with at the shopping centre, we couldn't find any of the big stores, however we did find the indoor market which was excellent, Jenny found the wool she wanted there and the lady also pointed us in the right direction for the shops we wanted (we hadn't walked far enough). It was lunch time and we decided to have a snack at the restaurant in T J Hughes that was until we spotted the steak pie! We had that instead with chips and peas, 20% discount for us "wrinklie's" so only £11 with pots of tea as well. After a delicious lunch (left over pizzas slices now for tea tonight) we did some "proper" Christmas shopping and bought almost everything on our list before catching the X18 bus back to the camp site. Great Neil Diamond show on television tonight, we both enjoyed that.
Worcestershire

Friday 14th November 2014
Blackmore Camping and Caravan Club Site, Great Malvern, Lat: 52.097287, Long: -2.275157, (50 Miles).
After a 50p swop of our books at reception we left Warwick at 12:00 pm, luckily the heavy rain and wind that we had during the night having abated. We hadn't booked at Blackmore but rang and spoke to Jackie this morning to confirm they had space, which they had, although she did mention the site was "very wet" however the hardstanding pitches were all OK. A pleasant drive to Worcester on a road we had never travelled along before albeit there was a bit of flooding in places and our first stop was Tesco at Worcester for groceries to last for the next few days. Next stop was at Powick at Ridgeway Storage to have a look at the storage facilities there for our motorhome (more on that subject at a later date), we were impressed with them however, both their security and the facilities. Our last stop before the camp site was at "Caravan Stuff for U", Browsing the www.motorhomefacts.co.uk web site I found a possible solution to rain leaking into the "garage" via the doors and with further browsing I found the product. I rang "Caravan Stuff for U" on Thursday and although they didn't stock it they said they could order it for me, this morning they rang to say they had received it. Excellent service from them and the "Fiamma Drip Stop" at £26 was no dearer than buying off the internet (between £24.99 and £29.99 plus postage); now all we have to do is fit it! Nice chat to Richie the site manager at Blackmore (a F1 fan) before being shown to our pitch by Kev and one of our favorite pitches "No16" was free we pitched there and relaxed for the rest of the afternoon and evening.
Saturday 15th November 2014

A busy morning, Jenny cleaned the inside of the motorhome, I did a few bits of maintenance, i.e. tighten some screws and fix a locker catch, unfortunately I couldn't fit the drip strip, the instructions advise a higher temperature than we have at present so we will fix it when we have some sun on the side of the motorhome. We have cut it to fit though and taped it to a steel pole to straighten it out in the warmth of the motorhome, it was in a roll when we purchased it and not very flexible, hence the temperature requirement we suppose. A relax then for the rest of the day watching the England match and then "Strictly".
Sunday 16th November 2014

Jenny made some more of her muffins to-day, no lemon yogurt so she improvised with fresh squeezed lemon in the mix, they were delicious, haven't tried the scones yet that she also made. I did some "prep" work on the itinerary for our trip to Canada next year. Yes, we are going to visit our daughter, fiancé and granddaughter in Estevan, Saskatchewan for a few months, (more information later).
Monday 17th November 2014

More preparatory work on our Canadian trip, why is car hire so difficult to book, when an airline can be so easy! We also had a short walk before lunch along the lane to Hanley Swan to the little store for some bread rolls; we could have had something else but wanted the exercise.
Tuesday 18th November 2014

A bus journey to Worcester today, not without its problems. "First" the bus company has decided they will no longer stop outside the camp site but at a stop further down the road outside the church. We wouldn't have known, however a man leaving the site in his motorhome told us he was waiting outside the entrance on Friday and the bus drove straight past! We thought it was a "one off" until an old gentleman told us he was catching the bus from the church, the site managers having given him this new information. Ironic, the bus now stops outside the church, nobody has ever got on there since we have used the route, and it's not as though there will be "customers" on a Sunday, there is no bus service then. I think a "grumpy" email to the bus company is warranted. Another problem arose when we got on the bus, I found that my right hearing aid wasn't working, not surprised the wire was hanging off. When we arrived at Worcester after posting a parcel to Canada we found Specsavers Hearing Centre and left it for them to look at. We had only really gone to Worcester to post the parcel and purchase a few Christmas gift cards and tags, but we also went to Jenny's favourite wool shop to buy some wool before browsing the shopping centre. Specsavers hadn't got the necessary part to repair my hearing aid so after collecting it we returned to the bus station. Only to find there was a gap in the timetable for some reason in the early afternoon, we went back up the escalator to Quinn's the restaurant that on previous occasions we have had lunch at, we didn't bother this time but did enjoy our coffees in comfort whilst waiting for our bus. We were cheeky when the bus neared the old bus stop outside the camp site, we pressed the bell and went to the front, the driver didn't stop at the old place but did drop us before the church so we had less of a distance to walk back.
Wednesday 19th November 2014

A visit this morning from Gary "Gazavan" the mobile caravan/motorhome engineer we now use for serving the motorhome, he has agreed to look after our motorhome while it is in storage during the summer. i.e., battery condition for both habitation and the engine and he will give the engine a run and open some windows to let some fresh air in whilst he's there.
Thursday 20th November – Sunday 23rd November 2014

Relaxed days!
West Midlands

Monday 24th November 2014
Chapel Lane Caravan Club Site, Wythall, near Birmingham, Lat: 52.3741, Long: -1.8929, (35 Miles).
At last Jenny's eye checkup appointment with the consultant at Good Hope Hospital has arrived for Thursday; we were hoping it would before we travelled further afield. I have also got an appointment to fix my hearing aid with Paul at Specsavers in Sutton Coldfield on Friday, so we have decided to travel part of the way before staying at Lichfield for a few days. First and only stop was at Tesco in Worcester for shopping before continuing to Chapel Lane arriving at 2:30 pm. We were soon pitched and having a late lunch before relaxing for the rest of the afternoon and evening.
Tuesday 25th November 2014-Wednesday 26th November 2014

Even more relaxed days!
Staffordshire

Thursday 27th November 2014
Cathedral Grange Caravan Park, Lichfield, Lat: 52.6974, Long: -1.8428, (35 Miles).
A short drive this morning directly to Lichfield, staying at a camp site we don't really enjoy going to due to what we feel is an excessive price for its facilities, however it will suffice for a few days. I stayed at the camp site this afternoon whilst Jenny went to Good Hope Hospital at Sutton Coldfield to the eye clinic for her "check up". It gave me chance with a water tap nearby to wash the motorhome, a job I have been putting off for some time until I had could use a hose on it. Jenny rang me early evening to tell me she had left Sutton Coldfield on the train so I walked down to the station to meet her, good timing the train had just arrived so I didn't have to wait and we did the 30 minute walk back to the camp site together.
Friday 28th November 2014

Another trip into Sutton Coldfield on the bus today for my appointment with Paul at Specsavers Hearing Centre for the repair to my hearing aid, which had stopped working, (see Tuesday 18th November). We were in plenty of time for the appointment, especially as the bus almost dropped us at the door and Paul soon had me hearing in both ears again. Pity, yesterday I had my appointment for my NHS hearing aids, if we had been able to collect the referral letter earlier (Jenny collected it yesterday from our health centre), I could have arranged both together, as it is we will be back at Specsavers again on Sunday. After leaving Specsavers we walked back over the road to the bus stop to check the time of a bus back, good news there was one due in five minutes and within 30 minutes we were back in Lichfield. Specsavers in Lichfield was our next stop to have my spectacles adjusted, yes we could have had them done in Sutton Coldfield, but we wouldn't have had a laugh there. I threatened Helena that we would make a complaint to Helen the manager, because we had a cup of coffee offered to us at Sutton! It was lunchtime so we decided to have a meal at "The Causeway" to save us cooking tonight, we had the meat and potatoe pie with chips and peas, very nice it was too, good job we had a 30 minute walk back to the camp site to walk it off.
Saturday 29th November 2014

A relaxed day, cold but just about warm enough to be able to cut our hair outside the motorhome.
West Midlands

Sunday 30th November 2014
Kingsbury Water Park Camping and Caravan Club Site, Kingsbury, Lat: 52.56810, Long: 01.70360, (20 Miles).
We left Lichfield at 1:00 pm for the short drive to Sutton Coldfield, having looked on Google Earth we found the ideal place to park the motorhome in Sutton Park and we only had a short 10 minute walk to the town centre. Paul wasn't working today, but the young lady who I saw was very good and after a lot of questions and a hearing test I was wearing my new NHS hearing aids, not dis-similar to my private ones which cost me almost a £1,000, I have now got a spare pair and I don't have to purchase the batteries. We walked back to the park and continued to Kingsbury Water Park where we will stay for at least seven days, at present we haven't made our minds up where to go to afterwards.
Monday 1st December 2014

More work on our plans to visit Canada.
Tuesday 2nd December 2014

A major day in our plans for Canada, we have booked our flights (Thursday 23rd April 2015 to Vancouver and returning 12 October from Montreal) and also the car rental for the first 3 weeks.
Wednesday 3rd December 2014

A bus journey late morning to Tamworth, Jenny wanted some wool from Hobbycraft and we wanted a new indoor/outdoor weather "station" for the motorhome. The "outdoor" sensor of the old one having broken last winter when we were at Cofton Park, must have been all the water getting into it! We walked from the bus station and had a walk through the Ankerside shopping centre before walking to Ventura Park, Jenny didn't manage to find the wool she required but we did get the weather station from Maplin's. We would have liked to have got the No16 bus back from Ventura Park but the bus shelter didn't show the timetable, instead we caught the No 6 local bus back to the town. Murphy's Law, a No16 bus came in the opposite direction just as we got on the No 6. We expected the "town bus" to go to the bus station, wrong, it went past it, we got off when it stopped further along and walked the short distance back. The good news was the No115 back to Kingsbury was 15 minutes late, it arrived as we got to the bus stop, if it had been on time we would have had a 45 minute wait! We took a chance walking back over the water park taking a short cut over the meadow, it worked it wasn't as muddy as we anticipated.
Thursday 4th December 2014-Friday 5th December 2014

Two quiet days.
Saturday 6th December 2014

Unfortunately Michael's car failed its Mot this week so he was unable to visit us at Kingsbury, we decided instead to visit him at Fradley. So with Christmas presents loaded in rucksacks and bags we walked across the water park and caught the 11:05 am No 116 to Tamworth. We didn't have long to wait at the bus station before a No765 arrived, the slower bus to Lichfield but still arriving their before the "fast bus" which departed from Tamworth later. Because the bus was delayed by traffic going into Lichfield we missed the bus to Fradley by 2 minutes and with an hours wait before the next one we had a stroll around the shopping centre until it arrived. We had a nice time with Michael, Sharon and our grandson Charlie before reversing our journey, the longest wait we had was at Fradley when the bus was 25 minutes late, however at Lichfield we just caught the "fast bus" to Tamworth. We did have a slight problem when we arrived at Kingsbury, we had intended to take our head torches with us as we knew we would be walking back over the water park in the dark, we had forgotten them! Luckily there was a clear sky and a full moon and we found the torch on Jenny's iPhone more than adequate for seeing our way along the paths to the camp site.
Warwickshire

Sunday 7th December 2014
Warwick Racecourse Caravan Club Site, Warwick, Lat: 52.2784, Long: -1.5975, (32 Miles).
Just a stop on the way at Tesco at Solihull to stock up with groceries and return a packet of Muesli which should contain nuts, but also contained a screw as well! We couldn't pitch along the racecourse rail this time as there is a race meeting on Thursday, (we could have done put would have had to move), instead we have the first pitch on the side, should be in a good position to watch the racing.
Monday 8th December 2014

A bus journey to Coventry today to hopefully get some of the wool that Jenny needs from the indoor market, we would have had a wait for the faster one so opted for the one that travelled though some of the Warwickshire villages, albeit with a longer travel time. Jenny was successful in obtaining the wool she required, in fact the lady on the stall had a very impressive stock of "4 ply" and after purchasing what she required we sought out a fishmonger for cod for tonight's meal. T J Hughes was next for a simple lunch, soup of the day (chicken), which was very tasty before we strolled through the shopping centre to a "button" shop. We then walked back to the bus station for the return journey, however with almost an hour wait for the "express" bus back to Warwick we decided to take a look at the adjacent transport museum. It was fully closed for refurbishment the last time we were in the city, this time it was partially open so we had a quick walk through until the bus was due. We will spend more time their when it is fully open. The "express" bus back wasn't that fast, the one we caught diverts past the Land Rover plant and after picking up just 2 passengers there the bus had to "fight" its way back through the road works which are outside the plant, we think the slower bus would have been quicker after all if you see what I mean!
Tuesday 9th December 2014

A relaxed day!
Wednesday 10th December 2014

A short walk this morning to the town centre in Warwick to post a parcel to Canada and an excuse to visit Wylie's Café a café, tearoom and food emporium, plus an ironmongers next door in which the man behind the counter looked as if he came straight out of a Charles Dickens novel. The interior is decorated in a 1950's style with wooden furniture and there are many 16th century features, Jenny particularly loved the old black range. Our home-made cakes were great with the coffee's Jenny had the coffee and walnut and I had the ginger zinger, we couldn't finish the large slices, we wrapped them in serviettes and saved then to have with our afternoon tea! We walked back via the small Marks and Spencer food store, we have been wanting to try one of their £10 meal deals for some time, we chose the pork dinner with vegetables, with profiterolls for a sweet and a bottle of red wine and very nice this evening it was too. The rest of the afternoon we relaxed, watched television and read.
Thursday 11th December 2014

A cold windy day so we stayed in the comfort of the motorhome, Jenny did some baking, I did some work on our itinerary and we both watched the horse racing through the motorhome window, only venturing out to take a photograph of the horses and no, we didn't have a bet.
Friday 12th December 2014

A short move today, we have decided to stay a further 6 days so now that the race meeting as finished we have pitched alongside the rail, much nearer the amenities and no muddy surface to walk over.
Saturday 13th December 2014 – Sunday 14th December 2014

Two relaxed days and suffering with a cold and cough!
Monday 15th December 2014

We decided to visit Stratford-on-Avon today, catching the X16 direct bus to the town which only took us 20 minutes. The bus stop we got off at was right outside the EE shop so that was our first "point of call" to top up with credit on my iPhone, grossly overspent on it, I have used £10 in just 11 months, must be more careful! We were pleasantly surprised with the range of shops were there, including, Marks & Spencer, Debenhams and BHS, and we browsed them and several others along the main high street, plus the pedestrianised street full of quaint gift shops and tea shops where William Shakespeare was born. We did need a few items from various shops and after purchasing our needs we decided to take advantage of vouchers on the back of our bus tickets to "dine" at McDonalds enjoying a "Big Mac", fries and a tea. After another stop at Marks and Spencer food store for a sour dough bread for tonight's meal (homemade crab and sweetcorn chowder), we caught the bus back to Warwick, managing to get off at a stop before our intended one, (my fault) and having a slightly longer walk back to the racecourse camp site than we intended.
Tuesday 16th December 2014

More organising of our Canadian trip on the lap top, with maps, books and guides spread all over the place, whilst Jenny made several trips to the laundry to do our washing.
Wednesday 17th December 2014

Feeling much better than I did on Monday and it being a very nice mild day, we decided once more to visit Stratford-on-Avon, catching the bus this time at the top of Crompton Street nearer the camp site instead of at the bus station in the town, it saved walking up the steep hill. Alighting at Stratford we had a stroll across the River Avon and Stratford Canal bridges around the Royal Shakespeare Theatre before walking into the town, taking a few photographs of "The Bard" and some of his famous characters in the riverside gardens. We had a lovely stroll again around the old town and the high street before deciding to repeat our visit to McDonalds, (we had more vouchers), however it was the last day of term for the local girls school and it was full and very noisy. We didn't bother instead buying a Sour dough again at Marks and Spencer and arriving back at the motorhome and enjoyed it with cheese.
Gloucestershire

Thursday 18th December 2014
Winchcombe Camping and Caravan Club Site, near Tewkesbury, Lat: 51.9905, Long: -1.9905, (36 Miles).
A short walk this morning to Sainsbury's near the town for bread and milk before the short drive to Winchcombe where we arrived at about 1:15 pm. With the camp site being almost empty we had our choice of pool side pitches, choosing one that was sideways to the water with a view of the nearby hills and within a very short distance from the amenities. It was while I was inputting the camp site cost in our records on the lap top, (we have kept our costs of camp sites, fuel and gas since we bought our motorhome), that I noticed the cost, to-nights cost was £16.35 and tomorrow night's £27.45! We had moved from "low season" with age concession to high season without age concession, if we had realised we would have made alternative arrangements for tomorrow and stayed elsewhere, we object to paying so much.
Friday 19th December 2014

A great "result" to our payment this morning of our excessive pitch fee. When we had our showers the water was only tepid and we decided not to stay and ask for a refund, having made sure first that Tudor Caravan Park at Slimbridge had space for us. However when Jenny went to the office they were fully aware of the concerns with the showers (a long standing problem) and offered us our stay for tonight free of charge and gave her the keys to the parent and baby room, a fantastic gesture from the site manager. Our last day on "site" WiFi so I concentrated on looking at Canadian hotels and booked our 4 day stay in Vancouver and Jasper, we also got another quote for travel insurance . . . very expensive!
Somerset


Saturday 20th December 2014
Cadeside Caravan Club Site, Wellington, Lat: 50.9866, Long: -3.2172, (99 Miles).
That was a better shower this morning especially as I shared it with Jenny!!! We left for Cadeside mid-morning stopping just once at the BP Filling Station before the M5 motorway to fill up with LPG, needing only 17.27 litres (£11.38) since topping up in Fort William the beginning of September. A nice easy drive along the motorway, switching cruise control on and apart from the 50 mph speed restrictions through the road works being able to keep at a constant 56 mph, even past the outskirts of Bristol which seemed unusually quiet. We were soon pitched up at Cadeside after filling with fresh water, it would have been quicker, except the first pitch we went on hadn't got power to the EHU and we had to move across to an adjacent one. Tomorrow we arrive at our destination for at least the next three weeks in Devon, must remember to stop at the Exeter Tesco on the way for some Christmas goodies!
Devon

Sunday 21st December 2014
Cofton Country Holidays, near Starcross, Lat: 50.61436, Long: -03.46116, (36 Miles).
First stop this morning Tesco, just off Junction 30 of the M5 motorway, good job I knew where we were going, Betty wanted to continue to Junction 31, (I think Jenny had entered the wrong Tesco). Must have known we were going though, there were armed police waiting for us at the entrance, luckily they were only armed with bag-pipes and drums and very good the music was too! We were organised with our list for the shopping so we didn't take long to get all our needs in the very busy store, waiting at the check-out took the longest, although I did my normal "disappearing act" and browsed the photography magazines while Jenny stood in the queue. Leaving Tesco we took the opportunity to fill with diesel the cheapest that it's been since 2010 and with the "Tesco Fuel Save" of .8p litre it was down to £1.12 per litre, not as cheap however as the fuel in Canada, our daughter took a photo at a filling station there, $0.919 per litre (£0.51p per litre), look forward to driving there. Great disappointment when we reached Cofton, we had booked pitch No9 overlooking the pools in February when we were last here, they had got us booked on pitch No1, no view and right next to the road, we weren't happy! Won't bore you with the long "discussion" we had with the girl in reception, we have asked to speak to the manager when he/she is in, we are now on one of the new (but unfinished) hardstanding pitches for the duration of our stay.
Monday 22nd December 2014

The 11:30 No2 bus to Dawlish this morning to visit Lloyd Maunder the butchers for all our "meats", we had some wonderful meats from them on our last visit so we decided to buy all our Christmas requirements, Pork, Pork Pie, Gammon, Black Pudding, etc, from them this time. We also visited the vegetable shop next door and the co-operative store for a few items before catching the bus back to the campsite. Jenny's niece Brenda and her husband Steve are already here in their motorhome, so after we were organised with all our groceries stored they came to visit this afternoon and we enjoyed a good chat with them, we will obviously see more of them while we are here and Brenda's daughter Sharon arrives on Christmas Eve to stay in their caravan.
Tuesday 23rd December 2014

A busy day, especially for Jenny, all the washing done and loads of baking, I just made myself generally useful (washing up)! Jenny did see the manager of the camp site when she went for change for the laundry. She was very apologetic although it didn't really change anything, however we have accepted a main meal for two at Amelia's Pantry as compensation.
Wednesday 24th December 2014

A fairly relaxed day, although the weather was so mild, I took the opportunity to wash the outside of the motorhome and clean the windows inside and out, could really do with giving the exterior a coat of polish, perhaps if the weather stays mild!
Thursday 25th December 2014 – Friday 26th December 2014



* * * A Very Happy Christmas to Friends, Relatives and Readers
of our Website Throughout the World * * *
Saturday 27th December 2014 – Sunday 28th December 2014

Two quiet relaxed days.
Monday 29th December 2014

A visit to Exeter today and with a list of our requirements on Jenny's iPhone we knew exactly where we were going and in what order. We waited at the much improved bus stop for the No2 bus, a wooden shelter that would have prevented us getting wet like we did at the beginning of this year had been built. After Boots and Specsavers, the "Hotter" shoe shop was next and a good result the walking shoes that Jenny liked were reduced by £20 in the sale from the cost in Stratford-on-Avon before Christmas and they had the colour she wanted. After browsing other shops we decided on a visit to Burger King for lunch was a good idea, especially as we had a voucher, however it was full to overflowing so we didn't bother and after purchasing some "Breakfast Sprinkles" from Holland and Barratt, leaving a strap from my sandals to be stitched at Timpsons and buying a new mouse for the laptop at John Lewis (the old mouse has passed away) we caught the bus back to the camp site.
Tuesday 30th December 2014

Another relaxed day.
Wednesday 31st December 2014

A nice walk late morning in the sunshine (Jenny wanted to "test" her new shoes), along the back lane of the camp site to the picturesque little harbour at the village of Cockwood on the Exe Estuary.