Ref:
Date:
Location:
Photographer:
[clikcontent type=paymentBuyLink replaceable=true]
Ref:
Date:
Location:
Photographer:
[clikcontent type=paymentBuyLink replaceable=true]
13th June 2015 - 22nd June 2015
Yellowstone National Park and the Grand Teton's.
Montana
Saturday 13th June 2015
Comfort Inn, Glendive, Lat 47.1275, Long -104.6922 (243 Miles).
We left Estevan at 10 am after three stops in the town for a few purchases and for Ian to get some US dollars, our first proper stop was at North Portal the nearest main border crossing into the USA 40 km from Rhiain's home, Not having US visa's we couldn't use the smaller border crossing at Estevan/Noonan (USA) just 15km from Estevan. And we lost an hour as we crossed the border, North Dakota being an hour ahead of Saskatchewan (it gets very confusing as we are still in CST, central time zone but Saskatchewan does not have daylight saving time like North Dakota). Filling in the new visa form was fun even the border guard joked it was like filling in a book! Then it got farcical, Ian and Kura got their paperwork and computer input done by border guard at the desk, then it was my turn, my finger and then thumb prints of both hands were digitally taken and then it was time for my head photograph to be taken with a hand held camera, I broke it! No matter what the guard tried, even with help from another guard he could not take my photo and we were asked to take a seat again in the waiting area. Was I being deported before I'd even set foot on US soil? After a long wait Jenny and Rhiain were shown to another office and their formalities were completed, then it was my turn again. Evidently the officer had to delete all my details and start again, so it was more finger/thumb prints and a successful mug shot. Kura had fun the border guard let her stamp all our documents which was nice. After a much longer time at the border than we anticipated we continued 110 miles (now switched to miles) to the airport at Williston, North Dakota to collect the rental car, the formalities didn't take long and we picked up a Chrysler Suburban 7 seater, as big as a small bus with as many instruments and gizmo's as a Boeing 787. We then drove (me driving) to the long-stay car park to swop over all our luggage from "The Jimmy" and drove to our first overnight stay at Glendive in Montana, crossing into another time zone, Mountain Time, which ironically was back to the time in Saskatchewan. After checking in at the hotel it was time for something to eat and we chose "Penny's Diner" just 100 yards from the hotel and enjoyed typical American fast food, with milk shakes of course, before returning to the hotel where Jenny and I had a nice soak in the hot tub.
Sunday 14th June 2015

Our plan today before the drive to Billings was to spend some time at Makoshika State Park located just east of Glendive. It is Montana's largest state park which features badland formations and the fossil remains of Tyrannosaurus Rex, Triceratops and more. The visitor center was at the park entrance and whilst Rhiain bought the park entrance pass (A$35 per year) the rest of us looked around the interpretive exhibits which were great for Kura. We asked the ranger about a short, flat walk and she suggested the "Bluebird Trail" yes it was short, but flat? Far from it, we turned around just over half distance and returned the same way, not before we saw a flowering cactus (an usual occurrence we found out later) and an almost complete snake skin that had been shed.
After returning to the car park we decided to drive along the park about 7 miles to the hoodoos along a part tarmac and part gravel road, through badlands with so many unusual rock shapes and different colours. We would have liked to have stayed longer and done some hiking, but perhaps another time.
We left lunchtime for the straight forward drive 220 miles along Highway 94 to Billings, I drove and it was a case of setting the cruise control to 75 mph and just sitting there and occasionally passing the odd slower vehicle on the little used 4 lane road and stopping occasionally at the rest areas to use the restrooms and stretch our legs. Kura was delighted when we arrived at the hotel her adjoining room had a wooden bear sat on the window outside, I was delighted to see a "Popeyes" Louisiana Kitchen close by and we had a Cajun meal there this evening, the food was good and the Cajun music great.
Monday 15th June 2015.
Silver Gate Lodging, Silver Gate, Lat 45.0074, Long -109.9913 (130 miles)

A great time in the "Water Park" at the hotel before we left this morning and very pleased we have chosen this hotel to return to next week. We made a mistake when we left deciding to get some provisions from Walmart, it was only 2 miles from the hotel but towards the city and it was very busy and Murphy's Law, when we left the main highway at exit 434 to drive towards Red Lodge there was a much quieter Walmart near the junction. After leaving the "cowboy" town of Red Lodge 59 mile from Billings it was time to put a "tick" on my bucket list, for many years I have wanted to drive "The Beartooth Highway"
The Beartooth Highway is an All-American Road that has been called "the most beautiful drive in America," because of heavy snowfall at the top, the pass is usually open each year only from mid-May through to mid-October, weather conditions permitting. The Beartooth Highway is the section of U.S. Route 212 between Red Lodge, Montana and Cooke City, Montana. It traces a series of steep zigzags and switchbacks, along the Montana-Wyoming border to the 10,947 ft. (3,337 m) high Beartooth Pass. The approximate elevation rise is from 5,200 ft. (1,600 m) to 8,000 ft. (2,400 m) in 12 mi (19 km) in the most daring landscapes. When driving from the east to the west, the highest parts of the Beartooth Highway level off into a wide plateau near the top of the pass, and then descend to where the Beartooth Highway connects to the Wyoming Highway 296 (Chief Joseph Scenic Byway) near Cooke City, which forms the northeast gateway to Yellowstone National Park. En-route, one passes numerous lakes typical of the Absaroka-Beartooth Wilderness Area which borders the highway along much of its route.
I had planned today very carefully, researched the highway, looked at numerous maps and noted down each POI along the 68 mile route including the altitude of each turnout/viewpoint, what I could not plan was the weather. By the time we had reached the first POI at Rock Creek Vista Point Rest Area at an elevation of 9190 ft. we were in low cloud and the breathtaking views of Rock Creek Canyon and Hell roaring Plateau could only be seen momentarily as the clouds moved across below us. The large group of Chipmunks kept us amused in the rest area, darting in and out of the wall and climbing up it and "begging" for something to eat.
We continued along the highway, climbing, then descending, climbing again, through twists and turns and around hair-pin bends (gosh, that almost rhymed), sometimes with clear views across the mountain ranges and other times in a "fog". As we drove further visibility improved and we stopped at numerous viewpoints along the well-made highway, too many to mention them all individually but four of the best were.
Note: Now in Wyoming
Twin Lakes Pullout (elevation 10,632ft). Beartooth Pass Overlook (elevation 10,947ft, this is the highest point along the highway with spectacular views in every direction, Gardner Lake Overlook (elevation 10,554ft) with some fantastic wild flowers and Pilot and Index Peak Overlook (elevation 8718ft. It was at the latter overlook that we heard ominous rumbles of thunder and then saw an occasional flash of lighting from dark clouds in the direction we were travelling, however it wasn't until we had descended to our destination for the night at Silver Gate (Back in Montana, I know it confused us as well) and were in our lodging that it started to rain heavily.
It was baked potatoes and chicken cooked in the oven tonight instead of our intended BBQ outside the cabin and we didn't have the roasted marshmallows. The log cabin is great, Rhiain and Ian have the bedroom with queen bed and a bunk bed for Kura, we have a very narrow sofa bed in the living room, and we will be cozy tonight!!!
Note: Should anybody be interested in the Beartooth Highway, it has a great website,
Click here . . .
Tuesday 16th June 2015
* * * A Very Happy Birthday to our Granddaughter Kura xx * * *

Best Weston Mammoth Hot Springs, Gardiner, Lat 45.0349, Long -110.7147 (57 Miles)

A very pleasant night's at the log cabin in Silver Gate definitely a place we would love to return to for a longer stay in the future. A birthday to celebrate today our Granddaughters Kura's 4th and it was card and present opening time before we left the cabin.
It was only 2 mile to the North East entrance to Yellowstone National Park and it wasn't much further when we saw our first animal, an American Badger poking its head up from a its den.
Again too many viewpoints and photo stops to mention them all so I will "say it with photo's". Soda Butte is the first thermal feature in this corner of the park, although an extinct hot spring cone it still gives off the odour of Hydrogen Sulfide. Lamar Valley the "American Serengeti", one of the parks premier wildlife viewing areas, where we saw herds of Bison and a small herd of Pronghorn.
Wraith Falls was a short hike through a meadow with a profusion of wild flowers to a waterfall over a 90 ft. drop.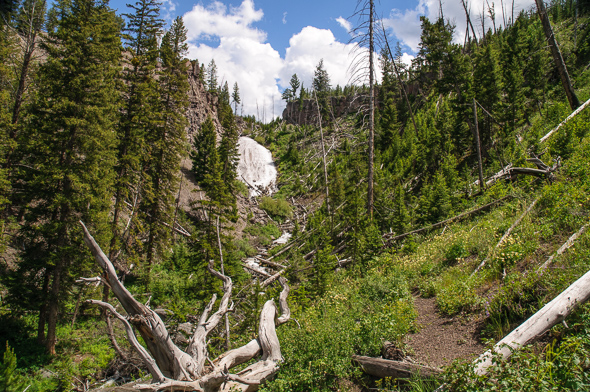 After a short stop at Mammoth Hot Springs at the visitor centre we drove the 5 mile to just outside the North entrance national park to our three night stay at the Best Western. We were disappointed when we got there to find despite requesting for our rooms to be close we were in a different block to Rhiain, Ian and Kura, in fact we could not have been further apart. Still the rooms themselves made up for it, a sunken Jacuzzi in ours and a wonderful view of the Gardner River and mountains from Rhiain's. A birthday meal tonight at "The Yellowstone Mine Restaurant" at the entrance to the hotel, BBQ chicken for Jenny and I, Fettuccini chicken for Rhiain, Ribs for Ian and Macaroni cheese for the birthday girl, plus the waitress very kindly brought Kura out some Huckleberry ice-cream all excellently cooked and at US$89 dollars (£60 approx.).
Wednesday 17th June 2015
Grand Loop Road Anti-Clockwise, (long loop 158 Miles)

Well if last night's meal was great at the restaurant, todays breakfast at the same establishment (Best Western use it as their breakfast provider) was one of the worst! A very poor variety, "watered down" orange juice and surly staff, it was as if on showing our BW "ticket" we were immediately treated as second class citizens, (a poor review on Trip Advisor awaits).
Note: Back in Wyoming

Mammoth Hot Springs Terraces was our first destination this morning and luckily Ian (who was driving today) managed to find a space near the lower terrace, we had a choice either park at the lower terrace and walk up to the upper terrace and then back down or park at the upper, walk down and then back up. At Mammoth Limestone is dominant and a network of fractures and fissures form a plumbing system that allows hot water from underground to reach the surface. Thermophiles (heat-loving microorganisms) create tapestries of colour where hot water flows through the terraces. Colourless and yellow thermophiles grow in the hottest water; orange, brown and green thermophiles thrive in the cooler waters. Colours also change with the seasons. After purchasing a trail guide (US$1), walked up the terraces past springs with wonderful names like Canary Spring, Palette Spring and New Blue Spring to name but three, until we came to the overlook of the main terrace with a view towards the town of Mammoth and the mountains beyond. We saw a strange sight as we descended to the car park rainbow colours within some clouds, coincidently Rhiain had seen a programme on this phenomenon on a TV recently (she has an avid interest in meteorology) and told us it was a circumhorizontal arc, an ice-halo formed by the refraction of sun- or moonlight in plate-shaped ice crystals suspended in the atmosphere, typically in cirrus or cirrostratus clouds. (Who am I to say different)!
It was already nearing lunchtime so we drove on to Sheepeater Cliff picnic area (named after a small tribe of Indians related to the Shoshonis) and enjoyed a picnic there and being entertained by a Yellow-bellied Marmot.
We continued towards Norris Geyser Basin, road works held us up for about 30 minutes on the way, probably would have been less if there had not been a Bison in the way. Reaching the Norris Geyser Basin we just had to be patient to find a place to park and wait for other people to leave. We had a choice of two circular trails, Back Basin 1.6 miles or Porcelain Basin .5 Miles, we chose the former because we had heard of "Steamboat Geyser", the world's tallest active geyser however unlike "Old Faithful" the eruptions are entirely unpredictable and whilst we watched it, it only hissed and gurgled.
We had fun at the next feature, Cistern Spring I thought I was going to get an iconic Yellowstone photograph, a Bison in the steam of a geyser basin, however by the time I had run down to the fence it had moved and whilst I tried to get into a position to photograph it, he/she walked onto the boardwalk between me and the rest of the family! They beat a hasty retreat further along the boardwalk, I had to walk behind it until it moved further up a hill, good job it didn't do any bodily functions.
After "re-grouping" we continued along the trail looking at Geysers and Springs with names like Puff 'n Stuff Geyser, Mystic Spring and Green Dragon Spring before reaching the museum at the trail start/end. Kura was rather tired by then so whilst they had a slow walk back to the car park Jenny and I walked to the overlook of Porcelain Basin, it was a good job we decided on the Back Basin trail, the Porcelain Basin circular walk had for some reason been closed off.
After a short photo stop at Gibbon Falls, Old Faithful itself was next a 30 mile drive from Norris Basin, arriving late afternoon we missed the crowds and fortunately we only had to wait about 20 minutes for it to erupt, very spectacular it was too, hopefully I caught it on camera spurting to its highest point.
We only stopped at one other major viewpoint, Kepler Cascades where a wooden platform gave us a fine view of the 125ft cascade and then we had a few short photo stops in the twilight on the way back to Gardiner, past Yellowstone Lake and through the Hayden Valley (another wildlife hotspot).
Thursday 18th June 2015
Grand Loop Road Clockwise (short loop 133 Miles)

I made a mistake on Tuesday when we came into the park; I saw the sign for Trout Lake and dismissed it as not worth seeing, then saw a photograph of it in the visitor centre and changed my mind. As it gave us another opportunity to drive through the Lamar Valley we thought the 60 mile round trip from Tower Junction would be worthwhile. But first of all it was a photo stop at Undine Falls on Lava Creek, we didn't have far to walk the viewpoint was at the edge of the car park.
Whilst we were there a lady asked whether we had seen the grizzly, to which we replied no, evidently it was feeding on a small hillock about a mile away. We reversed our steps and I drove back down the road and found a small turn-out with several cars parked in it, obviously this was where the bear had been seen and Rhiain and I managed to catch a glimpse of it before it disappeared near a taller bank of grass. After several minutes without a sight of it most of the other cars went. Patience paid off, I spotted the creamy colour of it further along the bank and we all managed to see it before it finally vanished. We continued our journey to Trout Lake, once again seeing plenty of Bison and Pronghorn in the Lamar Valley (still got to get a decent photograph of the latter). Arriving at the car park it was a .5mile walk through a fir forest and wildflowers to the Trout Lake (named for its abundance of Cutthroat Trout), returning hikers told us to go to the creek at the outlet to watch the trout spawning and an additional 10 minute walk along the lake gave us the chance to see them.
It was almost lunchtime when we got back to the car so we made a stop off at the picnic area near Tower Junction for lunch and a photo stop at Calcite Springs Overlook which offers vertiginous views of the Grand Canyon of Yellowstone known as "The Narrows", before continuing to Tower Falls. Surprisingly we managed to park in the car park at Tower Falls fairly easily, given that it is one of the most popular viewpoints to visit and it was just a .25 mile walk to the viewing platform, very impressive the falls were too, dropping 132ft on Tower Creek and well named from the pinnacle-like volcanic towers that arise around it.
A drive from Tower Falls over the highest section of road in the park was next Dunraven Pass at 8,859ft, with plenty of snow still on the edges of the road, we had fine views of the summit of Mount Washburn at 10,223ft, the highest in this area of the park, but a lowly 32nd in the park as a whole, (there are at least 70 named mountain peaks over 8,000ft. in Yellowstone in four mountain ranges). Next stop was the "The Grand Canyon of Yellowstone" and although I had seen photographs of it nothing can describe the breathtaking view we had when we looked over from "Lookout Point" on the North Rim. The Yellowstone River plummets over first Upper Falls for 109ft. then Lower Falls for 308ft. before raging through the 1,000ft-deep canyon, its 4,000ft. wide at the top and stretches for 20 miles. The canyons beauty comes from its depth of colours of iron oxidization (the canyon is in effect rusting). We walked along the trail to "Grand View" stopping a various lookouts to look over the rim before returning to the car and driving around to the car park for a walk to "Brink of Upper Falls" for another great view.
Unfortunately time was now against us and we didn't have time to take in the views from the South Rim, on reflection we should have perhaps spent less time at North Rim, one of the best views of Lower Falls is from "Artist's Point" on the South Rim. Yes, I know we went to Trout Lake as well!! We arrived back at the hotel just before dark, (unlike yesterday when Ian drove the last 30 miles in the dark) and micro-waved meat pies in our room, we refuse to patronise the Yellowstone Mine Restaurant again.
Wyoming
Friday 19th June 2015
The Virginian Lodge, Jackson Hole, Lat: 43.4736. Long: -110.7777 (183 Miles)

We left this morning at 9:30 am for our drive to Jackson and as we had covered some of the POI's on Wednesday and Thursday itineraries our first "proper" stop other than lunch items from the excellent little supermarket in Gardiner and "comfort" breaks (note: although the town is called Gardiner the river that passes through it is the Gardner so no, I haven't mis-spelt either) was Midway Geyser Basin. Home of the algae-tinged indigo waters of the 370ft-wide much photographed "Grand Prismatic Spring" the largest and deepest (121ft.) in the park. We luckily were able to park without difficulty and walked to the footbridge over the Firehole River into which the spring discharges after draining into Excelsior Pool 4,000 gallons of boiling water a minute. Then we followed the boardwalk past the beautiful Excelsior Pool to the Grand Prismatic Spring and then finally Turquoise Pool, hopefully with the amount of photographs I took, I should have taken some decent ones. After a great stop at the geyser basin we continued our journey.
Time for lunch and we found an ideal picnic area (oh, what the UK lacks) by the side of Lewis Lake, before driving out of Yellowstone National Park South gate and continuing along the John D. Rockefeller Jr Memorial Parkway towards Grand Teton National Park, two POI we missed on the way, Lewis Falls and Moose Falls we will see when we return this way on Sunday. We entered Grand Teton National Park (we paid for both parks on Tuesday) and very soon we had our first proper view of the spectacular Grand Tetons from the overlook at Jackson Lake.
We also stopped for other photo-stops at Willow Flats Overlook, although the trail was closed due to bear activity so we had to make do with going as far as the "stop" notice, Oxbow Bend Turnout, a great place for a reflection photograph of the mountains if wind conditions are favourable, i.e. flat calm, (it wasn't) and Elk Ranch Flats Overlook.
The next stop was the most important for me on the whole of our trip and has been on my "bucket list" of "must do's" for many, many years and I must admit the emotion got to me and I "blubbed" Snake River Turnout was the place where Ansel Adams photographer and conservationists took a famous photograph (black and white of course) of the Grand Tetons in 1942, I have looked at his work since seeing it in a gallery in Yosemite National Park in 2001 and have been in awe of his photo's of The Grand Tetons and Yosemite ever since. I tried to capture a similar shot, hopefully I have succeeded, however the trees have grown taller in the last 73 years and obscure the Snake River. Anybody got an axe I could borrow?
From the car park we drove directly to Jackson along the Jackson Hole Valley 18 mile to our hotel for the next 2 nights the Virginian Lodge. We found out when we arrived despite me phoning from the UK that the room was not actually suitable for 4 adults and a child, we "made do" but were not happy and the reception staff were the most rude and unhelpful we have ever met, on the plus side the room was nice and clean. Another bad review on "trip advisor" is on the cards. After settling in we went over to a Wendy's fast food restaurant and the chicken salads that Jenny and Rhiain had were delicious, Ian and my chicken burgers were equally as good, Kura's chicken nuggets must have been OK, she eat them all!
Saturday 20th June
Jenny Lake loop (80 Miles)

A change to my proposed itinerary today, we are doing it anti-clockwise instead of clockwise, for two reasons. Firstly Jenny Lake is reported to be at its busiest between 10:00 am and 4:00 pm and secondly the sun will be in a better position earlier in the day to enable me to take some further photographs from the Snake River Overlook.
In fact after breakfast, toast wonderfully improvised by Jenny in a frying pan (no toaster in the kitchenette) the overlook was our third stop this morning (the first being Glacier View Turnout and the second at Teton Point Turnout) and I took some more photographs, never satisfied the cloud wasn't as striking as yesterday (but there's always tomorrow).
Continuing to Jackson Lake Junction we turned on to the Teton Park Road and within about 7 miles up the narrow and winding Signal Mountain Road we didn't need to drive the 5 mile to the summit, the best views are from a viewpoint ¾ distance up, which gave us a wonderful panorama of the Jackson Hole Valley, The Grand Tetons and Jackson Lake and its Islands.
Next on the itinerary was Mount Moran Turnout, another wonderful view of the mountains and with a profusion of wildflowers as a foreground and in the next photo stop at Mountain View Turnout my photograph was "photo bombed" by a Mule Deer!
Time for lunch and what better place than a picnic area by the side of a Lake and Leigh Lake was less than 5 miles away, Ian managed to find a parking space and we enjoyed our lunch before strolling along the lake.
No wonder it was a popular area, people swimming, sailing, paddle-boarding and canoeing in the warm sunshine with a magnificent back-drop of the mountains. Kura just had to have a paddle, getting her out was not so easy, she was enjoying it so much, (as was mum and grandma). Jenny Lake was our next stop and an important one as it was named after my wonderful wife Jenny, (actually named after a Shoshone Indian lady who married an Englishman Richard "Beaver Dick" Leigh, how he got that name I daren't imagine). We stopped at a car park on the lake side first, before driving along the short "one way" system to Jenny Lake Overlook, a misnomer as it's not possible to see the lake from the overlook without walking a distance along a trail, we then continued to the visitor centre car park on the lake side timing our arrival to perfection, the information was correct it was quieter after 4:00 pm we arrived at 15:58 pm! We then had a browse around the visitor centre and store before strolling to the lake side, or more accurately the mouth of Cottonwood Creek where the ferry boat departs for the trails within "The Tetons".
We returned to the car park via the creek trail, passing a superb meadow of Yellow wild flowers which I am reliably informed is called Arnica, a herb with many healing properties, which Rhiain photographed before driving back to Jackson. We had decided to have something to eat in the town and parked in a side street and were just in time to watch a "shootout" show in the town square. Great fun, comedy, singing, dancing, loud bangs and several "dead" bodies, I couldn't get the gist of the story line but we all thoroughly enjoyed it, well worth the $5 Kura put in the hat handed around by a "cowboy".
Sunday 21st June 2015
Cody Legacy Inn, Cody, Lat: 44.5160, Long: 109.0529, (202 Miles).

After a quick browse around Cody and purchasing salad bowls from Wendy's for our lunch our first stop this morning was a fantastic location which originally I hadn't got on our POI. It was only when reading a book this week that I found a reference to Schwabacher Landing, although on the Grand Teton map and between two viewpoint turnouts the road to it isn't signposted, a quick glance at Google Earth and I knew where we were going. We parked in a car park about a mile along the gravel road from the main highway and about ½ mile from the landing car park used by canoeist, rafters and fishermen to easily access the Snake River. The place was fantastic the river with a reflection of the mountains, wild flowers, myriads of butterflies and a beaver dam, needless to say we stopped there quite some time just enjoying the scenery and quietness.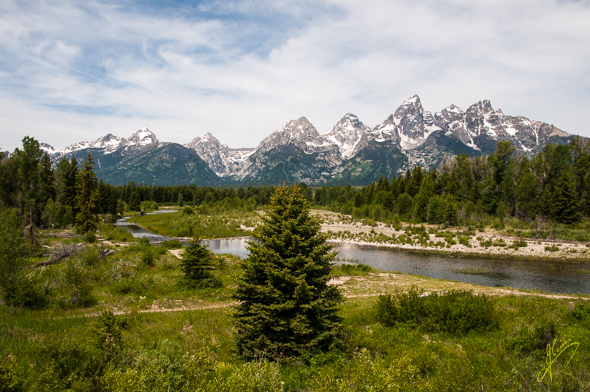 We continued on (Ian driving this stretch) stopping briefly at Snake River Overlook once again, however the light wasn't as good there this morning, I did take more photographs but I don't think they will be better than any taken previously. One POI we didn't do on the way to Cody was Moose Falls and an easy trail lead us to the base of the falls on Crawfish Creek, I wish that I had taken my tripod for a "slo-mo" photograph, but luckily a rock was perfectly positioned to steady the camera.
The next location wasn't as good, Lewis Falls on the Lewis River, the best view was from the road bridge to get a clear photo of it and a tele-photo lens would have been the choice, however for a mediocre falls it was not worth changing to one. We stopped once again at the Lewis Lakes picnic area for lunch (Wendy's fantastic chicken salad's) before continuing, whoops, Ian was driving, Rhiain was "navigating" I was with Jenny in the rear, I wasn't looking at the road only the scenery and I had already spotted Yellowstone Lake from atop a rise in the distance, but as we continued we didn't reach it. When we reached another notice saying "Continental Divide" which should not have been possible, I asked the question, "are we on the right road?" We weren't and had gone 10 miles (20miles in total) the wrong way, they had missed the right turn at West Thumb! I took over the driving (not for the latter reason) at Fishing Bridge where we turned east to exit the park. Other than at Lake Butte overlook which we couldn't visit because of bear activity the rest of the drive from Fishing Bridge to Cody (76 miles) "The Buffalo Bill Scenic Byway" with some astonishing rock formations was very picturesque without any specific POI as we climbed up Sylvan Pass past Sylvan Lake and along the Wapiti Valley, before the highway skirted the shore of Buffalo Bill Reservoir before we arrived at Cody.
We certainly wasn't disappointed with our hotel choice tonight, a little "stand-alone" unit with wonderful wood furniture, fluffy towels and a very comfortable bed, plus the swimming pool and hot tub were of a nice temperature. Mexican meal tonight at "Taco John's" a short walk away from the hotel, very nice it was too . . . and the doughnuts, wow!
Monday 22nd June 2015
Best Western Kelly Inn, Billings, Lat 45.7544, Long -108.5401 (176 miles).

Another road today that I have wanted to drive, "The Chief Joseph Scenic Byway from 17 miles outside of Cody to Highway 212, below the Beartooth Pass and the description"although the highway is well constructed and quite safe, it is not for the timid, numerous switchbacks, 8% grades, and precipitous cliffs can test the tranquility of both driver and passengers" . . . it just had to be done! It follows the route taken by Chief Joseph as he led the Nez Perce Indians out of Yellowstone National Park and into Montana in 1877 during their attempt to flee the U.S. Cavalry and escape into Canada. It winds through the Shoshone National Forest and beside the red rock cliffs of Painter Canyon and through the Absaroka Mountains and then passes over Dead Indian Pass.
Again very picturesque as we climbed the long and gradual road to the summit of Dead Indian Pass, I thought we would be disappointed and not be able to drive into the viewpoint, they were carrying out road works at the top and the single lane was being controlled by a "convoy" vehicle. However, after a long wait we eventually moved on and we were able to pull into the viewpoint from behind the convoy vehicle. The view from the top at 8,048ft. was magnificent, the Sunlight Basin below (and our road down), the mountains in front and to the side of us just seemed to go on and on.
After waiting at the end of the viewpoint road for the convoy vehicle to return on one of its descents, I craftily waited for other vehicles to go first so I could be last in the queue to take my time. The resurfacing of the road was nearly complete so all we had to negotiate as we steeply descended was the odd works vehicle and of course the hairpin turns and switchbacks, we crossed the Dead Indian Creek at the bottom and continued to our next POI. Sunlight Basin has been called one of the most spectacular views in America and the bridge over Sunlight Creek at 300ft is the highest in Wyoming. We pulled into the car park and found that the best views were actually from the bridge itself, it was a bit intimidating photographing from the bridge but I wasn't scared, I just opened one eye to look through the viewfinder!!!
There was another viewpoint 500 yards further but unfortunately a RV had broken down on the bend and the local sheriff was preventing vehicles stopping there, we didn't argue he had a Colt 45 Peacemaker in his holster. The road slowly straightened out along a valley before we reached the junction of Highway 212 and we turned right once again to drive "The Beartooth Highway" and as I had the pleasure of driving it last Monday I swapped the driving at the next turnout to give Ian the opportunity to drive.
First POI was Lake Creek Falls a rumbling falls that plummeted under the highway; a short hike took us to a pedestrian bridge (the old road bridge) where we were able to take some photographs before taking the trail on the other side of what I presume is Lake Creek back to the car.
Ten minutes later we had our next stop, completely unscheduled and one of the highlights of our holiday. Two Grizzly bears were about 40 feet from the highway and they were fantastic to photograph as they fed totally unconcerned on grasses and grubs among the sagebrush. Rhiain, Ian and I all managed to get some decent shots from outside of the car before the road got rather busy when 2 mini-buses arrived and loads of people got off.
After getting a much better photograph of Index and Pilot Peaks (see photograph Monday 15th); It was time for a late lunch and we found the idyllic spot off the highway about a mile along a dirt road at the picnic area of Beartooth Lake with a back drop of Beartooth Butte, just a pity there was a wind the butte would have made a great reflection photograph in the lake.
After lunch (actually almost afternoon tea it was 15:45 pm) we continued our drive stopping once again at, West Summit, Beartooth Pass Overlook, Gardner Lake Pullout and Rock Creek Vista Point Rest Area, to take some photographs.
My itinerary for the holiday had worked perfectly, the plan of driving the Beartooth highway twice gave us the opportunity of seeing it the second time in perfect weather conditions, not that it wasn't fantastic in the less than perfect weather last week. We arrived at the hotel in Billings rather later than intended and after checking-in and getting organised we re-visited Popeyes for a Cajun meal before Jenny and I had a soak in the hot tub.
Tuesday 22nd June 2015
Return to Estevan (467 Miles)

A long journey today with Rhiain and I sharing the driving until we dropped off the rental car at Williston airport having driven a total of 1,790 miles in it since collecting it 10 days ago. The Chrysler Suburban was a fantastic beast to drive, with so many driver aids, including a lane departure warning system, (the seat vibrated when I drove over a white line without indicating, thought I imagined it the first time it happened), leather upholstery, MyLink infotainment with eight-inch screen, a Bose premium stereo system, a power lift gate, heated front seats with memory functionality. Ian then drove "The Jimmy" from Williston back to home. The end of a wonderful family holiday in Yellowstone and Grand Tetons National Parks, so much to see, so much still to see, we will have to go again!