Ref:
Date:
Location:
Photographer:
[clikcontent type=paymentBuyLink replaceable=true]
Ref:
Date:
Location:
Photographer:
[clikcontent type=paymentBuyLink replaceable=true]
31st July 2015 - 4th August 2015
North and South Dakota, The Black Hills and the Badlands.
North Dakota
Friday 31st July 2015
Best Western Heritage Inns, Dickinson, Lat: 46.8978, Long: 102.7931 (325 Miles).
We left Estevan at 9:00 am, Rhiain driving us to Williston in North Dakota to collect the rental car from Enterprise at the airport. No problems with me "breaking" the camera at the USA Border Control this time, because we already had our visa's from our last visit we didn't need to use the main border crossing at North Portal, instead using the smaller control at Noonan, which also meant a saving of about 20 miles. The 98 mile drive took us just over 1½ hours and we arrived at Sloulin Field International??? Airport just before noon (having jumped an hour from Central Time to Mountain Time). With the necessary paper work done we were soon on our way in a very nice Toyota Avalon and our first stop was at Watford City to buy a few items for breakfast, lunches, etc. First real stop was the Theodore Roosevelt National Park (North section) just 15 mile from Watford City and after paying our entrance fee of $20, which included entrance to all the other North Dakota State Parks we started our journey along the 14 mile drive-in, drive-out road into the park (25 mph speed limit) and stopped at the "Longhorn Pullout" to eat lunch in a landscape full of Sagebrush we didn't spot the small herd of Longhorn cattle that frequent this area though. Continuing just .5 miles we reached the "Slump Block Pullout" were water, sliding and erosion had shaped the layered buttes.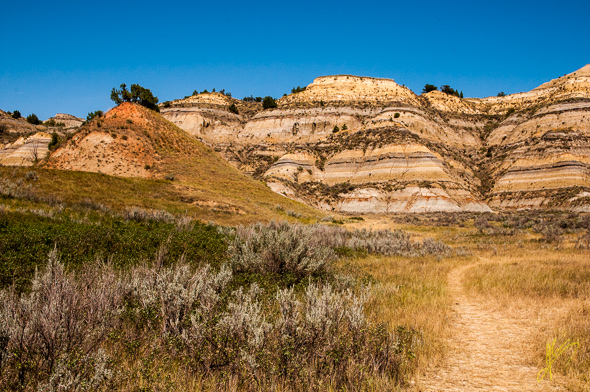 An interesting POI next, Cannonball Concretions Pullout, spherical rock formations that look like . . . well . . . cannonballs, an interpretive sign described how they were formed.
After a short stop at the "Long X Trail Pullout" where another interpretive sign told the story of the cattle trail through the valley to the Long X Ranch, our next POI was at the "River Bend Overlook", said to be the best viewpoint in the park and it probably was giving us a majestic view of the badlands and the Little Missouri River below.
The next four miles the landscape changed from driving through the buttes to driving on top of them along flat, grassy plains, passing three more overlooks before arriving at "the end of the road" and the "The Oxbow Overlook" only the Achenbach Trail a 17.7 mile backpackers trail descending into the badlands was an option (but not for us)!
After a short break we drove directly back to the exit on Highway 85 and continued a further 80 miles to the South section of the park on Interstate 94, the South section is rather different from the North, less badlands and more forested slopes, grasslands and cottonwood stands along the Little Missouri River. We entered the park at the "cowboy" town of Medora, (unfortunately no time to explore it) and decided on travelling the 36 mile loop road anti-clockwise (the sun for photography being in a more suitable position). Passing a Prairie Dog town our first stop was "Scoria Point Overlook", we weren't sure which "point" was Scoria, (I "googled" it later) strictly speaking, scoria is volcanic in origin, but in the badlands, wherever a seam of coal has caught fire and baked the surrounding sand and clay, it's called Scoria.
Next stop was the "Badlands Overlook", the view here was over Paddock Creek, and what we saw was another surreal, striking badlands landscape, before continuing around the loop road.
It was now early evening so we only stopped twice more for photo stops at the "Boicourt Overlook" and the Prairie Dog town, before exiting the park, we need to come back here another time and explore further, there was much more to see at both sections than we anticipated and would love to walk some of the trails.
It was only 35 miles to Dickinson for our overnight stop and as soon as we checked in (to an upgraded room with a spa bath, although we didn't use it), we walked the short distance to a DQ (Dairy Queen) fast food restaurant for an evening meal before returning to the hotel for our customary soak in the hot tub.
South Dakota
Saturday 1st August 2015
Crooked Creek Resort, Hill City, Lat: 43.8989, Long: 103.5926 (276 Miles)
Left the hotel just before 9:00am this morning wanting an early start to a long journey into South Dakota. Just 19 miles along Interstate 94 and then turning south to once again drive along Highway 85, it was a case of set cruise control to 65 mph and apart from a short stretch in the town of Bowman keep straight for 184 miles. We stopped at a small supermarket at Belle Fourche, pronounced Bel Fooch (French for "beautiful fork") for a couple of "quick meals" before continuing towards Spearfish Canyon. Must mention at this stage that the original plan was for Rhiain, Ian and Kura to be with us, unfortunately due to work commitments they couldn't join us and one of the reasons to choose this weekend was the 75th anniversary of the Sturgis Motorcycle Rally that Ian wanted to visit, the town of Sturgis being close to the Black Hills. It was at Spearfish that we started to meet hordes of motorcycles (mostly Harley Davidson's) and groups of 5, 10, 15 plus motorcycle convoy's was the "norm" for the rest of our weekend in South Dakota. We stopped at the bottom of the very picturesque Spearfish Canyon for lunch before driving the 22 mile (35 mph max' speed) Spearfish Canyon Scenic Byway, the first POI we didn't bother stopping at, the pull-out was full of bikes and the "Bridal Veil Falls" a mere trickle (supposedly only in spring with snow melt are they at their best). Our second stop in the Canyon was at an unnamed pond with the Spearfish River flowing through it and we had a short walk and took some photographs before driving on towards our destination Hill City.
We had a great drive to our cabin through the winding, hilly, Highway 385, passing two very large lakes on the way and arrived at "The Crooked Creek Resort" at about 3:30 pm and speedily got organised in our cabin. Whoops, slight problem, although there was a kitchenette in the cabin and a toaster, electric ring and a micro-wave, there was no utensils, not even a tea-spoon! We went to reception and they explained they weren't supplied, Rhiain had booked the cabin and assumed that as there was a kitchenette, cutlery, plates, and saucepans, etc. would have been supplied, I won't dwell on it the ladies on reception weren't very helpful, the lady at the BBQ stall was and gave us plastic knife, fork, spoons and plates, Jenny cleverly improvised and we enjoyed our Beef Hotpot Pie. After our meal and a rest we decided to visit two of our POI's, the first was "The Crazy Horse Memorial" work begun on carving out the memorial in 1948 and the aim was to show Chief Crazy Horse on a horse, to-date only the head of Crazy Horse is showing being near completion, there is no date for the memorial to be finished, (I would suggest, many, many, years if ever). Other than at a distance there wasn't too much to see, although the visitor complex did look very impressive, we didn't look around it as we wanted to visit our next POI, Sylvan Lake before the sun started to set.
Sylvan Lake, known as the "crown jewel" of Custer State Park was only 11 miles from the monument and we wound our way up several hair-pin bends with fabulous views of the craggy cliffs to the lake. We were a little late for the sunset to fall on the lake; however it was illuminating the cliffs on the opposite side of the lake perfectly and with little wind the water was almost mirror calm for photographing reflections. We had a pleasant walk along the South West edge of the lake, a Mule Deer grazing within 6 feet of the path not a bit bothered as we walked past, the 1 mile perimeter trail is one we have planned to walk, hopefully tomorrow evening we will be able to do it. Returning to the car we drove back in the dark to the cabin, tomorrow our intention is a circular drive through Custer National Park, including visiting Mount Rushmore.
Sunday 2nd August 2015
Circular Tour, (95 Miles).

How to do poached eggs for breakfast without a pan? Jenny's brain ticked over and we used two yoghurt pots from yesterday and micro-waved the eggs in them, perfect! An early start on our planned drive today for two reasons, having done some research the best time to photograph Mount Rushmore is morning to avoid shadow from the Lincoln head covering Roosevelt's face and also to avoid the crowds. The only down side was we would have preferred to drive in a clockwise direction to photograph the memorial through one of the tunnels on the Iron Mountain Road. We arrived at the car park at 9:38 am and the car park booths were well organised, one for motorbikes, two for cars and another for coaches and RV's and as there weren't any coaches and RV's waiting, we were waved through that one ($11 parking, entrance to the memorial is free) and parked on the almost empty top deck (at ground level as the other floors were underground). The car park pedestrian exit took us up a flight of steps directly to the Avenue of Flags, which made a great foreground to a photograph of the four presidents. We also saw Abraham Lincoln himself looking not a day older than 56!!!
We took a few more photographs at the Grand View Terrace before taking the path to the Presidential Trail, which gave us an opportunity to photograph the memorial from other perspectives, including a cave.
Leaving the Mount Rushmore car park exit I managed to get into the incorrect lane and was actually going west (the way we came in from Hill City) along highway 244, it was fortuitous, we had noticed vehicles parked in a turnout on the way in about a ½ mile from the entrance and we found it a great place to see a profile of Washington's head isolated against the sky.
The large turnout also meant we could turn around and drive in the correct direction towards Iron Mountain Road and take a photograph from a scenic overlook towards Custer State Park.
More about the 17 mile (35 mph) Iron Mountain Road.
• 314 Curves
• 14 Switchbacks (hair-pin bends)
• 3 Pigtails (fantastic wooden bridge structures)
• 3 One lane Tunnels
• 2 Splits (one way systems)
• & 4 Presidents!
A fantastic road it took us about 45 minutes to negotiate it, pity there was so many motor-bikes to be aware of, it would have made it better.
We had been in Custer State Park for at least 30 miles before we came to the pay kiosk ($11) and entered the park proper, famous for its towering peaks and wildlife (including a large herd of free-roaming buffalo) and after a short de-tour to visit the visitor centre (needed the washroom) we took the Wildlife Loop Road and the very first animal we saw on the prairie were Buffalo (yes, I know they were Bison on our Yellowstone tour, but that's America for you).
Further along the road we came to a traffic jam, no, not caused by cars or even motor-bikes . . . Burros, not just ordinary burro's but "Begging Burro's", The burros are not native wildlife, they are feral animals that are descended from burros (donkeys) that were once used to transport people up to the top of Harney Peak (also in the park). After stopping these trips, the burros were released in the park. Thus, they became semi-wild to wild animals that have passed down the skill of begging for handouts from the many cars that travel the road. They stand in the middle of the road to stop traffic; this allows other burros (and them) to approach cars looking for food. They will pop their head in any open window, we kept ours closed, they didn't even move when very noisy Harley Davidson's attempted to pass.
Eventual negotiating the animal chicane we continued along to one of our planned walks for today, the Prairie Trail. A 3 mile loop over rolling prairie grasslands and said to have the "most spectacular summer wildflower displays in the area". On Maps3D I had previously loaded the co-ordinates of the small car park and trail and we found it with ease, a large notice board with "The Prairie Trail" also helped! We followed the trail past a small stream and through a stand of mixed hardwoods before we climbed up to a panoramic view of the vast prairie of the Southern Black Hills and that's as far as we went, it was just too hot (90 degrees F plus) to continue and we re-traced our steps to the car, but not before we saw one of the most beautiful Dragonflies I have ever seen (yet to positively identify).
We drove on along the loop road stopping briefly near Mount Coolidge (elevation 6023ft) for a photo stop before joining highway 16A then I went wrong taking the road towards Custer City (the sign mis-lead me as it also said Sylvan Lakes which I knew we should pass not realizing there was another road to it). It didn't matter we saw Custer City (don't be mis-lead by the word "city", one main street, one set of traffic lights and a thousand motor-bikes). We decided as we wanted to go to Sylvan Lake tonight anyway to drive directly back to the camp site and a have our improvised evening meal (pan-fried fish done in the microwave). After our early tea (and showers to get the sun-tan cream and mozzy repellant off us) we left the cabin to drive the 14 mile Needles Highway, the part of the Custer National Park we missed this afternoon and afterwards walk the 1 mile Sylvan Lake Shore Trail. Within 3 mile of Crooked Creek we started the climb driving around a series of hairpin bends and through one rock tunnel (Hood) to Sylvan Lake continuing past the lake the road got narrower, steeper, the turns sharper and the rock needles from which the highway gets its name taller. The highway also passes through Needles Eye Tunnel, blasted through sheer granite walls. We stopped at the very small pullout before the entrance to take a look, I got a tape measure out, measured the width and height of the car, measured the tunnel and decided as long as we breathed in we'd make it . . . and we did!
We came out in the daylight the other side and continued upwards past even taller needles to a pullout for the Cathedral Spires Trail where we parked for a time and walked a short part of it, hoping to get a clear photograph through the trees of the rock formation called "Cathedral Spires", without too much success, the view from the pullout was actually possibly the best.
Driving on and eventually descending we came to the end of the "needles" part of highway 87, close to "my mistake" this afternoon and re-traced our steps back up to Sylvan Lake. We timed our arrival perfectly, just 30 minutes earlier than last night and the sun was still shining on the rocks on the opposite side of the lake and we once again walked along the South West side of it. However this time we continued around and down the side of the large rock wall and then to the back of them, it was difficult to believe that the lake surface was now above our heads. On the North side we climbed up stone steps and clambered over massive boulders to the reach the bankside trail and watched the sun disappear before returning to the car park and driving the short distance back to Hill City.
North Dakota
Monday 3rd August 2015
Best Western Heritage Inns, Dickinson, Lat: 46.8978, Long: -102.7931 (386 Miles).

An early start this morning leaving the cabin just after 8:00am for the drive back to Dickinson. Not a direct route back as we wanted to fit in a visit to "The Badlands" of South Dakota so the route took us back towards Rapid City, still a very picturesque road through the Black Hills and within 11 miles of Hill City we had joined the multi-lane Highway 16, we then managed to "skirt" Rapid City by taking Truck 16 (a city by-pass) to Interstate 90 to take us to Wall the nearest town about 50 miles distant. We only stopped once to fill with fuel at a self-service station, self-service in that there's no kiosk you just put your card in, it gets authorized and you press the trigger, not even a pin number required. The receipt on the map tells me we arrived at the Pinnacles entrance at 10:05am, must say remembering these State Park Maps that they give out at the pay kiosks, Death Valley, Zion, Bryce and of late Yellowstone and Grand Teton they are brilliant, maps of the roads, viewing points, picnic area and rest rooms, etc. on one side and lots of useful information on the other, (I was cheeky at Yellowstone, ours was well used and ripped, on the last day going through the entrance I asked and got a new one). Badlands National Park is a 30 mile loop of Highway 240, through buttes, pinnacles and spires and the road twists and climbs and weaves in and out of the native grasslands, it has (although I didn't count them) 14 designated overlooks. The first stop wasn't actually at a designated overlook but there was several vehicles parked at the side of an unpaved road off the highway looking over so we took a look, brilliant, a herd of wild mountain goats on top of the buttes and on the sides, how they manage to get in some of the precarious places we don't know.
We carried on along the unpaved road (Sage Creek Rim Road) to two overlooks Hay Butte and Sage Creek Basin, and then the road became very corrugated so we turned around and returned to the Badlands Loop Road. There are actually far too many places along the drive to write about so we have decided to let the photographs tell the story.
However some of the notable stops were Hay Butte Overlook, Pinnacle Overlook and Panorama Point Overlook, to name just three, our favourite however was the Yellow Mounds and we took over 4 hours to drive the 30 miles, we probable stopped at every one of the 14 overlooks and more! We had lunch under a shade shelter at Big Pass Overlook, didn't go too far from the path though, there was a sign beware Rattlesnakes; (actually I would have loved to have seen one)! It was after 2:00pm when we left the Badlands and we had a long journey in front of us, no time unfortunately to visit the Minuteman Missile National Historic Site, we are sure it would have been interesting, perhaps next time. Next time? Yes, of all the places in the world we have been lucky enough to visit, the Badlands of South Dakota is very high up our list, the rugged beauty is indescribable and we said "our" magic word "WOW" several times as we drove through the unreal landscape. After leaving the area the drive to Dickinson was unremarkable from the park exit near Cactus Flats we drove 11 mile East along the Interstate, then North along Highway 73, then it seemed to be we went straight West for 35 mile, straight North for 35 mile, straight West for 35 mile, straight North for 35 mile, straight West for 35 mile, straight North for 35 mile and so on. Into North Dakota, nothing changed, (only Highway 73 changed to Highway 22) and we went straight West, straight North, straight West, and straight North and then low and behold we stayed north until we reached the hotel, just off Highway 22 at Dickinson. Thank goodness for cruise control, air-conditioning and Bluetooth to enable us to listen to our music through the car audio! Actually the above sounds boring, it wasn't, we enjoyed the road trip along a road we obviously hadn't travelled before and we always have plenty to talk about. An upgrade again at the hotel, a suite this time, we like being platinum members of Best Western and we are only one stay from being diamond members, with whatever "perks" that brings. We celebrated a fantastic day (actually weekend) at Burger King and pushed the boat out with "puddin" a HERSHEY'S® Sundae Pie for me and a caramel sundae for Jenny, then it was back to the hotel for our ritualistic hot tub session.
Canada
Saskatchewan

Tuesday 4th August 2015
Return to Estevan, (262 Miles).
Well, if yesterday's drive was fantastically interesting from start to finish, today's was disappointing. Rather than return to Williston along highway 85, we decided instead to continue along highway 22 N of Manning to highway 23, then East to New Town, before crossing Lake Sakakawea and turning west to return to Williston, it was called"The Killdeer Mountain Four Bears Scenic Byway", "The Killdeer Mountains, Little Missouri River and Badlands are some of the most scenic lands in western North Dakota". It had 5 top points of interest, Killdeer Mountain Battlefield State Historic Site, it was 8 mile down an un-paved road, Little Missouri State Park, it was 2 mile down an un-paved road, Lost Bridge, this was on the highway and the information sign told of the history of a bridge and there was a portion of the old bridge there, very photogenic . . . not.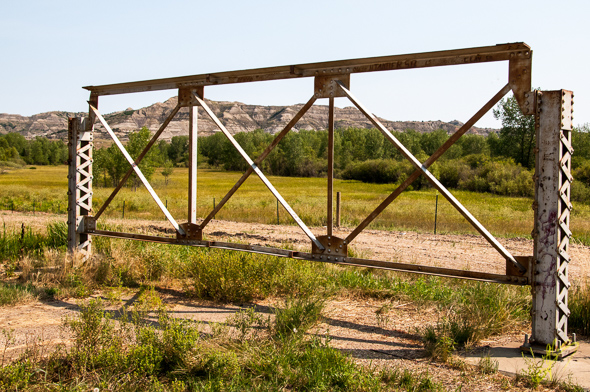 Four Bears Museum we would not have stopped at anyway and the Crow Flies High Butte overlook we never found, plenty of "nodding donkey" oil pumps, fracking sites and all the associated industries but hardly a scenic byway. We had set aside an hour of the journey for "sight-seeing" and we were ahead of time and eventually found a pleasant parking area near a marina on Lake Sakakawea where we stopped and had lunch and relaxed, I also had a good chat to 3 fisherman who had just arrived back in their boat. They had only managed to catch one Walleye one of the USA's best eating fresh water fish, in Europe we have the same fish the Zander again considered great eating, in England it would be throw it in the bin. We arrived back at Williston airport at 3:00 pm and brilliant timing Rhiain and Kura arrived to collect us whilst we were getting our luggage out of the rental car, the timing was not as easy as you would perhaps think we had come from Mountain time to Central time with daylight saving time, Rhiain had come from Central time without daylight saving time, confusing or what? After a late lunch at McDonalds for Rhiain and Kura we drove the 98 mile back over the border to Estevan having enjoyed a great long week-end in "The Dakota's" having driven a total distance of 1179 miles, definitely the Black Mountains and Badlands of South Dakota we would love to return to, North Dakota perhaps just the Theodore Roosevelt National Parks as we pass through the state.