Ref:
Date:
Location:
Photographer:
[clikcontent type=paymentBuyLink replaceable=true]
Ref:
Date:
Location:
Photographer:
[clikcontent type=paymentBuyLink replaceable=true]
13th September 2015 - 30th September 2015
Canada and USA Road Trip.
Manitoba
Friday 18th September 2015
Best Western Plus Brandon Inn, Brandon, Lat: 49.8878, Long: -99.9413, (305 Kilometers).
We left Rhiain's at lunchtime for the journey to Brandon and arrived at 5:30 pm having crossed into Manitoba and jumped forward an hour with a time zone difference. A great room upgrades at the hotel a suite with separate bedroom and a spa bath. We soon had our luggage organised and went for a "fast" meal at the McDonalds close by, "fast" meal because Rhiain, Ian and Kura had the three hour drive back to Estevan. We drove back to the hotel to say emotional good-byes to the family (and for Kura to change into PJ's so Rhiain could put her straight to bed). We have had a wonderful stay with them now we have a 3,000 mile plus "road trip" to Montreal before flying back to the UK on October 12th. Tomorrow we will collect the rental-car and be on our way towards Winnipeg.
Saturday 19th September 2015
Comfort Inn South, Winnipeg, Lat: 49.7792, Long: -97.1574, (232 Kilometers).

Up early this morning to watch the Grand Prix F1 qualifying from Singapore and then the Aston Villa v West Bromwich Albion football match. Disappointed with both! The qualifying wasn't on, it was Rugby (I hate Rugby) and Aston Villa lost 0-1. A further disappointment was that the rental company Enterprise, despite ringing them yesterday didn't collect us from the hotel and as it was approaching 12:00 pm when they close we decided instead to get a taxi to their depot. The only consolation was (actually two), the taxi driver was great an Arsenal fan (who also lost today) and was so enthusiastic about our trip "Don't miss Wawa, you mustn't miss Wawa, but don't fill up with fuel it's expensive there", we are already stopping at Wawa for two nights. We also had an upgrade of our rental vehicle instead of a Full Size (Ford Mondeo(ish), we have an Intermediate SUV a Kia Sorento which we are very pleased about. We realised why the pick-up didn't happen the depot only had two people working there and for whatever reason they were very busy. We left there at noon and were soon on our way to our first stop Spruce Woods Provincial Park, although we stopped for lunch at Marsh Lake Picnic area, where we also perused the Kia handbooks to see what everything did! We continued just a short distance to the car park for the Spirit Sands/Devils Punchbowl Trails, the Spirit Sands trail was our choice, we haven't done a great deal of walking recently so a walk of 3.2 kilometers seemed about right, the Devils Punchbowl trail was a little far a 14 kilometers! We did enjoy the walk to the Spirit Sands, the only sand hills in Manitoba, though the trail was tough in places, especially the climb up a high dune, however the wooden "ladder" in the sand helped and it was the only way to reach the viewing platform. We also spotted some large bird footprints in the sand, emu, ostrich, very unlikely (like impossible); I took a photograph of them we will have to investigate further. It was another 120 kilometers to the hotel along a highway which came out south of the southern Winnipeg perimeter road and we only had 12 kilometers of driving to do on the main highway before reaching tonight's accommodation. With a McDonalds within walking distance it was our choice again tonight for a meal before relaxing for the rest of the evening.
Ontario

Sunday 20th September 2015
Super 8, Kenora, Lat: 49.7663, Long: -94.5058, (248 Kilometers).
We left the hotel at 9:30 and surprisingly found the perimeter road around the city of Winnipeg very quiet and within 20 minutes we were on Highway 15 which runs almost parallel to the Trans-Canada Highway 1, which we thought would be prettier and more interesting albeit slower than "TC1", which in fact it was. With two POI's for today being "drive through" rather than going to, Sandilands Provincial Park and West Hawk Lake we had plenty of time to visit Whiteshell Park midway between the two. We stopped near the township of Rennie when we spotted a sign for a Goose Sanctuary and we were very pleased we did. The "Alfred Hole Goose Sanctuary", we won't be able to tell you the full story it would take too long, just that it is a Canadian success story started in 1939 by Alfred Hole with just four Canadian Geese goslings. We were lucky that a trappers museum was open and a lady showed us an assortment of pelts from animals trapped in the Whiteshell Provincial Park area, including (but not exclusively) Squirrel, Polecat, Bobcat, Lynx, Coyote and Wolf, in fact the only one missing was Puma. She also showed us the type of traps used today and some of those from years ago and explained how the trapping system worked, which was very interesting. After leaving the museum we decided to have a walk around the pool although we didn't complete the walk (to many mozzies) and returned to the observatory where we were able with the help of the ranger establish which bird belonged to the footprints we saw yesterday, Sandhill Cranes (a cousin of the Brolga which we saw in Australia). We left the Goose Sanctuary and continued our journey and arrived at the hotel in Kenora at 3:15 pm a lot earlier than we anticipated crossing into Ontario in the process. Our evening meal tonight was at Casey's, we didn't need to drive to the restaurant it was less than 100 meters away and used the same car park, I had steak and Jenny pickerel, a fish rather like our pike and very nice it was too. Tomorrow we drive to Fort Frances another longer drive towards Thunder Bay along a slower but more scenic route than the faster Trans Canadian.
Monday 21st September 2015
La Place Rendez-Vous, Fort Frances, Lat: 48.6212, Long: -93.3593, (221 Kilometers).

A shortstop at the Safeway in town for a few items of food for picnics etc. and a photograph of "The Lake of the Woods" from the lake side so called because it contains more than 14,552 islands and then we were soon on our way to the first POI of the day. Rushing River Provincial Park which was just 40 kilometers from Kenora, however when we arrived we found the gates shut, it closed yesterday! However, it didn't stop us finding a trail near the road bridge to take some photographs of the rapids and then walk a short trail along the river. the next three places we intended looking at were a "disaster", Sioux Narrows was not very pretty, just a row of gift shops and boat moorings, Nestor Falls was a place we were going to have our lunch at, however the picnic area car park was being used by heavy wagons to reverse into for the highway that was being repaired and we didn't feel inclined to park the rental car there and Caliper Lake Provincial Park we never saw! We eventually stopped in Fort Frances at the Walmart for a "Tim Hortons" coffee and a comfort break before continuing through the town to a lovely picnic area on Rainy Lake which was just 5 minutes from the hotel we were stopping at. We weren't too disappointed at not stopping on the way; the drive was very picturesque along the side of "The Lake of the Woods and other lakes along the edge of the highway and the view from our balcony at the hotel over Rainy Lake more than made up for it.
Tuesday 22nd September 2015
Best Western Plus Nor' Wester, Thunder Bay, Lat: 48.3152, Long: -89.3599, (367 Kilometers).

Up before 6:45 am this morning to watch the sunrise over the lake at 7:00 am, I set up the camera on the tripod on the balcony and drank tea sitting on the bed and just went out to "press the button" when the sunrise colours were at their best, a bit lazy but it worked!
No breakfast at the hotel so after checking out we drove to the Safeway in the town to pick up a tray of fresh fruit and "coffees to go" from the instore Starbucks and drove back to yesterday's picnic area near the hotel for "brekky" before continuing our drive. We were too early to stop at the picnic area in the township of Mine Centre and Quentico Provincial Park was just a drive through rather than one to stop in, the trails in the park being specifically for canoes rather than boots, although we did find an ideal spot near a landing stage at a picturesque lake for lunch. We also decided that we would have time today to visit one of our POI's for tomorrow Kakebeka Falls Provincial Park, as it was North of Thunder Bay and only a few kilometers out of our way, Kakabeka Falls (Ojibwa Indian meaning is "Thundering Water"), thunder it did too over the 129 foot drop, we took some photographs from the east bank of the Kaministiquia River before crossing via a small road bridge which goes to several camp grounds and the visitor centre to the west side, unfortunately the visitor centre had closed by the time we walked to the other side, I had seen the "open" sign before we ventured across the bridge, it didn't really matter, we got some more good photographs from that side as well.
Leaving the falls it was only another 30 kilometers to our Thunder Bay hotel and more good news we were upgraded to a suite, plus breakfast was included, which we hadn't factored into our 2 day stay. We soon settled into our room, we (perhaps just Jenny) organised our luggage so that we take the bare minimum into the hotels, the small "carry-on" suitcase, laptop, my camera rucksack, camera bag and a "bits" bag (usual food and drink), the two large suitcases stay in the car. After our meal (a chicken/salad bowl from Safeway) we went to the swimming pool to use the hot tub before relaxing for the rest of the evening.
Wednesday 23rd September 2015
Drive to Sleeping Giant Provincial Park (271 Kilometers)

Well that was a massive plus, a waitress served breakfast this morning as part of the upgrade, which cost $32, the room was $143, making the stay $111 (£55.50), the cheapest of any of our overnights so far! Our only intended POI today was the Sleeping Giant Provincial Park although at the end of the day we somewhat changed it. Our first stop though was the Terry Fox Memorial lookout dedicated to Terrance Stanley "Terry" Fox CC OD who was a Canadian athlete, humanitarian, and cancer research activist. In 1980, with one leg having been amputated, he embarked on a cross-Canada run to raise money and awareness for cancer research. From the lookout we were able to take a tele-photo photograph of the Sleeping Giant across Thunder Bay.
The turn-off for the park (a peninsula which juts out into Thunder Bay) was a further 40 kilometers along Highway 17 and the highway almost runs through the centre of it to Silver Inlet, the peninsula itself is a lot longer but can only be accessed by walking trails. We had bemoaned the fact last night that we had not seen much wildlife . . . it was about to change. I rounded a bend and on the road side verge was the biggest Black Bear we have seen on our trip so far. Panic stations, the cameras were on the back seat and I only managed to take one shot of it before it walked into the woods, it was certainly a lot more camera shy than those in Alberta. We arrived at the end of the road at Silver Inlet, and then reversed our steps a few kilometers to the Marie Louise Lake campground to purchase a park pass ($11) before parking at the Kaybejun trailhead car park. It was a short hike along this trailhead before we reached a small stony beach, then it was a moderate climb up a narrow trail to a lookout towards the rock feature "The Sea Lion", unfortunately a few years ago the sea lion shape eroded into the lake, however the rock arch (and name remain).
Returning to the car we had lunch before driving to the next trail we wanted to walk, "The Wildlife Habitat Trail" we didn't go all the way to the end, the trail guide differed between what was shown on the post, 2.4 kilometers each way, to the guide which only showed 2.4 kilometers round trip, we must have walked 2 kilometers before turning back and all we saw was a Grey Partridge. We then drove back towards the main highway stopping at a couple of lookouts on the way and having a longer trek along the 1.6 kilometer "Joe Creek Trail", which followed picturesque Joe Creek down a series of small waterfalls to Sibley Bay on Lake Superior.
Now a change of plans it was our intention to visit Ouimet Canyon, (a gorge that is 330 feet deep, 150 490 feet wide and 1.2 miles long and is part of Ouimet Canyon Provincial Park) tomorrow as it is on our way to Rossport, however with the forecast for rain tomorrow we decided although it is another 30 kilometers further away we would go this evening instead. We are pleased we did the sun was just going down at 5:30 pm (sunset was 7:12 pm) and the light was catching the canyon walls brilliantly and made a nice contrast with the canyon bottom and after taking a few photographs from both viewing platforms, we completed the circular 2 k trail back to the car park.
We had had a brochure pack posted to us for Thunder Bay and a restaurant that sounded interesting was "Beaux Daddy's" a "Canajun" restaurant and as it was only .3 kl from our hotel, we thought we would give it a try, very good it was too, I had "Gattor" bites and a Jambalaya, Jenny had a prawn starter and then a chicken dish. Arriving back at the hotel and we continued our ritual of the hot tub and had a nice chat with some young college students from the town and a man and two ladies from Wisconsin before relaxing (i.e. writing some of this), reading and doing "maps" for tomorrow.
Thursday 24th September 2015
The Willows Inn B&B, Rossport, Lat: 48.8351, Long: -87.5195 (196 Kilometers)

The forecast was correct and we had a wet drive most of the way to Rossport, great decision last night going to the canyon. The canyon was our only POI today so we didn't rush away from the hotel, but despite stopping for some medication (I have a bad cough) and a couple of times to stretch our legs at overlooks to Lake Superior we still managed to arrive earlier than we expected. Dawn the hostess didn't mind and we soon had our luggage off loaded and sat downstairs in the guest lounge where we met a couple from Yorkshire who were on holiday and who coincidently had a motorhome so inevitable we had a good chat with them before retiring early to our room.
Friday 25th September 2015
Highfalls Motel and Cabins, Lat: 47.9469, Long: -84.8090, (313 Kilometers).

A very nice cooked breakfast this morning before we left, but we nearly overslept, having an interrupted night due to coughing we didn't wake up until 8:13 am and we had "booked" breakfast for 8:45 am! After saying our goodbyes to Dawn, the Yorkshire couple and a couple from Minnesota we had a short walk along the edge of the Rossport shore before continuing our journey. Two waterfalls were our next POI's, Rainbow Falls which was 20 minutes from Rossport and we drove about 4 kl through the Provincial Park to the parking area and then had a very short distance to walk to the falls, very picturesque too with the coloured rock that the water flowed through (hence the name). Rainbow Falls was a surprise; the falls don't begin and end all at once but run over a number of ledges and dropped in a series of cascades rather than one large fall.
It was a further 30 minutes to Aquasabon Falls and they were completely different from Rainbow Falls, from the car park there was a boardwalk out to a viewing platform overlooking the gorge and the spectacular 100 foot falls that flowed down into the gorge from the left, we had to time the photograph just right, when the spray was not blowing in our faces (and camera), I suppose the mist added to the atmosphere of the photograph I took.
Next stop was at Terrace Bay for some food for our self-catering stay at Wawa before we drove on to what was intended to be our next POI, Neys Provincial Park . . . it was closed, one thing I didn't check when doing my research for the trip was park closures (I did the openings in April for the first part of our trip), I didn't expect them to close so early, it actually closed 20th September. It got worse, our next POI, Pukaskwa National Park, we missed the entrance to, (both equally to blame, well ok, Jenny 99%) and we didn't realise until we were about 30 kilometers further along the highway, oh well, as we always say, perhaps next time!!! After lunch at a picnic area in White River, perhaps best known as the birthplace of "Winnie the Pooh" we continued to Wawa arriving at 3:30 pm. The owner formerly from Poland was so helpful, giving us a map of Wawa and its surroundings and marking on it all the places to visit before handing us the key to a great cabin. Everything we needed was provided and within 15 minutes we were sitting on the deck drinking tea and having an interesting talk to a man and his wife who lived 100 miles North of Winnipeg on the shores of Lake Winnipeg, he was originally from Sheffield but worked as a Policeman in London before emigrating to Canada.
Saturday 26th September
Tour of Wawa (96 Kilometers)

The best night's sleep for a few days, as my coughs a lot better and there is no air-conditioning and we have windows we could fully open (covered in mosquito net though) and wow, a cooked breakfast, eggs, bacon and toast. High Falls was our first destination today also known as the Scenic High Falls of the Magpie and Magpie Falls. Less than 10 minutes from the cabin (hence the cabin name) we drove down a gravel road about 2 kilometers, through cultivated fields of Blueberries, (pity the fruiting times are from May to August) to the falls car park and the falls were just a few yards away. After taking a few photographs from the boardwalk we decided to follow the trail to the top of the falls to take some more, alas, a 6 foot high fence had been erected to prevent me (and thousands of others) falling over the edge and we aborted that idea. Did have another chat to a couple from South Ontario who had arrived in a motorhome and sure enough, they had relatives in the UK, (Meriden).
Leaving the falls we drove into Wawa and after a coffee at Tim Horton's we drove along the shore of Wawa Lake to a gravel road around the rest of the lake and back to the main highway, however, even in the SUV the road was very corrugated and not a comfortable ride so we turned around and went to the park near the lake beach instead to eat our lunch. Young's General Store was our next stop one of the most talked about tourist spots on the Trans-Canada Highway, with Henrietta the moose standing on the front porch. Young's is also home to the original statue of the Wawa Goose, too long a story to write about here, Google it if you wish. After a browse around the eccentric store we continued to Mitchipicoten River, (the name of the First Nation township rather than the river) and another falls to visit, Silver Falls and again we didn't have to walk far, although I did venture over the shingle and rocks to find a more favourable position to photograph it, before we went along the short trail to the top.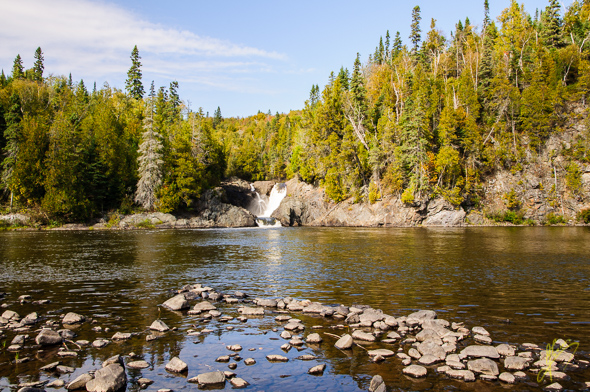 We then drove further along from the falls along the gravel road to a beautiful sandy beach called . . . Sandy Beach and had a stroll along the water's edge, still having difficulty in believing this is a lake and not a sea or ocean. This was the location I had entered data into my "Photopills iPhone app for a sunset photograph tonight, however the cabin owner had pointed out another beach on the end of a short peninsula, which we thought might be better so we decided to take a look. We eventually found it after taking an incorrect turn and circumnavigating the marina and it was better so we decided to return to it later this evening. It was then just a 10 kilometer drive back to the cabin for our evening meal and a relax on the deck before we ventured out to our new sunset location, which wasn't the best sunset we have seen and photographed but very nice just the same.
Sunday 27th September
Lake Shore Resort Salzburger Hof, Batchawana Bay, Lat: 46.8949, Long: -84.6100. (166 Kilometers)

The cabin owner gave us more information on what to see along shoreline of Lake Superior when we took the cabin key back this morning and was pleased to know we had already got the most important ones on our itinerary already. The first being "Old Woman's Bay" with cliffs that tower more than four hundred feet above the lake, recently this region has become home to Peregrine Falcons, once thought to be extinct in the area, alas, we didn't see any. Next along the highway was Katherine Cove. We thought Old Woman's Bay was good; this one was breathtaking, fine sand, blue water and interesting rocks and although there was only a slight breeze there were waves. We walked along to the edge of the cove and relaxed sitting on a rock there for about an hour in the warm sunshine and then walked to the other side of the cove before we went back to the car.
Then it was just 5 minutes to the next POI (which I didn't already know about), Sand River, The river is named after the sand bar formed across its mouth, other than that there is not a grain of sand in sight, just a series of picturesque rapids and waterfalls, on the trail we followed for about a mile upstream of the car park.
Continuing our drive we stopped at various lookouts on the way, plus the Algoma scenic lookout for lunch and the very interesting Algoma Visitor Centre for a "comfort break" and a look around the many exhibits featuring the local wild life and the ships and ship wrecks of the lake including the infamous Edmund Fitzgerald which Gordon Lightfoot made the subject of his 1976 hit song "The Wreck of the Edmund Fitzgerald". Pancake Bay was our last stop and it was as its name suggested, flat, but also after Old Woman's bay and Katherine Cove, rather uninteresting, although the sand dunes were fantastic. We arrived at Batchawana Bay at 4:00 pm and checked into the resort and parked outside our room. Digressing slightly, this was accommodation we booked later than the rest, we had previously booked the Microtel in Sault Ste Marie some 60 kilometers further South, however we found out that there was going to be a lunar eclipse tonight and wanting a "dark sky" to photograph it meant driving out of the town some 40 kilometers this way. Rather than drive back we chose instead to book the Lake Shore Resort Salzburger Hof, Batchawana Bay which is in "dark sky" and cancel the Microtel. As soon as we entered our room we were disappointed, no means of making a hot drink. Plus the room was a "dark sky" in itself, just one bedside light and a very inadequate ceiling light and the walls were a dark wood! And we never got to see properly the lunar eclipse, the weather forecast right up to lunch time today was for a clear sky, however the cloud increased early evening with only an occasional break in the clouds and although I got comfortable outside sitting on a chair with my tripod set up in front of me, I wasn't successful in taking a decent photograph.
One occurrence did make it worthwhile coming here, there were four Turkey Vultures soaring in the sky, low above the complex the first time we have ever seen them and I did get a pleasing photograph of them.
Monday 28th September 2015
Super 8, North Bay, Lat: 46.2709, Long: -79.4424 (515 Kilometers).

Well woke up this morning to a better weather than forecast for the longest drive since leaving the UK. The first and only POI Chippewa Falls just 20 kilometers from Batchawana Bay was a disappointment, there was so many fallen trees in the river that I didn't even bother photographing it. Our next stop was at the Nipissing River Rest Area for a "comfort break" and to stretch our legs, coffee required, and we found a Tim Horton's at a place called Blind River, there was a "larger than life" character in front of us in the queue who said people said he was like Rod Stewart and turned around to us and said "Have you heard of Rod Stewart"? Of course we said "yes, we are from the UK", the guy was from Inverness!! We had a great chat to him whilst we were waiting for our drinks . . . possibly the first time we have had a language problem with his very strong Scottish accent!!! We then drove a little way along the road to a rest area to drink our coffees and eat our Apple/Pecan Fritters (almost forgot to mention these delicious pastries). Just one more stop before we got to North Bay at a Wendy's in the township of Baldwin on Highway 17 to pick up one of their Apple/Pecan (again) and Chicken salads which we enjoy so much, although Jenny does take off the blue cheese for me which I hate and she loves and substitutes it for Cheddar (made in Canada). We arrived at the hotel just after 6:00 pm on the South side of North Bay and after such a long drive, had a shower, eat our salad and relaxed for the rest of the evening.
Tuesday 29th September 2015
Best Western Plus Muskoka Inn, Huntsville, Lat: 45.3423, Long: -79.2303 (354 Kilometers).

A short stop was just outside the town at the Callender Overlook to photograph North Bay and Lake Nipissing before we took the long route to Huntsville.
We could have driven directly along Highway 11 for 128 kilometers; however we wanted to go to a couple of places west and drive along the shore of Lake Huron. Our first stop was not scheduled we saw two White-tailed Deer in a field, these were one of the animals we were hoping to see this way so "tick" in the box before we arrived at Restoule Provincial Park and Lake where we expected to see them (we did see another two there before they disappeared swiftly into the forest.
When we got to the park we just had a nice drive around the forest and drove along the lake without getting out of the car. Likewise another place we were likely to see them was along the Little River Road, a gravel road that we drove along for about 3 kilometers without seeing any, so we turned back to the main road. We did find an old house, barn and truck in a field which were worth photographing which made the short de-tour worthwhile.
Lunch was at a un-named rest area before we arrived at Highway 69, which hugs Lake Huron for some considerable distance and our next POI was the Point Au Baril lighthouse which showed on the map as being just off the main highway, it was, plus a boat trip of about 3 kilometers . . . it is on an island! We were much more successful finding Parry Sound, which has the world's deepest natural freshwater port and we drove down to the harbour and had a stroll around and took some photographs before continuing our drive.
We had fun driving the last part of the journey East to Huntsville, the road was closed and there was a de-tour, we had no option but to just follow the de-tour signs and hopefully end up at the hotel. Thankfully we did and looking at the map on Google Earth this evening we didn't go to much out of our way especially with Jenny using the Maps.ME app, (incidentally a fantastic tool for directions and you don't need a Wi-Fi connection), upon which I had "pre-loaded" all our hotels for this part of our trip. After a short drive after checking-in to Walmart for something for our evening meal, we returned to our room to watch a fantastic sunset, whilst eating our "Steamers" before using our spa bath in our room (another room upgrade) and relaxing for the rest of the evening.
Wednesday 30th September 2015
Ragged Falls Provincial Park and Lake of Bays Tour (143 Kilometers)

No rush to leave this morning on a tour of the local area with just two POI's to visit and neither too far away. The first was about 30 kilometers along Highway 60, Ragged Falls Provincial Park and the Oxtongue River and the trail was exactly as the guide books said, just 1 kilometer along the bank of the river were the picturesque falls and after taking a couple of shots of the main falls we continued upstream to a smaller fall where I experimented with some of the settings on the camera whilst using the graduated neutral density filters. We then had a pleasant walk further up the river through the woods before re-tracing our steps to the car park.
The Lake of Bays was our other POI, however we found roads that we were able to drive down to each of the many bays were for the most part to dwellings along the lakes edge and we drove about 25 kilometers around the lake before we spotted a sign to a boat slipway, we decided to take a look and were delighted to find Rabbit Cove Picnic Area (no mention of it on the main road until we got to the slipway). It was a perfect place to have our picnic lunch on a table and seats made out of solid rock and we stayed there for quite some time relaxing near the water's edge, the only other person we seen was a lady and two dogs who arrived at the small jetty in a speedboat and then drove off in the only other car in the small car park.
Mid-afternoon we arrived back at the hotel and read and listened to music and used the spa bath before walking the short distance to a DQ (Dairy Queen) for a fast food "fix" of chicken and fries.
Thursday 1st October 2015
Pinewood Inn, Barry's Bay, Lat: 45.4791, Long: 77.632 (164 kilometers).

A quick tour of Walmart this morning for a few items before a short stop at Wendy's to pick up a Pecan/Apple salad for our evening meal. The West Gate Visitor Centre was our first proper stop to pick up a park permit for the rest of the day and have a look at some of the exhibits and "recent sightings" in the park, Black Bear, Moose and Wolf being sighted in the last few days. Wanting a walk today we opted for the 2.1 kilometer loop walk to Whisky Rapids (the reason for the name is too long to narrate) a walk through woods to the Oxtongue River. In the warm sunshine sheltered from a cool wind it was a pleasant downhill walk to the river, then along the bank before climbing back up to the car park and surprise, surprise, unusually we did it in the suggested time, we must be getting fitter!
Our next stop was Peck Lake a 10 minute walks from the car park, we didn't have time to walk around it (6 hours), and instead we just took photographs at the lake side before walking back.
Time for lunch and the picnic site along a gravel road two kilometers from the highway at Canisbay Lake sounded a great place for it, it was, although unfortunately with the wind blowing directly across the lake it was too cold to sit at a picnic table and we had to enjoy our lunch and view from inside the car. Our last POI for today was the Lake of Two Rivers, a picturesque lake with a beach and it was sheltered enough to enable us to stroll along the edge without getting cold. Late afternoon we reached our motel at Barry's Bay having had another great day driving through some great scenery, alas other than a grey squirrel and ground squirrel we didn't see any other "critters" but then we didn't really expect to.
Friday 2nd October
Rogers Motel, Smiths Falls, Lat: 44.8873, Long: 76.0342, (264 Kilometers).

No particular POI's today, more driving through than actually stopping at, so we didn't hurry away this morning, in fact we spent some time talking to the lady motel owner. No breakfast at the motel so our first stop was at the Tim Hortons in Barry's Bay for coffees to go and we found a nice place to enjoy it and cereal bars along the highway. Bon Echo Provincial Park should have been our first stop except that it was closed for the winter (not the first time we have found a park closed), we did venture in as far as we could go but without a park map and with the many gravel roads that all looked the same we daren't go very far in case we got lost. We didn't have much luck at the next one either, Kennebec Lake, obviously the park signs had been removed because we didn't even see it, Black Lake and Sharbot Lake we did find, although the gates across the entrance were closed, but we did walk done to Black Lake to take a photograph and use the "facilities". After a late lunch stop at Silver Lake, in an ideal parking spot, it was rather cold to sit out but we managed to park at the side of the lake and appreciate the view across it.
We arrived at the motel in Smith's Falls late afternoon after a "slight deviation in the town, it didn't matter, we saw a very interesting railway bridge and the picturesque canal when we drove into the park to turn around.
Despite rave reports on Trip Advisor we weren't too impressed with our room with a broken window in the door, however it was clean so it didn't really matter for one night and after a quick trip to MacDonald's (again) for a chicken nuggets meal we relaxed for the rest of the evening.
United States of America
New York State

Saturday 3rd October 2015
Amanda's Village Motel, Saranac Lake, Lat: 44.3239, Long: 74.1233, (143 miles)
A 77 kilometer drive this morning to reach the very impressive Ogdensburg–Prescott International Bridge, also known as the St. Lawrence Bridge and the Seaway Skyway, it's a suspension bridge connecting Ogdensburg, New York in the United States to Johnstown, Ontario (a few kilometers east of Prescott) in Canada, it has 6 spans and a main span of 350.75 metres (1,150.8 ft.) totaling 1.5 miles across the Saint Lawrence River and Saint Lawrence Seaway. Must admit I didn't like the metal grid roadway as we crossed the vast expanse of the river to reach the customs/border control of the United States on the other side, but the procedure for going through was easier than last time, we showed our passports at the gate and were then directed to the offices to fill in the documentation. This time we didn't have to fill in the entire family history on the form like last time, we were given the green Visa Waiver form like we have had on an aircraft and the friendly border guard even said not to bother filling in the front he would do it, it got better the cash till had broken so he didn't bother charging us the $12. After leaving the border control and paying the bridge toll ($3) we drove into New York State and the first place we spotted was an Aldi where we got a few items for our lunch and evening meal. It was then a wonderful scenic drive through Adirondack Park and we started to see some wonderful fall colours and some pretty lakes and streams before we stopped for lunch at a rest area by the side of a tumbling river. We're confused on tonight's accommodation, the address is Saranac Lake but the lake is Lake Flower, we had a great fun chat to the owners Joe and Edie, not least because our credit cards would not go through their new machine and it was so amusing listening to Edie talking to the bank help line (the machine had not been set-up for overseas visitors). After settling in we had a lovely walk along the lake side into the little town of Saranac Lake, returning via "The River Walk" to the lake before strolling back to the motel and our quaint little room with its lovely comfortable bed.
Vermont

Sunday 4th October 2015
Best Western Windjammer Inn and Conference Centre, South Burlington, Lat: 44.4700, Long: 73.1785, (151 Miles).

After a top up with fuel (so easy here, just insert card, withdraw it, no pin required and fill) and an Egg MacMuffin from MacDonald's and coffees we again found a nice spot to eat breakfast before continuing our drive. Still in "The Adirondacks" our first stop was Mirror Lake, not the easiest lake to park near as most of the lakeside is private houses and/or hotels, however after driving through Lake Placid town (which is actually on Mirror Lake) to the far shore we found a place to park, walk and take some photographs.
If we found Mirror Lake was hard to see, Lake Placid was almost impossible, but after driving down roads and tracks for at least 10 mile we eventually found a place near the public launching slip way to take a photo and that wasn't brilliant.
Leaving the lakes behind we continued through the Adirondacks following the course of the AuSable River past the scenic Monument Falls and stopping at another pull in where we had a fantastic view of rapids, fall colours and rugged cliffs, before we arrived at the town of Wilmington.
Lunch time and we found a great picnic area just over the river bridge overlooking the weir and watched a man fly fishing whilst eating our picnic lunch. Continuing on we found our first covered bridge in the little town of Jay. Hopefully whilst in the next state, Vermont, we will see a few more, like windmills in Norfolk and ruined castles in Scotland, I have been looking forward to photographing them, Jay Covered Bridge crosses the East Branch AuSable River and was built in 1857.
We could have gone a much more direct route to South Burlington by crossing on the ferry to the Lake Champlain Islands into Vermont and then across the short bridge to the highway towards South Burlington, instead we stayed in upstate New York almost to the Canadian Border of Quebec before crossing on to the Lake Champlain Islands via the Korean War Veterans Memorial Bridge into Vermont and driving along a chain of five islands (South Hero, Grand Isle, North Hero, Alburg, Isle La Motte) to Interstate 89 and headed for South Burlington. Slight mistake on my part as we got close to Highway 2, I took exit 14 west instead of exit 14 east and we drove towards the city, Jenny's skill with Maps.ME put us back on the correct road and we arrived at the hotel only driving about four extra miles. Room upgrade at the hotel to a suite so we were very comfortable, just a pity there wasn't a hot tub at the hotel. We didn't research many POI's in New York State, we didn't need too, the scenery driving through the Adirondacks was stunning.
Monday 5th October 2015
Northern Lights Lodge, Stowe, Lat: 44.4995, Long: -72.7464 (85 Miles)

Again we could have taken a much shorter route today, in fact less than 40 miles, however we wanted to visit the Mad River area and Appalachian Gap, a mountain pass in the Green Mountains. After a quick stop for a few items for our lunch/evening meal we drove along towards the mountains, not that high even when we arrived at the overlook we were only at 2,364 feet, still a great view though even if the fall colours weren't as vibrant as yesterday.
We then drove down the other side of the gap to the small town of Waitsfield to photograph the covered bridge; unfortunately the bridge was being repaired so I had to compromise with the shot I took.
A treat next the Ben & Jerry's Ice Cream factory at Waterbury, we were lucky and only had to wait 10 minutes to join the factory tour, very interesting it was too and although the factory wasn't producing today, there was a free sample of Chocolate Fudge Brownie at the end. And we couldn't resist having another cone each from the scoop shop, where I had the Chocolate Chip Cookie Dough and Jenny, Walnut and Maple Syrup, which we ate sitting in deck chairs in the warm autumn sun overlooking the gardens and play area. Still early we decided to drive 10 miles the other side of Stowe to Moss Glen Falls before going to our accommodation for tonight, we did initially have trouble finding them as we missed the road we should have taken and couldn't find the gravel road to them but we did eventually arrive at the small parking area. Following the hiking trail along the river we thought because there was little water flowing down the falls would be disappointing nevertheless when we did arrive after a clamber up a hill to the overlook we were pleasantly surprised at the picturesque waterfall and after taking a few photographs we retraced our steps along the trail back to the car.
No such trouble finding Northern Lights Lodge on the mountain road near Stowe village and we were soon in our room and organised before we drove back to Stowe to take a photograph of the iconic white town hall surrounded by fall colours, which seems to figure on every picture you see off the village.
Arriving back at the lodge it was a quick change for a long soak in the hot tub before our evening meal and a relax.
Tuesday 6th October 2015
Best Western White Mountains Inn, Franconia, Lat: 44.2300, Long: -71.7474, (131 Miles).

A lovely breakfast at the lodge this morning before we left not often on the trip so far we have sat at a table with a table cloth on. Bingham Falls was our first POI for today, luckily we had definite directions to find it and were soon descending the steep trail to the head of the falls Bingham Falls is a series of cascades in a narrow gorge culminating in a 30 foot leap into a large round pool and we took some photographs at the top before continuing along the trail to the pool. The trail got very steep towards the end, we could hear the falls but not see them, Jenny decided not to continue at this stage, whilst I carried on down a series of rock steps to the bottom where I photographed the waterfall before climbing back to where Jenny waited, where I arrived panting, exhausted and with my heart racing, I must admit to taking a rest before we walked (well Jenny walked, I staggered) back to the parking area.
Smugglers Notch State Park was our next destination also situated in the Green Mountains which are part of the Appalachian Mountains, it was a "drive through" rather than "stop at" and over the narrow winding pass on the drive in, over and out were exceptional and breathtaking and didn't disappoint.
A drive along Highway 109 was next to the small town of Waterville and a chance to photograph the three covered bridges that span the North Branch of the Lamoille River, Village Bridge, Kissing Bridge and Montgomery Bridge which were all very photogenic.
We found a further two near the town of Johnson, Power House and Scribner which cross the Gihon River, the former was easy to find we passed it on the main highway, the latter was more difficult along a gravel road about 2 mile off the highway, both again worth photographing. The next covered bridge was rather different, not a road bridge this time but a railway bridge and the Fisher covered bridge near Wolcott, again over the Lamoille River is designated a state historic site. It was a bit of a scramble up the embankment to the track bed the rails of which were still in place through the bridge, but long gone from elsewhere, the old track bed now being used as a walking, cycling and snowmobile track. Jenny stayed near the bridge while I walked down to the river to take some photographs from upstream, returning to the car we decided it was a great spot for our lunch and sat on some large rocks to enjoy our pastry, muffin and yoghurt (donated by the hotel) and a trail bar.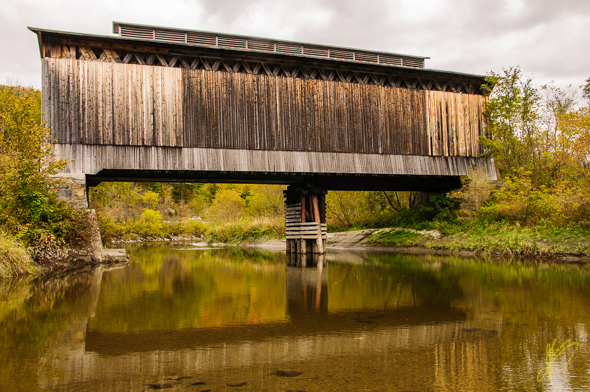 We certainly were not going to be hungry, our next POI was the Cabot Creamery a cheese factory in Cabot, the factory tour was closed but there was plenty of free samples to nibble on and we did purchase two blocks of cheddar (made in Vermont) cheese. We thought we had passed our next POI and it was one I was looking forward to visiting, however I spotted flags flying along route 2 thought it might be where we were looking for and pulled into the driveway of Goodrich's Maple Farm. Great I have always wanted to know how it was produced and the young lady in the sugarhouse a descendant of the original founders in the early 1800's, gave us an amusing and enthusiastic talk on the history of the farm and the manufacturing of the syrup. Again we had a free tasting, although there is only so much maple syrup you can try and we bought two small bottles, (we would have bought a barrel of it but had consider the weight in the suitcase! Leaving the farm it was only about another 20 minutes' drive to Franconia and the White Mountain Inn (crossing into New Hampshire as we did so) our accommodation for the next three nights easily found off Interstate 93. After the usual checking-in procedure we went out again to find somewhere to eat and not finding anywhere we fancied we drove to Littleton about 4 miles away and bought two ready meals from the supermarket and micro-waved them in our room before soaking in the hotel hot tub.
Wednesday 7th October 2015
White Mountain Tour (109 miles)

Two choices on the circular tour we have organised around the White Mountains, clockwise or anti-clockwise, both drives taking in the Kancamagus Scenic Byway "The Kanc", for no particular reason we chose the latter. Our first stop was at "The Old Man of the Mountain", also known as the Great Stone Face or the Profile, was a series of five granite cliff ledges on Cannon Mountain that appeared to be the jagged profile of a face when viewed from the north. Unfortunately the poor chaps face fell off in May 2003 and a state landmark since being discovered in the early 1800's was no more. Ingeniously in 2011 steel profilers were erected at the Old Man of the Mountain Memorial site, which when aligned with the Cannon Cliff above, creates a profile of what the Old Man of the Mountain looked like. Driving through Franconia Notch (In northern New England, a notch is a mountain pass), Lincoln Woods was our next stop our NH foliage iPhone app told us that the views from the swing bridge over the Pemigewasset River were almost at their best. They were beautiful and while we were there we took the opportunity to have a short walk along the trail (a former logging railway track) beneath the trees alongside the river.
Within the next hour we visited four overlooks along "The Kanc", Hancock Overlook, Pemigewasset Overlook, C.L Graham Wangan Overlook and Sugar Hill Overlook each giving us stunning views of the mountains and trees, although Pemigewasset wasn't the best an unnamed overlook on the highway just before it rated in our view better.
Time for lunch and we found the perfect place at Sabbaday Falls and Picnic Area and sat at a picnic table by the side of Sabbaday Brook and enjoyed our peaceful surroundings and picnic before walking the ½ mile trail to the waterfall. The falls were very picturesque a series of cascades with a right turn as it tumbled through the trees, photographing the complete falls were impossible so I took a series of shots from different places from the trail and footbridges.
Rocky Gorge Scenic Area was the next POI and it was fantastic, the gorge, the view from the footbridge and the walk up the river, plus the foliage colours all made for a "wow" factor and we didn't even mind waiting near the footbridge for people to move away from the falls so I could photograph it without "obstructions". Lower Falls was the last place on the Kancamagus Scenic Byway and we were just leaving the parking lot to walk to the falls when we heard the sound of engines . . . high powered engines and a "fleet" of 10 Ferraris, 2 Lamborghinis and a Maclaren arrived, they looked spectacular as they all reversed into the parking places, I was that overwhelmed I didn't take a photograph of them. Lower Falls were great although again we had to wait as another photographer decided to wait near the bottom until the sun shone on them, don't know why it just made for a wider contrast.
The 34 mile Kancamagus Scenic Byway ended a short distance from the very busy tourist town of North Conway, having crawled slowly through the town high street we were very pleased that we had chosen the opposite end of the White Mountain National Forest for our three night stay. We returned directly to Franconia along the fabulous highways 302 and 3, tomorrow we will drive clockwise along almost the same route as today and stop at a couple of places we missed today and other places en-route. After a short stop at the small supermarket in Franconia to purchase a salad for our evening meal we arrived back at the hotel, ate our salad and then enjoyed a long soak in the hot tub, actually we were in there far too long having a chat to a lovely couple from Ohio.
Thursday 8th October 2015
White Mountain Tour (99 Miles)

The Cog Railway was our first POI this morning, the first mountain-climbing cog in the world and Mt. Washington, in the heart of the White Mountain National Forest, is the highest summit in the northeastern US. We hadn't pre-booked a seat and found out there was at least a two hour wait and not wanting to wait we decided to just look in the small museum and gift shop and take a photograph of the locomotive and carriage. Driving back the 11 mile to the main highway we stopped at a restaurant for coffees "to go" (unusually expensive) then took some photographs at a small pond before continuing towards Crawford Notch.
We stopped at an overlook at the top of the "notch" which gave us a stunning panoramic view down it, then continued to a car park at the bottom of the "notch" where we stopped to take some photographs of Silver Cascade a waterfall that falls a total of 640 feet with the tallest drop being 80 feet, obviously with the dry summer there wasn't a torrent of water coming down, however with the colours of the trees either side it still made for an impressive photograph.
12:49 and time for lunch and the picnic area at "Willey House" was ideal and it was warm enough to sit at a picnic bench overlooking the Saco River. The Willey House, formerly a small inn and residence in Crawford Notch, is the site of a landslide that claimed nine lives in August of 1826. Though the surrounding area was strewn with boulders and debris, the Willey House stood unharmed. The family however, perished in the landslide, becoming part of the legend of Willey House. After our picnic lunch (courtesy of Best Western) we had a walk across Willey Bridge over the Saco River and took some photographs below the bridge then continued to our next POI Frankenstein Cliff which was just a photo opportunity from the parking lot.
We stopped shortly afterwards at another overlook for a view of Mount Washington a lady there was attempting to sell paintings she had done, they were rubbish (being polite), just like the inside of her vehicle which was full to over flowing of . . . cxxp! At the town of Bartlett we turned onto the Bear Notch Road a 9 mile narrow and winding mountain road that cuts across the White Mountains between Highway 302 and the Kancamagus Scenic Byway (Highway 112), several turnouts along the road enabled us to enjoy the views of the mountains and valleys before we rejoined "The Kanc" to drive East back to Franconia. A POI we missed yesterday was the "Lilly Pond", no lilies but the pond was quite picturesque and despite people "photo bombing" my photographs and having to wait for a while, we were pleased we stopped.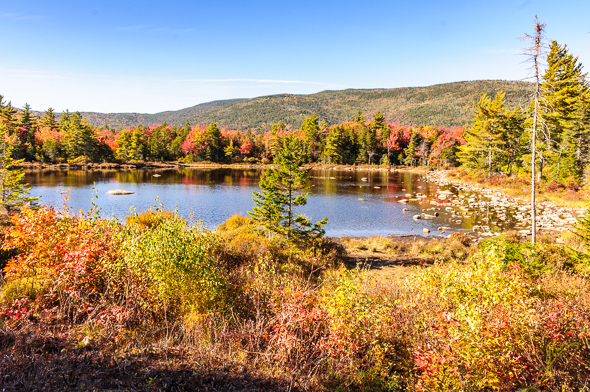 Our last stop was at the Flume Gorge Visitor Centre it was 16:30 and the last ticket and coach to the gorge was at 17:00 and it also entailed a 1½ hour walk to do the trail to the top, we decided not to bother, we have seen some great places in the area in the last two days so missing this attraction out didn't really matter. Back to the hotel via the supermarket for a chicken salad for our evening meal and then a relax for the rest of the evening. We have used in the last two days a little strip map of the Kancamagus Highway it has been fantastic for finding the picnic areas, scenic overlooks and attractions, congratulation to the White Mountain Tourist Board.
Maine

Friday 9th October 2015
Best Western Plus Civic Centre, Augusta, Lat: 44.3437, Long: -69.7962, (125 Miles)
As was forecast a change in the weather today, when we woke up this morning it was pouring with rain and the beautiful view from our hotel window of the mountains close-by had disappeared. Because of the weather we didn't leave the hotel too early having a comparatively short distance to drive today having decided on "option C" the shortest and most straight forward route we could have gone the routes we had done in the last two days to Bartlett and then Highway 16 to Gorham but thought with such poor visibility there would be no point. Looking at the photographs proves a point I have only taken 6 photographs today in 2 locations, despite the NH foliage app telling us that at least 3 places, Gorham, Shelburne and Bethel (In Maine) the fall foliage was nearing its peak. At Bethel we actually went wrong at a road junction, the friendly lady at the visitor centre soon put us back on the right track. We stopped in a parking area, near the road bridge over the Androscoggin River for lunch unfortunately it was still raining heavily so unlike previous days it was lunch inside the car instead of a picnic bench, shame it would have been a lovely spot possibly to take some photographs, but then the nearest town was Leeds so not surprised the rain was lashing down. We arrived at the hotel just off Interstate 95 at 15:00 and were able to unload our baggage underneath the porte-cochère to stay dry and then check-in, I then quickly, although the rain had somewhat abated, parked the car in a parking space nearest to our room. Unfortunately I could immediately smell cigarette smoke in the room and despite attempting to ignore it I found it impossible and Jenny went back to reception and explained the problem and full of apologies they changed our room. We think that although someone had not directly smoked in the room, possibly somebody who was a heavy smoker had used it, it was particularly prevalent in the armchair I had sat in. We had decided that we would drive to a Wendy's not far away to purchase one of their Pecan/Apple salads we enjoy so much, however there was a Rooster's Coal Fired Pizza & Tap House as an annex to the hotel we didn't even have to venture outside. We didn't have the pizza's, Jenny had a delicious piece of haddock and I had equally delicious steak "tips" both meals arrived with perfectly cooked vegetables, After our great meal we returned to our room, pity today was so wet but we mustn't grumble only the second day of our trip so far that the weather has prevented us seeing the scenery, tomorrows forecast is much better.
Canada
Quebec

Saturday 10th October 2015
Comfort Inn, Saint-George-De-Beauce, Lat: 46.0987, Long: -70.6510. (158 Miles/255 Kilometers)
A really comfortable stay at Augusta, lovely meal last night, nice room and a good breakfast this morning (and goodies for our lunch). Today we leave the US and cross the border again into Canada, a website we have used for information is yankeefoliage.com, which is a fantastic source of information on where the fall colours are at their best, as well as different routes for the best foliage in the upper states. The one which suited us in Maine was the "Old Canada Road" (Route 201), a 78-mile scenic byway between Solon and Sandy Bay Township towards the Canadian border, a nice easy route to drive, just 10 miles on Interstate 95, onto route 201 until it crossed the border becoming Route 173 (Route-du-Président-Kennedy) and then turning right into the motel carpark in Saint-George-De-Beauce! Weather forecast was spot on, the rain stopped last night and we had sunshine and cirrus clouds for our journey and our first POI was at the start of the "Old Canada Road" at Robbins Hill Scenic Area (although we did have a short stop to watch a Bald Eagle through our binoculars flying from near ground level to soaring high in the sky), where we stopped to take some photographs of the Western Mountains in the distance.
We stopped several times at pull-ins along the highway to view the Kennebec River before we arrived at the rest area at Wyman Lake (actually a dammed Kennebec River), to eat our lunch, another lovely place with a great view of the lake, islands and fall colours with a picnic area and toilets
.
After a short photo' stop at "The Forks" a mecca for snowmobiling and whitewater rafting is where the Dead River and Kennebec River meet, we continued to the next rest area Attean View, which gave us a wonderful panoramic view of Attean Pond (don't know why it's called a pond it has a perimeter of 30 miles) and the mountains across the border in Canada.
There was just one more stop before we crossed the border at a little picnic area with a small waterfall down a short track, there was no name for it (investigating afterwards it is literally just called "The Falls", Sandy Bay). No problems at the border, just the usual questions, "got any firearm or alcohol"? Could genuinely answer no! "Where've you been, where you going", told him, frowned when we said Saskatchewan "it's flat there", we know! Just 30 miles to Saint-George our overnight stop in Quebec and we arrived at about 16:30, great hotel, being re-furbished and everything in our room was new. We have had a great drive today, some wonderful scenery the only regret we still have not seen a Moose. There was a Harvey's (like MacDonald's) about a mile away (1.6 kilometers now we are back in Canada), so we drove there for a takeaway, very good it was too, despite us not knowing what to order as the entire menu was in French.
Sunday 11th October 2015
Hotel Etoile sur le Lac, Magog Lat: 45.2711, Long: 72.1628 (209 kilometers).

Managed to make the lady at the filling station at the front of the motel, who spoke little English, that we wanted the car filled up to the top with fuel, she also helped with directions once I showed her our map and the road we wanted (as we thought) was almost opposite the motel, which meant we didn't have to drive into the city. Other than the Parc National De Frontenac we didn't have any other POI's today, although hopefully we have chosen a picturesque road to Magog. Correction! We didn't even have the Parc National De Frontenac as a POI, somehow we drove right past it, the map we were using was obviously not to scale, it looked as though the park entrance was after the town of Lambton, it wasn't it was in the town, but we certainly didn't see a sign and we decided it was too far to turn back. After an early stop for lunch, just off the highway in a wooded picnic area, the next impromptu stop made up for missing the national park, I spotted a barn with four old vehicles sticking out of it and there was a man driving an old vehicle near it. We turned around and went past it and I turned around again and stopped at the entrance, by now the man was walking down the field so I went up to him and in my best French said "Bonjour" and apologised that I could only speak English, to which he replied "that's OK I speak English too"! I asked his permission to take some photographs of the cars (and trucks) to which he readily agreed. "Everybody does it" he said and proceeded to tell me that his family had owned the property for four generations, but his family originally came from the Isle of Lewis", hence the name of the village nearby being called Stornoway.
Driving on, the next village we came to was Gould and we saw a sign depicting a viewpoint and a bridge (presuming a view of a bridge, if it had said that we would not have had a clue it would have been in French) and we turned down a gravel road a drove for about 4 kilometers, as the sign said 2.5 kilometers we presumed rightly so that we had passed it. We tried another gravel road on the right and came to a dead end at a gate and track; however we could hear the sound of water. Walking down the trail a short way we found the Salmon (Saumon) River and an attractive waterfall/rapid which was worth seeing and taking photographs of, however the bridge had long gone. (note: added 26/10/2015, I wonder if there was some confusion with the bridge signs as there was a covered bridge, Quebec's 2nd longest within 4 mile of the village, looking on Google Earth the road sign definitely said left).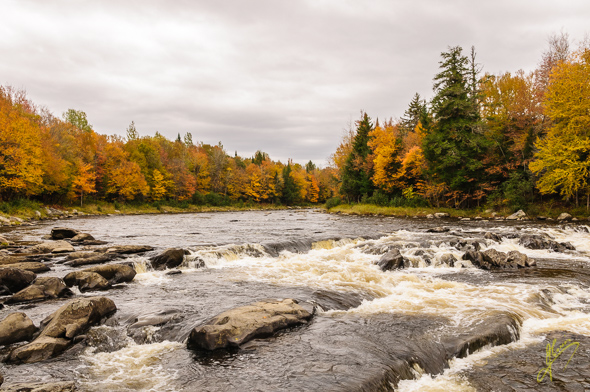 Missing the national park this morning meant that we arrived in Magog a lot earlier than we planned so we decided to visit Parc National du Mont-Orford today instead of tomorrow as it is less than 10 kilometers from our hotel, it was just a case of going right of Interstate 10 at junction 118 instead of left. We paid our $17 entrance fee at the kiosk and I asked the nice young lady where to park (the details were still in our "purple" folder ready for tomorrow) and she pointed me in the right direction, coincidently by the time we had parked and walked to the information centre, the young lady was on the desk and again was very helpful in suggesting one of the walks, I think she liked me! The one she recommended was the "Boucle des Trois Etangs", Loop of the Three Ponds (just looked it up), a 5.5 Kilometer walk around 3 ponds (of course), although one of them Etang du Millieu could only just be seen through the tree. It was a great walk along an easy trail through the woods and I (Jenny missed it) saw a Garter Snake, managing to only take a very blurry quick photograph of it as it slithered into the undergrowth. It took us about 1½ hours to do the walk and return to the car, past another pond Etang aux Cerises (Cherry Pond) which was actually the largest and the most photogenic, with an island in the centre with trees in their wonderful fall colours.
Leaving the park, within 10 minutes we were at the hotel and checking-in to a lovely room overlooking Lake Memphremagog, 73% of the lake's surface area is in Quebec and the rest in Vermont, USA.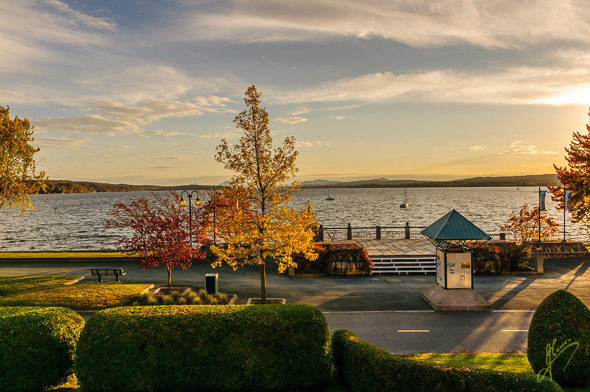 This time we needed to bring one of the large suitcases to our room to sort out before leaving Canada tomorrow night, Jenny sorted it, I walked down to the lake side and took some photographs! This was one of the locations that I had already set my Photopills iPhone app for, to assist me in knowing the exact time of the sunset and direction all we needed was a decent sunset, it wasn't bad, but we have seen better.
A nice walk after sunset along the promenade to the town, we didn't even need our sweaters it was so warm, we only wanted something simple so a MacDonald's sufficed and then we had a slow walk back, photographing Memphré, the "mythical" Loch Ness monster that purportedly inhabits the waters of the lake on the way.
Monday 12th October 2015
Montréal–Pierre Elliott Trudeau International Airport, Montreal, Lat: 45.4578, Long: 73.7489, (140 Kilometers).

A peaceful walk along the promenade on a lovely sunny morning in the opposite direction to last night and just what we both needed before our drive to Montreal.
We had more than enough time today our flight didn't leave until this evening and in retrospect wished now we had another look at Parc National du Mont-Orford before departing Magog, however I had put noon as our return time for the hire car (although I know it doesn't really matter) so we decided to drive directly to the airport. Jenny was navigator extraordinaire (the driver wasn't bad either), despite navigating "spaghetti junction" x 20 through Montreal, we arrived at the underground rental car drop-off, without going wrong once. We were very pleased with the excellent service we had at Enterprise, courteous and friendly, the only downside was the young man who sorted out our return was a Liverpool fan, (note: we asked for a discount again and when the invoice arrived when we were back they had reduced the cost by £92), come on the Reds!!! A long wait for our flight tonight, we amused ourselves with reading, listening to music and puzzles, with the occasional walk around the shops and excellent "proper" chicken meal lunchtime at "St Hubert's Chicken Express". Once we had checked-in our luggage at 17:00 and done the usual checks through security, etc., it was more of the same until our flight was called at 20:15. See you in the UK.